Rumblin's and grumblin's .. It looks like the mother of the Civil Rights Movement Ms Rosa Parks is still mad at Outkast. In fact she's so pissed that she decided to take her lawsuit against the group on up to Appeals Court. For those who are unfamiliar with all this, Ms Parks filed a lawsuit against Outkast in April 1999 for violation of her right to publicity when they named their Grammy nominated song 'Rosa Parks'. The case was dismissed in November of 1999. Parks is being represented by famed lawyer Johnny Cochran.
Now Outkast has maintained that they were inspired by Rosa Parks which is why they named

the song after her. They never intended to show any sort of disrespect.. However, because the song has some profanity and racial slurs Ms Parks was offended. She has gone so far to note that Outkast has defamed her and violated the federal Lanham Act. This particular statute forbids any sort of marketing or business practice which leads to consumer confusion. The song's title implies that Ms Parks actually endorsed the song. She is maintaining that her connection to the song has hurt her in future business dealings. Remember there are people out there who don't wanna have anything to do with Hip Hop. Ms Parks also states that the song has tainted her legacy..
Outkasts camp is saying that they are protected by freedom of speech.. However, Ms Parks is a fighter and at 88, she may pull one more feat out her bag. A victory in this case will no doubt change litigation history and have a chilling effect upon Hip Hop..
Here's a couple of juicy tidbits to ponder over.. First, congratulations to Nate Dogg.. He just inked a deal with Elektra Records. The deal went through last week and it appears that all concerned parties are excited. Nate will now have some major league fire power behind him.. Plus Elektra recently lost Busta Rhymes who bounced over to Clive Davis' new label J Records. This mmeans Nate , Missy and Angie Martinez become the big men and woman on the label.
Taje of Hieroglyphics and North Oakland rapper Superstar Quam Allah, have teamed up to form a group called Superstars. The duo will do some over the top lyrics about marterialism and the way it impacts Hip Hop and ourlifestles i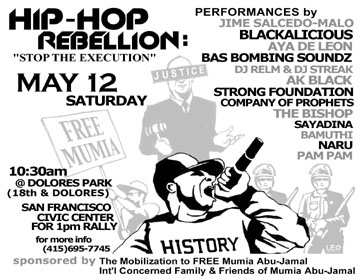 We noted a few issues back about the upcoming Hip Hop benefit concert to raise money for the defense of former Civil Rights activist, and Black Panther member Jamil Abdullah Al Amin [H Rap Brown]. Artists like Mos Def, Jurassic 5, Dilated Peoples, Planet Asia, Mystic and Zion I will all descend upon the Watts Labor Community Action Center in LA this Saturday May 12th to raise money and awareness for H Rap Brown who has been accused of shooting two police officers in Atlanta a little more than a year ago. Thus far there is a huge buzz about the event as people from all over the state are expected to come down to LA for the concert..
Meanwhile 400 miles away in the Bay Area, dozens of Hip Hop artists are gearing up for a huge Hip Hop rebellion concert at San Francisco's Civic Center. The afternoon event [1pm] is free to the public and is designed to show support and awareness for political prisoner Mumia Abu Jamal. For those who don't know Mumia has been on Pennsylvania's death row for almost 20 years for the shooting death of a Philadelphia Police officer. On the fateful night in question, Mumia who was a well respected journalist and radio commentator was moonlighting as a cab driver. he came upon an altercation which depicted his brother being beaten by the police. At that period in time, police beatings of Black citizens were commonplace in the city of Brotherly Love. In fact there was a huge 60 Minutes or 20/20 Report about the police brutality incidents under the leadership of police Chief and later Mayor Frank Rizzo.
When Mumia went to aid his brother, shots rang out and a police officer lay dead. Mumia was accused of the shooting and was subsequently shot my officers who later beat him badly while he lay in his hospital bead recovering from his own injuries. Since that time there has been all sorts of craziness surrounding his trial proceedings. There has been accusations that Mumia was railroaded and never given a fair trial in which crucial evidence could be introduced. Many speculate that this was due to Mumia's political activism. H He was an outspoken journalist who frequently wrote and commented on racial injustice and police brutality. He was dubbed the voice of the voiceless. At age 15 he started a Black Panther chapter in Philadelphia. He later became a member of the organization MOVE which had its headquarters and group members killed when former Philadelphia Mayor Wilson Goode allowed a bomb to be dropped on them after a police standoff. Mumia's appeals had been all but shut down and he has come close to being executed a couple of times.
At this point in time he has one last chance to get his conviction overturned and his death sentenced removed... There has been new evidence and a witness ready to come forward and testify that the police officer Daniel Faulkner who was killed in the altercation may have been the target of a mob hit when Mumia came upon them. The word is that Faulkner was getting ready to blow the whistle on some of the rampant police corruption that existed within the department. We'll see how this whole thing turns out..
In the meantime, this Saturday's rally will include performances from well known underground artists like Blackalicious, Company of Prophets, Bas Bombing Soundz, Naru, AK Black, Bamuthi, The Bishop, Aya De Leon and many more. An estimated 10 to 15 thousand people are expected to turn out.. Such high numbers are not unusual for Mumia Rallys here in San Francisco. There may be quite a bit more because of the Hip Hop performances...
On a side note, the Hip Hop Rebellion Rally will coincide with an incredible Hip Hop Compilation for Mumia being presented by KPFA's Hard Knock Radio Crew.. Major Props to fellow co-hosts Anita 'Pro-Tools' Johnson who is a skilled and gifted rap artists in her own right and Weyland '7 Generations' Southon who was a former Hip Hop Magazine editor. They put in much work on the producing end of a new album called "175 Progress Drive". Noelle Hanrahan of Prison Radio is the executive producer. The title is taken from the new address to the supermax prison where Mumia now resides. Here Mumia is in relative isolation. He gets to come out for one hour every 5 days and sits in a room that is all but barren. All his possessions are inside a shoebox and he has only the tip of a pen to do his writing. He must put his words down on scraps of paper.
The album "175 Progress Drive" is a masterpiece that includes, rare interviews done by Mumia over the years, including one he did with former president Jimmy Carter, Bob Marley, Ruby Dee and Ossie Davis. There are new essays Mumia has penned that talk are being read by Ruby Dee, Michael Franti and Peter Coyote. There are also statements by Asata Shakur, Rubin Hurricane Carter and spoken word artists Marc Bamuthi who will also perform at the Hip Hop Rebellion Rally. There are also songs about Mumia by artists like I Was Born With two Tongues, Chuck D, Pharoahe Monch, dead prez, Seeds of Wisdom and Zach De La Rocha. The album is being put out on Jello Biafra's label, Alternative Tentacles Records.. The album should bring some much more needed attention to the plight of Mumia Abu Jamal. This Saturday's concert should be off the hook and historic. For folks who reside in the Golden State, whether your in LA or the Bay there's definitely a way for you to get involved in some Hip Hop activism..
KRS-One stated that Hip Hop Appreciation Week starts on Monday May 14th.. and that this years theme is 'charity'- in which we are called upon to share our wisdom, talents and insights.. Well let the record show artists from Cali are stepping up and kicking Hip Hop Appreciation Week two days early!. For more info on the Hip Hop Rebellion Mumia Rally call 415-695-7745
Send comments, questions and concerns to
mailto:
kingdave@sirius.com
The FNV Newsletter
written by Davey D
http://www.
daveyd.com
http://www.
rapstation.com
====================================
FNV April 25 2001
FNV March 15 2001
FNV March 11 2001
FNV February 12 2001
FNV January 23 2001
FNV January 21 2001
FNV January 16 2001
FNV January 12 2001
FNV January 9 2001
FNV January 5 2001
FNV January 2 2001
FNV December 19 2000
FNV December 15 2000
FNV December 13 2000
FNV December 11 2000
FNV December 4 2000
FNV November 30 2000
FNV November 22 2000
FNV November 17th 2000
FNV November 6th 2000
FNV October 26 2000
FNV October 24 2000
FNV October 18 2000
FNV October 16 2000
FNV October 2 2000
---
| Meet The DJ'S | Programming | Listen Live | Music Vote | | Playlist | Mixers | The Vault - ( live Interviews ) | Contests & Events | | Weekly (Street Team) Events | Club Connection | Movie Reviews | | KMEL Photo Album | Free e-mail & Chat | Cool Stuff | | Job Opportunity Center I Give Us A Shout | Home |
| TOP OF PAGE |