The West Coast Hip Hop Summit:
Who? What? Where? Why? & How?
by Davey D... 2/19/02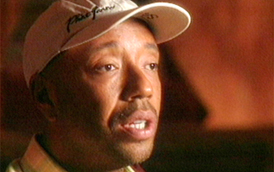 (Feb. 19, 2002) Last week's West Coast Hip Hop Summit held at the very posh Four Seasons Hotel in LA, was to say the least, quite an experience. For those who don't know, music mogul Russell Simmons, Minister Ben Muhammed and the Hip Hop Action Network had initially planned to host a scaled down intimate private gathering of key West Coast figures as they prepared for a much larger national event to take place in June.
However, there was so much interest up and down the West Coast that this 'intimate' meeting quickly turned into a much larger gathering. Much of this increased popularity was the result of several main components that had been set into to motion.
First, Minister Farrakhan who gave what many considered the best speech of his life at the Hip Hop Summit last June in NY was scheduled to speak again. The atmosphere was amped because The NOI was holding its Saviours Day program in LA that weekend. This meant Brothers and Sisters from all over the country were touched down in Cali and would likely attend the event. There was great anticipation that the Minister would deliver another compelling address to the Hip Hop community.

The second thing set in motion was the fact that the West Coast Hip Hop Summit coincided with the California State wide Democratic Convention which meant a large number of key elected officials would be in LA. The initial plan was to have people like Congresswoman Maxine Waters and others attend the Summit. The anticipated attendance of elected officials was extremely important since California State assemblyman Kevin Murray recently announced he would be holding hearings this spring to look into the business practice of record labels who are being accused of under reporting and underpaying artists their royalties.
Adding to that was the current move to repeal a congressional amendment won by the music industry that keeps recording artists locked into contracts longer than talent in other industries such as film and television. If that's not enough, Michigan Congressman John Conyers who will be in LA today [Tues, Feb, 19] is drafting up a Bill of Rights for Recording Artists. These and other related issues like 'How the Hip Hop Community Can Flex Its Political Muscle' were on the agenda to be discussed. Present were lobbyist like Osahar Berry of Washington, DC Linkage Group, former DC Mayor Marion Berry, Melanie Campbell of Black Youth Vote and representatives from 'Rap the Vote.'
The third wheel set in motion was the outreach efforts done by Minister Ben Muhammed who had made a trip to the San Francisco Bay Area this past November and met with a large number of artists and Hip Hop activists. He was responding to the concerns raised at last year's NY Hip Hop Summit that there were hardly any Hip Hop activists and their respective organizations included in the discussions. Hence he attempted to change that dynamic by meeting with many Bay Area Hip Hop organizations like Mindz Eye Collective, Lets Get Free, Books Not Bars, Black Dot, Youth Speaks, Urban Campfire, Third Eye Movement, Freedom Fighter Records, United Playas and the Ella Baker Center to name a few.
Many of these organizations in addition to putting out albums and performing at concerts have succeeded in making Hip Hop a viable tool for organizing and bringing about social change. From the fight against the passing of California's insidious Prop 21-(The Juvenile Crime Bill) to combating police brutality to the current fight to stop the building of a super prison for youth here in Northern Cali, these organizations have come to help shape and represent the new wave of activism among the so called Hip Hop generation. This is important since so many of us are often accused of being indifferent and apathetic. The end result was close to 30% of the West Coast Summit attendees being from the Bay Area.
Minister Ben's outreach efforts were complimented by similar leg work done in Los Angeles. Here, there was an attempt hook up with key individuals, organizations and Hip Hop activists who have been on the front line forging gang truces, quelling Black/Latino racial tensions and working with wayward youths. Individuals like former gang leader Michael Conception who was responsible for the 'We're All In The Same Gang' project along with LA NOI Minister Tony Muhammed were key figures who help gather up the troops. Outlets like The LA Bridge Program, Safe Passages Workers, and Youth Fair Chance rolled through with key cats like Mad Bone, Petey Wax, Cat, Stutterbox, Hilly, Tray Dee of the Eastsidaz and Malik Stillman to name a few. Also present were Hip Hop activists from Kansas City who had been responsible for helping forging gang truces in that area.
OG Bone who works with Hip Hop artist Mystikal noted that many of the people present from the LA area including Tray Dee were known more for their being involved and dealing with the gang situation then they were for their work in the music arena. Their presence at the Hip Hop Summit was important because you had once warring gang factions all sitting together in unison in the Four Seasons Hotel. It was great just seeing all the Hip Hop activist both from LA and the Bay all in one place. Simply put it was a beautiful thing.
The fourth wheel set in motion that really caught everyone's attention was a highly anticipated meeting of the minds between former business partners Suge Knight and Dr. Dre. When early discussions of a West Coast Summit first ensued, there were efforts to reach out to Dre to have him heavily involved. In fact the initial dates for the West Coast Summit which was scheduled several months back were scraped to accommodate Dre's schedule. Once things got reconfirmed Dre's participation was highlighted front and center.
Over the past couple of weeks, efforts to reach out to Suge Knight were made. The end result was him agreeing to attend the summit and share opening remarks with both Dr. Dre and comedian/radio personality Steve Harvey. When I first got wind of this, I like many others was a bit surprised. After all, Suge has been doing a lot of press lately and had not held back on making unsavory remarks about Dr. Dre. But if there was any place where the hatchet could be buried it would be at the Hip Hop Summit behind closed doors. Many including myself were hopeful...
MINISTER FARRAKHAN'S SPEECH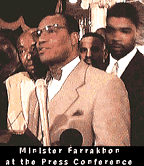 Now the Hip Hop Summit itself started off slow. People came out in force and it was a lot more then was expected. Everyone was searched which time. There was a large contingent of media folks ranging from CNN to MTV to local TV outlets. There were also lots of artists ranging from DJ Quik to the DOC who made the trek from Dallas. It was a 'Who's Who' of music industry folks. Noticeably absent were Dr. Dre and Suge Knight. Word had gotten around that Dre was a bit apprehensive about showing up. Suge sent word that he was stuck in traffic but on his way through. The hotel had to add more chairs as the lines outside the Four Seasons swelled. The Fruits of Islam were dispatched to go to the door and gather up any prominent artists who may have been stuck outside. The West Coast Hip Hop Summit began-45 minutes after its scheduled time... We all stood and prayed and Minister Farrakhan was introduced.
The Minister's speech to say the least was incredible. It built upon the landmark address he delivered at last year's Hip Hop Summit where he called upon artists to step up and accept their responsibilities as world leaders. The main themes of the speech he gave at the West Coast summit centered around the Hip Hop community becoming closer to God, recognizing the power of words and a call for the Hip Hop community to use their influence and become peace makers for the society. He noted that in order for us to establish peace we would have to take the necessary steps to be at peace with ourselves. This meant for us to become more spiritually grounded.
TRUE PATRIOTISM
He started out by talking about the current War on Terrorism and a letter he recently wrote to President Bush warning him that we as a country were headed on a path that would lead to increased war. He told the Hip Hop audience that he feared that they would be called to fight a war over policies they knew very little about. He also pointed out that many of us were dealing with chemical and biological warfare in our respective communities. He cited the crack cocaine and AIDs epidemic as key examples. He noted that it would be up to the young Hip Hop community to take the bold steps and lead the charge for peace. "The role of Hip Hop is a lot bigger then you think," he explained.
The Minister spent time focusing on the true meaning of patriotism. He told the audience that true patriots stands for righteous principles and he pointed out the important role Dr. Martin Luther King and Muhammed Ali played in standing up against the Vietnam War. He noted that when both men spoke out against the war they were considered ungrateful and unpatriotic but they were able to stand firm because they believed in something bigger then themselves. He noted that both men took stances that only a true patriot could take because it helped bring our government back to its Constitutional principles. He told the rappers never to be afraid to speak the truth. He also noted that as one gets closer to God and becomes more spiritually connected they would have less fear and feel more secure.
THE POWER OF WORDS
Minister Farrakhan spent a lot of time talking about the power and influence of the spoken word. He gave a historical break down of the African Oral Tradition and showed how it surfaced in various music forms throughout the years as coping mechanism. "Adversity is the mother of creativity," he stated. "Hip Hop was created out of our communities pain and suffering. It provided us a way to cope and ultimately change our reality."
He explained how slaves used the power of the word through spirituals to get through the horrors they experienced and to ultimately change their realities. He quoted from old spiritual songs like 'Swing Low' songs to show how the slaves cleverly used metaphors and manipulated words to secretly communicate with one another. He also spoke about the origins of other music genres like gospel, blues, jazz, soul music and R&B and showed how they too all started out as a way for us to combat oppression and ultimately serve the community. I wish I could break it down the way he did, because writing about it does no justice. All I know is that he had cats riveted to their chairs as he kicked the science.
He then asked the Hip Hop community to be responsible for their God given talent. "Little kids can't read 'Dick and Jane,' but they can recite every word to one of your raps," Minister Farrakhan noted. "You are second moms and dads to those who listen to you...We need more educational raps and more rappers willing to teach since so many kids won't go to school."
He asked the rap artists to help in the process of getting our community to move in the right direction and to start teaching knowledge so that people who listen to them will know what they need to fight in this society. He asked the rappers to use their music to help break down the system and show people how it works. "Either we're killing our people or raising them up," he said. "We need educational raps and more rappers willing to teach because so many kids won't go to school."
The Minister warned the rappers to be careful and not have their talent be used as weapons against them and the community. He pointed out that many artists like creating raps about pimps, hoes and hustlers which in turn are heavily marketed and promoted by many within the music industry. He broke it down and explained that the young people who grow up admiring these artists will strive to emulate the negative images that are being heavily promoted. He noted that reason such negativity is hyped up is to help keep our community at a level where we can be dealt with. He shrewdly pointed out, that as young easily influenced youth seek to become pimps, hoes and hustlers, they fall into the waiting arms of those who control the Prison Industrial Complex. The Minister pointed out that there are many that are making a fortune arresting 'pimps,' 'hoes' and 'hustlers.'
During his speech Farrakhan chastised those who are in key positions within the music industry for deliberately downplaying the positive messages and attempts put forth by artists. He told industry cats that many of them have become rich promoting filth and encouraging the marketing of a negative mindset. He asked label executives to use their vast resources and influence to help artists put forth positive messages calling for peace and social upliftment.
The Minister broke down the science behind media manipulation and the deliberate marketing of negative images. He cited and later gave several examples of how those with ill intent in the media can take a 30 second sound bite and make even Jesus look bad. He explained how our words and actions are often maligned and twisted to make us appear and seem a certain way especially when taken out of context. He also noted that these twisted images can sway people to think and act a certain way.
Minister Farrakhan concluded his remarks by asking the rappers to realize that what they speak on will eventually manifest itself. He noted that rappers are able to conjure up powerful images that resonate in the minds of those who listen. "You form images in the minds of young people who grow up and strive to become the images you help form," he said. He warned the artists that if they were not careful, they would one day have to answer to they type images they are helping create in their raps. I thought it was one of the Minister's most important points.
"Take up the mantle of leadership and pray to God to help you use your talents...Become architects of a brand new world, rise to your divinity and help us get back to our humanity," are the words he echoed to a standing ovation.
SIMMONS, HARVEY AND DJ QUIK SPEAK OUT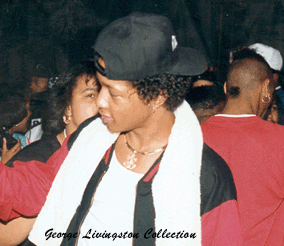 After Farrakhan spoke those of us who sat on the panel got to address the audience. This included myself, Michael Conception, a sista from the RIAA, Melanie Campbell of Black Youth Vote, Steve Harvey, DJ Quik, the DOC, Big Boy of Power 106 and Russell Simmons. One of the highlighted remarks came from Russell Simmons who pointed out some interesting statistics about the current state of Hip Hop music. He explained that rap sales were down by almost 20%. He noted that he felt it may have to do with the fact that what we are getting from many rap artists is manufactured and not truthful in the way that Minister Farrakhan described. He noted that nowadays people are looking toward artists like Jill Scott, Bilal and others who seem to be representing a truthful vibe for the people. He also pointed out the high ratings and current demand for spoken word artists who seem to have taken the place of rap artists in terms of speaking truth.
Steve Harvey spoke and pointed out what rap artists could expect from Radio One; the largest Black owned radio network in the country. He explained that the owner Kathy Hughes is now moving in a direction where she will not be playing a lot of the vulgar and degrading music. He explained that she as well as many who listen to her radio stations which can be found in 64 markets are tired of hearing about 'gats,' 'pimps' 'hoes' etc. He broke it down to the artists in the room by asking them to look at this scenario from a business stand point. Harvey laid out some figures and juxtaposed them with the dominant position Radio One has in numerous Black communities around the country. He concluded that it would not be cost effective for them to continue in the direction of putting out foul material.
DJ Quik wrote a moving statement. He said he was inspired by Minister Farrakhan's speech. He wanted to know if this Hip Hop Summit would result in change. He wrote that he was tired of attending meetings where everyone starts off feeling good, but as soon as they walk out the door, egos get in the way and we go back to acting ill. Quik's remarks definitely left us with a lot to think about.
SUGE KNIGHT BRINGS IT HOME w/ KNOWLEDGE AND INSULTS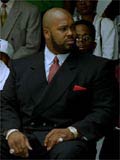 As we continued with our remarks, a sharply dressed Suge Knight complete with a lit cigar and shades arrived almost two hours late with an entourage of about 40 people. Among his folks were Mack 10, Kurupt and members of the Boo-Yaa Tribe. Some of those Boo-Yaa cats were so big, they made Suge look small and Suge is a big guy.

As soon as he rolled through you could feel the energy in the room start to change. Almost immediately the press rushed from the back of the room and started taking pictures even as cats were still speaking. There was no denying his charisma and presence-all eyes were on him. Suge seemed to relish the attention. Minister Ben gave Suge a nice introduction as he explained to the audience that he has gotten a chance to sit down with Suge and experience a more compassionate side to him.

Suge started out with some powerful remarks. First he responded to a remarks I had made when I pointed out that a lot of cats had successfully flipped their street hustle into a business hustle. He pointed out that nowadays such remarks will be used against people and get them sent to jail. He said its best to be silent on what people do with their drug money. He explained that he didn't wanna see any more brothers go to jail.

Next, he spoke about the music business and how it was important for artists to form a union. He pointed out that many artists have no health benefits and very little leverage in terms of negotiating for a better deal. He talked about artists and Hip Hop song writers positioning themselves so they could economically impact the 4 major record labels. He offered a couple of scenarios that definitely had you juiced. He also pointed out how the major labels stick together and will work with each other to try and keep artists from rising to certain levels. He noted how an artist who has beef with one label will leave and go to another only to find that the executive from label one will pick up the phone and tell the executive from the new label not to give the artist a good contract. Suge noted that the Hip Hop community needed to have that type of unity, leverage and power.

Suge spoke about the type of tactics that go on behind the scene where labels try to get rap groups to break up and go solo so they can make more money. He also spoke on how all the new boy bands are merely carbon copies of the Black Boy bands like Boyz II Men from a few years a back. He rhetorically asked the question as to where are they now? Suge also spoke on the state of today's male groups by noting that the industry has positioned them so they no longer have an identity. He pointed out if it wasn't for a video you would not no the difference between a 112 or Jagged Edge. He suggested this turn of events is a deliberate attempt to keep Black artists at a certain level.

A lot of cats seemed to be hearing Suge and was digging his remarks and break down of the music industry politics. Suddenly he appeared to take a left turn. He started talking about P-Diddy, Dr. Dre, Cash Money and Master P to name a few. He pointed out that none of these guys own their own masters and are essentially puppets for the major record labels. He explained that many artists who claim to have label deals only have logo deals. That means they stamp their name on a record label and are at the beck and call of the majors. He basically broke it down by explaining that majors allow these small labels to do all the A&R work for them.

Suge then made some remarks about Dr. Dre. He wanted to know how come Dre is from LA and did not show up to the Hip Hop Summit as promised. He then criticized Dre for signing artists like King Tee, Eve and others and never putting them out. He noted that the first artist Dre really got behind was Eminem who because of his skin color is allowed to say and do whatever he wants. He seemed to imply that it was Interscope Records calling the shits and not Dre.

Suge also pointed that people like Snoop Dogg accused him of giving artists bad deals. He told the audience that he gave Snoop, 5 Million bucks when he was on trial for murder. He pointed out to Trey Dee who was sitting in the audience that he sold a million records but didn't have a million dollars. Suge wanted to know who was really giving artists bad deals.

Suge then launched into some unsavory remarks about P-Diddy, Master P and Cash Money. His tone and overall demeanor seemed to unnerve some folks. It didn't help when he made some off handed comments about the lack of East Coast rappers in attendance, gays, not liking snitches and eating p$#y. Former Death Row artist Jewel had apparently heard enough and started shouting at Suge from the back of the room. She said something to the effect of not wanting to stand there and let the devils work be done. Suge dissed her and continued onÉ Someone else shouted from the audience that she brought her kids to the conference and that these proceedings were supposed to be peaceful. Suge responded to her and wrapped up his remarks. As he left the stage more then half the room followed with cameras, tape recorders pens and pads.

CONCLUSION

As I sat there listening to some of Suge's remarks a few thoughts immediately came to mind. The first thing that came to mind was Minister Farrakhan's message about Hip Hoppers taking a stand and adopting the role of peacemaker. He called upon us to take some bold steps and move the agenda forward even in the face of adversity. I also thought about DJ Quik's written remarks which questioned our seriousness. He wanted to know if we were really going to keep all this positivity going or let egos and bad attitudes get in the way?

From my vantage point, many of us were indeed serious. There were many who were not going to let 15 minutes worth of off the cuff remarks overshadow two solid hours of positivity from the Minister and other speakers. We were given some sound advice, inspiring words and a challenge to use our God given talents to change the American landscape. What's the excuse for not continuing down that path?

As for Suge Knight, as abrasive as he came across he did lay down the ground work for economic empowerment. In an off beat sort of way laid down his own challenge for us to step it up and not to let ourselves continue to get punked by an industry that allows us to put out music where we create fantasies about being Mafia dons, drug lords and organized crime figures while never owning our masters or a decent health insurance policy from a record label conglomerate that tells you when you can and cannot put out your album. In other words, we are still in a position where someone else owns what you create. I took his remarks to mean; if we're gonna 'be about it'-Let's be about it on a higher level where we have some leverage and economic control. If not figure out how you're gonna make a difference in this music game. At the end of the day all I heard Suge say was own your on. Many of the OGs who were present picked up on that and actually appreciated the wisdom Suge dispensed...

The other thought that crossed my mind as he spoke, was how in a strange sort of way this was a case of big fish eat little fish. The Minister's warning about us having to one day answer to the things we put out kept resonating with me. Now in no way am I justifying violence or any sort of bullying tactics that one might wanna attribute to Suge Knight or anyone else, but I have been in this biz long enough to know that a lot of cats who are now crying foul about Suge ain't that innocent themselves. More then a few have walked into the music industry with sorted reputations. At one point they too were rolling around the industry intimidating people and doing all the foul things they claim to be victim of. As The DOC pointed out Suge is a killer whale in an industry full of sharks. Did cats not expect the tables to one day turn and they find themselves on the short end of the stick? Did they not expect to one day encounter a bigger fish. Play with matches you may get burned...

Over the years I've sat in rooms where some artists have shed tears, sought counsel and protection from the NOI and promised to turn their lives around and walk a more positive path only to see them go back to keeping it gangsta a few months later. Not only has it been reflected in their music and videos, but also their day to day lifestyles. Its almost like we never learn. It seems like the only time some are willing to change is when a bigger, more ruthless gangsta enters the scene and puts the smash on cats. And in this music industry Suge Knight ain't the only gangsta. There are a whole bunch of 'well heeled, well respected' major record label owners and executives who are known, admired and feared for being ruthless and for their willingness to put artists and anyone else who gets out of line in their place. We refer to them as aggressive, savvy businessmen.

In the meantime, one may wanna read the book 'Hit Men' Fredric Dannen to get a better understanding of how this industry works. Other may wanna take a long hard look at some of the standard recording contracts that are being issued. Better yet folks may wanna look at the new royaltie rates that are going be paid to artists with the new industry controlled download internet services that sprung up after Napster. Try less then 1%. Now if you ask me thats extortion and that's gangsta.

Still others may wanna take along hard look to see what it takes to get radio and video play nowadays. Still others may wanna take deeper look into the behind the scenes ruthlessness of the concert promoting biz. After we do that we have to ask ourselves what steps are we willing to take to change the dynamics of this industry. Do work from within or do we establish our own? If we establish our own are we willing to sacrifice all glitz and glamour that attracted us to the scene in the first place?

Before responding back, I would ask that people read carefully what I wrote and think about things that were said and suggested at the summit. Ask yourself are we willing to use our talent in a positive way? Are you willing to go down to the local youth center or the local school and sit down with some young kids and talk to them about their favorite album? Are we willing to be strong 'Hip Hop presence in their lives so they are not easily swayed by the gangsta lyrics that are often being force fed down our throats? If you're an artist are you willing to spend a extra day in a city you are visiting to go to a local group home or neighborhood house and give little Johnny and Sasha a free show so they can see what Hip Hop should be about?

Are you willing to organize a group of people to confront the local radio station in your area that continuously pumps negative material while leaving the positive stuff on the shelf. Are you willing to get a group of folks together to make sure the local dance hall brings acts to town that are trying to move the agenda forward. Are you willing to join a Hip Hop organization or start your own?

Are you willing to gather a group of business people to pool resources to see how you can buy your own media outlet to reflect what you think Hip Hop should be about? Are you willing to write to the FCC or your local Congressperson to make sure more the opportunity to have access and bring about change are available for you? More importantly are you willing to do these things even when everyone else isn't? Are you willing to be creative in the face of adversity. To me thats Hip Hop.

All in all I will say the Hip Hop Summit was a positive thing. Because we started late we weren't able to do the workshops and break off into small strategy groups which was what was initially planned. That was disappointing. But this whole thing is a process. Things aren't gonna change overnight. It will require some patience and lots of encouragement directed toward those who may see this as a bit overwhelming. More importantly it will require many of us to step up and take some bold stances. If cats didn't like the way it run, just don't complain, drop Minister Ben or Russell Simmons a letter and lay out your suggestions. If you felt Suge was out of line write the brotha a note and let him know how you feel. It just might encourage him to look deeper. If you feel Hip Hop is lacking, its time for you to step up and Take The Weight. We have along ways to go, but at least we're stepping in the right direction.

Respond to Dave D at: Mrdaveyd@aol.com

============================================================

Send comments, questions and concerns to mailto:mrdaveyd@aol.com
The FNV Newsletter
written by Davey D
c2001
All Rights Reserved

Go To FNV Commentary Directory

Go To Hip Hop Articles Directory

Go To FNV Directory

Go Back To Hip Hop News Directory
---
[home]
[chat]
[conferencing]
[updates]
[what it is]
[politics]
[contests]
[opinion]
[links/photos]
[media]
this site is produced by Davey D in association with eLine Productions
---