Nas, The Roots, Sambos & Porch Monkeys
by Davey D... 2/09/02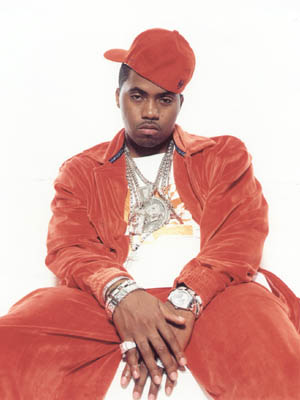 By now everyone is aware of the strange and twisted turns the Jay Z vs. Nas battle has taken over the last week. Its much better then any soap opera. If you ask me someone should replace 'All My Children' with a new show called 'As The Hip Hop World Turns'. Here's the latest break down:
First, there were early stories that Nas went on New York's famed Hot 97 radio and called out The Roots. 'Sambos', 'Porch Monkeys', 'Hypocrites' and 'confused rap artists' were among the choice words he used when lambasting them. He felt they were hypocritical because it wasn't too long ago that The Roots did a video for the song 'What They Do' where they poked fun at the Moet Drinking fast living lifestyle personified by rappers like Jay-Z and Mobb Deep. Nas pointed out that after making such a potent statement they turned around and played back up for Jay-Z during his MTV Unplugged performance.
Nas also ripped into Roc-A-Fella records and blasted them for putting out the movie 'State Property'. He felt it was a step backwards for Black people and had no redeeming values. He stated that we as a community had moved past the era where we all have to walk around and pretend to be gangstas and kill one another in our songs and videos.
Now with Nas publicly dissing The Roots several huge debates erupted. First, were The Roots hypocritical in their actions? Are you selling out when you take a stance against a certain lifestyle and mode of expression within Hip Hop and then hook up with cats who represent that lifestyle? The Roots seemed to have always moved in a direction that left one with the perception they aren't down for all the commercialism within Hip Hop. At the same time should we be segregating ourselves and does one not have the right to change their mind? More importantly, aren't we all guilty of being hypocritical at various times in our lives?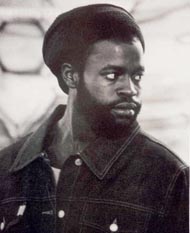 Black Thought, lead rapper for The Roots responded to Nas' complaint the other day when he himself called into Hot 97. He broke it down and explained that the video they did was a satire that poked fun at rap video cliches which included the scantily clad women and guys sipping on crystal and Moet. It was actually a take on a rock video which was done earlier which poked fun at rock video cliches... He noted that if Nas had a problem he should've directed his concerns to director Charles Stone.
Black Thought also took Nas to task for his own hypocrisy. He pointed out that Nas is found of saying in all his songs that we need to go back to Africa and reconnect with the motherland. Black Thought noted that he was calling the radio station from Soweto, South Africa. He wanted to know when Nas was going to make the trek himself and not just rap about it. He also checked Nas about an off handed remark he made about Black Thought thinking he was righteous because he wore dreads. Black Thought reminded the audience that he had cut his red almost two years ago.
Roc-A-Fella CEO Damon Dash was in the Hot 97 studios when Black Thought called in and backed him up. He noted that Nas was off base in his criticism because if the 'What They Do' video was directed at the Roc-A-Fella camp, they certainly didn't have no problem with it or The Roots.
Many were speculating that Nas may actually have been heated be the fact that during the Unplugged performance The Roots played excerpts from some of Nas' classic songs when Jay-Z did the dis song 'Takeover'. By doing this, he felt the Roots had picked sides in this war of words between Nas and Jay-Z. For those who care to listen to the comments there's an audio clip of both Nas' remarks and Black Thoughts comments on www.okayplayer.com. Some are saying that Black Thought tried to pass the buck on both The Roots video as well as their involvement in the MTV Unplugged show. In the words of the great Rodney King-- 'Can't we all just get along?'
The other debate this latest incident sparked is whether or not Black Thought could handle Nas in an emcee battle. The jury is still out on that one... Whether you agree with Nas and remarks or not, there's no denying the kid got skillz. He's still one of Hip Hop's all-time top lyricists. On the flipside Black Thought is underrated yet very gifted. Most are tempted to give the nod to Nas. As for me, I think Black Thought is hungry and would take young Nasir Jones out to the woodshed and teach him a thing or two. Perhaps both could do a song about their love for Africa.
Lastly I wanna address this debate about whether or not The Roots sold out by playing with Jay-Z? I don't get it... How many would turn down a gig with MTV? Who would refuse to appear on stage with a multi-platinum artist like Jay-Z. Its not like on their next album Black Thought and the crew are going to be drinking Moet and having bikini clad sistas running around while they sing about 'Big Pimping'. That's not their steez. At the same time as accomplished musicians why shouldn't they play back ground for Jay-Z? Should Jigga have gotten another band? Let's say he got a rock band or some new jacks no one ever heard of that came off wack, cats would be complaining that Jay-Z and MTV were wrong for not asking The Roots. Cats would be screaming that 'real' Hip Hop wasn't given a chance to shine.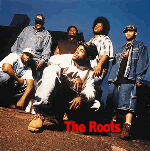 What is it that cats want? Should ?estlove and the rest of The Roots Band have held a press conference prior to playing back up for Jay-Z and offer some sort of explanation? Should they have issued a press release saying 'We The Roots apologize for dissing Moet drinking, Fast Life living rap stars. We were wrong to dis them. Their lifestyle is OK and we would like to play backup for Jay-Z?' The way some are making it sound it would've been ideal for the Roots to have stood on a soap box and say 'Hell naw we ain't playing back up for Jay-Z, not until he changes his evil ways?' And even if they did, do you honestly think Jay-Z would've gone home and came back a changed man?

Is it not a good thing when The Roots who come from one perspective to hook up with an artist who represents another? Isn't dialogue, collaboration and engagement the way to bring about change and have influence? Are Jay-Z fans sitting back at home looking in shock and disbelief and complaining that Jay-Z is ruining the thugged out rap style he personifies by hooking up with some underground cats like the Roots? Are Jay-Z fans accusing him of not keeping it 'gully'? Did he lose his street cred for hooking up? Are cats in Jay-Z's native Marcy Projects saying 'Hell Naw Jigga-man you sold out hooking up with those 'positive' cats? Are cats from the streets complaining that Jay-Z needed to bring some straight up hard-core ghetto cats who all have lengthy prison records and no redeeming qualities. Would that have been more appropriate?

Let's get real folks...MTV wasn't calling up The Roots to do an Unplugged show. They called Jay-Z. If it was the other way around it'd be a different story. Maybe the Roots would have Jay-Z on a flipping rhymes and highlighting their message. Like him or not, Jigga has sold millions of records and cats are checking for him. Hence it was to The Roots advantage to show up and perform. Who would turn down such a gig? Not only did they benefit from the exposure, they also may have opened doors so they could lead to them being asked to come back and do more MTV Unplugged either for themselves or other Hip Hop groups like them. To me that's a good thing...

Anyway I suppose the next time I go to a Roots show and they do the part where each musician plays excerpts from classic rap songs, some of their critics are going to stand in the back of the room with a checklist and make sure they don't play a riff from a hardcore, gangsta artist like Schoolly D lest they will be accused of selling out

Respond to Dave D at: Mrdaveyd@aol.com

============================================================

Send comments, questions and concerns to mailto:mrdaveyd@aol.com
The FNV Newsletter
written by Davey D
c2001
All Rights Reserved

Go To FNV Commentary Directory

Go To Hip Hop Articles Directory

Go To FNV Directory

Go Back To Hip Hop News Directory
---
[home]
[chat]
[conferencing]
[updates]
[what it is]
[politics]
[contests]
[opinion]
[links/photos]
[media]
this site is produced by Davey D in association with eLine Productions
---