IN THIS ISSUE OF FNV 10-25-99
*Common, Dead Prez and Others Hip Hoppers Say 'Hands Off Assata'
*MC Hammer's Cars To be Auctioned Off
*Public Enemy Jacked By Concert Hall
*Allen Iverson To Sign record Deal
*KRS-One Lands A new radio Show
*Jay-Z And Magic Johnson Part Ways
*KPFA Hip Hop Protester Still Under The Gun
*Hip Hop Question Of The Week

Send comments, questions and concerns to
mailto:kingdave@sirius.com
The FNV Newsletter
written by Davey D
http://www.daveyd.com
http://www.rapstation.com
c1999
All Rights Reserved
---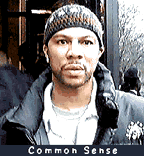 Congratulations are in order to artist like Common Sense, Dead Prez, The Roots, Black Star and Q-Tip to name a few. They have all put forth their time and talent for an upcoming political Hip Hop project entitled 'Hands Off Assata'. This album is a benefit designed to bring attention to 2Pac's exiled Aunt Assata Shakur who now lives in Cuba as well as America's numerous 'political prisoners'.

For folks who are not familiar with the story surrounding Assata, in 1973 she was known as Joanne Charismard. She was a member of the Black Panther Party who was accused and convicted for shooting to death a New Jersey State Trooper. The situation surrounding her case was marked with controversy as many claimed that she was innocent. Assata managed to escape prison and has since been hiding out in Cuba. For years Assata was all but forgotten by the mainstream public until a couple of years ago when current New Jersey Governor Christie Whitman began to involve herself. She has offered a 50 thousand dollar bounty for her return and has pushed to the US Congress adapt a policy that would make Assata's return to New Jersey as one of the conditions for any meaningful US/Cuban relations to take place. Please see the following articles on my website [http://www.daveyd.com] including an open letter from Assata Shakur for more information http://www.daveyd.com/assataletterpol.html and http://www.daveyd.com/letgovwhitpol.html.

Over the years there has been a cultural exchange of sorts with Cuba and many within the Hip Hop community. Chuck D of Public Enemy invoked her name in a couple of songs. Numerous artists ranging from Michael Franti of Spearhead to Common Sense to Paris have traveled to Cuba to perform. Many have actually sat down and 'broke bread' with Shakur. She has also managed to stay very active and up to date with the Hip Hop community. She even offered some heartfelt 'constructive' criticism about the types of activities and artistic approaches taken by her late nephew 2Pac.

The upcoming project being put forth by Common and other progressive artist will no doubt keep people up to date about this story and the numerous others surrounding activist from the late 60s and early 70s who are doing time in American prisons behind some very suspect circumstances.
---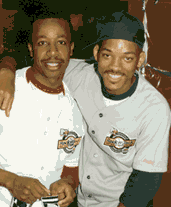 There will be a quite a number of people who are expected to show up to The Forrest Faulknor & Sons Auction Company this Thursday October 28th in South San Francisco. The reason being is that eight vehicles formerly belonging to MC Hammer will be auctioned off. The vehicles include a 1952 custom Chevrolet Coupe, 1967 Ford Thunderbird, 1964 Lincoln Continental Convertible, 1972 Mercedes Benz 350 SL, 1985 Mercedes Benz 500 SEC custom convertible, 1990 Mercedes 300 SEL sedan, 1991 Lincoln Limousine and a 1990 Ferrari Testa Roosa with 9000 miles. I recall the Ferrari, unfortunately the last time Hammer drove the car he overheated the engine which means it will have to be rebuilt. There have been a number of firm bids for the Testa Rossa.

As this auction is set to take place MC Hammer has been doing quite well. He had a successful comeback this summer when he left 22 thousand people standing as he rocked the house during KMEL's Summer Jam concert. He can also be heard doing talk radio on KGO as well as commentating during the SF 49er pre-games. He's had a number of songs that he's dropped off to deejays here and there, but people are awaiting his album. Many of the cuts will be the from the unreleased album he completed while he was an artist on Death Row records. There are some slamming songs especially one he did with 2Pac and Big Kaddy Kane.

With this auction set to take place the question that everyone always asks.. 'Is Hammer poor broke and destitute?' About as much as Donald Trump was when he filed for bankruptcy a few years back :).
---
The Bay Area was treated to a number of Hip Hop shows this week including performances from Redman and Method Man, Public Enemy, Pharoahe Monch, The Beatnuts and Del Tha Funkee Homosapien and Casual. Meth & Red who's new album 'Blackout' is the bomb did what I consider a so-so show during the Family Values Tour. The sound was jacked which is endemic of most rap shows and the routine was somewhat predictable. 10 minutes into the act they resorted to the over done routine of getting each side of the audience more hyped then the other. They also rushed through a number of songs where they would just do a couple of verses. The most annoying thing was the muffled vocals. When you have two stellar lyricists like Red and Meth you wanna be able to hear them clearly. Their sound should've been like that of the headlining act Limp Bizkit..

Public Enemy got seriously jacked during their performance at Maritime Hall in SF. For those who are unfamiliar with maritime it is the only all ages venue in the city. It is also one of the only places that will consistently bring safe rap shows to the Bay Area. They tend to be quite progressive in their booking as they have had everyone from KRS-One to Tha Alkaholiks to Organized Konfusion. Maritime is also a large venue with several stages that can house several shows at one time. For the most part it is one of the only games in town. The same night that PE was scheduled to perform, reggae artist Linton Kwesi Johnson was also booked. Quite naturally folks thought he would be on one of the other stages which has a separate entrance. Who would've thought Maritime would go and put both acts on the same stage in one night.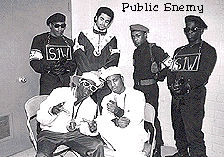 When PE arrived in town they discovered that they would have to be off the stage and out the venue by 8:30 pm that night. Maritime was intending on clearing the hall after the performance and bringing in a fresh new crowd for Linton Kwesi. Needless to say this did not sit well with anyone. PE maintained their professionalism and wound up taking the stage at 7pm. Their show lasts for about 2 hours, but unfortunately had to cut it short. Maritime threatened to pull the plug if they went over. The place was packed but tons of people began showing up at the venue around 9pm only to find out their favorite group had left the building. Chuck accommodated people by doing interviews well into the night, but Bay Area folks were definitely duped and short changed by a venue that has a somewhat 'shady' rep.

As for the show, it went real well. They had a new deejay named Lord Auswaad who was filling in for Terminator X. This kid was off the hinges as he was doing some Invisible Skratch Piklz type of moves. According to Chuck, Terminator was back in his home in North Carolina dealing with the recent rash of floods and Hurricanes that have been bombarding the state.
---
Basketball star Allen Iverson is getting to set to make some moves of a different sort as he has just signed a deal with Universal Music. His album will feature folks like Jermaine Dupree and Nas. The two questions everyone has on their mind is whether or not Iverson's raps will be in synch with his infamous bad boy image. The word is his album will not be gangsta or thugged out rap. The second question is whether or not Iverson got skillz that are on par with his on court finesse.. After all, many athlete turned rapper like Dion Sanders and even Shaq left much to be desired in the emcee arena. From what I'm hearing Mr Iverson can flow, but he certainly won't be outshining Nas on his track. We wish him much luck.
---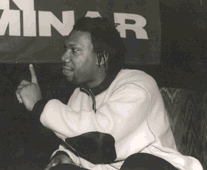 Congratulations are in order to the Blastmaster KRS-One. As of late he's been making major moves to get his Temple Of Hip Hop organization up and running. Thus far he has established chapters both in The Bay Area and In Los Angeles. At last count which was almost two months ago he had over 120 members in the LA chapter. The Oakland chapter has also been up and running. KRS noted that he has plans to do some speaking engagements which will involve many of Hip Hop's movers and shakers and pioneers. He's also finishing up his book entitled 'Hip Hop'. Now KRS has taken his activism to the airwaves as he is in his third week of hosting a conscious Hip Hop Show on 92.3 The Beat in LA. It's appropriately called 'The Temple Of Hip Hop'. It airs every Sunday night from 9pm-midnight and it features KRS dropping some phat tracks, chatting it up with a variety of guests and of course dropping mad science. I'm waiting to get my taped copy of his show. For more info email him at mailto:wwwthebeatla.com or peep out his website http://www.templeofhiphop.com
---
Bad news for Jay-Z and company and the fate of his newest film, The Hard Knock Life Documentary. This is a movie that focuses on the behind the scenes activities for the historic Hard Knock Life Tour. It was said to be the highest grossing rap tour ever. The other week it was announced that Jay-Z and former basketball star turned theater owner Magic Johnson were close to striking a deal which would result in Magic distributing Jay-Z's film. However, late last week the deal fell through. Roc-A Fella records co owner Damon dash claimed that Magic Johnson 'flaked' and had gotten in over his head. Johnson noted that he could only commit to showing the film in the three theaters that he personally owns. he could not guarantee distribution in the Lowes Theaters that he is affiliated with. Being the class guy that he is, Magic wished Jay-Z and friends much success. In the meantime Jay-Z will have his film distributed by Miramx films. Look for it to drop sometime early next year as it will coincide with a soundtrack from Jay-Z.
---
In the November issue of The Source Magazine, there's an excellent articled penned by writer Eric Arnold that talks about the tumultuous struggle that took place over the summer to save community radio station KPFA 94.1 FM in Berkeley. For those unfamiliar with the station, KPFA is the nations oldest and most powerful community radio station. Earlier this summer the governing board- Pacifica that oversees the station and holds the licence made some foul moves including a proposal to sell the station. When on air deejays attempted to speak out on the airwaves about this, the station was shut down and huge protests were held. At one close to 20 thousand people turned out at a rally.

The Bay Area's Hip Hop community played a key role in mobilizing people around this issue of Free Speech and Free Radio. . Organizations like Third Eye Movement, STORM and others gotten lots of young folks out into the streets to defend the station. One of the key figures in helping bring the Hip Hop community to the table was a raptivist named Khalil Jacobs-Fantauzzi . Khalil is known around the Bay for his activism especially within the Latino/Puerto Rican community. He also taught a class up on UC Berekely campus that dealt with Hip Hop. On numerous occasions he would bless the mic with wicked freestyles of his own. His love and passion for the music and culture are unparalleled. During the station lock out Khalil would mobilize rappers to rally in front of the station every Friday afternoon. His on going activism resulted him being brutalized and arrested by the police. In fact he was shown on the local news channels being dragged away by police in what many were saying was an unprovoked attack. One of things that got the police upset was the fact that Khalil would consistently take pictures and write down badge numbers of any officer who stepped out of line toward the protesters.

This Thursday at 8:30 am Khalil finds himself having to face charges at Berkeley's Municipal Court. From the looks of things it appears that he is personally being singled out due to the fact that there were more then 100 arrests during the KPFA Lockout and all but his charges have been dropped. Bay Area folks are being asked to come out and show support.. The Hip Hop community is being asked to be aware and support one of our own.. For more info peep out the website http://www.savepacifica.net.
---
*Question Of The Week*

Have you ever paid close attention to Hip Hop lyrics and come away shaking your head because some of the information being spouted was just plain wrong. For example in Biggie's song 'Going Back To Cali' he rattles off a slew of California area codes but then he mistakenly gives one '313' which doesn't exist anywhere in the state. If I'm correct, I believe that's the area code to Michigan. Puffy in his recent remix pays tribute to the Bay Area by naming off some Bay Area cities but then goofs by naming off San Diego which is 500 miles away.. In KRS-One's classic record 'Why Is That' he spouts off some Biblical verses and passages that simply don't coincide with the lyrics to his song.. I've heard other songs where people have spelled names wrong in an attempt to rhyme on time. Others like Foxy Brown in the song 'Affirmative Action' by The Firm drops a verse that just doesn't make sense.. Others have used slang terms the wrong way.. Have you come across any gross misrepresentations in a song.. Drop me a line so I can share this with others.. In the immortal words of Guru 'Watch What You Say'. mailto:kingdave@sirius.com
---
Send comments, questions and concerns to mailto:kingdave@sirius.com
The FNV Newsletter
written by Davey D
c1999
All Rights Reserved
Go To FNV Directory
Go Back To Hip Hop News Directory
---
[home]
[chat]
[conferencing]
[updates]
[what it is]
[politics]
[contests]
[opinion]