IN THIS ISSUE OF FNV 11-21-99
*Mos Def Touches Down And Makes Noise
*JazzyFatnastees & The Black Lily Tour
*Hip Hop Kung Fu Movie w/ Souls Of Mischief & The Jungle Brothers
*Congratulations Zulu nation
*The Final Line Up For 2Pac Conference..Concert Just Added
*Boots Pulls Together 35 Emcees For Anti-Crime Bill campaign

Send comments, questions and concerns to
mailto:kingdave@sirius.com
The FNV Newsletter
written by Davey D
http://www.daveyd.com
http://www.rapstation.com
c1999
All Rights Reserved
---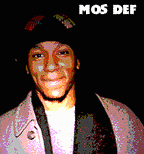 Mos Def touched down in the Bay Area for three days and definitely made his presence felt. Everywhere he went he drew huge crowds of enthusiastic fans who are not only feeling his new album 'Black On Both Sides', but they're also feeling Mos along with other artists like label mate Pharoahe Monch are repainting and refreshing the Hip Hop musical landscape. His performance at San Francisco's Justice league drew close to 2000 people who watched Mos do a show that lasted more then an hour. He not only did his songs, but he took time out to talk to the audience about the inspiration and deeper meaning behind many of the tracks including 'Rock-N-Roll', and 'Mr Nigga'. He also refused to have alcohol sold during his performance because it clashed with his Islamic beliefs.

Now initially Mos was supposed to get off the plane and head on over to KPFA's Hard Knock radio show for a live in studio interview that was also being broadcasted on the Internet. Bay Area traffic left him stranded so he wound up calling in and when he did get to the studio it was just as the show was ending. Nevertheless the conversation was good as we covered a range of topics that centered on the type of roles and responsibility Hip Hop artist should embrace during these troubling times to Al Sharpton's harsh criticism of rappers during the NAACP convention. Mos let it be known that while he as an artist is not perfect he strives to be useful. He wants to have impact and hence he aligns himself with projects and activities that allow him to do that. He also noted that not every artist will be able to do all the types of things we who sit on the outside would like them do. In other words, not every artist will be a good organizer, not everyone will know how to go out and lead rallies and protests or even how to accurately articulate a particular problem. He went on to add that oftentimes community people expect a lot from artists but at the same time they rarely reach out and invite these individuals and create space for them to plug in where they can best utilize their talents and skillz to perhaps show support or bring attention to a particular cause..

Mos spoke about an upcoming project 'Hip Hop For Respect' that he did last May in response to a vicious police shooting last February '98 that left an unarmed Bronx man Amadou Diallo shot 41 times by New York City police. Mos sent out an email seeking the help of Hip Hop artists and invited them to come and help put together a project that would bring attention to the scores of people who were murdered or brutalized by police. The response was overwhelming to the point he wound up having to turn away artists. Some of the folks included on the project are; Kool G Rap, Cappadonna, De La Soul, Common, Rah Digga, Dwayne Wiggins and Pharoahe Monch to name a few. Every thing will drop down in January of 2000 just in time for the trial that will be held against the 4 officers responsible for murdering Diallo.

As an activist Mos spoke about the book store he and his Black Star partner Talib Kweli recently took over. The bookstore is called N'Karu which translates to 'the message is yet to come'. After 23 years, it's the oldest bookstore in Brooklyn. Mos and Talib have established a non-profit education center within the bookstore and they have some aggressive and great plans for it to continue impacting the community. For more info on Mos and Talib's bookstore call 718-783-6306 for more information.

Mos also let it be known that he had just completed a film that will soon be released by Spike Lee called 'Bamboozled' . When pressed for more information he noted that he was sworn to secrecy and he could not supply anymore information. Every journalist trick in the book could not get Mos to budge on more info. He left only saying the film is dope..

Finally Mos gets props for his participation in various Bay Area events..He did two autograph signings at local record stores both in Oakland and San Francisco. In both cases hundreds of people showed up resulting in Mos doing impromptu performances. At the San Francisco signing over at Amoeba Records he wound up performing 8 songs. Mos also came down and participated in a lecture that I was doing on Hip Hop for Vista College. After I spoke, Mos spoke for about 15 minutes and left the crowd and professor impressed with his vast knowledge of music in general. He made the connection to Hip Hop and various other music genres that have been born out of the Black community like Jazz and Blues. He noted that as an artist he seeks to expand his horizons by eventually doing collaborations with artist like Gil Scott Heron and Bjork. He also left a list of records that would serve as a nice introduction for the professor musician Johnny Otis who really hasn't been a big fan of Hip Hop. I didn't get a chance to see the list. Afterwards Mos stuck around to watch some up and coming musicians perform. He jumped on stage during the performance of a Hip Hop band called Cohesion and ripped a nice freestyle.

Mos definitely gets props for being more then just an artist, but also for being a down to earth brother who seems to really care about the types of things he allows himself to engage in. As he said..He's not perfect but he's useful.. Those are profound words to live by..
---

While Mos was wrecking shop in the Bay Area another group of Hip Hoppers were also garnering the spotlight. The Jazzyfatnastees touched down with their Black Lily Tour. Now for those who aren't familiar with this LA based duo, Tracey and Mercedes started off singing background for The Pharycyde. They later hooked up with the Roots and started doing background as well as opening up for them. Recently they became the first act on the Root's new label Motor records, where they have dropped a slamming jazzy flavored lp entitled 'The Once And Future'. They've also launched the Black Lily Tour which is essentially a women in music series. Their mission is to bring back the art of live performance-something which they have clearly mastered.

When I caught up with the group, they explained the importance of the Black Lily Tour and how they had sought to create a space where up and coming female singers, emcees and spoken word artists could be nurtured and come to fully realize their full artistic potential.They also spoke on the importance of women artist being able to maintain their artistic direction and integrity without having to compromise to the commercial and oftentimes exploitative ways of the music industry. Another topic we touched on was the need for up and coming artist especially on the African American side to have spaces where they bring forth new material and musical perspectives to the audience. They like so many new artists have found themselves all but shut out by commercial radio who often find it difficult to categorize the duo. Are they jazz? Are the soul? Are they Hip Hop? FYI, the Jazzyfatnastees come out of what was once a burgeoning 'Acid Jazz' scene that was popular in LA during the early and mid 90s.

During the Black Lily show here in the Bay Area, the group hooked up with another female collective called Herstory. They too have been responsible for putting together all female Hip Hop and spoken word showcases including recent shows that featured Bahamadia, DJ Pam The Funkstress of The Coup, DJ Reborn and Medusa to name a few. The other night all sorts of female artist got up and wrecked shop. Most notable was a woman from Newark New Jersey named 'Flow' whose skills were so tight, it left me wondering if her native hip hop brethren Redman got his game from her. She was definitely hitting and will soon be coming out on The Roots new label. The other artist who got down was Jaguar who to me, is a cross between Mary J Blige and Millie Jackson. She can sing like Mary and but has all the raunchiness and pizzazz of Millie..She also has some nice emcee skillz. Jaguar who you can hear on the Roots new single 'What You Want' which is featured in the new movie 'The Best man'. All in all, the Black Lily show was dope. Usually after each concert they hold an open mic.. I unfortunately didn't get a chance to peep that.. But I did see an off the hook show and a packed house.. For more info on Jazzyfatnastees and their Black Lily Tour peep their website at http://www.okayplayer.com/jazzyfatnastees/ If you are here on the west coast and wish to get down with the women's collective 'Herstory' drop an email to Jessica Tully at mailto:mamajama@dnai.com
---
Last issue we told you about a new online magazine called 'Iron Fist' which seeks to fuse Hip Hop and Martial Arts. Hip Hop writer Adissa Banjoko is the man behind this effort. Well, it appears that Adissa wasn't too far off the mark in making such a connection. During Mos Def's show I ran into a brotha from Milawuakee, Wisconsin named Professor Pitt. He's the lead rapper for a group called The Pitt and The Pendulum. Anyway he handed me a full length movie entitled 'Birth of the Holy Dynasty' on Dirty Lenz films. It is billed as the first historically Afrikan-American Kung-Fu Movie. Pitt noted that the flick is a 'Hip Hop Kung-Fu' movie and features artists like The Jungle Brothers, Souls Of Mischief, Del Tha Funkee Homosapien, Casual, Lateef of the group Latryx and many more. Pitt was in the Bay Area filming part two to what will be a trilogy of Hip Hop Kung-Fu movies. I just got the movie so I haven't been able to peep it yet.. But you all may wanna reach out to Professor Pitt to find out more of what appears to be a growing trend.. Hip Hop and martial arts... mailto:professorpitt@hotmail.com. For those who are interested in the Iron Fist Magazine reach out to Adissa at mailto:ironblacklion@yahoo.com.
---
Congratulations to the Universal Zulu Nation as they get set to celebrate their 25th Anniversary this weekend in New York City. Zulu Nation, founded by Hip Hop pioneer Afrika Bambaataa started off as a social organization which consisted of former Bronx gang members. Most were from the notorious Black Spades. They were the first B-boys you saw break dancing and going around to the early hip hop parties.. For many, Zulu Nation was an organization to be feared and many of the early Hip Hop crews had rolled with Zulus just for protection. If you was down with Zulu you was protected. That wasn't the intent of Bambaataa when he first formed the group, but many of the brothas were going through transitions from being street thugs to Hip Hop spokespeople. Nowadays there are Zulu chapters all over the world and depending upon your level of commitment and activism will determine the degree of social consciousness. Some chapters have mediated disputes while others hlike the one in Sacramento lead protests onto the steps of the state capitol. They have always and continue to preserves of our culture and hence much props go out to them this weekend.
---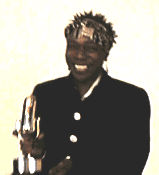 We finally got the final and conclusive information surrounding the upcoming 2Pac conference. First the event has gotten to be so large that there is now a full fledge concert being held with it.. On December 3rd The Tupac Amaru Shakur-One Nation Concert will take place at the Berkeley Community Theater. It will feature Digital Underground, Mac Mall, The Outlawz, Ray Luv who was 2Pac's first rap partner, Hobo Junction and Rap-A-Lot Mafia. The conference itself will be held on Saturday December 4th at Oakland's McClymonds High School. 2Pac's mother Afeni Shakur will be the keynote speaker. His sister Sekyewa will be opening up the ceremony. 2Pac's first manager Leila Steinberg who also co-authored the new book of 2Pac poems 'A Rose That Grew From Concrete' will lead the workshop 2Pac 101. Former Black Panther Chief of Staff and Oakland City Council candidate David Hilliard along with former Panther editor Emory Douglass will do a work shop that talks about the history of The Black Panther Party. Former Panther and political prisoner Geronimo Pratt will conduct the nation building workshop entitled 'Transforming The Mentality From Predators To Nation Building'. The conference is designed to bridge the generation gap.

During the conference there will be a huge Town hall meeting to alert people and bring everyone up to speed about the upcoming Juvenile Crime Initiative which is on the March 2000 ballot. For some of you reading this, this may seem a bit redundant, but the viciousness of this bill can not be ignored. The unfortunate thing is the folks who are seemingly not up on this bill and its provisions are within the African American community. Very few newspapers and tv stations have spoken openly about this bill and its subsequent impact. One of the most troubling provisions in this 'Anti Gang Crime Prevention Initiative' is that it will allow the police an incredible amount of power to do surveillance on youth as young as 14 who they feel are gang members. Under the bill, a gang will be defined as 3 or more youth who are dressed in the same or similar gear. If a gang member is caught initiating or recruiting new members it will result in a felony and adult prison time no matter how old.. So if a a group of kids hanging out wearing baseball caps backwards they can be considered a gang by police. If someone from that group calls over another person to come hang out with the group then that act can be considered as recruitment and a felony can be charged to all three members.

The way the bill reads is 'Anti-Gang and Crime Prevention'. No where in the bill is there any money or programs set up up for prevention..Because of the wording, most folks who don't do their homework will automatically vote yes.. After all, who is against a bill designed to prevent gang violence? The 2Pac Conference will be one of the first major forums where the Bay Area's African American community will have a chance to sit down and really get into the nuts and bolts of this pending legislation. Should this bill pass, expect it to come to other states real soon.. What goes down in Cali eventually hits the rest of the country..Look at the anti-immigration bill as well as the anti-affirmative action bills. Vote No on Prop 21 come the March 2000 primaries.
---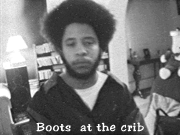 They came from all over the Bay Area to La Pena Cultural Center in Berkeley.. More then 35 underground emcees off the hardened streets of the Bay Area came to spit game on the mic about what many are saying to be the most vicious bill to ever hit a California ballot.. Props are in order for Boots of The Coup who over the past few weeks has been quietly holding some Arts & Organizing workshops at the Black Dot Collective and La Pena Cultural. He's been taking great pains to reach out to many of the 'street rappers' and alert them to various issues and how to leverage their power and influence. It looks like his efforts have paid off. Yesterday an army of emcees touched down at a massive recording sessions where they not only exchanged verses but also exchanged information on how to strategize and reach out to their respective communities.

The way it went down was there was a producers, drum, machines and some musicians on hand. Beats were chosen and 3 emcees at a time went up put forth their verses about the Crime Bill. The ultimate goal was to collect all these songs and distribute them out into the neighborhoods so people are aware of the Crime Bill in time for the March 2000 ballot. More importantly as was explained by II Icognito one of the many emcees, this represented an oppportunity for emcees to come together and learn how to make sure they live up to the words they spit on mic. In other words this wasn't gonna be a bunch of artists coming together and making a record just to get noticed.

Boots noted that initially when he started meeting with folks, a lot of the guys who had been in an out of jail didn't trip off the bill. They felt like it was more of the same stuff that is always being shoved at them. Jail to them was simply the price you pay. It came with the territory for doing dirt. It wasn't until they started studying and looking at the bill's provisions that they began to become alarmed and activated. For many of these artist the provision that hit them hardest was the fact that their juvenile records which were once sealed could now be opened up and used retroactively.. In other words, while many of them have been attempting to move forward on the correct path the new bill would have their past indiscretions catch up with them. Now folks who were never really into politics are not only up in arms but taking steps to see what they can do..The project should be done within the next month or so..
---
Feedback..Letters

Thus far I've gotten close to 200 letters on the whole Rosa Parks vs Outkast thing.. Saddly enough the overwhelming majority have come to not see Rosa parks in a real positive light.. Most are feeling like her lawyers have put her up to this and disconnected elders in the community have jumped out without fully understanding Outkast and Hip Hop and how words are used.. Below is a letter I received outlining the lyrics to the song Rosa Parks...
---
Davey D

In case you haven't see the lyrics on paper, this might be helpful. The song lyrics are at the bottom of my comments (I connnected the song to the Civil Rights Movement)

The gist of the song is (1) Big Boy is talking about spreading his music across the world, and then returning home to the ATL where men (in gerneral) bull dog "hoes like them Geurgetown Hoyas. Also, Big Boy says he hits doughnuts (driving in tight circles making skid marks by peeling out) around other people.

(2) Andre is talking about a conversation he has with an unnamed lady on a bus. This lady tells him that he can't dwell on the past. He has to go forward and handle business now, because he will only be heard and have public leverage as long as he has a hit record. She tells Andre that what he does with her advice is up to him: he can squander it or persevere because of it. Lastly, Andre explains our reaction to buying bad material. And he say's he won't be putting out bad material. The only real problem lyrics are a simile: "Doing doughnuts round you suckas like then circles around titties", which is not a negative reference--although women's nipples, to Rosa, is probably a very private issue.

And the second reference is "Bull dogging hoes like them Georgetown Hoyas" probably means "we don't love them hoes," which is more offensive.

Anyway, here's the connection to Rosa Parks, the positive one: Andre is in the back of the bus when the lady tells him we have to go forward, not backwards. In the same sense, Rosa Parks went forward when she sat in the front of the bus, and by going forward, she sparked the Civil Rights Movement. Because Outkast is a conscious group, going forward with their music probably means going forward consciously.

But I may be off. The lyrics are below so someone can check me if I made a mistake (please post this on your web site!)

Artist: Outkast
Album: Aquemini
Song: Rosa Parks
Typed by: olmcbooty@aol.com

(Hook)
Ah ha, hush that fuss
Everybody move to the back of the bus
Do you wanna bump and slump with us
We the type of people make the club get crunk

Verse 1:(Big Boi)
Many a day has passed, the night has gone by
But still I find the time to put that bump off in your eye
Total chaos, for these playas, thought we was absent
We takin another route to represent the Dungeon Family
Like Great Day, me and my nigga decide to take the back way
We stabbing every city then we headed to that bat cave A-T-L, Georgia, what we do for ya
Bull doggin hoes like them Georgetown Hoyas
Boy you sounding silly, thank my Brougham aint sittin pretty
Doing doughnuts round you suckas like then circles around titties
Damn we the committee gone burn it down
But us gone bust you in the mouth with the chorus now

(Hook)

I met a gypsy and she hipped me to some life game
To stimulate then activate the left and right brain
Said baby boy you only funky as your last cut
You focus on the past your ass'll be a has what
Thats one to live by or either that one to die to
I try to just throw it at you determine your own adventure
Andre, got to her station here's my destination
She got off the bus, the conversation lingered in my head for hours
Took a shower kinda sour cause my favorite group ain't comin with it
But I'm witcha you cause you probably goin through it anyway
But anyhow when in doubt went on out and bought it
Cause I thought it would be jammin but examine all the flawsky-wawsky
Awfully, it's sad and it's costly, but that's all she wrote
And I hope I never have to float in that boat
Up shit creek it's weak is the last quote
That I want to hear when I'm goin down when all's said and done
And we got a new joe in town
When the record player get to skippin and slowin down
All yawl can say is them niggas earned that crown but until then...

(Hook)
(Harmonica Solo)
(Hook til fade)
---
Send comments, questions and concerns to mailto:kingdave@sirius.com
The FNV Newsletter
written by Davey D
c1999
All Rights Reserved
Go To FNV Directory
Go Back To Hip Hop News Directory
---
[home]
[chat]
[conferencing]
[updates]
[what it is]
[politics]
[contests]
[opinion]
[links/photos]
[media]
this site is produced by Davey D in association with eLine Productions
---