Davey D's FNV Newsletter
In Today's Issue:
June 28 2001
*BABY BOY OR BABY BOMB? YOU DECIDE!
*GIL SCOTT HERON ARRESTED
*DA BRAT GETS PROBATION
*JT AND OTHER BAY AREA RAPPERS TO GIVE BACK
*LIL MO ATTACKED/ REWARD BEING OFFERED
*EPMD DOES SURPRISE PERFORMANCE
*BAMBAATAA CALLS FOR ZULU AWARDS BY Bambaataa

Send comments, questions and concerns to
mailto:kingdave@sirius.com
The FNV Newsletter
written by Davey D
http://www.daveyd.com
http://www.rapstation.com

========================
BABY BOY OR BABY BOMB? YOU DECIDE!
by Davey D

'O
ne record is worth one thousand of my speeches, one movie is worth ten thousand of my speeches' were the words passionately spoken by Minister Farrakhan during last week's Hip Hop Summit. They were words that were heartfelt and taken seriously. Maybe it was that rise in consciousness that had me looking at
John Singleton
's new movie '
Baby Boy
' in absolute disgust. Yeah, I read what he wrote about how the movie was personal for him..and how he employed all sorts of family and friends. Here are his exact words as they were written on
Rapstation.com
"I thought that I was going to make a film about a 12-year-old kid and his single mother and how this new boyfriend comes along and changes the dynamic of their relationship. As the idea germinated over the years, I thought why not make this 12-year-old 20 and that way he's in between being a boy and a man so that when the boyfriend comes in the whole dynamic is different. I set about writing the screenplay and thinking about all the cats that I see hanging out at the mall, with their pants sagging down, open shirts, talking to the 16-year-old girls but they're 20. They got 2 or 3 babies by 2 different women, in and out of jail, basically living their life day-to-day, having a good old time. But in the back of their mind they're afraid of the fact that they could turn around the corner and get shot at any moment. So I thought why not make a film about a guy that's having the time of his life but all the joys and the great things he's doing are motivated by his fear of dying."
While there is a lot to appreciate about Singleton's attempts to chronicle the life of a wild manchild, he seemed to do so at the expense of sistas. Almost all the women were depicted as 'desperate', 'man hungry' and suffering from 'low self esteem'. All types of crazy stuff was allowed to happen and the women in Singleton's movie and the women accepted it. If they got slapped, they were accommodating. If they got cheated on, they remained loyal. If the man was thugged out with no common sense the women still loved them. Heck...one set of sisters were so desperate that the mother and daughter shared the same man who at one point threatened to beat their asses. Here's what Singleton wrote about the female characters..
I also want you to know that what I love about the movie is it has the most in-depth 3-dimensional female characters that I've ever had in any film I've ever made. All the women in my life -- my mother, my girlfriends, my friends, or whatever -- they all had input on all these characters. I made sure of that
Now don't get me wrong. There are definitely women out there who allow themselves to get shitted on day in and day out. The problem I had was twofold. First, while Singleton allowed the troubled male characters to resolve their issues, which revolved around growing up and maturing, he never did so with the women even though they were given equal screen time. The movie ended with the women still willing to love and stick by their men in spite of all the nonsense they were being put through. The second thing that disturbed me was the reaction by the predominantly Black audience that was in the movie theater. Cats were cheering when the sistas got smacked or were threatened...and seemed to not miss a beat when Tyrese and others pulled their cheating antics.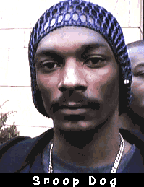 My fear is that a lot of young women who are attracted to Tyrese or Snoop will go and see this and come away confused or not sure how to view men. Should they stick by their men no matter what? Should they take all the abuse? Is life worthless without a man? Should they expect regular beat downs from the men in their lives?
I think Singleton wanted to make some salient points about life for a segment of Black society. Unfortunately, I think he further perpetuates stereotypes and disturbing behavioral patterns that exist within the community. If folks see the movie they should use the film as a springboard to conversation about relationships and family dynamics. The other thing that needs discussing is the relative disregard for Black life. I won't reveal the plot but the Black on Black abuse was rampant and disturbing. It would be a good exercise for any youth group, church or community center to undertake a heartfelt, candid discussion centered around the issue. I know we intend to take up that challenge on our radio shows. If it was Singleton's intention to place a mirror in front of our face and have us cringe, then he gets props. But I'm not quite sure if that's what he intended. No matter what, this is not the type of film for young kids...so be warned.. Normally I would call for Singleton to do a more positive movie...but I recall when he did a positive movie like 'Rosewood', we stayed away in droves.... If you seen the movie let me know what you think mailto:
kingdave@sirius.com
---
GIL SCOTT HERON ARRESTED
by - Davey D
B
ad news for
Gil Scott Heron
who his being described in news reports as a rap Godfather instead of jazz musician. He was arrested the other day in a Harlem crack house. For those who don't know Heron was the man who penned the landmark song 'The Revolution Will Not Be Televised'.. Apparently this isn't the first time In his latest arrest was tracked down for skipping a court date for this prior arrest.. We hope this legendary figure who has done so much for music gets the help he needs..
------------------------------
DA BRAT GETS PROBATION
I
n other news
Da Brat
has been given 12 months probation, a $1,000 fine, and 80 hours of community service, for an altercation she had in March of 200 at an Atlanta night club. If you recall Da Brat got into it with another female named Rezue Robateue. According to the stories, Da Brat cracked home girl upside the head with a pistol after Robateue refused to leave the VIP section of a party Da Brat was having. Robateue was described as an up and coming rap artist. Da Brat was looking at 25 years for the assault, but she managed to plea bargain.. Now she will have to walk a straight line and not violate the conditions of her parole.. That means no more weed..
---
JT AND OTHER BAY AREA RAPPERS TO GIVE BACK
by - Davey D
S
an Francisco rapper
JT Tha Bigga Figga
has decided to take the messages and suggestions made by
Minister Farrakhan
during last week's
Hip Hop Summit
to heart. He stopped through my Sunday Night Street Knowledge show and announced that he had spoken to a number of other popular Bay Area artists including San Quinn, Messy Marv and Daz Dillinger to name a few and collectively they intend to visit as many youth centers and neighborhood houses as possible over the summer. JT who participated in the Summit's press conference, explained that it was important that the youngsters in the hood see him and other rappers in a positive light.. He wanted to specifically make sure that young people who look up to rap artists understand that there's more to it then just appearing in videos and being played on the radio. 'This is a business", JT explained " These youngsters need to know that that a lot of hard work and street smarts go into starting your own label and putting out a record".. JT also noted that he wanted to show young people that they can use their brains and talent and make legal money..
During the radio show JT further explained the importance of some of Farrakhan's remarks. One that hit home for JT was when the Minister noted that his address to the Hip Hop audience was his most important speech.. He really felt it when the Minister noted, that one good record was worth more then a thousand of his speeches. 'It's time for people like me to step up and be responsible and be leaders since we have the attention of the youth..
Joining JT on the phone lines was rapper
Suga T
who is
E-40
's sister. She noted that for the last few years she had been touring Bay Area youth centers talking to young women about all sorts of issues ranging from boosting their self esteem to single motherhood.. She had established a program called Community Care and was happy to see that her efforts would now be echoed by other rappers who were inspired by the Hip Hop Summit.. For those who are interested in JT stopping by your local [Bay Area Youth Center] drop me an email with a contact number which I will pass along to him.. mailto:
kingdave@sirius.com
In the same vein,
Too Short
's former producer
Al Eaton
is also gearing up to give back to community. He is currently in the process of gathering up local artists and producers to help conduct workshops and symposiums to layout the groundwork for working and making it in the music biz,,. Look for some of these events to take place over the summer.. One of the first events Eaton will be conducting is a workshop that deals with the connection that funk music has with Hip Hop. This discussion will take place
Thursday June 19th
at the Hip Hop Museum [Yerba Buena Center of the Arts - 3rd and Mission] ...Guests will include author
Ricky 'Uhuru Maggot Vincent
who wrote the book '
The History of Funk
', KPFA radio personality and rapper
Funkyman
, Dwayne Wiggins of
Toni Tony Tone
and former members of
Sly and the Family Stone
who will not only be on the panel but participate in a performance that highlights the various aspects of funk music..
---
LIL MO ATTACKED/ REWARD OFFERED FOR ASSAILANT'S CAPTURE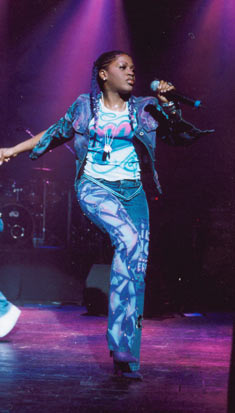 A
s you may know, last Friday Nite's
KMEL House of Soul
concert in San Francisco was gearing up to be the show of shows. The bill which featured popular artists like
Jimmy Cozier, Tamia, Case
and
Erick Sermon
sold out in less then 40 minutes when tickets went on sale last month. One of the stars people were clamoring to see the most was
Lil Mo
who has been paying serious dues over the years. As of late she has been doing superb back ground vocals for everyone ranging from the late 2Pac to Ja Rule with his hit songs
'I Cry'
and
'Put It On Me'
.. Lil Mo herself has released a few cuts herself like
'Superwoman'
that have gotten people to fall in love with her..There was much anticipation about her new album
'Based on a True Story'
which was scheduled to drop this past Tuesday.
Last Friday [June 22 2001] Lil Mo did not disappoint.. She hit the stage and put on an incredible performance including an encore acapella version of
'Put It One Me'
..The crowd went nuts and throngs of fans went to the backstage door in an attempt to meet her.. As Lil Mo was leaving she stopped and chatted to some of her fans and take pictures as she was getting ready to enter into her limo which was only 7 steps from the back stage door..As she chatted some playa hatin' coward rolled up and smashed a bottle at her which left Lil Mo dazed on the ground and blood streaming from a badly cut face..She wound up getting 22 stitches. Some of Lil Mo's people gave chase, but homeboy was way to fast.. In the meantime Lil Mo had to be taken for the hospital..At the time of this article [Sunday], there was new prognosis on her condition..But she has since been back home in Brooklyn recovering from the incident.
The attack, left both her and her fans who witnessed the assault-traumatized.. Many are looking for the assailant as we speak... What made this whole thing even more messed up was the fact that a police officer was standing several feet away when the attack took place.. That's how brazen the attacker was. The officer did not participate in the foot chase. He just took a report and did not do too much even after witnesses claimed to know who the attacker might be. The other thing was the attacker did not appear to be a 'tweaker' which is what that particular area is known for.. He appeared to be regular everyday type of cat who decided to do something cruel.. We wish Lil Mo a speedy recovery and hope that she will return to the Bay Area for future performances..
Lastly, Lil Mo's people are putting up a one thousand dollar reward for information leading to the arrest and capture of the assailant..Folks with crucial information should call (919) 448-8431 or peep out the website http://www.lilmo.net
------------------------------------------------
EPMD DOES SURPRISE PERFORMANCE
A
s for the rest of the
KMEL House of Soul
Show, most of the people in attendance had no idea about what went down backstage. Hence they remained on a high from the performances. The audience was left speechless and ecstatic when
Erick Sermon
took the stage.. Joining him was special surprise guest
Parrish
..his long time partner.. Yep, cats were treated to an impromptu performance from EPMD.. It was their first trip to the Bay as a dual in almost 10 years.. The crowd loved it as they ripped through all their hits ranging from
'You Gots To Chill'
to
'Crossover'
... In fact when they performed the song 'Crossover', Sermon noted to the crowd that was the last song the dual had performed in the Bay Area..back in '92. The crowd went into an absolute frenzy when Sermon did his song
'Music'
which features vocals from the late
Marvin Gaye
..
In other EPMD news, will be hooking up with cats like Buster Rhymes as they sign to
Clive Davis
' J
Records
. Not only that but Erick Sermon will be bringing his Def Squad Record label over there and is scheduled to produce tracks for the labels other acts. We wish EPMD the best of luck..
---
BAMBAATAA CALLS FOR ZULU NATION HIP HOP AWARDS
by Afrika Bambaataa

T
O ALL BROTHERS & SISTERS WHO ARE OF THE TRUE SCHOOL HIP HOP CULTURE THAT IS ALL WHO LIVES HIP HOP, LOVES HIP HOP,AND WILL DIE HIP HOP, WE THAT ARE FROM OLD SCHOOL,MIDDLE SCHOOL, TRUE SCHOOL OR NEW SCHOOL, MUST STAND ON THE 5TH ELEMENT OF HIP HOP AND THAT IS: KNOWLEDGE,CULTURE AND OVERSTANDING.
WE AS A WORLD COMMUNITY OF HIP HOP CULTURE AND AS THE FUTURE COMES UPON US WITH DEEP TECHNOLOGY FOR OUR TRAVELS TO SPACE IN THE NEAR FUTURE, HIP HOP WILL BE UNIVERSAL AS ON OTHER PLANETS. BUT AS WE ARE DEALING WITH THE PLANET EARTH,WE THE HIP HOP WORLD COMMUNITY MUST ORGANIZE,ORGANIZE,ORGANIZE AS THE UNIVERSAL ZULU NATION HAS SAID THROUGHOUT NUMEROUS YEARS TO SUPPORT OURSELVES,POLICE OURSELVES,PUT OUR MONEY WHERE OUR MOUTH IS,STOP TALKING SO MUCH AND START THINKING,PLANNING,STRATEGIZING, ON WHAT WE MUST DO TO BRING HIP HOP BACK TO CULTURE AND BACK TO PEACE,UNITY,LOVE AND HAVING FUN. WITH SO MANY OF US OUT THERE WHO STAND STRONG ON THE 5TH ELEMENTOF HIP HOP,WE COULD PULL OUR RESOURCES TOGETHER AND COME UP WITH OUR OWN: HIP HOP CULTURE AWARDS.
WHO IS WILLING TO PUT IN THE HARD LONG WORK IN MAKING THIS HAPPEN? THAT IS THE QUESTION. WHO IS WILLING TO WORK HARD ON BRINGING THE DREAM OF A REAL HIP HOP UNION OR UNITED FRONT?
WHO IS WILLING TO GO INTO OUR PRISONS ALL OVER THE WORLD AND SPEAK TO OUR BROTHERS AND SISTERS FROM ALL RACES AND NATIONALITIES WHO TRULY LOVE THE CULTURE OF HIP HOP AND TEACH TRUTH,STAND ON TRUTH,DIE ON TRUTH BACK WITH FACTS ABOUT OUR CULTURE AND THE WORLD AS WE SEE IT. FACTOLOGY VS, BELIEFS.
WE THE ALL WHO STAND ON ALL THE ELEMENTS OF HIP HOP TO MAKE UP THE 5TH ELEMENT KNOWLEDGE,CULTURE,OVERSTANDING SHOULD BE THE LEADING WARRIORS IN TRYING TO ORGANIZE OUR CULTURE AND NOT LET CORPORATIONS\MEDIA DICTATE WHAT HIP HOP CULTURE IS: AND YES IT TAKES MONEY TO ORGANIZE OUR CULTURE STRONGLY AND POLITICALLY,BUT HOW MANY OF YOUR ARE WILLING TO SACRIFICE? STOP BEING BITTER AND LET US PUT OUR BRAINS TO THINK AND THEN SEND THE WORD AND THE WORD SHALL REACH OTHERS AND IN THE TRUTH OF THE WORDS BACK BY FACTS,CAN WE BE DOERS OF THAT WORD TO ORGANIZE THE HIP HOP MOVEMENT WORLDWIDE. THEN WE WILL NOT HAVE TO WORRY NO MORE IF OUR GREAT BROTHER GRAND WIZARD THEODORE OR ANYONE ELSE OLD ,NEW,MIDDLE,TRUE SCHOOL,WHATEVER IN OUR HIP HOP CULTURE ,WILL GET THEIR JUST DUE,CAUSE IF WE WERE ORGANIZE,WE CAN MOVE MOUNTAINS IN OUR WORLD WIDE MOVEMENT AND AS WE BECOME GALACTIC HUMANS AND IN THE FUTURE WE WILL HAVE THE UNIVERSAL HIP HOP CULTURE MOVEMENT. BUT FOR NOW WHO IS WILLING TO SACRIFICE AND WORK NOW TO ORGANIZE AND MAKE THIS HAPPEN. ENOUGH WITH THE TALK.
IF WILLING TO MAKE THE HIP HOP MOVEMENT UNITED FRONT WORK AND YOU DO NOT HAVE SECRET AGENDAS AND YOU STAND ON THE 5TH ELEMENT OF HIP HOP THEN PLEASE SEND ALL REPLIES TO:
LUCKYSTRIKE711@JUNO.COM
OR TO CHRISTIE Z or
TOOLSOFWAR@AOL.COM
AND LET'S MAKE THIS HAPPEN
THERE IS NOTHING YOUR CAN NOT DO IF YOUR PUT YOUR MIND AND WORK TO IT: HIP HOP DOCTORS,LAWYERS,POLICE,JUDGES, FARMERS,MUSEUMS,BOOKS,MUSIC, HERBALIST,GYMS,CLOTHING STORE,SUPERMARKETS,PLANES, TRAINS, MAYORS,PRESIDENTS,THINKERS,ETC.
MAY THE SUPREME FORCE BLESS YOU ALL AND MAY WE ALL STAND ON THE 5TH ELEMENT OF HIP HOP: KNOWLEDGE,CULTURE,OVERSTANDING
AFRIKA BAMBAATAA
========END OF NEWSLETTER================
Send comments, questions and concerns to
mailto:
kingdave@sirius.com
The FNV Newsletter
written by Davey D
http://www.
daveyd.com
http://www.
rapstation.com
c 2000
All Rights Reserved
Go Back To Hip Hop News Directory