Davey D's FNV Newsletter
In Today's Issue:
January 2 2001
*THE OLD SCHOOL RETURNS
*FURIOUS FIVE SUE LL
*SKRATCH PIKLZ ON THE MOVE
*SALT MARRIES
*FOXY FIGHTS DRUG ADDICTION

Send comments, questions and concerns to
mailto:kingdave@sirius.com
The FNV Newsletter
written by Davey D
http://www.daveyd.com
http://www.rapstation.com

========================


First things first, I gotta say what's up to everyone and wish y'all a Happy New Year as we kick off the official start of the new millennium. I was one of those crazy souls who braved the cold and brought in the 2001 at New York's Times Square. Not too far from where I was at there was a line of people trying to get into Lance Bass of Nsync's party at Roseland. It was supposed to be a star-studded event featuring Britney Spears, Derek Jeter, Puff Daddy and all the usual suspects including your MTV favorites. Plus there were scheduled performances from Black Rob, Ludacris and Nelly. Lil Kim was also supposed to get down but they had some sign on the door talking about she wasn't gonna show due to the bad weather. I was gonna show until dude at the door asked for 100 bucks…Well I already seen all those acts perform several times. I have a Britney poster on my wall and Derek Jeter baseball card in my wallet so I figured I'd hold on to my money and catch the show when it comes to Cali:-)



Crazy Legs and the Rocksteady Crew were doing B-Boy style event that night up at Hunts Point in the Bronx, but I never quite made it back up town. Hopefully it went well. Unlike most spots in the Big Apple, they weren't having no crazy dress code, charging a million dollars at the door and they were giving folks a chance to let loose. They even gave away cash prizes to the person with the best old school gear…. I have strong feeling a lot of that stuff is about to make serious comeback…. I'm already starting to see name plate jewelry and belt buckles. I'm also starting to see cats sporting jeans with sewn in creases. I'm waiting for the return of the Pro Ked 69ers, overlap pants, Cortefield sheepskin coats and Sergio Valente, Jordache or Sasson designer jeans to for this return to old school Hip Hop fashion to be official. What will really shock it is a return to Cross Colors… Can u imagine that making a return to the scene?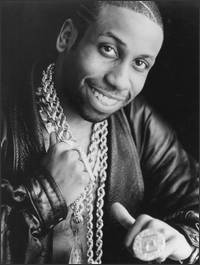 Speaking of old school, I ran into some cats from the past the other day while hanging out at the Brooklyn Museum where I was peeping the Hip Hop exhibit. Big shout outs to Yoda of the Crash Crew who now helps manages Rob Base and EZ Rock. Y'all remember those guys and their 1988 landmark record 'It Takes Two'? He told me the pair are just finishing up a video and should be dropping a brand new album sometime in early March.

Another old school act that will be returning to the scene with a new album in the next couple of months is Run DMC. Their long anticipated lp 'Crown Royal' drops in February. Call it wishful thinking, but I say with a little bit of luck and some creative marketing perhaps we'll get to see both Run DMC and Rob Base out on the road together…

Also at the Brooklyn Museum was Boogie Knights of the group Boogie Boys. This Harlem based trio made their mark in Hip Hop with the classic song 'Fly Girl' which came out in 1985. They had some follow up songs that made some noise like 'Running From Your Love' and 'Share My World', but nothing ever reached the level as 'Fly Girl'. Anyway it looks like these cats may also be returning to the scene by spring of this year. Boogie is currently working on some new material. It'll be good to see what they come up with…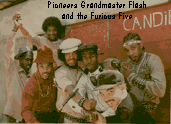 Another old school group that is making the rounds is the Furious Five who once roamed with Grandmaster Flash. No, these cats aren't in the studio making records, but they're set to get paid from cats that have been making records about them. According to Sonicnet News, Mele-Mel, Kid Creole, Raheim and Scorpio aka Mr. Ness are suing LL Cool J and Def Jam records for biting a sample in the song '4,3,2,1'. According to the lawsuit they borrowed from groups first recording 'Superrapping' without permission. The group is also suing Will Smith for biting a line from that very same song..

What makes this whole thing interesting is the fact that '4,3,2,1' was the very song that set off a lyrical battle between LL and guest rapper Canibus. LL felt like the new comer had disrespected him and used the song to blast him. There were many that accused LL of using Canibus to regain some lost street credibility. When all this went down back in '97, people used words like 'old school' to describe LL Cool J and 'ulterior motive' when they described his actions against Canibus.With the lawsuit against LL one can't help but wonder if the Furious Five are using similar tactics. Are they looking at LL's former label Def Jam and trying to cash in on their deep pockets and get paid? Or are they somehow hoping to set off a high profile lyrical battle with LL which will help put the Furious Five back in the spotlight? If you really wanna look at this deeper, is this payback from way back in the days?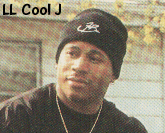 History shows that when Queens based rappers like LL and Run DMC came out in the early and mid 80s they caused some discomfort as the Hip Hop spotlight switched away from Hip Hop's pioneering Bronx based crews like Grandmaster Flash and the Furious Five and on to them. Back in those days groups like Run DMC and LL were considered 'new school' and their sudden burst onto the scene set off a bit of a rivalry and definitely some jealousy among some of the pioneering groups. There was a whole switch in style and overall presentation which led to the public perceiving groups like Run DMC and LL Cool J as bringing Hip Hop back to the streets. This was due to their stripped down beats, tough guy personas and street fashion which were in stark contrast to GMF and other pioneering groups. Many of Hip Hop's pioneering groups had evolved to a point where they were touring with groups like The Barkays and Earth Wind & Fire and hence they wound up dressing up in fancy costumes and doing entertaining stage shows that reflecting the climate that they were involved in. If you listen to some of the old GMF records like 'Step Off' you'll hear constant references to 'new school artists not paying respect to the old school. This old school vs new school mentality was one of the things that set off the historic lyrical battle between LL and Kool Moe Dee. Some of this was cats just ego tripping, but a lot of it had do with many of the pioneering groups getting ripped off by those early record companies while the perception was that artist like LL and Run were getting paid.

In any case a lawsuit is now in the works and it will be interesting to see how LL responds to this. Will he try and step to the Furious Five the way he did with Canibus? Will he fight this in court? Lastly we have to ask the question as to whether or not all these lawsuits for biting rhymes and using each others beats is good for Hip Hop? I ask this in the context of acknowledging that Hip Hop has always borrowed from the past and built upon it… Nowadays with all the lawsuits and sample clearance procedures and everyone wanting top dollar for even thinking about their song, many records get made based on economic concerns and not creative desires. Lets get real was Will Smith really stealing from the Furious Five when he flipped their chorus from Superrapping or was he just being creative and doing what Hip Hop does best- take something and add their own flava. Was LL really trying to rip off GMF in '4,3,2,1' ?
On the flipside since we do have all this resurgence of old school material being used in songs can we at least reach out to the pioneers and offer them a chance to participate… LL had a whole bunch of cats blessing the mic on '4321', why didn't he ask one of the Furious Five to get down as well? Maybe Will Smith should've invited the Furious Five to sing the hook when he did his song 'Will2K'. When I heard Mack 10 use the beat from Whodini's 'Funky Beat' for his song 'From The Streets', I couldn't help stop wondering why he didn't get Jalil and Esctasy to kick a verse. Its not like these cats don't have skills.. E-40 did this when he recorded 'Earl That's Your Life' which was a remake of Too Short's first record 'Girl That's Your Life'. I tell ya one thing, it would've probably been cheaper to invite some of these old school cats and let them get down on a record then to go through a copyright infringement lawsuit …


As we kick off the New Year we gotta give some major shout outs to the now defunct Invisible Skratch Piklz. First props go to DJ Q-Bert for landing a spot on the RIO MP3 Player commercials. For those who don't recognize Q-Bert he's the Asian cat who you see staring blankly while listening to whatever is playing through his head sets. Chuck D of Public Enemy is also featured in one of the commercials… Well Q-Bert is about to take his career to new heights when his animated film Wave Twisters will be featured at the upcoming Sundance Film Festival. Q-Bert premiered this film last July at Skratchcon 2000 which was a DJ seminar ISP put together.



So while Q-Bert is hanging out in Cannes at the Sundance film festival, his partner Mixmaster Mike is also making moves. I talk to Mike the other day as he was gearing up to perform at the half time show for the Golden State Warriors. Yep, you read it correctly, Mix Master Mike was gonna be wrecking the turntables and keeping the crowd happy. I guess the NBA now realizes that Hip-Hop is a draw and can be quite entertaining for the fans. Mike noted that if everything went well he might be doing the half time shows on a more regular basis… Mike also noted that things are going really well with him and The Beastie Boys whom he also DJs for.. In fact him and Adrock are in the process of putting together a Yoga album and a mixtape album. Mike was enthusiastic about his recent trip to India where he fell in love with some of the music. He intends to reflect that in his upcoming projects.. Damn Hip Hop and Yoga.. Hip Hop has definitely come a long ways…

Mike also spoke on the ISP break up. He noted that there is no funk between any of the members. They are simply doing as they promised which is to pursue some of their solo projects and grow. Eventually they will all regroup… Most likely under another name. We'll keep you posted on the haps..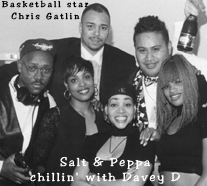 Shout outs are in order to Salt [Cheryl James] for tying the not over the Holidays. She and her boyfriend of 10 years Gavin, who is also the father of her two kids finally made it official on Christmas Eve… Salt also launched a new record label called Gav Fam records which is named after her husband. She has a solo album that will soon drop called 'Salt of the Earth' Her fellow band mates Spinderella and Pepa are also working on solo projects..

Props to Ms Foxy Brown for trying to deal with drug addiction. It was recently reported in local New York newspapers that Ms Brown was addicted to pain killers and had been hospitalized three times this past year. The most recent occurrence took place a month ago.. According to the article, Ms Brown seems to be finally be getting a grip on handling her problems…We wish her much luck.. Hopefully ODB of the Wu-Tang who is currently facing charges in New York can get a grip on the substance abuse problems he seems to have.


========END OF NEWSLETTER================

Send comments, questions and concerns to
mailto:kingdave@sirius.com
The FNV Newsletter
written by Davey D
http://www.daveyd.com
http://www.rapstation.com
c 2000
All Rights Reserved
Go Back To Hip Hop News Directory