IN THIS ISSUE OF FNV 12-2-99
*JIgga What? Jigga Who? Jigga Arrested!
*Popular Philadelphia DJ Shot To Death
*Russell Simmons To Do Mini-series
*Chuck D gets His Own Radio Station
*Goodie Mob Is Ready For A World Party
*Snoop Dog is Making Power Moves
*Ice Cube Ain't No Fake by James of Seatown
*Rock-N-Rap radio In LA by Byze One
*Rakim feedback

Send comments, questions and concerns to mailtokingdave@sirius.com
The FNV Newsletter
written by Davey D
http://wwwdaveyd.com
http://www.rapstation.com
510-310-7930
c1999
All Rights Reserved
---

The Hip Hop world is reeling from yesterday's arrest of Jay-Z. He turned himself into police after word got out that he was wanted for questioning. The NY Police wanted to explore Jay-Z's involvement in the stabbing of record executive Lance 'Un' Rivera Wednesday night at Q-Tip's album release party. Now Jay-Z's folks have been steadfastly maintaining that Jigga had nothing to do with this incident. And up to this point there have been no formal charges applied. The whole scenario is crazy.

This whole scene comes at the heels of Digital Underground having two members arrested earlier this week for sexual assault and the accidental killing of popular Philly Hip Hop DJ Swift. We'll keep you posted as things develop. Below is yesterdays story.

If you happen to run into Shawn Carter aka Jay-Z be sure to let him know that the New York City Police want him for questioning. Last night [Wednesday Dec 1 ] there was an album release party for Q-Tip at the Kit Kit Club. During the event an incident took place which resulted in record executive Lance 'Un' Rivera being stabbed. Police are saying that it stemmed from an argument over Jay-Z's new album The Life And Times Of Shawn Carter being bootlegged.

Jay-Z's lawyers have denied that he had anything to do with the stabbing and he thus far co-operating with police. Rivera was taken to a hospital and later released.Let's hope this whole mess gets straightened out and we don't have anymore unfortunate incidents. We'll keep you posted as this story unfolds. The Hip Hop world lost one of it's own this past weekend in an unfortunate, tragic accident. Folks in Philadelphia are familiar with Brian Perkins aka DJ Swift. He was well known and well liked. He helped open up a record store three years ago with his partner John Chambers in Willingbro, New Jersey called the Music Factory. Here they sold mixtapes and vinyl for local deejays. According to the local newspapers in the Philly area, Swift and his partner were practicing a drill just in case the store got robbed. It was during this exercise that DJ swift who was role playing an armed robber was accidently shot in the head.

I recall meeting this guy earlier this year when he ventured out to the Bay Area with Rahzel who was doing a promo tour. The kid had nice skillz on the turntables. I also recall my man Sway reaching out and giving me his phone number when I was trying to track down Schoolly D. Sway told me Swift and School were supposedly doing some work. I'm not sure if Swift worked on Power 99 or WPHI 103.9.. In the Philadelphia papers they list him as being an employee of WPHI.. But folks who've alerted me to his untimely demise said he spun on Power 99. In any case he will be missed.. Prayers and condolences must go out to his family. DJ swift had just gotten married 2 months ago.
---

First he throws a lavish dinner party for First Lady Hillary Clinton and now he's set to have special made for tv movie made about him. Russell Simmons will soon be the subject of an upcoming four hour miniseries that chronicles Russell's colorful life and the evolution of Hip Hop's History. There is no set date on the project, but the word is this new project is the result of all the pressure being put on the TV networks by the NAACP to have more minorities included in their shows. I guess when in doubt-turn to Hip Hop. We'll keep you posted as things develop. In the meantime,we're still waiting on the Hip Hop project that Spike Lee is supposed to be doing for ABC. In addition, there is supposed to be some sort of soon to be released Hip Hop soap opera or drama either on MTV or one of the cable channels. Lastly Master P is supposedly doing some work developing TV/movie projects for FOX.
---

'Radio! Suckers Never Play Me!'. These were the words Chuck D of Public Enemy first uttered over 10 years ago on his landmark record 'Rebel Without A Pause'. Since that time Chuck D has been outspoken about his concerns on who controls the flow of information. He has often pointed out that people and Black folks in particular, tend to be 'religious' to their favorite radio stations. Their undaunted loyalty sets up an interesting scenario in the sense that Black people over time develop a mind set that has them addicted and dependent on a media source that they ultimately don't control. The result is a whole lot of folks walking around thinking 'If it ain't talked about or played on radio then it don't exist'. Many stations, in particular white owned 'Black music stations' that target young people take advantage of this loyalty by keeping an imbalance of pertinent information that can positively impact and uplift the community. In other words, folks are being fed a steady diet of substandard material, and useless information that keeps them wallowing in the pathological conditions that effect them. Black ignorance has become a commodity that is aggressively projected, highlighted and marketed by white corporate radio owners who ultimately reap huge profits.

The impact has long lasting behavioral effects that many people are just now starting to realize. How can some one tell Little Johnny from the Hood to do do something good and act intelligent when his primary media source is constantly showing him by what they present, that you can be handsomely rewarded for doing something bad and acting dumb? Many community leaders and activists are starting to raise questions about the type of influence radio stations are having as well as the type of access the community has to insuring that it's needs are being supported. With some of these corporate giants now owning up 8 stations in large metropolitan areas, is there a balance of material and information being fed to the community?

In a recent interview Chuck noted that since the month of June he has done more then 500 interviews where he has spoken about the various new technological ground he has been covering and how there are new opportunities on the horizons for young brothas and sistas if they too get involved. While he's been on everything from CNN to C-Net, very few of these interviews have been conducted on these white owned Black radio stations that have effectively used Hip Hop music and culture as a way to attract our inner city youth. He pointed out that this has not been his choice. There oftentimes appears to be a media middle man who is disconnected from the community who decides what should and should not be exposed. In a recent issue of Chuck D's Terrordome Column which appears on his new venture http://www.rapstation.com gave one reason radio is poisoning the Black community.
---
"White-owned Black Radio sucks in '99 because the masters endorse the policy of more music, less talk. This policy further limits the information delivered to the people via the creation of the transparent DJ --- Colorless individuals unable to interpret the sounds they're playing for their audience. Mix and college hip-hop jocks are the closest thing we have today to the Black personality jocks of the 1950s and '60s - DJs who the people relied on for everything in the 'hood from local business support to various community activities. But corporations consider air time that could be devoted to such services to be sponsor time and not DJ time. That way it doesn't take much talent to be a radio jock these days. (Who wants to hear a damn weather report 30 times a damn day?!)"
When such criticism is launched, there are many who would immediately say, 'Don't complain, go out and get your own'. We'll that's exactly what Chuck D has done. He and his partner Gary G-Wiz along with Chuck's record label Atomic Pop have hooked up and formed a global radio station for underground hip hop. It's called Bring The Noise http://www.bringthenoise.com and it will feature six new daily radio shows. Among them include Chuck D's weekly radio show called 'When The S--t Hits The Fan' which highlights unsigned indie label music from around the world. There's another show of Hip Hop classics which features longtime New York deejay Wildman Steve. There are a couple of mix shows, tons of interviews and lots of information. Bring The Noise is a very sophisticated feature that has been around for about a year and has developed a huge online following. It is now perched to reach new heights and be a big factor in the online communications game..

FNV readers be on the look out for an upcoming newsletter where Chuck D gives you an indepth look and analysis about radio and the undue influence it has on our community. the interview is very timely when you consider the recent reports about the serious drop over the past year of African American owned radio stations and the continued merging of media conglomerates who now have 'lock down' on Black listeners.
---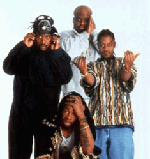 Props to Cee-Lo, Big Gipp, T-Mo and Khujo of the Atlanta based Goodie MOB. I got a chance to peep out their new album 'World Party' the other night and I got to be honest when I say it will be one of the best for '99. The lp drops officially on December 21st. and it will make a great Christmas present. One of the refreshing aspects of Goodie Mob is that they are some thinking, insightful, genuine brothas. During our radio interview the other day, Khojo spoke extensively about the importance of everyone having a spiritual grounding. He attributed many of the problems effecting young people is the lack of that spiritual connection. 'It helps keep people grounded', he said. He went even deeper when he talked about how he wish there was constant reminder of God for young people and hence he thought it was a mistake to take away prayers in school. Not one to just talk and not back up their actions, the group had spent much of the day talking with Bay Area high school students.

Cee-Lo and Big Gipp talked about upcoming album 'World Party'. they explained that they were inspired by the type of love and impact they seemed to be having with fans all over the world. This album reflects their musical growth and they wanted to bring everyone under one umbrella. I can't say enough about the songs I heard, except that it is really really good. They bucked the trend and refrained from having too many guests emcees and special cameos. I believe I heard a song with TLC and another track with a new artist from their camp named 'Neckbone'. Cee-Lo said that since the group is four deep they wanted the fans to really get a chance to vibe and connect with them.

The only unfortunate thing about the Goodie Mob's recent visit was the show they put on at the Justice League. People were complaining that they left the stage way too early. During their brief set the sound kept messing up. They eventually got things somewhat fixed and the crowd was starting to get into them.. It was at that point that The Goodie Mob brought local rap stars E-40, JT The Biggie Figga and a host of others to join them on stage. After doing two more songs they bounced while Neckbone and his partner finished off the set.I think their early departure had to do with the sound not being right..
---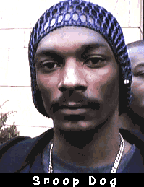 Snoop Dogg is making all sorts of moves these last few weeks. First he's got his own record label kicking off and he has a new group called The Eastsidaz. Next he just released his autobiography which I'm just starting to read called 'The Doggfather'. So far it's pretty interesting. Snoop is also teaming up with the former members of NWA to record some tracks with them. He's currently featured on their new reunion song called 'Chin Check'. If that's not enough Snoop is going back on the airwaves to do a Saturday afternoon shift for Power 106 in LA. The name of his show is called The Dogghouse. This isn't Snoop's first stint on radio. Several years ago he knocked off a couple of well received air shifts on 106 KMEL here in the Bay Area. We used to do a Friday Night feature called Westside Radio where west coast artist would host the show. Everyone from Snoop To Ice Cube to Sir Mix-A-Lot came through. But it was Snoop's shift that generated the most enthusiastic response from listeners.

So now Snoop is doing radio in LA as he joins some other noteworthy artist who are moonlighting as jocks. On rival station, 92.3 The Beat you have Cypress Hill and their Soul Assassins show. You have the Poetess doing a Saturday morning slot and KRS-One dropping bombs on Sunday nights. Dre and Ed Lover are holding down morning drive and of course Sway & King Tech are dropping bombs with their internationally syndicated Wake Up Show. A lot of folks don't recall that before Dre and Ed Lover made their mark in radio or even hosted 'Yo! MTV Raps', they were part of a group called 'Original Concept'. Sway & King Tech were recording artists with a group called Flynamic Force. They later dropped the name and just used the name Sway & King Tech. In the early 90s they released a song called 'Follow For Now' which used the beat from Man Parrish's classic cut 'Hip Hop Be Bop'. Follow For Now was a number one record here on the west coast.

I'm not sure of the artist holding it down on Power 106 but at one point I know they had everyone from Kurtis Blow to YoYo If anyone is down in LA please let me know what's up.. and also how Snoop is sounding.
---
My man James from Seatown aka Seattle has some major beef with the readers of the FNV Newsletter. A couple years back I took an online poll asking for folks to tell me who they thought was Hip Hop's fakest gangsta rapper. Ice Cube was the number one vote getter. James who is new to the site http://www.daveyd.com was enraged after reading the poll results. He's dropped a stinging editorial for all of us to read and contemplate..Here ya go James the floor is yours...
Davey D

If ignorance is bliss then the readers of your website are living one blissful F-ing life! When you asked who is Hip Hop's fakest Gangsta Rapper and the number one response was Ice Cube they all showed how ignorant they are. I realize that people are entitled to their opinions but their asinine selection deserves to be ridiculed. Ice Cube has done more for Gangsta rap and the West Coast than any other rapper ever has or will do. The hip-hop community has got to lose their "what have you done for me lately" attitude and realize Ice Cubes contributions to Gangsta rap and hip hop and general. Ice Cube not only helped found gangsta rap with NWA (where he wrote most of the groups lyrics) but in his solo career was quite possibly the most outspoken rapper of all time. He showed no fear and attacked anything and everything including the Black community.

So what if his sound has mellowed over the years. Millions of dollars and a wife and kids will do that to you. Besides that what issues are there that Ice Cube has not addressed over the years? Racism, Gays, the rap industry, the East Coast, Koreans, the LA riots, the black community, you name it he's dealt with it. What makes Cube unique is that he doesn't cover the same ground twice, his sound is continually evolving. Some of his old fans ain't feeling him cause they want another Death Certificate album. That's too damn bad. He knows his true fans will support him and new fans will feel him. Just remember,Ice Cube may be a lot of things but he ain't fake. All you so called rap experts take a look at the big picture before you judge a man like Ice Cube who has accomplished more in just one of his albums than most rappers can in a life time.

Peace,
James in Seatown

There you have it folks.. I think James makes some valid points Cube has evolved as an artist and he still drops some dope songs. How can anyone front on what he's done. In some ways Ice Cube for some time was overshadowed by another outspoken artist named 2Pac... Hit me back and let me know what you think? mailto:kingdave@sirius.com.

---

My man Byze One promoter extraordinaire out of LA wanted to bring attention to some interesting developments in Los Angeles on Power 106.. Byze kick it and let folks know what's going on in the world of Rock and Rap.

---

Davey D

Personally, I would love to have a radio station that could always give me these types of collaborations: Method Man and Limp Bizkit, Ice Cube and Korn, Public Enemy and Anthrax, even Run DMC and Areosmith.

Although, we are dealing with a strange monster..."Radio". We all know it is a business and the worse part about this radio thing is the station P.D.'s. These are the people that are so worried about how the station will "look" if they play a record that is to "black" or is to "white". I'm not saying that "by eliminating the P.D.'s we shall solve all of the worlds problems", but they are the ones in the trenches trying to keep their stations in the loop. So they do what they feel is best, even if it's not right, or even if it means not being fair to a particular type of artist... be it Metal, Rap, etc.

We have to remember that commercials are what keeps radio alive. The music draws a certain audience, and businesses buy into that certain audience.Radio is not concerned with quality or quantity or even a great story behind the music. It is about drawing in listeners as cut and dry as possible. Not about being versatile or even fair.

We can't blame radio... Radio people need to eat to. SO if here a song you like, don't be afraid to acquire your own copy of that song. It is the best way to give all of the artist involved with the song their share of fairness...

Message for all P.D.'s: "The last time I tried to "look" at your station all I saw was speakers, but at least the song was good." Hmmmmmmm

Rock 1 FYI, DJ C-Minus of KPWR (Power 106), The Almighty Ruffnex (with Mr. Choc) and DJ for KORN just got the opportunity to have a Rock/HipHop show titled "Channel Zero" (Public Enemy influenced) that aired for the first time last Sunday night here in L.A.

The shows comes on at 10:00 PM until 11:00 PM on every 3rd Sunday of each month. He is hosting this show with DJ Homocide (Sugar Ray) and the very first show was last Sunday and it was HOT!!!!!

The phones lit up instantly with positive feedback from hiphoppers that love rock and rockers that love hiphop! It kinda of gives you a deep breath of fresh air from the constant loop of radio hits that we learn to live with on a daily basis.

So, I think in the near future radio will turn to the alternative like they did hiphop once they feel it's mainsteam enough to be excepted and will sell records. But until then, let's enjoy it for the right reason's until it gets shine for the wrong reason.

Please pass this to those that are in the L.A area so that they can get a taste of the future of the underground from both sides of the tracks.

Here is a taste of the "Channel Zero" playlist from the debut show: Biggie f/ Eminem "Dead Wrong"
Q-Tip f/ KORN "End of Time"
Run DMC f/Sugar Ray "Here We Go 99"
Rage Against The Machine "Guerilla Radio"
KORN "Issues"Falling Away From Me"
Limp Bizkit f/Method Man "N Together"
Guest call-in's Fed Durst, Jonathan (KORN) and the fella's from Orgy. etc......

Peace,
Byze One

---

Davey,

Much props goes out to you for calling out these fools who refuse to recognize the impact Rakim had on the MC and hip-hop. I've often wondered whether my respect for Rakim was only because of all the memories I have during high school, rolling up the street playing tracks off of Let The Rhythm Hit 'Em or sitting on the playground listening to Paid in Full. Knowing there are others who remember what it was like before Rakim took his deliberate, determined flow to the mic is reassuring. I spoke to this kid recently that said he had listened to the new R single, and it wasn't all that. He brought up a couple of MCs that he said Rakim sounds like today. Little did he know that ll those MCs are TRYING to sound like the lord Rakim! Oh well, they'll learn ... or maybe not. Either way, nobody can measure up to Rakim's style, even if they bite it.

peace -- Chris Freeman, editor of Elemental Magazine
http://www.elementalmag.com

---

Davey

I have to disagree with your comparison between Cash Money and the R. There is a big difference between promoting a materialistic lifestyle with your lyrics, videos and album covers (Cash Money) and using a metaphor once (Rakim). While the image on the back of the Paid in Full album may be materialistic, Ra's lyrics never glorified money. Rakim has always been about knowledge, self improvement and excellence. Rakim never walked around neighborhoods in NYC with bodyguards and thousands of dollars of jewelry. Really, the only time he ever rocked the gold was on stage. Even "Paid in Full" is a song about how he "used to be a stick up kid...but now I've learned to earn (legally) because I'm righteous", not a song glorifying the acquisition of money at all costs. In fact, Rakim criticizes artists like Cash Money on "Waiting for the World to End" on his new album The Master.

He says ãA deadly plague spreads negativity/ viciously / until every city be in ghetto misery / Donât let it get to me / live right or be left to die / But it can mesmerize if it catch your eye / shines enormous/ from jewelry vehicles and garments/ but itâs torment / jealousy drug wars and warrants/ tallying/ slowly turning us into barbarians...ä Clearly, the master is not cool with the direction Hip Hop lyrics have taken. Other than that, your other comments about the R were on point.

peace
Tree
---
Send comments, questions and concerns to mailto:kingdave@sirius.com
The FNV Newsletter
written by Davey D
c1999
All Rights Reserved
Go To FNV Directory
Go Back To Hip Hop News Directory
---
[home]
[chat]
[conferencing]
[updates]
[what it is]
[politics]
[contests]
[opinion]
[links/photos]
[media]
this site is produced by Davey D in association with eLine Productions
---