*
FNV In Today's Issue: August 25 2000
*Source Awards Fiasco Update: The Artist*
*Buy Chicago Hip Hop Campaign Kicks Off by Matt Sonzula
Send comments, questions and concerns to
mailto:kingdave@sirius.com
The FNV Newsletter
written by Davey D
http://www.daveyd.com
http://www.rapstation.com
c 2000
All Rights Reserved
============================================


Folks are still reeling from the aftermath of Tuesday Night's Source Award fiasco. For those who don't know, the latest updates to this saga is UPN will be airing the Awards show. Up to the point of the fighting, the show had run quite smoothly and the the performances and accompanying stage props were incredible. In addition The Source has quite a bit of rehearsal footage so I'm sure they'll be able to make something happen. They will also be restaging some of the award ceremonies. UPN will also be doing a Pre -Source special.

The other saga involves Mack Minister [Andre Dow] who provoked the fight with E-40, has filed assault charges in Pasadena.Talk about a turn of events. In addition to dealing with that, 40 Watter has to deal with the loss of his prized Sic Wit It medallion. It was snatched from his neck and never recovered. Its worth an estimated 150 thousand dollars. After the altercation, he along with folks from Cash Money's crew spent a good amount of time looking for the jewelry but to no avail..

With all the excitement we didn't get a chance to run down some of the candid commentary from artist we ran into.. Rza from Wu-Tang told us that the new Wu album will be dropping on November 7th.. 'Be sure to vote for Wu' in the upcoming elections. Doug E Fresh noted that his new album is coming out on October 3rd and will feature Slick Rick, Prince, Big Daddy Kane, Dr Dre and singer Horace Brown. I guess Doug is bringing the heat and attempting to regain his title of 'World's Greatest Entertainer'. I asked Doug who he will be voting for in November, he told me Grandmaster Caz, who happened to have signs all over the place that read Caz for President.

dead prez came through and said they were 'holding down the movement and bringing revolution'. They seemed quite animated as they had just gotten back from Cuba where they participated in the Black August celebrations. There next single is 'Mind Sex' which is an incredible song. The video is currently playing on BET. We asked them about the status of the controversial song 'Cop Shot' which is a dead prez remake of the KRS-One song 'Black Cop'. The group was evasive about that song. M-1 said the song will take us to the top when the people demand it. When asked who they would be voting for in the upcoming elections, dead prez responded that they're voting for revolution. 'The whole system is corrupt and needs to be torn down they said.



Mack 10 who came through with his new wife T-Boz talked about his new movie company Mackin' Boz films. Their first release will be a comedy called 'Scratching'. Before we could find out who was in the movie he was directed by publicists to the other side of the carpet to talk with the mainstream press. A reunited 3rd Bass featuring MC Serch and Pete Nice came through. It was good seeing the two back together. Serch maintains he still has his skillz and is better then ever. Pete still has his cane. I asked Pete who he was gonna vote for in the upcoming elections. He told me George W Bush.

At first I thought he was kidding, but a quick conversation indicated he's abreast of the issues. He said he's a Republican. Let it not be said that Hip Hop doesn't include everyone under the sun.
Shortly after Treach came through and put it down. He's working on a solo album and is currently filming 'Book of Love' and 'Love And A Bullet' . Treach who is also abreast of the political issues stated that he's a Democrat and will most likely pull the lever for Al Gore. He also said there is a new

Naughty By Nature album on the way. Busta Rhymes put it down with his colorful self by noting that he is in a new movie with Sean Connerly called 'Finding Forester'. It should be dropping in December. When asked who he would vote for Busta stopped and thought for a minute. I quickly asked him if he should run for President. He laughed and responded by saying that he would be abetter choice then the two main candidates on the ticket. ''I hate voting for the lesser of two evils' he said. 'But we all have to vote and stay involved with the politics'.


Although I didn't see these cats there here are some more artist updates..
Props to Wyclef Jean who has recently announced that his Hip Hop Foundation will be doing a series of four events to help raise money for instruments for inner-city youth. This will include two concerts and two fund raising parties in New York, Los Angeles and Miami. Geto Boy member and former radio talk show host Willie D continues his quest in the rough and tumble world of professional boxing. He will be throwing down against John Washington in Austin Texas. The bout should be taking place sometime in September. According to Lee Bailey's EUR Report, Willie D is in Baltimore filming a movie. Entitled 'Die Blessed', Willie plays a character called 'Clean Up' . The film is slated to drop in 2001 and its being directed by Michael Mfume who is the son of NAACP president Kwesi Mfume.

Finally we have a blast from the past in the form of Skee-Lo. Folks may recall this Chicago based rapper who hit us in the dome with that Grammy nominated song 'I Wish' back in 1995. That was the track where he wished he could be a little bit taller and more of a baller. Well now he's set to drop a new album this fall called 'I Can't Stop' The album incorporates live musicians from the Windy City and will be a unique mixture of Hip Hop and Latin Rhythms. musicians

=========================================


Buy Chicago Hip Hop Campaign Kicked Off by Chicagohiphop.com
Story and photos by By Matt Sonzala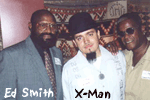 The first Chicagohiphop.com industry mixer brought together major players from the under and above ground hip-hop scenes in Chicago. Tied up by X-Man, of the Chicago group La Junta and his Chicagohiphop.com staff/organization, the event was a call to arms of sorts for this formerly disjointed scene. "I'm going to say something right now that a lot of you do not want to hear," X-Man announced. "There is no hip-hop scene in Chicago. There's a West Side Scene, a South Side Scene, and madd B-boy's and girls, but until today, there has been no Chicago hip-hop scene."

Some in the crowd gasped, but realized that he's not wrong. While many of you can look at the charts over the past few years and see Da Brat, Twista, Crucial Conflict, Common, and Do Or Die popping up here and there, Chicago suffers from a major segregation problem. It's the third largest city in the nation, with as many groups per capita as New York, Houston, or Los Angeles, and way too many go unheard. It's bigger than Houston, which is home to artists like Lil Keke and ESG, who you probably have never heard of, but who have sold over 100,000 units over time, locally, independently, a piece. It's bigger than the bulk of the Bay Area and I don't have to tell you about E-40, B-Legit, and all of the other rappers who came up independently out there and
sold major numbers.

Why do these scenes have major selling independent artists, but a market as gigantic as Chicago's doesn't? It all boils down to unity and support. Houston's urban station, KBXX supports it's local artists by starting them in mix show rotation and adding the ones who catch fire. The Bay's KMEL, and of course it's wealth of underground college and community shows play tons of artists from the community every day. Chicago's WGCI barely plays anything local. The bulk of the underground shows are so far up the east-coast's ass it's ridiculous. The segregation and gentrification of this city has raised a lot of haters.



But it's also produced a lot of intelligent, talented, active, artists who are fed up with the cards they have been dealt and want to make a difference. On this night, at the Sinabar in Chicago's Wicker Park (a neutral area in the middle of town where everyone could comfortably come together), The B-Movie Fiendz, La Junta, all of Psycho Drama, Sean Lett, Los Marijuanos, Malik Yusef, D-Soul, D Zine, Mark Armstrong, George Daniels, The Mercenaries, Tshurhad The Pharise, Godfather (mgr/ Do or Die), and representatives from Sony, ASCAP, NARAS, Operation PUSH, Velocity Magazine, Harpo Studios, The Illinois Entertainer, Plugged, Rebirth, DaveyD.com, Wicked Entertainment, and
Studio Ratz Records all came together to discuss the current state of hip-hop in Chicago and what can be done to better our situation. Throughout the night about 200 people came through and networked, politicked, and preached the good word that Chicago will sleep no longer.

X-Man stated that in the city of Chicago there are approximately 700,000 people who buy hip-hop CD's and cassettes. If every one of those fans would buy just one CD from a local artist each year, then 14 groups could sell 50,000 copies. On an independent level, that's enough to live and progress quite comfortably. If everyone were to buy two local discs per year, then three groups could go gold, and we are just talking about Chicago here.

So the real focus of this meeting was to kick off the "Buy Chicago Hip-Hop" campaign. While very few artists or indie labels in this town can afford a full-page ad in The Source or on commercial radio at this time, four or five coming together just might be able to. While many artists just aren't catching the fire in the streets that they need because they may be from one side of town and don't have the pull needed on the other, a coalition of groups from all sides, just might be able to help each other. It's about unity and support, and if all of these people really do come together and put it down, we're going to see some changes.



George Daniels of Georges Music Room, a mentor to many young artists in the area and beyond, spoke frankly about the long haul. We can't expect change over night, nor can the artists expect to blow up out the box. "A lot of people come into my store everyday and see all the gold and platinum plaques on my wall," George stated, " but I've been in the business for 33 years and not one of those plaques is over 8 years old." Always a positive force, he told the artists in the crowd to think about longevity, and dedication, more than simply blowing up.



The next meeting is scheduled for October, but Chicagohiphop.com is doing an "All Chicago Hip Hop Night," every Sunday at Rapture (700 N. Green Street). For the first time in history, a club night has been dedicated to Chicago hip-hop and that is all you will hear. DJ's T & Bomba of Strong Sound really put it down for the city. The night has been growing steadily over the past few weeks and many artists have passed through to show love. We'll see where all of this will get this burgeoning scene in the months to come, but I have to say that since the House of Blues boycott and the start of the club nights at Rapture, much progress has already been made. In October I hope to see all of the above mentioned come together again, but I would also like to see the Molemen, Juice, Crucial, Common, Do or Die, Da Brat, E.C. Illa, Rubberroom, and the like come through as well and put it down for this here town. It's only going to get better for all artists involved if we can see a little unity in the Chi.
(Matt Sonzala)



========END OF NEWSLETTER================

Send comments, questions and concerns to
mailto:kingdave@sirius.com
The FNV Newsletter
written by Davey D
http://www.daveyd.com
http://www.rapstation.com
c 2000
All Rights Reserved
Go Back To Hip Hop News Directory