*
FNV In Today's Issue: August 11 2000
*Outkast vs Johnnie Cochran & Rosa Parks
*Props To Ed OG
*Jay-Z to do Gangsta Movie
*Toronto's Forgotten Snow Returns
*Puffy Does It For The Kids
*26 States Sue Major Record Labels
*SF Housing Projects Get Recording Studios
*Ice T Wants Law & Order
*No More Rap at Puerto Rican Day Parade
*Protestors Imprisoned In Philly w/ Excessive Bail..special editorial by ?

Send comments, questions and concerns to
mailto:kingdave@sirius.com
The FNV Newsletter
written by Davey D
http://www.daveyd.com
http://www.rapstation.com
c 2000
All Rights Reserved
============================================

First there was the 'Rumble In The Jungle' and then the 'Thrilla In Manilla'. But none of that will compare to the 'Banta in Atlanta'. We're talking about famed lawyer Johnnie Cochran vs Outkast. A few months back we told you how the mother of the Civil Rights Movement Rosa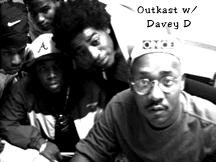 Parks took issue with Atlanta's Outkast for their Grammy nominated hit song 'Rosa Parks'. She felt like the group was exploiting her name. The group was stunned by the accusation and maintained that her work as a crusader for Civil Rights inspired the song. What was really at issue was the groups use of profanity in the song. Outkast and their camp maintained that Ms Parks was a public/historical figure and hence her name could be used in a song. Ms Parks immediately took the case to the Court of Appeals.

In a recent turn of events, Ms Parks has brought in lawyer Johnnie Cochran to represent her. This should turn out to be interesting because in the past Cochran has defended all sorts of rappers ranging from Snoop Dogg to 2Pac and more recently Puff Daddy. Cochran will be used to make closing arguments in this on going case. We'll keep you posted on this.It sure seems to be an unfortunate chapter in Hip Hop to have the mother of the Civil Rights era going after one of Hip Hop's more positive and spirited groups..

Props to Boston based rap star Ed OG ['Got To Have It'] for rolling through the Bay Area last week and introducing us to his new song 'Saying Something'. Its an incredible track produced by DJ Premier where Ed OG rips into other emcees for getting on the mic and not giving us anything meaningful. Ed touched down on my Sunday night Street Knowledge radio show where he joined a group of youth as well as folks from the Black Dot Collective and the Bay Area's Renaissance to address the issue of what its going take to get the Hip Hop generation motivated to partake in politics. Ed offered up some heartfelt advice which included more Hip Hop artists stepping up their game to provide more information to their listeners. He also noted the importance of more Hip Hop artists coming together and being unified and to stop hating on one another and being jealous of someone else's success.

As for his upcoming activities Ed OG noted that he's hard at work in the studio finishing up his new album which he describes as something that will take us all on a musical and emotional journey. 'There will be all sorts of songs addressing a wide range of issues', he said. Ed is currently signed to the Bay Area based Ground Control records.. It was definitely good to see and hear this Hip Hop OG back on the scene.
Look out for Jay Z who is set to set to add yet another movie to his repertoire. He recently created a buzz with the recent screening of the behind the scenes documentary of the 'Hard Knock Life' tour. Now he is hard at work getting ready to produce a film that focuses on the lives of well known gangstas. Mekhi Phifer is supposed star in the movie. There is no word as to who the gangstas are, but my guess one of them would have to be the infamous Nicky Barnes who was once known as 'Mr Untouchable' and who's criminal activities help serves as an inspiration for the movie New Jack City.

One of Toronto's forgotten sons Snow is about to return to the scene. The guy who brought us the raggamuffin flavored 'Informer' off the album '12 Inches of Snow' is set to drop an album in October. No doubt he will try to match the 6 million copies he sold world wide. If thats not enough he's set to co-star with actor Robert Deniro in the movie 'Prison Song' which will feature Q-Tip, Fat Joe and Mary J Blige. Look for this movie to drop sometime in Spring 2001.
If you happen to be in the city of Mount Vernon this Sunday [August 13 2000], check for Puff Daddy, who is slated to host a back to school carnival at the Doles Center and Fourth Street Playground. Its called the P-Diddy Back To School Carnival. For those who don't know Mt Vernon which is right outside the Bronx was once home to Puff. It is also slated to be the sight to a Hip Hop Hall of Fame. The Mayor of Mt Vernon, Ernest Davis had nothing but praise for Puff. If that's not enough, Puff is also set to take a number of inner city youth on a college tour. Through his Daddy's House Foundation, he will be taking youth to various college campus's to give them an idea of what life is like on campus and hopefully to get them inspired to seek higher education.
More drama in the music biz as 26 States are taking the bold step of suing all 5 major record labels as well as several major record store chains. The reason being is that they are charging the labels with conspiracy to inflate and fix CD prices. The lawsuit lends credence to the reason why so many people have been going online to download free music from sites like Napster or Gnutella. People have long complained as to why the average price for a CD was anywhere from 15-20 dollars while the cost was less then a dollar. According to the lawsuit, the 5 majors have engaged in a practice of economic intimidation by pressuring and penalizing retailers who choose to sell CDs below a certain fixed priced. Representatives from the label claim they have done nothing wrong. I say sue the hell out of them and break their backs.. The money from this lawsuit if won will go to benefit music educational programs.. Ideally some ambitious lawyer will file a suit against the labels on behalf of the consumers. Expect this to be a drawn out battle..

A couple of months ago the city of San Francisco bore witness to a vicious 'rap' war in the Bayview Hunters Point area. Two rival record labels, Big Block and West Mobb and the people associated with them allowed some long standing neighborhood feuds get the best of them which resulted in 20 people getting shot within a two week period. Four individuals lost their lives as the Bay Area was put into a crisis mode. There were numerous meetings, truce summits and peace gatherings. A lot of progress was made in particular by some community activists, an 'OG' rapper named Big Herm and the Nation of Islam who spent a considerable amount of time talking and working directly with the folks involved. Eventually peace was restored. Unfortunately the rest of the nation was left with the false perception of the shootings and slayings being the result of a rappers waring against each other as opposed to different clicks having major beef with each other which happened to be reflected in song lyrics on a couple of occasions.


The latest twist to this saga is a unique approach being taken by the city of San Francisco and the Housing Authority. After receiving tons of feedback from numerous community meetings, the city is in the process of looking into building full fledged recording studios in each of the city's housing developments. The idea is to provide opportunities and resources for local youth to engage in an activity that has been motivating them. Thus far the the community has enthusiastically embraced the idea. San Francisco Mayor Willie Brown has put his personal stamp of approval on the project and is looking to allocate resources and money. A recording studio is already being built in the SF's notorious Sunnydale Housing projects.

I'm not sure what sort of infrastructure has been put in place surrounding the use of the studios. In recent interviews with community activists and the SF Housing authority, they noted that the SF Housing developments already have computers and other equipment designed for job training and placement. The recording studios are just another facet to this on going commitment to provide for the residents. They also said there would be an educational component attached to the use of these studios so that residents would learn the ins and outs of the music business. In other words there be music business classes showing people the ropes and how to use the equipment? As it was explained to me, this will provide people a perfect opportunity to get up to speed on a game and in an industry that we often fall victim to because of lack of training and knowledge. Some of the housing projects especially within Bayview Hunters Point, have some successful rap entrepreneurs. Many residents have already started their own rap labels. Some have sold a considerable amount of units numbering more 100 thousand units. It would be great for those success stories to be passed down in a structured environment to those younger people trying to come up in this music game.

On a personal note this makes perfect sense, over the last year, I recall speaking at public high schools in more affluent communities here in the Bay Area where I discovered that they not only had radio and studio equipment, but curriculum designed to show students how to do everything from scratch records to bust rhymes on the mic to mix down records. I've seen everything from Grammy in the Schools to well known musicians coming through and teaching their craft in these communities. Over the past year, I've been to more 'white schools in the suburbs to speak and teach what I know about Hip Hop then I have in inner city schools. I often raised the point as to why such activities and resources were not found in the schools and community centers of Oakland and SF where Hip Hop is such a mainstay. The answer had always centered around cost. 'It cost too much and we don't have resources'. More often then not there are old fashioned attitudes and people in place who don't get this 'Hip Hop thing and hence' don't fully embrace it. Folks who want to deal with Hip Hop often have to talk about it in the context of Spoken words. Well if resources and money could be found for the recording studios in the housing projects, why not try it? Such a program in these housing developments could provide an important leg up. If done correctly, we could have a generation of people who come out knowing the proper ways to go about starting a record label, marketing themselves and more importantly knowing all the behind the scenes things about the music biz where you can make lots of money, own things and have some stability.

The other thing that people are looking into is doing some sort of cable radio station that will broadcast throughout these housing developments or at least partner with local community stations so residents have access to news, music and information that addresses their needs.This will hopefully lessen another major concern that many have found to be a big obstacle, lack of radio, video and club play many of these artists have not been getting. That has been a big bone of contention throughout the city and has been raised in meeting after meeting and in interview after interview. In fact there have been some national stories that are soon to drop focusing on this situation. One can only speculate that after these recording studios are up and running, that community efforts and energies will be focused on making sure the the music created is reflected on the mediums that present music. The thing to watch is that it won't be a bunch of kids raising ruckus but instead the entire community.. We'll keep you posted on how all this unfolds.
Looks like everyone has a big love for Hip Hop, including NBC's hit TV series Law & order Special Victim's Unit. Come this fall, there will be a new detective tossed in the mix who will no doubt shake things up. We're talking about everyone's favorite 'New Jack Hustler' Ice T. He will play the role of a street wise crime solver with a keen sense of humor. Ice will definitely be a nice added addition to the show. Props to him and Law and Order.. This show will definitely help Ice step up his acting ability...


Next year when you head on over to NY's famous Puerto Rican Day Parade, don't expect to see or hear any rap acts. The 18 member board that puts the event on is taking this suggestion under consideration. Although they are not specifically blaming rap as the cause of last June's infamous attack on women in Central Park, they are suggesting that some of the acts and their obscene lyrics attract unruly crowds. This is added to the fact that some of the lyrics and words have very little to do with themes effecting Latino/Puerto Rican culture. If that's not enough in years past there have been problems with some acts. Most notably is Fat Joe and the late Big Pun who were arrested in 1998 for beating up someone. The charges were later dropped due to the fact the 'victim' refused to testify. That person was accused by Fat Joe and company of stepping to him first and trying to cause drama. He started it and Joe finished it.. The final decision hasn't come down yet, but make no mistake there will be certain acts that will not be allowed to perform.. My question is how can any artist participating in the PR day Parade come to the event using obscenities?? What's that about??

FOR IMMEDIATE RELEASE

Protesters Imprisoned in Philadelphia Face Brutal Treatment,
Physical Assault, Excessive Bail

Hundreds of nonviolent protesters arrested during Tuesday and Wednesday's protests are reporting inhumane conditions in custody and physical brutality from authorities, according to members of the R2K Legal Collective. R2K Legal is a collective of lawyers and paralegals providing legal support to protesters.

Over 300 arrests had been reported as of Wednesday night. As the evening wore on, protesters began to be arraigned one by one. Bail for protesters not giving their names was set at unprecedented levels -- between $15,000 and $450,000. "To my knowledge, bail has never been set so high for misdemeanor charges in the history of this country," said Ron McGuire, an attorney working with R2K Legal.

"I consider this a civil rights catastrophe of the first order,"
McGuire added.

On Tuesday night, female protesters being held in the Police Administration Building, commonly called the Roundhouse, reported seeing guards drag a male protester past their cell.The male was naked except for a pair of boxer shorts, which were down around his knees.

"He was screaming in pain," said a female protester in custody who asked not to be identified for fear of retaliation from authorities. "His back was badly bruised, he was bleeding from shoulder to wrist, and his fingers were blue."

Reports of physical brutality towards the men in the Roundhouse continued on Wednesday night. According to reports from within the prison, guards handcuffed and recuffed male protesters so tightly that the men were howling "Stop the torture" loudly enough for the women down the hall to hear.

One protester, who gave his name only as Jack, phoned R2K Legal from custody early Thursday morning to report that his ear had been nearly torn off by an officer's baton during arrest. Jack had been taken to a nearby hospital to have his ear stitched back onto his head, he said.

"Sadly, this kind of abuse is not unusual," said Sara Marcus, a Philadelphia resident and member of R2K Legal. "The abuse protesters are facing on the streets and in jail is representative of the very issues they were protesting about on Tuesday -- police brutality and human rights abuses in prison."

"If you believe this treatment is unjust, let the authorities know how you feel," urged Brian Petruska, another R2K Legal member. The list of people to call includes Philadelphia Mayor John Street, Deputy Commissioner ____ Mitchell, head of Civil Affairs Captain ____ Fisher, District Attorney Lynn Abraham, and Police Commissioner Timoney. Petruska added, "When you call, express your concern over treatment of protesters in custody, and register your support for the demands of those arrested."

Protesters in custody are demanding the return of the dozen or so comrades in isolation, immediate attention to medical issues in jail, reduction or dismissal of all charges, and equal treatment for all arrested.

List of Some Reported Incidents

Excessive Force

August 1. At 14 and Locust, a protester was severely beaten by police officers. As a result, he was hurried to the hospital nearest to the Roundhouse for medical attention. The protester was beaten so severely that he had to undergo surgery to stitch his ear back to his head. In the protester's own words, he was "A bloody mess."

August 1. Bork from Blackbloc was sent to Pennsylvania Hospital due to injuries she received from police before they arrested her. She has a concussion and loose-teeth. Police let her go when the hospital release her form treatment.

Physical Attacks by Police August 2. Police attacked a man taking video footage of the demonstrators. Once the man was thrown to the ground, a police officer stepped on the protester's head as another officer threw water on him. The police then smashed the protester's camera against the ground with their feet, and confiscated the remains.

August 2. 2:30 p.m. at 13th and Race. Without provocation, police threw an apparently homeless man carrying blankets to the ground then six uniformed officers stepped on him. Police placed the man under arrest.

August 2. Near the Roundhouse Jail. Police seemingly arbitrarily picked out a man and threw him against a wall without warning.

August 1. While a protester was drawing with chalk on the ground, a police officer on a bike drove directly into him Apparently, the protester was not seriously injured.

August 2, about 12:30 across the street from the Convention Center. Four uniformed cops moved through the crows to apprehend an individual. The man raised his arms in the air, whereupon the police threw him into newspapers metal vendors, cutting the man's arm. Police then arrested him.

August 2, about 1:00 p.m. while three people were walking through JFK Plaza, police approached on bicycles and trapped them. Police demanded the man's backpack, but he refused. Police respond by throwing him to the ground and twisted arm behind his back and put him in a finger hold. However, police didn't search the man's bag and didn't arrest him. The man claimed his some fingers was broken.

Denial of Necessities While in Custody August 2. The twenty-two protesters who are held in custody in Philadelphia's 23rd Precinct have reported a number of brutal
conditions there. According to these protesters, police have denied them food and water. One protester is HIV positive, which required him to take a regular regimen of medicine, but police have not allowed him access to his medicine since he was arrested. Another protester had to be taken to Pennsylvania Hospital after being beaten by police prior his arrest. Although hospital doctors prescribed regular doses of ibuprofen, police have not permitted this either. Although some protesters were arrested on Tuesday, only one protester has been allowed single phone in that time.

Spontaneous Arrests
August 2, at 11th & Arch. Police pulled over a truck.The driver was the sole occupant, but was driving with protest signs in his cab. After pulling the truck over, the police forced the driver out of his car and arrested. The witness to the arrest reports the driver was not engaging in any illegal activity prior to the arrest.

August 2 in the evening. Police cars surrounded a car at a red light in center city. The police order the occupants, three young men and a woman, out of their car. Police immediately arrested three young men, but let the woman passenger go. The incident was reported at approximately 9:30 p.m. to the R2K
legal office.

August 1. While searching a protester, Commanding Officer LaSchmitt #209 made this statement, "Get out of town or you'll be sorry." The police preceded to break their Nextel and threw their gear in the trash.

For information on sources, please contact Brian at the R2K Legal Office. 215 925 6791


=========END OF NEWSLETTER==========================

Send comments, questions and concerns to
mailto:kingdave@sirius.com
The FNV Newsletter
written by Davey D
http://www.daveyd.com
http://www.rapstation.com
c 2000
All Rights Reserved
Go Back To Hip Hop News Directory