In This Issue of FNV: 8-2-99
*BAKA BOYS QUIT POWER 106
*BROKE ASS SUMMER JAM A ROUSING SUCCESS
*OAKLAND'S POOH MAN ARRESTED FOR BANK ROBBERY
*ODB IN TROUBLE AGAIN AND AGAIN
*BUSSA BUS IS BUSTED
*FOXY BROWN CONCERT STOPPED SHORT HERE IN THE BAY
*THERE'S CONFUSION ABOUT L'IL TROY
*WOOD STOCK FEEDBACK

Send comments, questions and concerns to mailto:kingdave@sirius.com
The FNV Newsletter
written by Davey D
c1999
All Rights Reserved

----------------------------------------------------------------------

BAKA BOYS
QUIT POWER 106

Everyone has been buzzing about the sudden departure of Tha Baka Boys from Power 106 in LA. For those who don't know the Baka Boys have been one of the key forces representing Hip Hop for years in Los Angeles. Apparently Power 106 has been backing off on the Hip Hop and the Baka Boys have decided to bounce. Their renowned Friday Night Flava has but a whole lot of folks on the map including Sway & King Tech from rival station KKBT. People don't know but back in the days before The Beat had a Hip Hop show, Sway & King Tech used to come down from KMEL in SF and be guest djs on Friday Night Flava. The success of this led to the Beat which is sister station to KMEL granting Sway & King Tech a Hip Hop Show in LA.

Initially KKBT tried to position Sway & Tech to go up against the Baka Boyz Friday Night Flava show, however, the fellas allowed their friendship to overcome any sort of radio wars. This is one of the main reasons Sway & King Tech wound up doing the Wake Up Show on Saturdays Nights. The speculation is that the Baka Boys may be headed to KKBT The Beat where they will hooked up with their long time friends Sway & King Tech. The buzz word is they may actually wind up doing morning drive. This should be interesting. We'll keep you posted.
---
BROKE ASS SUMMER JAM
A ROUSING SUCCESS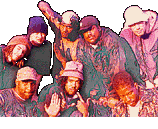 Major props to the Bay Area's Mystik Journeymen and the Living Legends Crew for a successful 4th Annual Broke Ass Summer Jam concert. This event was initially a reaction to SF's premier radio station KMEL holding huge urban/rap concerts known as Summer Jam. These mega concerts while good, were not open to the Bay Area's Hip Hop underground scene hence the Mystik Journeymen and a number of other lyrically gifted Bay Area Hip Hop acts put on their own concert. The first Broke Ass Summer Jam drew about 4-500 people. If memory serves me correctly, it may have taken place at People's Park in Berkeley. This past Thursday night at Maritime Hall in SF, Eligh, The Grouch, ASOP, MURS, Bizarro and the rest of the Living Legends squad had 2-3 thousand enthusiastic fans more hyped than a KRS-One concert. In all seriousness, I have never seen a concert this hyped. Song after song drew thunderous rounds of applause and yells. In spite being an underground group that receives very little air play the overflow crowd seemingly knew the words to all the songs. In fact when Mystik Journeymen rocked the mic they were able to get the crowd to rap along on almost every song. There is no doubt this familiarity with their material is the result of the large amounts of tapes they have been able to sell on the streets and via their web site http://www.mystik-journeymen.com . The Living Legends set was a fitting conclusion to a dope show which featured stellar performances from acts like Planet Asia and The A-Team which features Aceyalone and Abstract Rude.

Broke Ass Summer Jam IV was a success on several levels. First it proved that the independent spirit of 'Do For Self' which has long been a Bay Area hallmark, is alive and well. It shattered the notion that an underground group can't rise up and garner a huge following without having to go through traditional media means of presentation like commercial radio, MTV and other video outlets. Broke Ass Summer Jam was strictly an underground non commercial venture. The diverse make up of the crowd really spoke to the overall power of Hip Hop to bring folks together. It also showed that no one including us at a commercial power house like KMEL can have a corner on the Hip Hop market. To me that's a good thing. Hip Hop suffers when all the power to present and bring forth the culture lies in the hand of a select few who have access to the masses. So again major props to Mystik Journeymen and The Living Legends for putting it down for Hip Hop. Last Thursday night this culture and music we have to love and enjoy took center stage and represented to the fullest!
---
OAKLAND'S POOH MAN
ARRESTED FOR BANK ROBBERY

A few years ago MC Pooh Man embarked on what appeared to be a promising career within Hip Hop. His 3 albums including the cult classic 'Life Of A Criminal' contained a number of underground street hits as Pooh Man garnered a substantial following. His big break for national stardom came when he was featured on the sound track to the movie 'Juice'. He quickly followed that accomplishment by appearing in the movie 'Menace II Society'. Then suddenly Pooh Man who's real name is Lawrence Lee Tate began to run into big problems.

The first involved a libel lawsuit due to a song he released entitled 'Racia' which detailed the sexual exploits of an Oakland woman of the same name. Apparently Pooh-Man along with fellow rappers Too Short and Ant Banks kept it real by telling real life sex tales in this song. After this got resolved, Pooh-Man had a big falling out with Too Short and Ant Banks over money. Things continued to spiral when Pooh got hooked on heroin. The result of that addiction made local headlines when he was caught robbing a Walgreen's store here in Oakland. He was sent away to San Quentin prison for a few years. He got out and relocated to Modesto which is located in Central California.

Recently the Oakland Tribune ran a story about a Modesto crime spree in which a half a dozen banks and several jewelry stores were robbed. The robbers using a stolen Cherokee would roll through and make store owners and customers lie down on the floor during these strong arm robberies. Modesto Police formed a task force to combat the robberies. A stake out was held and Pooh-Man was captured along with 4 other suspects. He had been on parole for the 1994 Walgreen's robbery. He is now inside a Modesto jail with a $ 1 million dollar bail after leading police on a wild chase and manhunt in which he knocked on the door of a resident and literally stole the shirt off the man's back in an attempt to allude police. Pooh-Man was fleeing the scene of a bank robbery. Police and FBI are still gathering evidence and clues to connect Pooh to the other robberies during recent crime spree.
---
ODB IN TROUBLE
AGAIN AND AGAIN

Speaking of rappers in trouble. Everyone's favorite Hip Hop troublemaker found himself behind bars after showing up to court in Santa Monica, California. Old Dirty Bastard who has secured the aid of OJ Simpson's former lawyer Robert Shapiro was in town to face charges of illegally wearing a bulletproof vest. He was supposed to make payments on the 150 thousand dollars that was posted up for his bail. Apparently he had not done so, so he was arrested on the spot and jailed. ODB managed to get released and he headed back to New York. Just when you think home boy would lay low he winds up getting arrested and jailed again over the weekend. This time it was the result of him running a red light in Queens NY. When police pulled him over they discovered he was driving on a suspended license. A quick search of ODB's red Mercedes Benz convertible discovered marijuana and a substance that the police believe is crack. Again ODB has been released on bail. Some one please help this man.
---
BUSSA BUS
IS BUSTED

Finally while Pooh-Man and ODB are dealing with their legal woes, they find themselves in good company with one of Hip Hop's premier rap stars-Busta Rhymes. According to Lee Bailey's EUR Report http://www.eurweb.com, a woman named Jill Miskelly is suing Bussa Bus claiming that he's the father to her child. According to her, the child is the result of a one night stand that took place in January 1998. After paternity tests proved that Busta was the daddy, he began making child support payments of $1,250 a month. However, home girl wants more-much more from the platinum selling artist who hangs out and does videos with superstars like Janet Jackson.
---
FOXY BROWN CONCERT
STOPPED SHORT
Fox Boogie aka Foxy Brown has been attempting to live down her tumultuous reputation. Her recent cover story in Essence Magazine revealed that young Inga Marchand has been maturing both as an artist as well as in real life. Her recent tour in which she actually showed up were steps in that direction. Here in the Bay Area, fans had seen one too many flyers and heard one too many announcements about Foxy Brown coming to perform only to shell out money and find her not there.

A couple of years ago she was prominently advertised as one of the main performers for KMEL Summer Jam. Hundreds of fans were left angered and disappointed when it was announced that 'she missed her plane'. Rival station KYLD got burned by Fox Boogie when it was heavily promoted that she would be appearing at their Bomb Concert. In between those two shows there had been all sorts of promoters and venues promising to have her appear only to have her be a no show. It was no wonder less then two hundred headz showed up to Maritime Hall the other week to see her wreck shop. This was in spite of ticket giveaways and Foxy calling into the radio station promising to get busy.

However, this time around Foxy did show up at SF's Maritime Hall and put on a show that got mixed reviews. Some folks thought she had a lot of charisma and held her own. Others were disappointed in the fact that she would do short snippets her hit songs before launching into freestyles that was done acapella. As Foxy rocked the stage some one in the crowd decided to slap his girl. Foxy caught wind of this and promptly stopped the music and began to speak on how foul that was.. She attempted to continue on when some one threw a water bottle on stage. That was all it took-Foxy bounced and that was it for the evening. Props to her for not letting such foul behavior slide. Too bad the fans couldn't see her entire show, but that's what happens when folks act up.
---
THERE'S CONFUSION
ABOUT L'IL TROY

Most people by now have heard the hit song by Houston's L'il Troy entitled 'I Wanna Be A Baller'. It is rapidly becoming the number one record on many radio station's throughout the country. The problem everyone is dealing with concerns the identity of the person rapping on the song. L'il Troy aka Troy Birklett is actually the person responsible for putting together a compilation album entitled 'Sitting Fat Down South'. Featured on the album is a young artist named Yungstar aka Javis Lemons. No where on the the hit record do you see Yungstar's name mentioned. Also on that song are Fat Pat, Lil Will, Hawk and Big T. If you're a dj like me you have record that prominently features the name L'il Troy right above the title of the song 'I Wanna Be A Baller'.

In recent days Yungstar has been speaking out in an attempt to make sure that he gets props for penning such a popular song. Why L'il Troy neglected to put Yungstar's name on the album is unknown, but experience shows that such oversights lead to major problems down the road. The most recent glaring omission of an artist who put forth their talent in a hit song was singer Mike Marshall and the hit song 'I Got Five On It' by the Luniz. Marshall who is best known for singing the song 'Rumors' sung the hook to 'I Got Five On It' but was never mentioned in any of the credits. In fact when the Luniz remixed the song and included the contributions of numerous Bay Area rappers from E-40 to Digital Underground, Marshall was never credited for his work. Needless to say this was a painful scenario for Marshall as it is for Yungstar who is getting ready to release his own solo album on August 10th. He unfortunately will not have the momentum of the 'I Wanna Be A Baller' song to help with the promotions.

As for L'il Troy he is getting ready to do some positive events for his home town Houston, Texas. He's getting set to do a Back To School concert for the non-profit organization Wise Up, Guns Down Hugs & Kisses Foundation. The event will take place on August 15th at Butler Stadium. In an effort to assist single parents, free school supplies will be given-away to school-age children. He will no doubt get Yungstar to perform. On September 5th, L'il Troy will take his show on the road and hook up the Save The Children Foundation's AIDs Awareness event at George R Brown Center. If that's not enough L'il Troy will appearing in television ads as part of his campaign to educate inner city youth about AIDS awareness and prevention. Props to L'il Troy for his community service. Lets hope he starts giving public recognition to some of his artist.
---
WOODSTOCK FEEDBACK

Last week a number of you wrote some angry letters regarding my commentary on the Woodstock riots. Some of you didn't quite get the tongue and cheek approach I made when I made references to the Columbine shootings. Allow me to clear the air. I was basically making the point that Hip Hop gets blamed for damn near everything. In fact people will go so far as to find a way to attach it to a tragedy like the Columbine shootings. With that being said, a number of people pointed out that I was being a bit paranoid when I suggested that mainstream journalist would somehow tie Hip Hop into Woodstock riots. Here's an excerpt from one letter..
Also, when you mention:
"Now I know and you know that some of these journalist wanted desperately to be able to spew out the headlines 'Ice Cube and DMX Cause Violent Burning, Out of Control Riot At Woodstock '99!" ... you have no way of knowing what anyone wanted to do. I think it would be a huge stretch for anyone to try to blame Woodstock violence on hip-hop, and I doubt anyone wanted to. It makes you sound like too radical a revolutionary. You may be just that, but you have to fight on the grounds of truth, not supposition.

Elemental Magazine..
No sooner had I gotten this letter when AP [Associated Press] dropped this gem of a quote...
"Woodstock's most popular artists Limp Bizkit, Korn, Kid Rock and Rage Against the Machine specialize in an aggressive combination of rock and rap that some say encourages aggressive behavior."
Another article popped up on Sonic Net with this quote from 'an expert'

"David Schneider, a rehabilitation counselor who worked as a volunteer with the social-service program Family of Woodstock during the event, said he witnessed a gang rape in the mosh pit during a set by the hip-hop-influenced rock-act Korn on Friday night."
I've heard similar quotes on news cast where the announcers would toss that Hip Hop word in the mix. So I guess the buzz word is 'Hip Hop influenced.' Call it petty. But to me it implies that the aggressiveness of these new bands has something to do with them embracing Hip Hop. It implies that out of control mosh pits never existed prior to the Hip Hop influence coming along. Finally a number of people wrote to explain that the rowdiness was caused by the crowd having to pay inflated prices for food and water. Apparently concert goers weren't allowed to bring their own food into the venue and thus had to pay $4 bucks for a bottle of water when it was damn near 100% outside. One gut described the whole outburst as a rebellion against the 'greedy corporate giants who were ripping us off'. I don't know what the 6 rapes that took place had to do with rebelling. I also don't understand how sworn officers of the law taking pictures with topless women had anything to do with rebelling against high food prices. As I said before it was a double standard in how this got handled in the media and it continues to be especially when the 'Hip Hop word gets tossed around.
[Captain Save-A-Hoe] wrote:
I ain't gonna put in such simplistic terms as "hip-hop causes violence," but answer me this: Where do all these suburban thugs come from, and why do they (coincidentally??) imitate the mannerisms and speech of similarly thug-minded rappers? Just a question.
[Davey D] responds:
I'll answer your question with a question.. Where do these 'thug like rappers' get their influence when they start taking on names like Gambino and Escabar and other Mafia type names? Where do they get their influence when they start rapping about controlling drug cartels and running criminal empires? When they imitate Godfather and Scarface movies in their videos where do they get that influence from? Long before NWA came along rapping about drive bys, Al Capone was doing drive bys. I say that the violence celebrated in suburbia via Hollywood and Pultzer Prize winning books influences the violence done in the inner city. Lastly, thug like rappers started rapping about all the craziness that exist in their hood when they saw they could make money. A long time ago when NWA first came out, I interviewed Ice Cube and he explained that the group didn't start off violent. When he was with the NWA's early incarnate CIA, they were seeking for ways to get a reaction from the audience. When they started cursing and talking craziness, people began to dig it. Cube said the group liked the reaction and attention they were getting which was due to the fact that they were different then anybody else who was coming out at the time.

If you take a close listen to the early raps that came out in Los Angeles which is often considered the birthplace of 'gangsta rap' you'll note that Hip Hop there were hardly any gang type songs. If you listened to tracks by Rodney O & Joe Cooley, Wrecking Crew, Egyptian Lover, Formula V, LA Dream Team, Captain Rap, Uncle Jams Army, Mixmaster Spade, King T, Toddy T and others you would've never known that LA had a huge gang problem. In fact the violence that was going on at that time in the mid 80s when many of these groups were at their peak may have been more pervasive then it was in the late 80s early 90s when NWA and others hit the scene. Even more ironic many of these early groups had gang affiliations but again it wasn't highlighted in their music. Even Ice T wasn't alluding to all the stress and strife in LA until after NWA. His classic track '6 In The Morning' was more of a commentary on LAPD then it was on gang banging.

If you switch things up and look at the early music from Philadelphia's Schoolly D who shocked the Hip Hop world with street cuts like PSK and Parkside 5-2, he too pointed out that he wasn't attempting to glorify violence as much as he was just trying to be different. If you recall, at the time those records dropped people were into the 'Paid In Full mode. In other words, rappers were starting to brag about their material possessions. Hip Hop tracks out of Philly were still in the 'fun' mode even though inner city violence at that time was off the hook. Philly like LA in the mid 80s had a big gang problem that wasn't really reflected in it's early Hip Hop music. At the time, people were more shocked at Schoolly D cursing on wax then they were about him rapping about gang bangers in his hood. The point being made is that 'gangsterism' became big business which in turn encouraged everyone to rap about the illness they were experiencing or at least knew about from their respective neighborhoods. After the movie Colors was released and all the subsequent national controversy, it became almost fashionable to for kids to dwell into gangsterism. Kids who were removed from the day to day inner city violence became the biggest fans and consumers of this type of music. Early on NWA noted that 80% of their sales were from suburban kids both Black & white who were seemingly living vicariously through their street tales. I guess we as Americans are addicted to drama. We either want to be knee deep in it or at least watch it from the sidelines. In any case, violence is unfortunately something we thrive off of.
---
Send comments, questions and concerns to mailto:kingdave@sirius.com
The FNV Newsletter
written by Davey D
c1999
All Rights Reserved

Go To FNV Directory

Go Back To Hip Hop News Directory
---
[home]
[chat]
[conferencing]
[updates]
[what it is]
[politics]
[contests]
[opinion]
[links/photos]
[media]
this site is produced by Davey D in association with eLine Productions
---