In This Issue of FNV: 8-12-99
*ED LOVER QUITS NY's HOT 97 TO REUNITE WITH DOCTOR DRE & THE BAKA BOYS IN LA!
*THE COUP AND DEAD PREZ TEAM UP
*BLACK AUGUST BENEFIT CONCERT A SUCCESS
*FAT JOE SIGNS DJ PREMIER & KOOL G RAP
*MAMA MYSTIQUE IS MAKING MOVES
*WRAS HIP HOP SHOW IS UNDER ATTACK

Send comments, questions and concerns to mailto:kingdave@sirius.com
The FNV Newsletter
written by Davey D
c1999
All Rights Reserved

----------------------------------------------------------------------

ED LOVER QUITS NY's HOT 97 TO REUNITE WITH DOCTOR DRE
THE BAKA BOYS IN LA!

Next time you're in Los Angeles be sure to check out KKBT 92.3 'The Beat' because they're about to be off the hook. It looks like they have now rounded up Hip Hop's premier radio duos and added them to their roster. Veteran morning show host Ed Lover has quit Hot 97 in NY and will be reunited with partner Doctor Dre to do mornings for KKBT. They will be replacing the popular House Party which is being shuffled over it's sister station Mega 100. The Baka Boyz who were rumored to do mornings may now be headed to do afternoons to replace the popular Theo. Apparently his ratings have been dropping to the Baka Boyz when they were going against him while at Power 106.

If all this falls into place KKBT will have an awesome line up of Hip Hop's premier radio personalities. The Baka Boyz, Ed Lover & Doctor Dre and Sway & King Tech in addition to being mainstays within Hip Hop, were also among the first Hip Hoppers to do morning drive radio shows. In addition KKBT has BET's Big Lez, rap star, The Poetess, former Hip Hop TV host Dominique Diprima and former KDAY personality Julio G. If that's not enough former rap star Dorsey Fuller of the now defunct group O6 Style is The Beat's music director. All these folks are now all under one roof. Hopefully they will have free reign to put forth the music that helped put them all on the map.
---
THE COUP AND
DEAD PREZ TEAM UP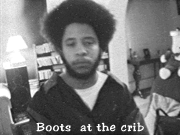 Boots, the lead rapper of the Bay Area Hip Hop group The Coup has been hanging out in New York City over the past couple of weeks collaborating on a project with the political rap group Dead Prez. They've just finished a song called 'Freedom Is'. Boots who has either started or been a part of several political organizations like The Mau Mau Rhythm Collective and The Young Comrads, said he was totally inspired by Dead Prez who he found to be serious, committed individuals holding similar political beliefs to himself. Boots noted that Dead Prez are members of National People's Democratic Uhuru Movement. Lead rapper M-1 is the President of the NY chapter. Boots whose community activism proceeds his 10 year rap career, recently won a grant that will allow him to teach a class entitled Art & Organizing. Here, he will focus on ways that art in particular rap and Hip Hop can be used as a tool for bringing people together and impacting social change. The ultimate goal is for the class to pick out different community struggles and employ their organizing skills to help out and make a difference. The class kicks off in the fall around the beginning October. For more info contact Boots at mailto:thecoup@illcrew.com
---
BLACK AUGUST
BENEFIT CONCERT A SUCCESS

This past weekend artist like Common, Black Star's Mos Def and Talib Kweli, Black Thought of The Roots, Fat Joe and the Terror Squad, DJ Tony Touch, Les Nubians, and even legendary proto-rap vocalist-poet Gil Scott-Heron descended upon Bowery Ballroom in New York City for the second annual Black August Benefit Concert. This benefit was set to help the legal and educational campaigns of political prisoners. It was also designed to to help set the stage for the upcoming Cuban Rap Festival which is set later on this month in Havana. Many of the artist on this bill will appear in Cuba later this month for the 5th Annual Cuban Rap Festival where they will be joined by other artists and a cadre of Cuban rappers. The money raised will go toward building a studio and a public Hip Hop library in Cuba. The Black August Benefit Concert will also raise money for the legal and educational campaigns underway on behalf of the estimated 100 men and women currently incarcerated within the United States or living in exile because of their political beliefs.

Black August puts forth the idea that it is not only important for the hip hop community to be aware of these men and women, but that we all recognize the link between the rights of political dissidents ­ whether living in the United States or in Cuba ­ to express their political beliefs and our own rights to be free from censorship, police harassment, and governmental control. This year's concert seeks to firmly connect the Hip Hop generations of Cuba and The US. There is talk that Sway & Tech may broadcast the August 27th concert from Havana. I personally haven't gotten any confirmation on that as of yet.
---
FAT JOE SIGNS
DJ PREMIER & KOOL G RAP

Fat Joe is definitely the man of the hour. Above and beyond his successful rapping career, the unofficial King Of New York has been making some major business moves within the rap game. As he gets set to release the Terror Squad album within the next few weeks on his own Terror Squad records, he has been gobbling up other Hip Hop talent. By now everyone knows he manages Big Pun, but now he just inked a deal with DJ Premier of Gang Starr to do a mixtape compilation lp. It will probably be something alone the lines of what Sway & King Tech just did when they dropped their lp 'This Or That'. For those who don't know, Fat Joe and Premier go way back when Premier worked on Fat Joe's 1993 debut lp 'Represent'. If that wasn't enough, Fat Joe picked up one of Hip Hop's most talented emcees Kool G Rap. Hopefully under Fat Joe's direction the ultimate Hip Hop story teller can return to his old prime time form.
---
MAMA MYSTIQUE
IS MAKING MOVES

I got an email from NY based rapper Mama Mystique who was updating me on her current activities. Many of you should remember her from a couple of years ago when she made some noise with the cut 'Tremendous'. She later followed it up with a song with a couple of jams including 'Unstoppable' and 'Styles I Murder' featuring Nikki D [Damn talk about blasts from the past..whatever happened to her?]. Nowadays, Mama Mystique goes by the name 'Mystique' as she has dropped the name 'Mama'. She now hosts a video show in Brooklyn and The Bronx called 'Da Bomb'. She also just recorded a song on Q-Ball and Curt Cazal's 'Triple Threat' lp with two female emcees named Strategy and Sinista. She also just dropped a cut on her own album with MC Lyte. Her b side track was done with Steele of the Cocoa Brovas. And if all that's not enough Mystique has gotten down on a compilation lp with 3 emcees Verbal, Strange and Infamous. For those trying to reach out to this busy woman who can wreck microphones drop her a note at mailto:NYPRESTIGE@aol.com. If there are any other artist out there making moves drop me a note so we can update our readers.. mailto:kingdave@sirius.com
---
WRAS HIP HOP SHOW
IS UNDER ATTACK

First it was Free Speech radio KPFA in Berkeley which came under attack and now it's WRAS in Atlanta. The 100 thousand watt community radio station finds itself undergoing some major changes. One of them is to put a gag rule in effect and pare down Atlanta's longest running and most popular Hip Hop show. Below is an official account of what's been taking place...:
My name is Marcel Daniels,

I'm writing on behalf of the Weekend Wrecking Crew from WRAS Atlanta 88.5 FM 100,000 watts, a non commercial station. Over the past two months, our pride and joy Sunday night hip hop show called Rythym and Vibes, airing from 10pm until 2am, playing underground hip hop and rap has been threatened to be cut in half. We believe this is a travesty since our show is the longest running show on the station (pumping since 1989), the station's most popular show (despite the terrible time slot), and the only show on our station to win any kind of trade awards (16 and counting). To make matters worse, when we made our listeners aware of what management was trying to do, the General Managers wrote up a new rule effective immediately banning all Hosts, DJ's, guests, and listeners from speaking about WRAS programming on the air. The penalty for breaking this rule is immediate expulsion from the station. This rule was implemented as an act of retaliation, and worse yet, is an obvious violation of our first amendment rights.

What we ask of you Davey is to post the happenings here at WRAS on your newsletter. You always keep hip hoppers aware of the happenings in the hip hop community, and we need some help.

Below are some of the pleas we've made towards management which as of right now, have still not been responded. Please let the heads know what's going on to preserve hip hop in Atlanta, and to preserve our free speech, which is what hip hop is truly all about.

Peace,
Marcel Daniels
{FOR THOSE WHO ARE INTERESTED.. I suggest writing Marcel so you can get the full length account of what's going down.. He'll also hit you off with an address to write his GM... mailto:marceldaniels@hotmail.com
---
} Send comments, questions and concerns to mailto:kingdave@sirius.com
The FNV Newsletter
written by Davey D
c1999
All Rights Reserved

Go To FNV Directory

Go Back To Hip Hop News Directory
---
[home]
[chat]
[conferencing]
[updates]
[what it is]
[politics]
[contests]
[opinion]
[links/photos]
[media]
this site is produced by Davey D in association with eLine Productions
---