FNV In Today's Issue: April 21 2000
*ICE T FREES PAL FROM PRISON..
*MORE HIP HOPPERS HIT THE SILVER SCREEN...
*DEAD PREZ REDO KRS-ONE SONG 'BLACK COP'
*A GATHERING OF WOMEN IN HIP HOP
*TO SUE OR BE SUE-WHAT WILL IT BE DR DRE?
*MONEY B PJ PARTY ENDS IN TRAGEDY
*ACLU & LEAGUE OF WOMEN VOTERS ARE SUING TO OVERTURN PROP 21
*ATOMIC POP/PUBLIC ENEMY CONTEST/2PAC 'LOST TAPE' WINNERS
**Hip Hop Slang and Phrases from the Past...
Send comments, questions and concerns to
mailto:
kingdave@sirius.com
The FNV Newsletter
written by Davey D
http://www.
daveyd.com
http://www.
rapstation.com
c 2000
All Rights Reserved
=================================================
ICE T FREES PAL FROM PRISON
..

Props are in order to Ice T who recently made noise by helping secure the release of a high school buddy from federal penitentiary. The man in question is a guy named Tony Jake who was freed from Lewisburg Federal Penitentiary on the condition that he was employed. Ice T hooked him up with a 3 thousand dollar a month job to be as one of his assistant managers. Damn! That's not bad at all.. How can I be down Ice? An additional part of Jake's release is he will have to wear an electronic ankle bracelet. Jake is awaiting a new trial for obstruction of justice and bribery. Apparently there were flawed jury instructions.. I guess Ice T wasn't kidding when he rapped about being down for his childhood friends.
-------------------------------------------
MORE ARTISTS HIT THE SILVER SCREEN....


Looks like Hip Hop is about to hit the silver screen again. This time, Treach from Naughty By Nature Method Man, Redman, Sticky Fingaz, DMX and KRS-One will be featured in an upcoming movie called Boricua's Bond. Also featured will be the late Big Pun. The movie is about a young Latin singer trying to make it in the turbulent streets of the South Bronx. Look for the movie to drop sometime in late June. Quick question of the week? With all these rap stars making their way onto the silver screen, when will traditional actors and actresses make their way into the recording studio? I'm looking for an Omar Epps album. I wanna see Denzel bust a few freestyle.. How about Mekehi Phifer, Wesley Snipes and Bokiem Woodbeen forming a Hip Hop super group. Vivica Fox could hit a few notes in the chorus. Spike Lee or Jon Singleton could direct the video..
--------------------------------------------------------------

DEAD PREZ REDO KRS-ONE SONG 'BLACK COP'..



The group dead prez is about to set things off with a new song they have done against police brutality. They recently remade the KRS-One classic 'Black Cop' and flipped it into a song called 'Cop Shot'. It uses the same beat and same rhyme pattern as the KRS joint.. The chorus which will no doubt become an anthem reads 'Cop Shot.. Cop Shot Cop Shot'. There is no indication as to whether or not Loud records will actually release this. The police tend to come down hard on such songs. However, there are already bootlegs floating around.. Interestingly enough, dead prez's song comes at the heels of another blatant anti-police song. Ill Bill of the group Non Phixon has been stirring up the pot with his new song 'How To Kill A Cop'. We'll keep you posted as to the fall out over this song..
--------------------------------------------------
A GATHERING OF WOMEN IN HIP HOP



Coming off an 'off the chain' Hip Hop conference in Madison Wi where women ruled the night, folks are now buzzing about SisterPhyre 2000. This is shaping up to be the ultimate 'Gathering of Women in Hip Hop' and thus far has amassed an impressive line up of Hip Hop movers and shakers including, DJ Jazzy Joyce, Big Lez formerly of BET's Rap City, The Poetess, Kierna Mayo-founding editor of Honey Magazine, Sheena Lester-former editor of XXL and now with Russell Simmon's venture 360HipHop.com, Rha Goddess and Audrey Edwards of Essence magazine to name a few.

The conference is taking place August 23-27 2000 in Atlanta, Georgia and from the looks of it the emphasis will be about the business of building the culture, networking and taking Hip Hop to the next level. Some of panel and roundtable discussions include; 'Utilizing Hip-Hop as a Tool for Social Change: A discussion about economics, race and liberation', 'Spirituality and the Hip-Hop Generation', 'Let that Bitch Go! A discussion around the use of that" word and internalized oppression in Hip-Hop' and 'The Role and Responsibility of Female Journalists in Hip-Hop'. That's just a few of the panel discussions SisterPhyre 2000 has lined up.

The conference will include a showing of the film 'Nobody Knows My Name', A National Talent Search and A Tribute to the Foremothers of Hip Hop. This last event looks exciting as they will have today's rappers performing the songs of Hip Hop's female pioneers as well as presenting them with awards for their contributions. This facet is long overdue. A lot of headz are not familiar with pioneering names like Sha-Rock, Queen Lisa Lee, Pebbly Poo, Sweet Tee, Lady B and DJ Baby D and her all female crew Mercedes Ladies. Heck a lot of cats over look the original Angie B aka Angie Stone and the her old group Sequence. I'm not sure if they will have all those pioneers on hand, but just the fact that they will be honored is dope. Trust me, if you ever heard women like Sha-Rock, Pebbly Poo or Lisa Lee rip a mic back in Hip Hop's early days, then you can understand that Hip Hop has severely short changed itself by not putting them alongside the Bambaataas, Grandmaster Flashes and other pioneers when talking about Hip Hop's evolution. I'm glad I kept my old tapes..

In any case, folks have been forewarned. The organizers of SisterPhyre 2000 were in Madison representing and getting the word out about this Gathering of Women in Hip Hop.. For more info hit them up at mailto:burketaranaj@hotmail.com
---------------------------------
TO SUE OR BE SUE-WHAT WILL IT BE DR DRE?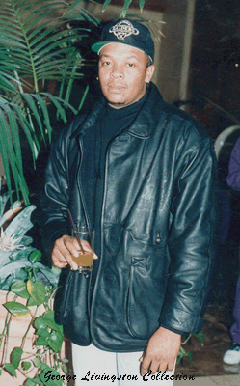 Well today is Good Friday and it marks the deadline Dr Dre has issued to Napster to remove his music off their directories or face a lawsuit for copyright infringement. Earlier this week, Dre's lawyer Howard King issued a warning to the folks at Napster. Dre himself hadn't directly spoken nor made up his mind about whether or not he actually wants to sue Napster. It appears that his lawyer is the one leading the charge. Ironically, this same lawyer, Howard King is also counsel to the rock group to Metallica, who last week made headlines by threatening to sue Napster and several Universities for copyright infringement.

Now in a strange turn of events, Dr Dre may really have to go after Napster with his proposed lawsuit. The reason being is that one day after making headlines about his disdain for copyright infringement, the good Dr got hit up with a lawsuit in which he's the perpetrator. Film maker George Lucas who puts out the Star Wars movies is upset that Dr Dre opens up his album 'Dr Dre 2001' with a sound called the 'THX Deep Note'. This is a the sound that movie goers hear when there's an advertisement indicating that the THX sound systems is being used. Apparently this is trademarked and Dre may be in violation. According to his camp Dre hasn't been officially served with the lawsuit papers but according to Lucas spokespeople, they are seeking an unspecified amount of damages. I don't care what anyone says.. All these sampling lawsuits and copyright debates is hurting Hip Hop...

Adding to all this bizarre turn of events, Eminem aka Slim Shady had his first single 'The Real Slim Shady' from his upcoming album 'leaked' on the Napster sight. This forced the record label to ship the song a week early. Considering all the controversy surrounding Em's song where he disses Christine Aguilera and Fred Durst of Limp Bizkit, I'm simply not buying this whole story of the single being 'leaked'. I think this leak was part of the 'marketing campaign.

Let's face it, if used correctly Napster and other Internet sites are no different then mixtapes. They set the stage and bring some hype for an artist and his upcoming project. With the huge amount of units Dre and Eminem have moved over the past year, just how much to you think they lost Internet piracy? I say its nothing compared to all the other areas where bootlegging is going on. Instead of jamming up Napster how about coming down hard on the local liquor store around my block where they sell bootleg tapes of such artists with the funny wrapping for about 2 dollars a pop. Any attacks or lawsuits on Napster is just the music Industry trying to play catch up to a technology they first tried to ignore and later tried to suppress. They don't like the fact that fans and up and coming artists have equal access. Get over it fellas and stop hatin'. Learn to work with the new technology and as they say in the commercial, 'the Internet will once again be your friend'.
----------------------------------------------------------
MONEY B PJ PARTY ENDS IN TRAGEDY....



What started out to be a wonderful event ended in tragedy last night in San Francisco. Money B of Digital Underground held a slammin' record release party for his new album 'Talking Dirty'. It was a VIP Pajama Party held at a secret location. Folks who got the secret invitations were led to the popular Glas Kat Night club. Inside was a who's who of Bay Area Hip Hop. Everyone from Shock G to Ras Kass to Tha Delinquents to the Whoridas to the Luniz were there. Radio cats, magazine writers, TV cameras the whole nine were on hand. Most of the attendees lived up to the theme of the party by coming through wearing their best bed room attire. There was a couple of lingerie contests and a nice performance from Money B. Folks was popping collars and having fun. Simply put the event was off the hook.

Sometime after 2am when the party let out is when trouble began. The details aren't all clear and I'm still making my phone calls. But there was a fight which escalated into the fatal shooting of 31 year old Ronnie Blackburn. Ronnie was well known in the Bay Area Hip Hop scene as a good businessman. He had recently purchased his plane ticket to go to next week's Impact Conference in Nashville. For Bay Area folks reading this, Ronnie rolled with the folks from 187 Fac and Rolan Entertainment which is home to Silk E. His loss is a big blow and a major loss to Bay Area Hip Hop.

If this whole ordeal wasn't enough when the police were called to the scene, the remaining crowd was pepper sprayed and held inside the club until the wee hours of the morning for questioning. Immediately afterwards rumors began to circulate claiming that the shots fired came from a car driven by Money B. Such was not the case. As of late last night no arrests were made, but they were holding some one who's name was not released for questioning. Trust me it wasn't Money or his crew. This is indeed a sad turn of events. I had bounced after Money's performance and hence was sitting here writing about how nice his party was-It was really shocking and sad to see the sketchy details come across the morning newscasts. We'll keep you posted as to what transpires.. Condolences go out to the family and friends of Ronnie Blackburn. he certainly didn't deserve this..
----------------------------------------------------

ACLU & LEAGUE OF WOMEN VOTERS ARE SUING TO OVERTURN PROP 21.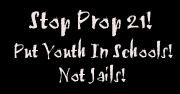 As you know we pretty much covered the activism around Prop 21, which was a vicious, oppressive bill that was paraded around as a Juvenile Crime Anti-Gang Bill during the March 2000 election. . The measure passed by a 2-1 margin here in Cali. The exception was within the Bay Area where all the Hip Hop activism took place. Here the 'No' votes ousted the 'Yes' votes by a substantial margin. Well anyway, to make along story short, the bill is now being challenged. A huge press conference was held this Thursday afternoon with the ACLU and League of Women Voters. They asserted what I had been saying all along, the bill was misleading and the public had been duped. Although it was supposed to be a Juvenile Crime Bill, more then half the bill's 48 pages dealt with substantially restructuring the California Penal code. To make along story short, a whole lot of folks who voted 'Yes' on that bill were discovering that they had a real good chance of going to jail under all the crazy new rules they voted into law. It wasn't just juveniles who could have their phones tapped based upon suspicion, or be stopped and detained if hanging out in groups of three or more. Prop 21 was going to effect older folks as it gave District Attorneys and the police a whole lot of discretionary power.

The ACLU and League of Women Voters are seeking to get Prop 21 over turned based upon a California law that requires that an initiative only cover one topic. During the press conference it was explained how more and more 'misleading' initiatives are being placed on state wide ballots. The public doesn't always read the 'fine print' [in the case of Prop 21- It was 48 pages], nor do they always fully understand what they are voting for. We'll keep you posted as to what happens.. While the ACLU is challenging the new laws, others are exploring ways to put a new initiative on the ballot to also overturn it..Also a law suit against the state attorney general and Governor Gray Davis for administering this bill has been issued. Folks outside of California be warned.. What goes on in the Golden State soon makes it way across the country. Look at the dismantling of Affirmative Action. We now have the folks from Cali responsible for getting those measures passed criss crossing across the country, most notable Florida and Washington, campaigning to get similar measured passed. The struggle still continues..
--------------------------------------------

ATOMIC POP/PUBLIC ENEMY CONTEST/2PAC 'LOST TAPE' WINNERS



Public Enemy's record label has just announced they have a contest jumping off. This one is for a platinum plaque from PE for the classic album. 'It Takes a Nation of Millions To Hold Us Back'. The way it works is there will be 4 trivia questions that must be answered correctly to be considered a finalist..Contestants will have until July 4th to enter.. Head on over to Atomic Pop at http://www.atomicpop.com/publicenemy/. Now a couple of cats tried to hit me up for the answers because they know I roll with Chuck..Sorry Charlie. I don't know all the answers to the PE trivia.. This is for true fans only!..BTW Check for Chuck D next week. He will be featured at Rev Jessie Jackson's upcoming Digital Divide Conference in San Jose.. Yours truly-Davey D will be moderating a panel. We'll keep you posted for more details..

Speaking of contests..Listed below are the winners from Last Weeks.. 2Pac Lost Tape Contest. If you see your name.. Hit me up with your address... mailto:kingdave@sirius.com You can head on over to my website at http://www.daveyd.com. to read some of the essays..

1-David Lee
2-Jim Madaio
3-Nefretari
4-Fritz The Cat
5-CiCi
6-Shereen Fidaus
7-Simon
8-Ryan Nath
9-James Platt
10-Jsilk
11-Shaundra Major
12-Jenny Santos
13-Tom Parmelee
14-Matt S Hopps
15-Gnuwine9
16-?
17-Robert Collier
18-Christel N Temple
19-Sabrina Green
20-Sajeed & Simon
----------------------------------------------------

*Hip Hop Slang and Phrases from the Past...

1-'Def'-dope. off the hook.. nice. That's where Def Jam got the idea to name their record company..

2- 'cheeba cheeba'- weed, marijuana-Taken from a famous Break Beat song by Harlem Underground Band.. Was also the name adapted by the pioneering rap group 'Eddie Cheeba and The Cheeba crew.. The word 'Cheeb' was used for short..

3-'My mellow' or 'My mellow-ski'..My friend, my partner..my buddy...

4- 'Vic' To victimize..rob.. i.e I was 'viced' [pronounced like bic] at that party by some stick up kids'

5- Souped up- To be big headed, full of one' self.. 'ie he won a million dollars and got all 'souped' up..

Think of any others hit me up at mailto:kingdave@sirius.com

============END OF NEWSLETTER========================
Send comments, questions and concerns to
mailto:kingdave@sirius.com
The FNV Newsletter
written by Davey D
http://www.daveyd.com
http://www.rapstation.com
c 2000
All Rights Reserved
Go Back To Hip Hop News Directory