FNV In This Issue:April 12 2000
*Common Launches Charity
*Chuck D Joins The HOB Fight
*Grandmaster Caz returns to the Scene
*Master P on; Movies, Juvenile and The Golden State Warriors
*DJ Tony Touch Drops Album-Set to Star In Movie
*Canadian Hip Hop-The A&R Siesta by MarieAnn Gomez


Send comments, questions and concerns to
mailto:kingdave@sirius.com
The FNV Newsletter
written by Davey D
http://www.daveyd.com
http://www.rapstation.com
c 2000
All Rights Reserved

=================================================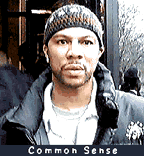 Congratulations to Common who has just released an incredible album entitled 'Like Water For Chocolate'. It is by far his best work and clearly illustrates how much he has grown. Now Chicago's native son is set to add to his success by giving back to the community. He has just launched a charity organization called the Common Ground Foundation. CGF aims to raise monies for disadvantage youth so they can purchase instruments, computers and pay their way through college. Common will raise the initial monies through his upcoming tour dates in cities like Los Angeles, San Francisco and his home town of Chicago. Ironically, Common's Chicago date will be at the House of Blues which is currently being boycotted by his fellow Chicago Hip Hop brethren. Hopefully that situation gets resolved before Common's show date arrives. In any case he deserves major props for doing the right thing with his charity.
====================================
*It looks like the House of Blues Boycott in Chicago has just gotten another player in the mix. Public Enemy's Chuck D and his http://www.Rapstation.com team have stepped into the arena and are currently helping mediate the situation. Both sides are being spoken to and hopefully in due time a mutually beneficial solution will arise. We'll keep you posted as this continues to unfold.
------------------------------------------------


Master P was in the Bay Area yesterday promoting his new group the 504 Boyz and their new single 'Wobble Wobble'. I caught up with P and chopped it up with him. he explained that he has finished up a movie with actor Nicolas Cage. The flick should be dropping this summer. He will soon be financially backing a movie from a major film director.. I can't say right now, but you will breath a sigh of relief and cheer him on when it all goes down.

He explained that his No Limit record company is in excellent shape.. He put away almost 500 million dollars in the last couple of years. With that information I pointed out a couple of houses I needed help in buying. P laughed and explained that he still owns property here in the Bay in his old stomping grounds of Richmond. I pressed P about the possibilities of doing a song with Juvenile and his Cash Money click.. P smiled. I told him it was be a big move and Hip Hop would love to see the two super powers come together. He shook his head and smiled. I asked him if there was a beef between the two camps. He said there isn't and everything is cool. My last remarks to P on this subject was, it would be major news to see some sort of collaboration between the two and to think about it... Oh well, it can't hurt to ask..

P and myself concluded the conversation with his thoughts on basketball. Make no mistake P is just as determined to make this happen as he did within the music biz. He noted that his next target is the Golden State Warriors..Trust me the Warriors need a big draw.. and like it or not P brings a crowd. So with a bit of luck P may finally the circle and break into NBA.
--------------------------------------------------------

Hip Hop pioneer Grandmaster Caz has stepped back into the Hip Hop arena in a major way. He is featured on the brand new compilation CD called 'No More Prisons'. This is an absolutely must have dope album that has been put out by Raptivism records. It's designed to bring awareness to the nation's fastest growing industry-the prison industrial complex. Proceeds from the project will go to the Prison Moratorium Project. The LP features all sorts of Hip Hop luminaries including Chubb Rock, The Coup, Hurricane G, Daddy O and dead prez to name a few. All the songs are dope. Professor Cornel West, Danny Hoch and the Last Poets are also featured. However, hearing the voice of Caz was a real treat. If you want to hear how the top of the line artists threw down way back in the days ['77-80], you will want to hear Caz's flawless delivery to a song called 'Too Much'. He steps to the plate with a message type song over a funky beat that will definitely have your head boppin'. For more info drop a line mailto:kpranis@igc.org
----------------------------------------------------------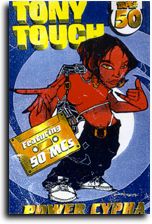 Legendary mix tape DJ Tony Touch swung through the Bay Area this weekend and let every know he's the man when it comes to wrecking parties on the one and twos. He's currently promoting his new album entitled 'Piece Maker' which will drop next week. While doing so, Mr Touch decided to spin at a couple of Bay Area nite clubs. Sunday nite he descended upon 330 Ritch in San Francisco and left everyone rantin' and ravin'. It wasn't so much his turn table trickery as much as it was his ability to pick the right songs at the right times. The kid has mad flava-no doubt.

On Monday afternoon he came through KPFA's Hard Knock Radio show and chopped it up for a good hour. He spoke passionately about the historical and current role of the Hip Hop DJ. He's is likened to the African drummer who kept the village people on point and in step. The DJ as we know was the center piece when Hip Hop first began. Touch noted that nowadays the DJ is had taken a back seat to emcees, but that's beginning to change as more and more Hip Hop DJs are coming to the table with unprecedented amounts of creativity both on the production end as well as the on the turn tables.

On Touch's new album he managed to bring together over 60 emcees on 21 cuts. Everyone from Xzibit to Wu-Tang throws down on what may easily be one of the best albums of the year. Even more incredible is Tony's level of consciousness. He intends to highlight his Puerto Rican/Indian heritage. When we spoke he talked about the Taino Indians which were native to Puerto Rico and how many people had mistakenly claimed they were extinct as a people. Touch has been digging deep into his cultural roots and has made it a point to highlight certain cultural aspects from wearing the traditional tattoos and marking to speaking intelligently about Puerto Rico's rich history. At a time when so many people find the Latino music scene fashionable, Touch wanted to make sure that there is some historical substance to the discussions.

Touch also discussed the important role Latinos played in giving birth to Hip Hop. Because of the current Latin craze, many newcomers to the game have no ideas that Latino's were building and shaping Hip Hop culture from day one. Pioneers like Crazy Legs and the Rock Steady Crew, DJ Charlie Chase of the Cold Crush Brothers, Emcees like Ruby Dee and Whipper Whip of the Fantastic Romantic Five were key figures in early Hip Hop. He pointed out that people never made a big deal about their Latin heritage because everyone was always together under the same roof. The music business, in particular a lot of record labels, decided to separate the groups based upon race. Artists like the late Big Pun were major bridge builders who brought everyone back together again.

Tony Touch noted that the arena of politics will be something he may be involved in. He recently met with the Bronx borough president and he along with members of the Rock Steady Crew are exploring ways in which they may publicly support him. At this day in age, its important for the Hip Hop community to rise up and make a difference in political circles under the reign of Mayor Rudoulph Giuliani.

Finally Tony Touch will be featured in a movie that is die out this fall called 'Taino'. Touch will star in the lead role where he plays a wild style kid who is hustling and causing a lot of drama in the neighborhood. He comes across some relatives who bring to light his heritage and they let him know he is the last of the families bloodline-. Its important for Taino to pull himself together and fully represent. hence this independent film will deal with the road he travels to bring about that transformation. I'm not sure if Tony can act, but he seemed quite animated and someone who has a lot of heart, passion and love for what he does. I do believe folks will 'feel' him when he hits the silver screen. Look for the movie to drop sometime in the fall.
=========================================================



A&R Siesta by MarieAnne Gomez



"If you don't have a 'Rocket' in your pocket (Choclair) or are on the verge of stealing someone's 'Sunshine' (LEN), the majors don't seem to be interested ", Chief Meliq, one half of the T-dot dynamic duo-- Babylon Point, bitterly states in response to the major labels in Canada. Meliq's exasperated response is an understandable one, as very few signed American acts can pit themselves against Babylon Point.

With the ban of mixtapes, government pimping of hip hop venues, production of corny urban TV series (Drop the Beat), and not one black radio station on the dial; you've got to wonder what the heck is going on up there? Why does the monetary muscle choose to snooze on urban opportunity? The Major's Siesta has dozed off on ill-soaring acts like Saukrates, Kardinal Offishal, Brass Munk, Thrust, Monolith, Buck 65, Obscure Disorder, Swollen Members and many other sweltering Canuck flames.
Success stories like that of 24-year-old Kareem Blake a/k/a Choclair, leave finger crossed acts with a sense of hope. Label giant, Virgin, with the assistance of Priority, have helped put the Chiz Chiz Knocka on top. His libidinous lyrics and carnal content leave women lusting for the hairy chested Sexual. His Ice Cold release attacked south of the 49th parallel, with nation wide touring, raiding the US Circle style.

Although Choclair deserves recognition as Canadian hip hop's first major label MC, many heads believe he is no different from the rest of the hip pop they bump on dance frequencies. With Saukrates on the hooks, Kardinal generating the beats, and collabs with such artists as Xzibit, Guru, ODB, Memphis Bleek, one would think Ice Cold would be a time-honored bombshell… it's not. Brains were a major ingredient in Choclair's earlier material, unfortunately these days, it seems he prefers brain to be given rather than used.

The undisputed fact that Choclair is a hardworking MC, proves his hunger for chart-climbing supremacy. With the pressure of commercial success comes the traction of opening doors for other acts, and enhancing Virgin's returns of Ice Cold investments. Even though Canadian acts have had US releases in the past (Kish, Maestro), Choclair played the lab(el) gerbil, testing red white and blue waters. Along with Choclair, the success of the Rascalz(Red 1, Misfit) has sparked major interest in urban geared genres. Few labels have urban departments, and even if they do, senior level executives wouldn't know hip hop if Rakim married their daughters.

The response from the industry when asked, "Why are Major Labels so hesitant in signing homegrown (Canadian) hip hop?", was pretty much the same.

Day (Choclair's Manager/ Kneedeep/ Raze Records)
"There's no urban A&R staff in Canada. The A&R people at Canadian majors
didn't grow up on hip hop and don't know it. It's up to the hip hop community
to learn how the business side works so we can incorporate good hip hop
into the corporate world of music."

Mastermind ( Dj/ Energy Radio )
"There are no A&R reps in this country that can effectively market & produce a great Hip-Hop record...The Choclair project which was probably the closest thing to a great Canadian Hip-Hop album that was put together by a team of 5 guys. And still the album could
have been much better. These labels and A&R's can't tell the difference
between good/great & bad Hip-Hop!! It's the same as if someone hired me
to find the next Shania Twain or Garth Brooks, I couldn't do it cuz I'm
not qualified to do it. So, until the labels hire the right people (such
as prominent DJ's or Artists-who have a sense of what's good)to be the
Rap A&R's we will never really see a big surge in domestic signings."

Sol G (Figure IV/ Rascalz Manager)
"Quite simply because they do not understand it there fore they are hesitant.
Now that they have sent the success of RASCALZ and Choclair they are all
interested in doing projects. Their biggest problem is that they have not
stepped out and empowered people with Hip Hop sensibilities in their A&R
departments. I believe that soon we will see the majors connect with the
community at that level. Then we will see more artists signed.
It is all coming together slowly but surely."

May 19th (Brass Munk)
"I think it is out of fear...labels are afraid that Canadian acts don't have what it takes to compete with the big dawgs (US acts)...a lot of people tend to over
look Canadian hip hop because it is from Canada...I go to school in Los Angeles (UCLA) and a lot of people frankly do not know about the urban culture in
Canada...the only person right now that is making major noise (in hip hop) is Choclair because he is signed to a major label...how did he get signed? Virgin saw something in him and took a chance...labels need to take a chance in artists they believe in and
allow a relationship to take place, which consists of artist development...the talent is obviously out there in Canada, but the mentality of making things happen
is rather slow....that's why some urban acts (Deborah Cox) go across the border to make it happen...the results speak for itself concerning her case...if a Canadian group has potential talent to take it to the next level in music, major labels need to really
consider working with that group...put out a single and see what happens...take a chance!"

Thrust (Blue Print)
"Canadian labels have only started to pay attention to urban music over the
last 4 to 5 years. There still is alot of ignorance that exists when it
comes to our music. at present there are only three labels ( Virgin, BMG,&
Universal ) that actually have departments that are set up to work the music.
None of these though have A&R's or A&R consultants who attempt to go out and
sign talent. Besides the Rascalz & Choclair who all went the independent
route for years before signing, no label has yet to step up and make a firm
commitment to this genre. The problem isn't that they think that it won't
sell, the problem lies in the fact that they don't understand the music &
are not yet willing to hand over the signing power to those who have the
understanding. When this happens then we can all enjoy hearing the music we love, but from our own perspective."


Kwame (Dj/ Kiss 92)
"I feel that they are not sure that hip-hop in Canada has proven itself. Labels we can't forget are businesses, and as a business they have to make smart business moves. Now, the problem is they are just satisfied with the Canadian scene as it is, their making enough money for there families so their happy. Since choclairs album is doing
well these same business men will start to look at urban music because now
they will see more money that they can make. The key is that all the urban
artist make sure they handle their finances and make that money man!"

While the A&R Siesta continues to snooze, Canadian hip hop detonates. How can labels sleep on Saukrates uttered Action, Buck 65's nerd-like Centaur metaphors, Kardinal's soka stylings, Obscure Disorders Maintaining of Focus, Babylon Point's Camel Clutchin' of mics, Brass Munk's one-two word play, and Swollen Member's poetic Sunburns? I guess that when things get that hot, people tend to nap.
===============================================================
______________END OF NEWSLETTER______________________________________



Send comments, questions and concerns to
mailto:kingdave@sirius.com
The FNV Newsletter
written by Davey D
http://www.daveyd.com
http://www.rapstation.com
c 2000
All Rights Reserved
---
[Home Page] [chat] [Davey D Message Boards]
[Live Radio] [What it is Hip Hop?]
[politics] [contests] [opinion] [links/photos] [media]
this site is produced by Davey D in association with eLine Productions
---