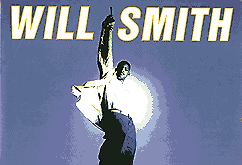 When the Fresh Prince.. now known as Will Smith first hit the scene with his partner DJ Jazzy Jeff they earned everyone's respect.. A lot of it had to do with the legendary dj skills of DJ Jazzy Jeff.. Will for the most part was the hype man who seemed to step up and be recognized as their careers flourished.. As the dj begain to take a back seat to the rapper.. Folks begain to appreciate the quick wit, and sharpness of the Fresh Prince.. His raps were for the most part usually safe... But his personality always came through... As a team Jazzy and The Fresh Prince had some pretty cool songs you could not front on.. 'Girls Are Nothing But Trouble', 'The Magnificent Jazzy Jeff', 'Nightmare On Elm Street' 'Brand New Funk', 'Summertime' and 'A Touch Of Jazz' are a few that immediately come to mind.. The Fresh Prince even touched off some controversy when he did a scathing rap about an old woman hitting his car.. He raised some eye brows and had his clean cut image questioned when he dropped a track called 'You Seen My Blinker Bitch'...
Of course their big break came when they did the very humourous yet relevant track.. 'Parents Don't Understand'.. The Fresh Prince by then had firmly established his reputation has a rapper who could wove some good stories.. At the same time.. the duo entered into the pop world never to return.. Jazzy Jeff claimed he was no longer gonna particpate in dj competitions.. He would only do tricks for shows.. Hence the world never really got a chance to see how Jazzy would've done against the new breeed of djs like the DJ Q-Bert and The Invisible Scratch Pickles, The Beat Junkies or The X-Men.. That was a shame because people were beginning to refocus on the turn table trickery of the hip hop dj..
The Fresh Prince as we all know went on to do a little tv show that lasted for quite a few years called 'The Fresh Prince Of Bel Air'.. Sometime during that stint he and Jeff dropped another album.. But as Will so eloquently stated in one of his songs off the his new album 'Big Willie Style'.. There's lots of money to be made on the film side... And that's where he's been ridin' ever since.. Nowadays Will is one of Hollywood's biggest box office draws.. and he has a fine woman by his side who is equally a compelling actress.. Jada Pinkett
Now how does this tie into Will Smith and his return to hip hop? Well for one, I think it suprised everyone.. Hip Hop has long been unforgiving.. Once you bounce there are about 50 million crews to take your place.. When you return.. You will likely find that folks ain't checking for you unless you bring the noise...

So here today you have a clean cut Will Smith who is constantly being dissed by jealous hip hop headz.. because he went to Hollywood and got paid as oppossed to staying in the struggling game of hip hop.. It's an unfair perception.. But for Will it's Strike One.. He enters into the game at a time when folks are 'pimps and players or rough and rugged types from Shalin [Staten Island].. Strike Two.. Will ain't coming to the plate with the one individual that still is given his respect as being a legendary hip hop icon.. DJ Jazzy Jeff.. No one can front on his skillz or accomplishments... For Will that's Strike three..

His new album Big Willie Style.. borrows a title from a lofty hip hop term that implies that you're a major factor in the game.. And while Will may be a factor in Hollywood.. He unfortunately is not a factor in the rap game.. At least among the headz.. Hence when headz pick up this album to hear Big Will show his style.. They're gonna dis it.. and dis it hard... That's too bad.. because it's really not a bad album.. It's what you would expect from Will at this day in time.. But he went there.. He said he's the Big Willie... so I gots to come to the table with some Big Willie expectations...

What's unfortunate about this album is that Will Smith was lazy.. Yes there are some good songs on that album that are likely to go on to be some huge hits.. Tracks like 'Men In Black', 'It's All Good', 'Candy', and 'Yes Yes Y'all' have some potential..With Will being such a big name you can see the entertainment industry machinery pushing his lp over the top.. The mainstream audience will hear some familiar hooks.. and like Will.. they'll hear some clean songs with no curses, no bitches, no hos and no gats...and they'll love Will. They'll see and hear a charming brotha who's the toast of the town and they'll love the album..

However, when I go back to what I know Will Smith to have done in the past.. I have to honestly say.. Either he's lost his touch.. or he was just palin lazy.. I was waiting to hear him wove one of his trademark humourous stories.. I was waiting to hear him flow with the enthusiasm and quick wit of his past.. Instead I heard a lot of songs in which he talks about being the man.. which is typical of far too many artists who don't have much to say.. And Will with all his accomplishments has a lot to say.. I was looking for some substance and I never got it from him... I wanted a song detailing how he won over Jada.. I wanted a song about how he took out the aliens in Independence Day.. I wanted a lot more... He did come to the plate and say Big Willie Style..didn't he..? I wanted a message about Hollywood.. Will could've been so much more creative.. He was lazy as a writer..

The beats. on this start off pretty cool.. but end up with him doing the Puffy thing and remaking every hit song from days gone by... He hooked up with Cameo and Larry Blackmon and just like 15 other rappers he remade the hit song 'Candy'.. He redid Patrice Rushing's 'Forget Me Not' in the song 'Men In Black'.. He samples from the classic 'As The Beat Goes On' by The Whispers.. to name a few.. Below is an breakdown of some of the lp's songs..

'Y'all Know'-Cool beats... Will Smith's rap is ok.. He's not as sharp as he was back in the days.. The song is about how dope he is... Typical braggadocia rap

'Don't Say Nothin'- Here Will over a funky jazz type beat addresses his critics.. He talks about how when everyone was being a pimp, pusher and player he was in LA chillin' with Jada.. his soon to be wife... He also talks about how everyone dissed him for getting into acting and now every other rapper is trying to follow suit and 'make that extra paper'. Song is pretty cool..

'Big Willie Style' w/ Left Eye of TLC- Another braggadocia rap.. Here Will makes the mistake of using such a lofty title for a so-so song.. Yes Mr Smith has money, fame and fortune.. Yes he's one of the factors on the Hollywood set.. But that's not conveyed in that song nor the album..
Beat is ok.. a little poppish with an urban feel.. Left Eye flows pretty good on this song.. But Will doesn't come across in a way that the title implies.. For me that sums up the entire album..

'Yes Yes Y'all' w/ Camp Lo- Here's another cut in which Will invokes a lofty image.. 'Yes Yes Y'all was the famous refrain that all old school rappers used when flowing.. It indicates that you have siome history in this game.. and it also implies that you can bring the rough and rugged stuff.. Will doesn't do that.. The song is urban sounding and has the potential to be another radio hit.. Camp Lo is featured.. but theuy don't rap which is a shame.. 'cause they could've given the song some much needed flava.. Will takes a what you think to be a song strictly for the headz and commercializes it for the masses..

'It's All Good'- A commercial sounding jam that has flava.. I can see this song being a big radio hit.. It uses Chic's classic jam Good Times.. Again Will is bragging about himself.. But its all harmless.. He flips the script and sings the chorus to Kool And Gangs 'Celebrates'... As the song progresses.. he changes up and has some sings another chorus. to reflect the songs title.. This song will likley be a party favorite..