WHORIDAS
WHORIDIN'
SOUTHPAW

These Kids Represent
Don't Sleep On This Album
Good Beats and Dope Rhyme Styles
They're Off The Hizzie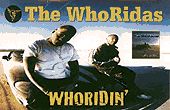 For many the Whoridas have long been a mystery to those who've come to associate Bay Area hip hop with one particular style and sound...To start, the Whoridas broke the mold by being Westbound... Here in the Bay almost all of Hip Hop's legendary crews ranging from Too Short to Hammer to Souls Of Mischief have come from Oakland's East side...Song after song would talk passionately about the rough and rugged ways of East Oakland... It's a bit ironic because East Oakland has been talked about so much that many have forgotten the rich history and the progressiveness that has been a part of West Oakland where the Whoridas are from... Historically West Oakland at one time had a thriving bustling downtown area within it's African American community that rivaled the traditional downtown that was owned and controlled by whites... Merrit College was an intellectual haven on the West side of Oakland that gave birth to the Black Panther Party.. Nowadays West Oakland is known for not so nice Acorn Housing Projects and the now defunct Campbell Village where notorious drug lords like Felix Mitchell ran some of their operations.. For years many of West Oakland's majestic Victorian houses were left abandoned and parts of that side of town took on the name 'Ghost Town'.. You just didn't hear about too many slammin' artists hailing from the West until Saafir and his crew The Hobo Junction which included The Whoridas came along... It's important to note this.. because with their emergence came a different sound and style that has expanded the definition of Bay Area hip hop...For the record.. it should also be noted that West Oakland has been on the rise in the sense that it's being revitalized.. Lots of folks are starting to reinvest money in that area...
For many, our first taste of these Westbound artists came when Saafir and Hobo Junction squared off against Casual,Souls Of Mischief and the Hieroglyphics Crew..all who hailed from The East side of Oakland.. It was a heated, intense, one-of-a-kind emcee battle that took place on the Wake Up Show a couple of years back.. The end result was some near physical confrontations and gunshots being fired..after the battle...The battle went way beyond a crew of emcees flipin' scripts.. It reflected the long standing rivalry between East and West Oakland.. It was during this battle that Mr Tailor and King Sann of the Whoridas stood out.. They were definitely about holding their own on a lyrical tip...And left folks fiending for some material from them...Folks who were up on the Bay Area's underground rap scene already had product from the Whoridas.. These guys could be seen hustlin' homemade tapes every day in front of the now closed Leopold Records in Berkeley. Most of these tapes were limited edition excursions into the musical mindset of a very creative crew... Their rhyme style was different.. Their beats were different, yet they managed to keep a certain flava about them which let you know that they were from the Bay...
They really begain the start niching their own identity that seperated them from the elusive Hobo Junction when they put out this home made tape that contained the song Shot Callin' & Big Ballin'..The infectous Vaughn Mason 'Bounce Rock Skate' type beat had all sorts of headz bobbin' while the chorus was being sung by nearly every kid..here in the town.. It was a creative song about the ins and outs of hustlin'... and how one should be strivin' to take things to the next level in the game... This was the song that made people notice the Whoridas.. That track along with a few others was picked up by the old KDAY Mixmaster's host EMC O [Orlando Aguillen] who pressed it and later signed the group to his own South Paw record label... South Paw was a spin off of Delicious Vinyl.. The rest has been history.. The Shot Callin' song blew up in LA... where South Paw is based... and suddenly the Whoridas were big factors in the rap game... Their follow up singles, 'Taxin'' and 'Talk 'Bout Bank'allowed all olf us including many of us at KMEL who slept on the Whoridas the first go 'round to catch up and get with the program... Taxin' had a more East Coast feel while Talk 'Bout Bank contained that hard hittin' funk beat that is enjoyed by folks here on the West Coast... Currently that song is a big hit here in the 'Yeah Area'...
As was mentioned earlier folks who've enjoyed past works from The Whoridas will definitely get into the album...It's off the hook. The group has managed to stay different from everyone else that's on the market which translates into an lp that's refreshing to the ears.. Their rhyme skillz are on point.. Their beats are tight..They get props for going out and enlisting the aid of several different producers.. This results in you not hearing the same ole sound throughout the album... Some of the producers include.. Daz Dillinger, Shock G of Digital Underground, Jay Z, J Cutt of Oakland's now defunct APG Crew and J-Groove who I believe may be with the group Christion... but don't quote me on that..
Stand out songs that'll definitely leave you lovin' the Whoridas include.. 'True Playas' which borrows a few riffs from Kraftwerk's 'We Are The Robots, 'Pull Off That Whoride', the jazz flavored 'Westbound Campaign', the slow rolling very funky 'Down On My Luck'and the West Coast soundin' 'Pounds Ki's & OZ's'..Another dope cut is 'West Bound Campaign' which talks passionately about West Oakland. The bottom line here is this is an lp not to sleep on... If you do ya just might find yourself being Whorided...
Reviewed By Davey D
11/24/97