Salt N Pepa Interview:
DAVEY D: WE ARE AMONG A GENERATION OF KIDS THAT ARE JUST BEING INTRODUCED TO SALT-N-PEPA. THEY ARE PROBABLY FAMILIAR WITH YOU GUYS FROM THE SONG 'PUSH-IT', BUT YOU GOT ROOTS THAT ARE MUCH DEEPER THAN THAT. SO WHY DON'T YOU GIVE A BRIEF RUN DOWN ON HOW YOU GUYS FORMED, WHAT WAS YOUR FIRST RECORD AND HOW LONG Y'ALL BEEN IN THE BUSINESS. SALT: THIS IS SALT, AND WE BEEN IN THE BUSINESS 10 PLUS YEAR. WE STARTED IN 1985 AND OUR FIRST BIG SONG WAS 'PUSH-IT' AND BEFORE THAT WE HAD 'I'LL TAKE YOUR MAN', BUT WE STARTED BACK IN THE DAY WHEN IT WASN'T TO MANY RECORD DEALS HAPPENING FOR HIP-HOP ARTISTS. WE STARTED WORKING TOGETHER AT SEARS. THAT'S WHERE ME AND PEP GOT TOGETHER. ALSO MARTIN LAWRENCE AND KID N PLAY WORKED THERE AND HERBIE, OUR ORIGINAL PRODUCER WORKED THERE.

DAVEY D: COMEDIAN MARTIN LAWRENCE?

SALT: YEAH! HERBIE WAS PART OF A GROUP CALL SUPER LOVES AND HE ALWAYS WANTED TO PRODUCE, SO HE HAD US DO VOCALS ON THIS TRACK HE PUT TOGETHER, MARLEY MARL, A DJ IN NEW YORK, PLAYED IT ON HIS RAP SHOW AND THEN THIS LITTLE RECORD COMPANY CALLED POP ARTS RECORDS WROTE US AND ASKED US IF WE WANTED TO PUT IT ON WAX. THEN WE QUIT SCHOOL, OUR JOBS AND WE WAS DOING THE CLUB CIRCUIT, AND THEN AFTER THAT WE JUST KEPT GOING. WE GOT ANOTHER DEAL WITH NEXT PLATEAU RECORDS AND THAT'S WHERE WE DID OUR FIRST ALBUM 'HOT, COOL AND VICIOUS'.

DAVEY D::NOW THE 'SHOW STOPPER' THAT WAS A RESPONSE TO 'LA DE DA DI' OR SOMETHING LIKE THAT.

SALT: YEAH, IT WAS A RESPONSE TO 'THE SHOW', AND WE CALLED IT THE 'SHOW STOPPER'. BACK IN THE DAY, THAT WAS HOW GIRLS GOT THEIR FOOT IN THE DOOR. ROXANNE SHANTE HAD DID IT, AND WE DID IT. AND THAT'S HOW WE GOT STARTED ALSO.

DAVEY D:: YOU GUYS HAVE BEEN AROUND 10 PLUS YEARS, AND I'VE SEEN YOU GUYS EVOLVE FROM THE VERY BEGINNING TO NOW. 1ST OF ALL, WHAT DO YOU ATTRIBUTE TO YOUR LONGEVITY AND DO YOU HAVE THE SAME FAN BASE THE BOUGHT YOUR 1ST RECORD?

PEPA: YEAH, I THINK SO. TO OUR LONGEVITY, WE ALWAYS STAYED TRUE TO OURSELVES AND SALT-N-PEPA GOT A LOT OF LOVE FOR EACH OTHER, AND WE KNOW THAT THIS BUSINESS CAN BE VERY HARSH AND CRUEL, SO YOUR FOUNDATION HAS TO BE STRONG. A LOT OF GROUPS BREAK UP BECAUSE THEIR FOUNDATIONS ARE NOT STRONG. BUT LIKE I SAID, WE STAYED TRUE TO OURSELVES AND I THINK WE HAVE A DEDICATED FAN BASE, BECAUSE WE'VE ALWAYS MAINTAINED PLATINUM STATUS, NOT TO BE BRAGGING OR ANYTHING (LAUGHS), BUT WE MAINTAINED IT AND PEOPLE ARE ALWAYS COMING UP TO US SAYING THEY GREW UP WITH US. THEY ARE TRUE DEDICATED FANS, SO OUR BASE IS STILL THERE.

DAVEY D:: OK. NOW I NOTICE, OR AT LEAST I HEARD YOU PRODUCED A LOT OF THE TRACKS SALT?

SALT: YEAH. ME AND PEP PRODUCED. I HAVE A STUDIO AT HOME AND SO I WAS FORTUNATE ENOUGH TO STAY WITH MY CHILD AND DO THE PRODUCTION.

DAVEY D:: NOW LET ME REWIND THIS, CAUSE A LOT OF PEOPLE MIGHT NOT HEAR THIS CORRECTLY, YOU PRODUCED IT, THE BEATS, THE WHOLE THING?

SALT: YEAH. A LOT OF FEMALES OUT THERE ARE DOING PRODUCTION, AND THEY DON'T REALLY UNDERSTAND WHAT PRODUCTION IS. PRODUCTION IS NOT ONLY DOING THE MUSIC, ALTHOUGH YES I DID A LOT OF THE MUSIC ON THIS ALBUM, BUT PRODUCTION IS BRINGING THE PROJECT TOGETHER. WHEN YOU HAVE AN IDEA BORN OUT OF YOUR SPIRIT AND YOU RELAY IT TO A MUSICIAN OR A BEAT PROGRAMMER, JUST BECAUSE YOU NOT PROGRAMMING THE BEAT OR YOU NOT PLAYING THE GUITAR, DOESN'T MEAN YOU DIDN'T PRODUCE THE RECORD. BECAUSE YOU NOT MOVING THE BOARD, YOU GOT A ENGINEER DOING THAT, SO I ENCOURAGE FEMALES TO PRODUCE. THEY PROBABLY ALREADY BEEN PRODUCING AND DON'T KNOW IT. PEP DID SOME PRODUCTION AS WELL, AND WERE PROUD OF THIS ALBUM BECAUSE IT WAS CONTROLLED TOTALLY BY SALT-N-PEPA. HERBIE WAS OUR MENTOR, AND WE HAVE A LOT OF LOVE AND RESPECT FOR HERBIE, BUT THIS ALBUM THAT'S OUT WE DID NOT COLLABORATE WITH HIM. WERE VERY PROUD OF IT, AND WHAT WE'VE DONE WITH THIS ALBUM.

DAVEY D:: WHAT TARE YOUR FAVORITE CUTS OFF THE ALBUM? WHICH SONGS ON THE ALBUM EMBODIES THE SPIRIT OF SALT-N-PEPA?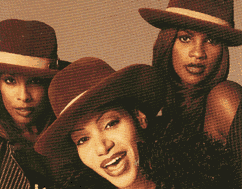 SALT: I HAVE A LOT. WE CALL IT OUR 'HONEST' ALBUM. IT'S SALT-N-PEPA DEALING WITH SPIRITUALITY, DEALING WITH ISSUES IN LIFE, IN SOCIETY AND DEALING WITH OUR SEXUALITY. IT'S ALL US AND ALL ABOUT WHO WE ARE, SO FOR ME TO SAY A FAVORITE, I COULD GO ON AND ON...'DO RIGHT WOMAN'. GUYS IF YOU DON'T KNOW HOW TO TREAT A WOMAN, PICK UP 'BRAND NEW' THE ALBUM, AND LISTEN TO TRACK #3. 'DO RIGHT WOMAN'. THAT'S AN INSTRUCTION MANUAL. WE GOT, 'HOLD ON', 'OUR LOVE IS TICKING', I LOVE 'IMAGINE', I COULD GO ON AND ON.

DAVEY D:: OK. WHAT ABOUT YOU PEP?

PEPA: 'DO RIGHT', 'HOLD ON', I LIKE 'KNOCK-KNOCK' AND I LOVE 'GIDDY UP', THAT'S ONE OF MY FAVORITES. AND I LIKE TO HAVE FUN WITH BOY TOY.

DAVEY D:: NOW LET ME ASK YOU. HOW HAVE YOU GUYS MANAGED, OVER YOUR 10 YEARS, TO AVOID GETTING CAUGHT UP IN THE CONTROVERSY AND THE BATTLES THAT YOU SEE SO MANY OTHER RAPPERS HAVE GOTTEN CAUGHT UP IN? YOU KNOW I HAVE NEVER REALLY HEARD PEOPLE PUTTING OUT SONGS DISSIN YOU GUYS, AND I HAVE NEVER SEEN YOU GUYS HAVE TO SOME AFTER ANYBODY I YOUR SONGS.

SALT: WELL, PEOPLE IN THIS BUSINESS HAVE A LOT OF RESPECT FOR US. BEING THAT WE HAVE BEEN AROUND SO LONG. WE DON'T HAVE NO ENEMIES IN THE BUSINESS. WE JUST MAKE SURE WE KEEP GOOD RELATIONSHIPS WITH INDUSTRY PEOPLE, WITH RADIO, WITH EVERYBODY. I THINK THEY FELL WARMTH AND REALNESS IN SALT-N-PEPA. AND THEY HAVE A LOT OF RESPECT FOR US.

DAVEY D:: LET ME ASK YOU WITH YOUR LOOKS. THERE'S DEFINITELY NO DOUBT THAT SALT-N-PEPA ARE GOOD LOOKING WOMEN. HOW COME WE HAVEN'T SEEN YOU IN MORE MOVIES AND IS THAT THE NEXT STEP? IS THAT THE NEXT PHASE?

PEPA: DEFINITELY. THAT'S SOMETHING WE WANT TO EXPLORE. I ESPECIALLY HAVE A LOVE IN ACTING, BUT COLLECTIVELY WE'VE BEEN WRITING A COUPLE OF TREATMENTS SO SOON AS WE GET THE OPPORTUNITY, WE WANT TO GET THAT OUT THERE AND SHOCK THAT IDEA, BUT WE WANT TO DO THIS HBO SPECIAL WE WROTE. WE THINK ITS REALLY CUTE AND WE ALSO DID ANOTHER FICTIONAL, SOMETHING BASED ON SALT-N-PEPA, HOW WE GOT TOGETHER, BUT WE DEFINITELY WANT TO GET OUT THERE MORE IN THE ACTING FIELD.

DAVEY D:: YOU WANT TO ELABORATE MORE ON THE TREATMENT AND TELL WHAT IT'S ABOUT?

PEPA: I WAS SAYING OUR SCHEDULE. WE ARE BUSY DOING A LOT OF THINGS. THAT'S WHY ITS HARD, CAUSE WE ARE DOING DO MANY THINGS RIGHT NOW. SO THAT'S WHY A LOT OF THINGS HAVE BEEN PUT ON HOLD, BUT WE DEFINITELY GONE GET TO EVERYTHING. ONE OF THEM IS JUST ABOUT US; HOW WE ARE IN REALITY. HOW SALT-N-PEPA REALLY IS, SANDY, CHERYL AND DEE DEE, BUT WERE SOME FICTIONALS.

DAVEY D: OK. KINDA LIKE A REAL-LIFE THING, WITH A TWIST.

PEPA: YEAH. AFTER WE SEEN SOUL FOOD THAT INSPIRED US. JUST WANTED TO ADD THAT.

DAVEY D: ANOTHER THING I WANTED TO ASK YALL, YOU GUYS DEFINITELY PIONEERED THE WAY, BUT NOW YOU HAVE YOUR LIL KIMS', YOUR FOXY BROWN'S; WHEN YOU GUYD FIRST CAME OUT, YOU DIDN'T RELLAY EXCLUDE FEMINITY WHEN YOU FIRST CAME OUT. NOWADAYS A LOT OF FEMALE RAPPERS CAME OUT, AND THEY ARE THEMSELVES. WHAT DO YOU ATTRIBUTE TO THAT, AND DO YOU THINK THAT SNP COULD HAVE COME OUT THE WAY THAT A FOXY BROWN OR LIL KIM DOD BACK WHEN YOU ALL HIT THE SCENE?

SALT: I THINK WHEN WE 1ST HIT THE SCENE COMING OUT LIKE THAT MIGHT HAVE BEEN DARING OR SHOCKING. ALTHOUGH WHEN WE DID PRIVATE SHOWS, AND WE WAS NOT ON WAX, JUST DOING PRIVATE SHOWS, WE WAS A LITTLE RAW BACK IN TH DAYS, BUT BEING THAT WERE MOMS NOW.

. PEPA: YOU SAID PRIVATE SHOWS.

SALT: NOT PRIVATE SHOWS, I MEAN SHOWS THAT WASN'T ON WAX. REGULAR SHOWS.

DAVEY D: YOU HAD ME THINKING YOU WAS DOWN ON 40 DEUCE [42CD STREET WHICH IS NY'S FORMER RED LIGHT DISTRICT].

SALT: NO NOT SHOWS LIKE THAT. BUT NOW I THINK THERE IS A LOT MORE ROOM FOR CREATIVE EXPRESSIONFOR WHAT EVER YOU WANT TO DO. BUT SNP, BEING THAT WE BEEN HERE SO LONG, WE ARE MOMS, AND WE FEEL A RESPONSIBILITY TO OUR AUDIENCE AND THE CHILDREN THAT LISTEN TO USE, SO WE TONE OUR MESSAGE DOWN. I THINK EVEN MORE AND MORE, RECORD TO RECORD. AND ON THIS ALBUM WE FELT VERY INSPIRITAIONAL AND GIVING BACK CAUSE WE BEEN SO BLESSED TO HAVE LASTED THIS LONG.

DAVEY D: YOU DID A SONG WITH KIRK FRANKLIN, AND ALSO HOLD ON, WHICH I THINK IS A GOOD FOLLOW-UP FO RHIM. DO THE LYRICS THA TYOU GUYS DO, OR THE SONGS THAT YOU ARE DOING RIGHT NOW, DO YOU FIND THAT YOU HAVE CONFLICT IN TERMS OF YOUR SPIRITUALITY WITH THE TYPE OF LYRICS THAT YOU EITHER PUT OUT OR THAT HIP-HOP IS PUTTING OUT RIGHT NOW?

SALT: WELL FOR US, LIKE I SAID EARLIER, THIS IS OUR HONEST ALBUM, AND ALL I CAN DO IS BE HONEST FOR WHO I AM. I DO LOVE GOD, AND BECAUSE I'M IN SNP DOES NOT MEAN I CANNOT PRIASE GOD. I HAVE EVERY RIGHT TO PRAISE GOD AND I ENCOURAGE YOUNG PEOPLE, NO MATTER WHAT YOUR CIRCUMSTANCES OR NO MATTER EHAT YOUR PROBLEMS IS, HE SAID TO COME AS YOU ARE. I ALSO FEEL THAT MY PURPOSE IN LIFE IS BEING FULFILLED THROUGH SNP. AND THE FACT THAT I HAVE ACCESS TO THE MEDIA, I HAVE A VOICE TO INSPIRE OTHER YOUNG WOMEN TO MAKE IT OUT OF ANY SITUATION THAT ATHEY FIND THEMSELVES IN. WERE INVOLVED IN MANY CHARITIES. WERE INVOLVED IN PRENATAL CARE PROMOTIONS, I MEAN I CAN GO ON AND ON. ALL THE AIDS BENEFITS AND THINGS LIKE THAT WE DO AND SO TO ME THAT'S GOS FULFILLING OUR PURPOSE.

DAVEY D: FINALLY, DEFINE HIP-HOP AS WE GO INTO THE YEAR 2000? HOW IS IT, AND WHAT SHOULD IT BE?

SALT: HIP-HOP IS A CULTURE. IT'S A WAY OF LIFE, IT'S A STATE OF MIND. IT'S AN URBAN FEELING, IT'S ABOUT WHER YOU COME FROM, THE STREETS AND BEING PROUD OF YOUR ENVIRONMENT.

PEPA: I THINK HIP-HOP IS DIVERSE. IT'S GOTTEN TO A STATE NOW THAT IS DOESN'T REALLY HAVE ANY COLOR IN MUSIC, IT'S JAZZ, ROCK N ROLL. R & B. SO I THINK THAT'S THE LEVEL THAT HIP-HOP IS GOING TO, AND I THINK IT WILL KEEP BRANCHING OUT.

Go Back To Allstar DJ Table Of Contents

Go Back To Interview Directory

Go Back To Davey D Table Of Contents