RAPPIN' 4TAY
4 THE HARD WAY
NOO TRYBE

A Strong LP From 4Tay
Bay Area Flava At It's Best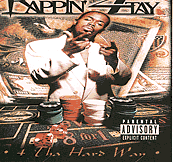 This is definitely a strong album from one of the Bay Area's hip hop pioneers..Rappin' 4Tay. He's been doing this since the early 80s.. While Too Short was putting things down across the Bay in Oakland.. 4Tay was doing the same thing in San Francisco.. 4Tay's rise to the top was a lot harder for him then it was for Too Short.. He once explained how he had the task of trying to overcome the stigma that was often associated with San Francisco and it's large gay population. It had folks outside the area thinking that everyone in the city was gay.. and unfortunately with the perception came all the negative stereotypes associated with gay folks.. 4Tay explained that everyone kept thinking folks from 'The City' were soft and had no backbone'.. A lot of folks didn't even think that there were any ghettos.. For a lot of SF rappers there was a period of time where folks seemed to over compensate for things..Everyone went around and presented a rough and rugged image.. Folks were on a mission to prove that the City was no place to mess around.. For along time..artists who didn't live in Frisco could not perform without a SF artist on the bill.. There were numerous concerts that got turned out from disgruntled SF natives bumrushing the stage and causing havoc when it was found that no SF artist would be performing..
Over time many of the efforts of SF's artist begain to payoff.. Artists like Paris, JT The Bigga Figga, RBL Posse, 11-5, Ill Mannered Posse and of course Rappin' 4Tay went onto make the grade.. Afterwards a lot of the artists focused on discovering their strengths and weakness and basically developing as artists..It's only fittin' that 4Tay blew up on the national scene first.. His song 'Playa's Club'..brought some much needed light to SF's underground hip hop scene.. and he of course was most qualified to show those of us from the outside around...Rappin' 4Tay impresses me becauses he continues to grow as an artist both musically and lyrically.. It's well produced, insightful and has The Bay Area written all over it... and trust me it's something that'll keep your head boppin'.. The sound brings to the table is a cross between traditional Oakland style funk with a bluesy feel.. Melodic cords run through most tracks.. 4Tay's laid back style skillfully wrap around the beats.. A true player to the fullest.. 4Tay spends alot of time spitting game.. The game he drops goes way beyond having lots of money and women.. 4Tay talks about putting and end to a lot of social ills while enjoying the spoils of the rap game... Stand out cuts include songs like the hard thumpin' 'Money Makes The Man. 'Where Ya Playin At' gives one much insight into the true meaning of being a playa.. which basically means handling your business..and staying focused on your goals.. 'Playaz Dedication' is a nice song dedicated to 2Pac..who showcased 4Tay on his album 'All Eyes On Me'.. Another cool jam features 4Tay teaming up with Rick James for a song called Cold Blooded... Master P swings through on a track called 'Playa 4 Life' which should be enjoyed by that Southern audience.. The most telling song in which 4Tay's shines best is the heartfelt 'Lay Ya Gunz Down'. Here he talks about ending the gun violence... It's on point and will resonate in your dome long after it stops playing..
4Tay remains true to his Bay Area roots by highlighting many local artists..including E-40 in 'What's Wrong With The Game'. San Quinn and Messy Marv now known as the Nettwork hit home with the song called 'Element Of Suprise'. Shake It is a dance floor packing jam featuring the Conscious Daughters.. 4Tay even stretches his musical boundaries by linking up with reggae artist Screwface to do a song about weed called The Biggie.. Another jam with a similiar feel features singer Carl Douglass in which he expresses his love for an ideal woman in a song called 'Thinking About You'...Again 4Tay brings a strong album to the table...My advice is to get it if you want to get a feel for the Bay Area.. It'll also make a nice X-mas gift..
Reviewed By Davey D
11/23/97