NICE N SMOOTH
BLAZING HOT
STREET LIFE
This Is An Ok LP
They Hit On Some And Miss On Others
They Could've And Should've Done Better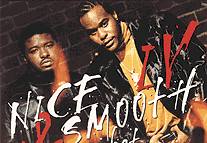 Nice N Smooth have got to be two of hip hop's most charismatic performers... When they hit they hit hard and can definitely get any party rockin'... However on their new lp 'Blazing Hot' they start off hot and end up burning out toward the end... The first two songs on the album..will appeal to the headz.. 'Blazing Hot' which is the title cut... is on hit... and Boogie Down Bronx/ BK Connection is some vintage Nice N Smooth material.. Let It Go and I'll Be Good To You are a change of pace for this duo..It has a commercial appeal.. but keeps it street credibility.. I really like Let It Go...which I'm sure will make everyone think of a bad relationship gone sour... These cuts stand out.. But the others I have to be honest when I say I ain't really feeling them..
Mad Love with its Public Enemy like wailing horn is pretty cool.. But tracks like Same Old Brand New Style which samples from the old school classic I Can't Wait by Nu Shooz just doesn't quite work.. It sounds a bit to contrived or forced.. It was like some one saying ok boys lets use this old popular song and make some loot.. The rest of the material seems like it was filler..
Again Nice N Smooth can be totally off the hook when they hit.. And unfortunately because of their veteran status..they have to hit in these competitive times.. They could've and should've done a lot better.. I hope one of their standout songs which I previously mentioned does well..and gives these guys some new momentum..They deserve their props.. I'm not quite sure they'll get it with this album..
Reviewed By Davey D
11/23/97