LUNIZ
LUNITIK MUZIK
NOO TRYBE

A Good Sophmore LP For The Luniz
Good Beats-Solid Rhymes I Ain't Mad At Dem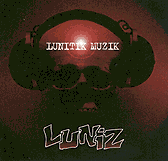 The Luniz are back on the scene with some trademark, fast pace rhymes from Yukmouth and Numskull who have definitely grown over the past couple of years since their last lp..This is reflected in their new album 'Lunatik Muzik'... The beats are solid thanks to producers like Tone Capone Gilmour.. Some Bay Area old schoolers may remember him from a group called The Surf MCs.. Also on board Raphael Saadiq from Tony Toni Tone, Dj Quik, Smoke One of Suave House, Bosko, Mike Dean and Redman..Although the Luniz are from the Bay Area.. their music expands way beyond the tradition slow rolling funk beats that have come to be associated with music from that region.. In addition the Luniz rhyme style will have folks trying to pinpoint them elsewhere.. It's fast paced, unique and right on point.. They deliver words with icy precision.. Their subject matter unfortunately remains on the streets.. But then again thats Num and Yuk.. They talk about life in the seedy side of the hood.. Drinking and smoking are among their favorite past times....
The Luniz come to the table with some standout songs and some cool guest who also deliver.. 'The Highest Niggaz In The Industry' features strong performances from Bay Area natives E-40 and B-Legit... Here over a funky track The Luniz and company talk about their passion for getting high.. The chorus is an interpolation borrowed from Digital Underground's Freaks Of The Industry.. 'Funkin' Over Nuthin' features one time rival.. Too Short.. The Luniz caused a bit of controversy a couple of years ago in the song 'Playa Hate' when they rapped about Too Short being run outta Oakland...Short let it be known that although he had relocated to Atlanta.. he was definitely not out of the game.. The altercation that took place has Bay Area artists still paying....
It took place during KMEL's Summer Jam concert.. Too Short and his crew showed up uninvited to the sold out event... They caught up with the Luniz manager Chris Hicks and whupped him pretty bad... His crew later stormed the backstage resulting in the concert being ended prematurely. The result was severe restrictions being put on future Summer Jam concerts...meaning the venue would have to close early and no longer would most Bay Area artists be allowed to perform at the Shoreline Amphitheater venue in Mountainview. This was by order of the local police department.. This policy was picked up and enforced by neighboring Bay Area police departments..who then begain sharing information about rap groups claiming that many had gang or drug ties...So now a lot of local rap acts have a hard time performing at some of the regions larger venues.. The enforcement of this policy at one point went so far as to require social security numbers for each member of a rap group's crew who was to be performing at a particular venue.. All of this because of a big beef between two crews which has now been squashed...
In the song 'Funkin' Short and the Luniz talk about how they had squashed their beef and how everything is all good.. However, later on in the album on the song Killaz In The Payroll which is an infectous hard hitting track, the Luniz set stuff off with San Francisco's Rappin' 4Tay..For many hearing the Luniz diss will be taken personally.. Like Too Short, 4Tay is seen as a Godfather figure in Bay Area hip hop.. He's been putting stuff down for a while.. Folks in his native Fillmore won't take too lightly to the dis.. Hopefully things get resolved before things get out of hand.. and that can easily happen.. For folks who aren't familiar with the West Coast.. Dissin' an artist doesn't end with the artist but the whole neighborhood and everyone get involved... It always goes a lot deeper. then what appears on the surface.. .. and that's why folks usually try to squash things.. The Luniz diss could potentially set off friction between Oakland and San Francisco.. That was something that took place about 5 years ago.. and a lot of folks worked hard to end that.. Hopefully the same efforts take place.. It's all about unity..
Going back to the Luniz album..They have some strong songs that'll appeal to a lot of folks.. On their first lp they had the weed smoking anthem 'I Got 5 On It'.. this time around they have a track called 'Phillies' which sings out the hook the way KRS-One did in the song 'Jimmy'.. It's actually kinda phat.. Hypnotize featuring Redman is off the hook as is $ad Millionaires featuring sultry singers Brownstone...Another off the hook track is In My Nature featuring Eightball and MJG.. I can see that song blowing up..These guys even did a Miami Bass type song called '20 Bluntz A Day' which I could see growing on folks in the South..It features The 2 Live Crew and Bay Area singin' group Christion
Overall The Luniz have apretty strong album with a few good commercial cuts like Jus Me & U featuring Rapael Saadiq and 'Y Do Thugz Die'.. Luniz fans will definitely enjoy their latest efforts.. Everyone else.. you may just find your selves asking someone if they Got Five On It.. so they you can pick up the new album..
Reviewed By Davey D
11/22/97