Davey D's
Ultimate Hip Hop Links
---
The 5% Nation If you don't know about the 5% Nation you may wanna peep this page... Those who live back East are probably up on them.. Here in the West Coast The 5 % are relatively unknown...Link on here and recognize the real...
---
Art Crimes This is a dope site for all those interested in checking out grafitti and other forms of hip hop art..
---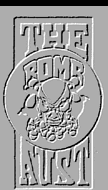 The Bomb..Australian Site
This is a wonderful..very comprehensive site... that definitely represents Hip Hop in the Land Down Under. FYI My man Bevan who brings you this site..is a writer for the Bomb Magazine which is based here in the SF Bay Area..
---
Mr Blunt's Home PageMr Blunt has a pretty phat hip hop page...with an added attraction.. He has a 'Honey Of The Week' section... That means he has a nice picture of a babe.. The photos are tasteful.. and his info on hip hop is cool..In addition he has a virtual hip hop card shop where u can send hip hop post cards... Peep his site out...
---

The Chamberz This is a nice hip hop site that appears to be based out of London England.. It features primarily lots of music reviews and lots of political and social opinions on hip hop culture.. Although based out of England there doesn't appear to be a lot written about UK rappers.. Most of the stuff centers around artist from here in the US.. However, the really dope thing about The Chamberz is they allow you the reader to offer and post up your reviews and opinions.
---
Dancer's Delite This is a very nice site for those who are into the art of B-Boying and Break Dancing... It won B-Boying Site of the year last year..
---
4 Control This is the flagship home for Support Online Hip Hop movement [SOHH] Be sure to check them out to stay up on the activism they've launched on the net...
---

Fresh Finesse Straight outta Brooklyn... Fresh Finesse has put together a dope site.. Lots of features and lots of fun things...As Finesse puts it this is where cyperspace meets the 'hood! The ultimate hang out for high tech hip-hop homies and homettes.
---
The Hip Hop Connection This is about Putting Hip Hop's Best Stars Together On One Page. Puff Daddy, Mase, Busta Rhymes, Foxy Brown, Lil' Kim, Notorious B.I.G., and More!!!
---
HipHopSite.com This is by far one of the dopest sites around.. True headz man this place.. and in the words of a great hip-hop philosopher.. They 'Keep It Real'..They also won Best Hip Hop Site of The Year in '96 with SOHH and Best Site in '97 with Davey D's End Of Year Awards... Peep Them out...
---
The Hype This website is a watchdog site for African Americans within the media.. Lots of good articles and info regarding media trends and its impact on African Americans..
---
Ill Crew Universal This site is manned by one of the largest hip hop organizations in the world... With over 25 thousand members world wide.. ICU puts out compilation albums, supports hip hop businesses and in general they strive to help perserve hip hop culture..
---

Internet Ghetto Blasta One of the best hip hop sites around.. It is run like a radio station.. complete with sound clips and an opportunity or you to get written shout outs.. IGB also has an old school and new school review section... Simply put this site is phat!!
---

Internet Rap Dictionary This has got to be one of the most entertaining hip hop sites on the web..It's a dictionary of all the latest hip hop terms.. It's perfect if you're trying to impress some kid from the hood and you're from the burbs... Carry your Internet Dictionary and you'll be in style...
---

Japanese Hip Hop This is a nice site for those into hip hop from Japan.. It contains lots of reviews and you have your choice of English or Japanese... There are some parts that haven't been updated since October of '95.. But then again so what... How many of you good people know about Hip Hop in Japan.
---

106 KMELThis is a link to my other home..The People's Station 106 KMEL...It's the number 1 station in Northern Cali.. You may want to check out their site.
---
Naughty By Nature Vin Rock of Naughty By Nature has put together a pretty nice site... He informed me that the group will be using their site when their new album drops to promote their album and interact with fans.. This site is definitely worth checking out..Be sure to visit their on line store..
---

ODUB's Path's To Rhythm's My boy Odub does a nice show on UC Berkeley's KALX 90.7FM where he plays lots of nice joints more so on the jazzy tip..His Website features not only his playlist and reviews of songs he plays.. but also the playlists of local mix tapes which he collects. An informative place that reflects another facet of the Bay Area Hip Hop scene.
---

Sandbox DistributionThis site contains the ultimate discography of all your favorite hip hop artist.. It's a great resource especially for those who are trying to figure out if their record collection is complete... People are always adding to the Sandbox... so be sure to check it out.
---

Straight From The StreetsThis up and coming film company recently hooked up and slammin' documentary about the hip hop scene.. Peep out their site..'cause they're keeping it real
---

The Wake Up Show This is home to my boys Sway and King Tech... As you know their hip hop show is syndicated nationally..and now they are on the world wide web.. It's definitely worth checking out... They got charts..reviews and a tribute to 2Pac.. with much more to come....Tell them Davey D sent you... :)
---
SUBMIT YOUR LINKS TO DAVEY D
---
[home]
[chat]
[conferencing]
[updates]
[what it is]
[politics]
[contests]
[opinion]
[links/photos]
[media]
this site is produced by Davey D in association with eLine Productions
---