Hip Hop News
January 1998

Well kids '98 has started off with a big bang..literally... The main thing of concern is what seems to be an increasingly disintegrating Bay Area Rap scene... It just seems like the more and more things are happening to take us back a few steps... This is in spite of all the wonderful talent and potential that we here have to offer... First things first....

Right outside of Oakland is a one of the Bay Area's largest and hottest night spots.. Cafe Eschalon.. It's the place to be every Thursday & Saturday Nights... Recently the owners have begun promoting Sunday Nite rap shows... At first it seemed a bit strange because Cafe Eschalon professes to be an upscale type of club.that actively discourage anyone under 25 from going through their doors.. The weekly Sunday Nite Hip Hop Shows were being billed as 'hip hop events for the mature audience... Commercials warned that everyone must come suited down.. The kick off night took place over The Martin Luther King holiday weekend.. The Lost Boyz and an LA/ Bay Area based group called Militia who currently have the hottest record in the Bay Area called 'Burn' were the featured acts.. Folks came out in force... at least 1200 with mostly everyone dressed to impress.. Militia got busy and rocked the house... The Lost Boyz minus one member was another story.. They did a show that was way too long.. Instead of hitting folks with 3-4 songs and bouncin'. These guys did an hour set... By the time they got around to their hit song 'Music Makes Me High'..the crowd was weary... Making matters worse.. just as the crowd got hyped up and into this song these guys stopped after one verse and went into something else.. Folks weren't feeling that... Needless to say the Lost Boyz performance was a bit disappointing...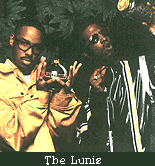 This past weekend, Cafe Eschalon booked The Luniz [I Got 5 On It fame] to perform... A lot of folks were hyped about this gig...at the same time a whole lot more were bit leary.. The Luniz have been known to attract rowdy crowds to their functions.. This past weekend was no different... Every baller and shot caller in the world showed up at the place..We're talking gold teeth.. pimp outfits, hoochie dresses, etc..It was a time bomb waiting to explode.. Everyone was flossing and playing the role of Big Willie.. Kids were drinking all sorts of Hennesys and cognacs straight from the bottle while waiting in line.. Others were cutting to the front of the line and demanding VIP service..Everyone was supposedly somebody's best friend or cousin to the Luniz.. Things got tense when security began clamping down..and people's egos got checked..Ya gotta remember,these wanna be Big Willies couldn't afford to be fronted off with a 1000 people watching... Once inside things seemed to roll smoothly before a huge fight broke out resulting in gun shots outside the club... The next morning witnesses called the radio station claiming that it was local rapper Richie Rich and his crew who were in the club mixing it up... I saw Rich earlier that evening.. But I haven't had a chance to ask him about this fiasco..

This unfortunate incident came a day after a tragic killing in front of a hip hop club being thrown by The Pirate DJs.. Known for their large yet peaceful underground hip hop gigs.. The Pirate's party which is known as Cream Of Beat made the evening news... What happened was some guy accosted two girls while they were trying to get in their car.. A good samaritan stepped up tried to intervene by asking the kid to stop acting ill.. Next the kid accosting the women whips out a gun and shoots homeboy dead on the spot... All because he went to the aid of some women in distress..

Two nights prior at another Bay Area spot rap star Dru Down you may know from the movie Original Gangstas was involved in a melee after he hit someone over the head with a bottle... A huge fight broke out in the parking lot of the night club Dru was at...

If all this hasn't been enough.. Earlier this month a young Bay Area woman announced she is suing her former boyfriend and veteran producer Ant Banks...[He's the man responsible for architecting the Bay Area sound that is enjoyed by artists like Too Short, Spice 1, Pooh Man and numerous others.. According to her suit... Ant Banks beat her with a pool stick this past November at a local night club after the two exchanged words...The woman claims that the police sided with Banks and refused to arrest him because of his celebrity status... In a private conversation with Banks.. he asserts that he and the young woman had broken up and he was at this night club called First Place which is owned by basketball star Gary Payton.. Banks was there with another woman when his former girl friend began to get upset.. According to Banks his ex-girl began swinging pool sticks at both him and the other girl.. Banks was actually hit..At which point he defended himself...From that point the story gets pretty murky and its quite a sore point for all involved.. We'll have to see how this whole thing unfolds in court...

These and other incidents have just left a whole lot of folks discouraged.. Folks are wondering what's gonna happen next.. It seems like the Bay Area hip hop scene is taking a turn for the worse and eating itself alive.. Currently the commercial radio stations have pretty much ceased playing all local rap groups on the airwaves..Big music conventions like the Gavin Convention have stopped holding their event in the Bay because of the unruliness of the locals.. The country's largest urban music concert KMEL Summer Jam.. which has raised millions of dollars for needy charities over the years may not happen due to problems caused by local artists and their friends.. Things have now gotten to a point where even paid advertisements about a local artists upcoming activities aren't being accepted and allowed to air...Club owners are taking major steps away from booking shows involving the locals.. It just seems like far too many people refuse to let go of the ghetto mentality...It's bad enough that kids who have no business wanna dress the part and talk the part.. Now they wanna live out the part and the results are disastrous.. Each incident of violence puts a black mark on all the local artists... It doesn't really matter if its just a handful..causing problems.. Everyone gets the blame.. It's doesn't even matter if the artist is not directly involved as was the case with the Luniz... If they were on the scene then they're getting blamed...Me, personally I just yearn for a day when artist would show up to a place and simply rock the party and not walk around trying to be hardest kids on earth...

Speaking of local artists..let's give props to Mr Chuy Gomez.. Folks here in the Bay know Chu-Dog for his popular video show on CMC [California Music Channel] as well as his popular radio show which airs every night from 6-10pm on KMEL.. Chuy has long supported the local hip hop scene.. This time he's taking things a step further by releasing a compilation album entitled.. The Best Of The Bay Chapter I...On the album are some of the Bay Area's greatest hits from artists like Digital Underground, RBL Posse, Too Short, Paris, Mac Mall, 2Pac, Total Devastation, Rapping 4Tay and Dre Dog to name a few... The album was just released this week and has already sold close to 20 thousand copies... Chuy says there are plans in the works to release a second Bay Area compilation as well as a West Coast compilation that will feature artists from Los Angeles and Seattle.. If you wanna win a copy of this album.. Be sure to take the Ultimate Quiz... The top 10 highest scores will win... Chuy's Bay Area Compilation album...

Also on the local tip... be forewarned E-40 and the Click are hard at work in the studio puttin' it down for his new album called 'Element Of Surprise'.. Right now 40 Watter has returned to the studio to record another track with K-Ci& JoJo and Too Short [Remember their big hit from last year called 'Players Ball' ? This new joint is called 'From The Ground Up'.. E-40 has also been bridging that East/West coast gap.. He's recorded songs with Treach from Naughty BY Nature and Busta Rhymes of the Flipmode Squad....Look for his lp to drop in May..

40's cousin B-Legit is also hard at work in the studio lacing up his new album.. Word has it he's been doing a lot of collaboration with Kurupt and Daz of Tha Dogg Pound.. Like E-40 his stuff will drop in late spring..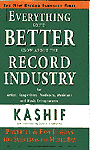 In other news...veteran singer/song writer Kashif rolled through the Bay Area the other week and dropped much science on the ins and outs of the music business.. For those who aren't familiar Kashif was a long time member of the classic soul group BT Express... Over the years he's produced everyone from Whitney Houston on down.. He's also written an easy to read, comprehensive book called 'Everything You Better Know About The Music Business'.. Kashif noted that he was tired of seeing and hearing about young brothas and sistas getting ripped off when they entered into the music biz... The number one problem was lack of knowledge.. So Kashif wrote this book which has now out sold any other book that has been published which explains the workings of the record industry.. His book is now required reading on many college campus and Universities...

Kashif came through the Bay Area and noted that he has just released a revised addition to this book where he added a few new chapters.. These additional chapters deal with marketing, distribution of records and promotion.. He's also getting ready to drop another book entitled 'My Own Damn Self' which will show you how to start your own record company..and how to release your music independently...He has also established a traveling University called 'University Without Walls'.. Basically it's an intense two day seminar on the music industry complete with showcases and an opportunity to shop your songs and participate in an artist showcase before music industry executives... The traveling University will have its kick off date in Los Angeles on May 4th & 5th.. For more info check out Kashif's website at http://www.brooklynboy.com or http://www.kashifuniversity.com.

While Kashif was in town he reminded us just how vicious Los Angeles can be...He told a horrific story in which he and his brother were beat down by members of the LAPD.. This took place in front of his house...and it involved 2 police helicopters and 18 white officers.. Kashif and his brother were charged with nothing and were completely co-operative when initially pulled over.. The Rodney King style beating hie and brother received stopped only because people recognized the famed recording star and pulled over to watch.. Not only did Kashif who is a gentle man get abused by LAPD.. but his brother who also suffered a beating is on the force.. That's right Kashif was riding with his brother who is a Los Angeles police officer and identified himself as such when the pair were initially pulled over.. It didn't matter.. The 'PoPo' [police] threw away his badge, took his gun and did a Rodney King number on them anyway... Lawyer extraodinaire Johnny Cochran who got OJ off is on this case.. Expect to hear big things about this case real soon...And remember watch yourself when your in LA.. Ain't nothing changed down there but the time of day...

Finally for all you Jay Z fans be on the look out..for him when he drops his first movie... That's right Jay Z is due to drop a movie sometime in March called 'B-Sides' Really it's a long form video featuring five songs; 'Face Off', 'Friend Or Foe '97', 'Friend Or Foe '98', 'Streets Is Watching' and 'Where I'm From'.. It's about two guys who dare to double cross Jay-Z.. Yes its one of those mafia/ gangsta type flicks.. It's set to premier on pay per view..

written by
Davey D
c1998

Go Back To Hip Hop News Directory
---
[home]
[chat]
[conferencing]
[updates]
[what it is]
[politics]
[contests]
[opinion]
[links/photos]
[media]
this site is produced by Davey D in association with eLine Productions
---