GRAVEDIGGAZ
THE PICK, THE SICKLE AND THE SHOVEL
GEE STREET

A Decent LP
Some Cool Songs..But Lots Of Filler Material
Check This LP Out Before Buying IT
Not An Allstar Performance For An Allstar Group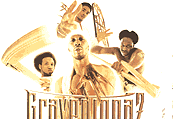 The Gravediggaz's sophmore album has been getting bad reviews from a whole lotta folks.. They say it's nowhere on the same level as their debut joint... I have to agree in that respect.. But I wouldn't go so far as to say the album is crazy wack.. It's an average lp... and just like The Firm and Will Smith.. you have some big name people who don't quite live up to everyone's expectations...
One thing that has worked against The Rza, Frukwan, Prince Paul and Poetic is the wackness of their first two releases... Dangerous Mindz and The Night The Earth Cried left me disappointed.. Hence I wasn't rushing to pick up the album.. What I wasn't feeling were the beats... The lyrics were cool.. But I wanted the whole package..
The rest of the album is really not bad... Standout songs include.. Fairytalez which has that haunting sound that I would expect from The Gravediggaz. Also the hook which is sung by Helis Rogerz.. This track sould've released as a single... Another cool track is Pit Of Snakes which was produced by Truemaster of Wu-Tang Productions.. The head boppin' Da Bomb is also on point as is the song Elimination Process...
Overall this is a cool album.. I think it suffers from too many filler songs.. Again when you get such big name artists like Prince Paul and The Rza doing tracks together, nothing less then an allstar performance is acceptable.. TThe other thing is that there's not a whole lot of variety of this lp.. Unless you can get into the mood, tone and lyrics of this album it might wear thin pretty quick.. I say check this joint out before buying it...
Reviewed By Davey D
11/23/97
GO BACK TO ALBUM REVIEW DIRECTORY