FNV Newsletter
May 6 1999
IN THIS ISSUE OF THE FNV NEWSLETTER 5-6-99
*The Next Level Was All Dat
*Puffy Got More Drama
*KRS Brings 9 Definitions
*What's The Next Hotsopt?

Written by Davey D
c1999
All Rights Reserved
---
HARVARD'S NEXT LEVEL
CONFERENCE IS ALL DAT!

Major props are in order for Erika Fuller and Candice Hoyes of Harvard University. These two sistas were the co-chairs of the Next Level Hip Hop Conference which went down this past weekend. Let me just get right to the point when I say they did an excellent job. The event was well attended, the panels were informative, organized and ran on time. There were no ridiculous discussions about 'Why Puffy, Hammer or some other commercially viable rappers were ruining Hip Hop. There were no jealous kids in the audience screaming about how wack everybody is for overlooking his tapes. There were no egotistical wanna be shot callers walking around with their name tags backwards trying to impress people. There were no up and coming knuckleheadz running around acting a fool or holding cyphers with about 50 headz in the middle of the event. There were no scantily clad groupie types trying to get a glimpse of Ice Cube, Treach or some other super star rapper so they get butt naked for their next video. There were no overzealous record label street teams running around with bullhorns, hawking the latest releases. There was no blowhard wack rapper showing up with 50 of his boyz demanding to get into the place. There was no record labels showing up playing favorites by giving out free party passes and other gratuities to commercial radio djs while bypassing their college and community radio brethren who actually broke their records.In addition there were no label headz running around holding parties with strippers.. There was no drama. Erika, Candice and their Harvard student staff made sure the event lived up to it's name-The Next Level Hip Hop Conference.

The fact that this convention was held on a college campus gave this a whole different feel. All the panels were held in lecture halls which made for a more conducive learning environment. Almost all the panelist were well informed and spent a lot of time presenting information so that people would come away with some serious understanding. There wasn't a whole lot hype and egos that had to be checked. Everyone kept it real. Props to people like Wendy Day of the Rap Coalition, The 'Legendary' Chris Washington of Atlantic Records, Kevin Shand of Rawkus Records, Farai Chideya of ABC News and Dimitry Leger and Tracii McGregor of The Source Magazine. Also on hand were The Black Eyed Peas, DJ Red Alert, ED OG, Soul Flower and KRS-One. Oh yeah, yours truly, Davey D also participated on one of the panels. Keith O'Derek showed his film Straight From The Streets, which is one of the best Hip Hop documentaries around. Keith was even running around filming this conference.so who knows, maybe he'll include it in an upcoming documentary.

I got a chance to peep out the workshops held by Wendy Day which dealt with Publishing and Song Writing and Artists and Management. It was refreshing to finally hear someone speak the truth about the industry. She didn't sugar coat anything or play politics by painting false pictures. She gave people practical solutions and reasonable steps to take in order to resolve problems. During her first workshop, Wendy pointed out just how lucrative the publishing side of the music business is. 'It may be boring, but that's where all the money is' Wendy pointed out.. She also told the attendees NEVER TO GIVE UP ALL THEIR PUBLISHING and NEVER DO WORK FOR HIRE. You saw everyone taking down notes..

We also had a pretty in depth discussion about the Pros and Cons of sampling. The bottom line is sampling is big business and it would be in your best interest to try and avoid it. One scratch can cost you a few thousand dollars. There is no such thing as a snippet or a 4 bar rule or anything like that. If you sample and put it out, you could and will be liable.. And trust me, there are some record execs who are making big bucks tracking kids down. Even in the remote areas of the country. One of things I pointed out during the discussion, was how many of these publishing companies now have beat bounty hunters. These are kids who go around listening to everything and then they report back to labels or publishing companies songs that have samples from their catelogue of music. These kids get hit off for a couple hundred dollars and the next thing you know you're being sued. My suggestion, is get with a band.

Wendy's organization, The Rap Coalition is off the hook. It's a non profit company that acts like a union for hip hop artists. They step in and help artist who are signed to labels to keep from being exploited. She has a long list of folks ranging from Onyx to Juvenille who she's helped out behind the scenes. Every month she holds panel discussions in New York to help artist better understand the business. Reach her at mailto:wdayrapco@aol.com

Another cool panel I attended, was run by Kevin Shand of Rawkus Records. He too, lent a tremendous amount of insight into the inner workings of the business. He explained the day to day operations of a record companies. He broke down the different departments and their responsibilities. He also spoke about the type of marketing approaches various labels will take to get their product out to the public. He also told how Rawkus had just signed Pharoah Monch of Organized Konfusion. I can't wait for his new product to drop. He also spoke on the project put together by Black Star to bring attention to the Diallo police shooting in NY. I definitely appreciated Kevin's frankness. However, he kinda dodged my question about whether or not record companies pay for radio play. In a recent speech Chuck D of Public Enemy pointed out that many labels on average will come out the pocket by at least 60 grand to make sure their records get ample air time. Now, of course we all know that's illegal. It's called payola and most people when asked emphatically say 'No it never happened to them', So I'll ask you guys, Do radio stations make you pay to play your material? If so which ones? Are there any djs who you've come across that are demanding that you slip them a few dollars on the side and they in turn will make sure your material hits the airwaves? Hit me back on that one mailto:kingdave@sirius.com

All in all, I just wanna give major props to the folks over at The Next Level Hip Hop Conference. It was good to see all the Boston and regionally based headz like ED OG, Mighty Casey, The Kraken Family, Soul Flower, Black Ice street promotions, The Steelo.com kids [http://www.steelo.com], Musik G and numerous others. I think in the future folks should consider holding Hip Hop Conferences on college campuses. At this point in time Hip Hop requires us to be a lot more serious about its various aspects ranging from business to it being a culture. It's coll to party and hang out, but there is so much about this business we have to catch up on, I just think going to a college campus and breaking down the dynamics may be a bit more suitable then running around at all these high priced hotels. get anything accomplished. know there will be one in a couple of weeks on The UCLA campus.
---

Looks like Rocky 'Puff Daddy' Combs is in some more drama. The first involves him not participating in the Essence Music Awards as originally planned. Reports are circulating that state the organizers had uninvited Puff to show up and do a song with Faith Evans..They were concerned that Puff was not a good role model. According to Lee Bailey's EUR Report, it was Sean himself who decided to pull out of the event because he didn't want to detract from an otherwise positive event. In any case, he won't be hanging out and doing his thing at the Essence awards. Mr Puff is dealing with some other drama, in the form of Steve Stout, the man he assaulted. Sean has reportedly offered Stoute 2 million bucks and Stoute has turned it down. He plans to go on with his lawsuit and not drop the charges. If convicted Puff can get 7 years. And if that's not enough, the IRS is hounding Puff about the amount of money and time he's donated to his non-profit organization Daddy's House. Let's hope Puff is able to pull himself out of all the mess that's swirling around him..

On a personal tip, I think it's high time that we start demanding certain standards from our heroes and sheroes. This is not to pick on Puff, but far too often we get folks who do some off color things and we kind of overlook them and pay tribute to them. A lot of times people will make the claim that it's their personal life and we don't have a right to judge. Unfortunately we are judging and we are being judged. I think it's appropriate to send a strong message out to entertainers that state if you dishonor yourself you dishonor the community and we don't wanna pay you any sort of tribute. In other words take away the social rewards for ill behavior. This extends beyond Puffy. It applies to the Darryl Strawberrys, the guys who beat their wives or the numerous ball players who don't take care of their kids. If we as adults who know better, keep supporting and honoring those who continuously do foul things, what sort of message are we sending to our kids as well as to the rest of society? My guess is that Puff will be vindicated because there are some powerful folks in this industry who don't want to see this cash cow removed. Somehow, someway, a deal will be cut with Stoute and Puff will be spared, but at what price? No, I don't wanna see the brother go to jail or anything like that.. I'm just pointing out how we will excuse bad behavior in the interest of making money. Finally, folks may wanna be aware that Sean is in the process of dropping a brand new song which is a remake of the classic Public Enemy jam entitled 'Public Enemy #1'. The version I heard had Lil Kim on it and to be honest I wasn't feeling it too much. Neither were the folks in attendence at the Next Level Seminar Hip Hop Conference. He's supposed to be getting Chuck D and maybe Kool Moe Dee to lace vocals on the remix.. We'll keep you posted on how this develops..
---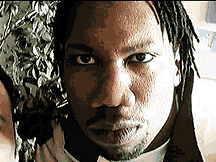 KRS-One dropped a insightful keynote speech the other day up in Boston. He had noted that he along with 40 or 50 other hip hop artists had gotten together and formed a pact. Out of that comes a book entitled Hip Hop which will be featured in his Temple Of Hip Hop Kulture. Also out of that pact is a more comprehensive definition of Hip Hop. KRS claimed that after doing the research and consulting with Hip Hop's founders as well as surveying the average fan, the definition of Hip Hop has expanded from 4 to 9 main components. Traditionally people have come to define Hip Hop culture as grafitti, Break dancing, Emceeing [rap] and djaying.. KRS explained that those 4 components alone leave the culture incomplete. They don't fully explain the reason that Hip Hop has lasted so long and continues to grow. Most people claim that Hip Hop is a way of life and as result there's a lifestyle accompnaying it.. KRS in both his speech and book brought forth those additional components. The first is Beatboxing, which he explained as the art of seeing the body as an instrument. It means to express yourself in the face of nothing and it traces its roots back to Africa Street Fashion and Street Language are obvious. These two components change with the times. Street Knowledge is the 8th component and it breaks down to the study of universal law. It's the set of guidelines you can't escape in life. From a practical standpoint, its basic common sense and accumalated wisdom of inner city families. It's the set of techniques that used to survive and function soundly when all mainstream ideas have failed. The final component is Street Entreprenueralism. He described it as trade. It's people trying to make a dollar out of 15 cents.. It's creating off each other. It's the hustle we all deal with..
---
****************

He went into great detail as to how and why these components are a part of Hip Hop culture. I will say that from a historical perspective KRS is definitely on the money in identifying these additional components. They have always and continue to be defining and driving forces within Hip Hop. KRS also went on to explain how its important to understand that Hip Hop is always evolving. It navigates through the environment that is before it. It is self transformation and the pursuit of self expression. As we head on into the new Millenneum, KRS said it was important that we recognize that we are the culture of Hip Hop. In short I AM HIP HOP and Hip Hop is where ever you go.. If you look at it from a religious or spiritual perspective, the saying would be; Don't read the word of God, Be the word of God.. He got kinda deep..

Coincidentally, KRS and myself will be dropping books around the same time.. His book 'Hip Hop' is due out in time for Hip Hop Appreciation Week.. My book 'The Hip Hop Chronicles It was Here Before You Came' is also due to drop within the next two weeks. Ironically both of us start out our books with the date February 28th 1999 and work our way back into Hip Hop's history. KRS starts off with that date and talks about the so called riot' at Venice Beach.. I start off with that date and talk about a Freestyle Battle that took place at Oakland Mayor Jerry Brown's house. Talk about both of us being on the same page.. Both books cover a lot of ground and you will find them informative. For folks who know me, this is the book that people have been harping on me over the years to finally do.. So be happy it's done..They are being printed up as we speak..will provide more information and let folks know about book signings, how to get a hold of them etc. Me and KRS will likely do something together to make sure the word gets out about both projects. For Bay Area folks KRS will be in town at the end of May to do not one but two shows at the Justice League[628 Divisadero, SF]

**Here's my question of the week.. Over the years Hip Hop has sun it's spotlight on various cities and made them the Hotspot for Hip Hop Music.. Early on Philadelphia held the crown then it fell off. Next we went to Miami, then Los Angeles, Houston , The Bay Area, Atlanta and now New Orleans. It seems like the focal point is on these cities for about a year and then these cities fall off. Why do you think that happens? Is it over exposure? Do people get greedy and shoot themselves in the foot? Is this an industry driven thing? What do you think will be the next Hotspot and what will it take to sustain the momentum? Have you notice there are some cities that show promise but never quite seem to break lose.. ie Seattle and Chicago are two places that immediately comes to mind. Now in order to clarify what I mean by Hotspot. I'm talking about a city where they have an abundance of good material that falls in synch with local radio/media support that draws industry and fan based attention to that market. Right now with Master P and his No Limit Camp and Juvenille and his Cash Money camp, there's a whole lot of buzz about New Orleans. What will New Orleans have to do to make sure they don't play themselves out? What will be the next Hip Hop region to blow up?
---
Send comments, questions and concerns to mailto:kingdave@sirius.com
The FNV Newsletter
written by Davey D
c1999
All Rights Reserved

Go Back To Hip Hop News Directory
---
[home]
[chat]
[conferencing]
[updates]
[what it is]
[politics]
[contests]
[opinion]
[links/photos]
[media]
this site is produced by Davey D in association with eLine Productions
---