FNV Newsletter
May 18 1999

IN THIS ISSUE OF THE FNV NEWSLETTER 5-18-99
*E-40 To Drop A Book Of Slang This Summer
*DMX Arrested Accussed of Stabbing And Attacking
*Cali Attorney General Files Lawsuit Against Sacramento Rapper
*It'll Be A Felony If You Do Grafitti
*UCLA Power Moves Hip Hop Conference Was Off The Hook
*Hip Hop Universities and Colleges
*Saul Williams Throws Down At The Justice League

Send comments, questions and concerns to mailto:kingdave@sirius.com
The FNV Newsletter
written by Davey D
c1999
All Rights Reserved
---
E-40 aka Charlie Hustle is about to lace you up with some slanguage so you can chop it up with all his sohobs. In other words for all you cats who can't catch the latest lingo., E-40 is gonna help you out when his new book 'E-40's Book Of Slang' drops this summer. This Vallejo born wordsmith will drop this alongside his new full length video Charlie Hustle. It'll help the uninformed understand all the popular Hip Hop slang from the past like cheeba, fresh, def, sureshot, high powered, chill out, down by law and yes yes y'all to all the latest lingo like marinatin', brocolli, batches, fo'sheezie, po-po, layin in the cut etc. In fact since were on the subject.. why don't we have a slanguage quiz.. If you got any unique terms from your particular area hit me off, so we can list them in the next FNV Newsletter. In the meantime I'm gonna go listen to all my old tapes from back in the days so I can come up with some more words and then I will issue a test.. mailto:kingdave@sirius.com
---
Bad news for DMX who was arrested over the weekend for attacking and chasing down a man named Nathan Brown who had harassed his wife. The incident took place in Yonkers New York. When the police came on the scene to investigate what happened they discovered that DMX had a warrant for his arrest in Denver, Colorado for a stabbing incident. DMX claims that he didn't stab anyone and posted a 105 thousand dollars bail. He's headed to Denver to clear up the charges. Let's hope that there's some big misunderstanding here. It will come as shock when you take into account that DMX while in Denver donated his concert proceeds to the students at neighboring Columbine High School who suffered through all those horrific killings the week prior to DMX's arrival in Denver. We'll keep you posted as this develops.
---
Here in Cali, Attorney General Bill Lockyer is getting involved on the Hip Hop tip. He just filed a suit against Anarae brown who is best known as Sacramento rapper X-Raided. Currently X-Raided is serving a 31 year prison sentence for a 1992 murder. He made headlines a few years back because the lyrics to one of his songs help seal a conviction. In any case, the lawsuit has been filed because X-Raided managed to record an album while on lockdown at Salinas Valley Sate Prison. This is usually done over the phone. Several rappers including Mack Dre have managed to do this over the years while incarcerated. It's entitled Unforgiven: Vol 1 and it's on Black Market records. Attorney General Lockyer is utilizing the Son Of Sam law which will allow him to take away profits from convicted felons and deposit them in the state's Victim Restitution Fund. Thus far he's seeking an injunction.

This raises an interesting question. Do you think law enforcement should have a right to go after the profits made by artist who are on lockdown? Suge Knight for the most part still runs Death Row and they just dropped a new lp.. Chronic 2000. Also Keith Murray who is serving 3 years has a number of lps he's already recorded which will be released while he's doing time. Ghost face Killer of the Wu-Tang had a couple of songs that were floating around while he was behind bars. Of course we had Slick Rick who was just here in the Bay Area who had material on the market while locked up.. Is this wrong or right? Hit me at kingdave@sirius.com
---
. While you ponder that question, keep in mind, California has a new law which is on the verge of getting signed which will make it a felony if you do graffiti. If you have more then 400 dollars worth of damage and they can convict you..it's a felony. They are also attempting to redefine the meaning of a gang. State law makers are trying to make it a group of people who are 3 or more in number. It doesn't matter if you commit a crime or not.. If you are caught hanging out with known gang members you can go to jail. This and other draconian measures are all contained in the Juvenile Anti-Crime Bill. Currently the Bay Area's Hip Hop community has been extremely active in trying to fight these measures. Meetings are being held and folks are trying to alert people to the 4-1-1. In fact it was graf writer Spie who hip me to a brochure outlining all these new laws. For more info hit up the People of Color Task Force at 510-451-5466.

The City of Oakland already tried to pass enact an anti loitering bill which would allow police to search and detain people they suspected of selling drugs. It was some of these young Hip Hop organizations like the People Of Color Task Force among others who stepped up and made their voices be heard at the City Council meetings.. For folks who are in the Bay Area there will be a big Townhall meeting complete with workshops and strategy sessions on June 12th at Geoffrey Inner Circle-410 14th Street.. Check for it.. It's being organized by the Bay Area's Hip Hop community along with the people from Rock The Vote. For more info contact Jessica Tully at 415-977-1980. There's some ill stuff about to jump off and hopefully we can turn the tide.
---
Props to LaShae, La Tonya, Dusk One and the rest of the UCLA crew who put together the Power Moves Hip Hop Conference this past weekend. Like the Next Level Conference which took place at Harvard a few weeks back, this event took an academic approach to examining the ins and outs of Hip Hop music and culture. It most definitely was the bomb.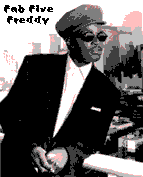 I didn't get a chance to peep out the first day of the conference, which was on Friday May 14th. Here they had Fab 5 Freddy give the keynote address. They also put forth a couple of panels including one that dealt with Hip Hop films entitled 'In Vision' and the other which dealt with the way Hip Hop artist outside the United States reflect the culture. Folks like Ice T and graffiti artist Mare sat on the In Vision panel while author S.H. Fernando and Senegalese recording artist Mbacke Dioum sat on the Flip The Script Panel.

The panels that were held on Saturday May 15th appeared to be off the hook. I caught the tail end of the Ladies First panel which featured Asia of The Rock Steady Crew, Graf writer Lady Pink, Big Lez of BET's Rap City, Karen Good of Honey and Vibe Magazine and Medusa who has got to be one of the dopest Hip Hop artists around.. Let me be the first to warn you-If you happen to be doing a show and Medusa is on the bill, do what ever you can so you don't have to follow her. Trust me, you will get your feelings hurt. That woman has mad skillz and is dope.

The panel I moderated was entitled Chips, Cheddar and Cream and it dealt with the whole concept of Hip Hoppers getting paid yet being able to keep it real. We tried to see where Hip Hop values and our desire to get paid contradicted each other. Generally speaking you have a clash of cultures. You have a Business culture that brings to the table a set of rules and customs and you have Hip Hop and artistic culture that is often times about the business of self expression. At the end of the day what you often have happening is hungry artist getting exploited by hungry business people. The panel included, Ras Kass, Hodari Davis of Hip Hop State and Berkeley High, community activist and poet Kamau Daaood, graf writer Spie, Kierna Mayo who is the editor and chief of Honey Magazine and George Lipsitz who is a teacher of ethnic studies.

This panel was basically continued on with the closing discussion entitled ŒFight the Power' which focused on Hip Hop activism. Included on that discussion was Boots of The Coup, Ben Caldwell of Project Blowed, KET editor and chief of Stress Magazine, Jasmin Baker who is a Youth organizer and Frank Sosa who just released the Mumia Project CD.

Overall the conference was impressive. The organizers took great pains not to make it a circus. They eliminated vendors who wanted to roll through and toss up flyers and hand out tapes. Instead they focused on discussions and ways in which people could build upon Hip Hop. They also took great pains to make sure that all 4 elements were always represented on the panels. It was good to see and hear from the graf writers and break dancers. Oftentimes they are left out of the discussion. Also this conference had a great cross section of community and students. It wasn't an elitist type of event where folks were sitting in a room theorizing about Hip Hop. This was the type of setting where folks are out there actually doing some major work. Also it was free to the public. It was great to see community elders like ethnomusicology professor Cheryl Keyes who sat on the Flip the Script panel, Kamau Daaood and George Lipsitz who sat on my panel. Hip Hop has often suffered with a generation gap. We don't often get to hear and benefit from the wisdom of our elders. Such was not the case at UCLA.

Again, I can only reiterate that I think more Hip Hop conferences should be done on University settings. Nowadays Hip Hop conferences have become big money making showcasing themes that are dictated by the music industry. Lets be honest a lot of good stimulating discussions, networking and building are overlooked. Not to dis, but all I'm hearing about the recently held Impact convention is how much of a party it wasŠ As Hip Hop continues to mature we have to take control and seriously push to make sure it develops in a healthy and impactful way. The key lesson here is for folks to organize locally and think and act globally. Hopefully next year there will be a way for the organizers of The Harvard Next Level Conference and the UCLA event to build together. My hats off to them for a job well done.
---
As Hip Hop continues to develop, you will notice that more and more people are developing curriculums and courses that can be used in school settings. My boy Kalil and Beni B did some excellent work with putting together Hip Hop 101 at UC Berkeley over the past couple of years. Arman Elihu has done a great job with his 2Pac class at Berkeley. My boy Will Strickland has parlayed is industry skills into teaching Hip Hop in Boston while author and KPFA DJ Ricky ŒUhuru Maggot Œ Vincent has been throwing down on the academic level at San Francisco State. Last week I spoke at a packed class for his History of Funk Class. Another place where they finally opened the doors to Hip Hop discussion is at Vista College here in the Bay Area. I spoke at a packed music class that included students from neighboring Los Medonas College that was actually held at Ashkanaz Nite club. Headed by longtime Blues singer Johnny Otis, this one particular class brought in a Hip Hop band that performed live.

Hodari Davis long time Hip Hop activist has been teaching Hip Hop at Berkeley High School for a number of years. His popular class covers everything from how to properly breath so you can emcee to putting words together to understanding the ins and outs of conducting business. Hip Hop allows folks to critically look at life skillz in general. It's more then just break dancing and rapping. The course like all the other classes mentioned are quite rigorous and extensive. Currently Hodari is taking his program to the next level with a project called Hip Hop State. This will be not just a program that his brought to the Oakland High schools but it will also be online. Hodari describes it as a virtual online University. Hence the kids enrolled will also be learning how to build websites and interact with computers. Currently Hip Hop State is planning a day long academic event that has thus far garnered considerable community support and more then 300 kids signed up. It's scheduled for the second or third weekend in June. For more info email Hodari at mailto:hodari@hiphopstate.com

. In San Diego there is the University of Hip Hop where the organizers meet monthly and try to bridge the gap between African Americans and Latinos. They have an excellent newsletter that states as follows: ŒThe University of Hip Hop Newsletter is committed to teaching and reiterating to readers the history of Hip Hop culture. The newsletter informs readers on social and economic issues in the present and future Hip Hop environment, to create development and self empowerment within Hip Hop community'. In short they are striving for independence and not dependence. Hip Hop has become too dependent on outside forces which now define or misdefine the culture in addition to controlling it's overall presentation. For those who want more information hit them up at 619-910-PLAN. They are looking for more freelance writers for their newsletter. You can also email them at University Of Hip Hop/4Plan PO Bx 40471, San Diego, Ca 92164.

Here in Oakland, the city has an Edutainment Department that is frequently out and about doing things. They're all up in the schools, They do townhall meetings and many of its organizers are part of this big Hip Hop Project that is coming out of UC Berkeley. Iesha Bilal who heads the Edutainment Department was one of the builders for The Nu Upper Room where she and her dad Rafique and her brother Mohammed and his crew Midnight Voices always imparted the values and virtues of Hip Hop culture. When an artist performed at the Nu Upper Room, it was proceeded by an in-depth question and answer session so the audience could really get into the mind of the artist. Everyone from KRS-One to De La Soul to The Last Poets have swung through the Nu Upper Room. The group Midnight Voices taught young people the foundation of Hip Hop. For more info on Oakland's Edutainment Department and the excellent work they do. Hit up Iesha mailto:falilah@uclink4.berkeley.edu

.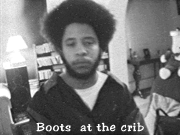 For the record the first group I ever saw really infuse Hip Hop and academics was Boots from the Coup. Folks may recall back in the late 80s, he kicked off an organization called the Mau Mau Rhythm Collective. They used to hold workshops and townhall meetings in the Berkeley/Oakland area. They were also the first at least in the Bay Area to bring forth spoken word artist and have them break bread with the rappers. That organization later evolved into Young Comrades who would teach political classes and hold community book drives. They even stormed city hall at one point to demand an end to police harassment that going on around the Lake Merrit area.

Last but not least, we can not forget the important role played by the Teacha, KRS-One. He too has been trying to build up his Temple of Hip Hop that is a University of sorts. His book Hip Hop should serve as an excellent foundation and like Hodari Davis' Hip Hop State, the Temple of Hip Hop is also an online communityŠ peep them at http://www.templeofhiphop.com Also KRS will be doing a Big Fundraiser at UC Santa Cruz on Saturday May 29. He, along with Medusa will be raising money for the Bay Area student organization Olin. He will also be at the Justice League in San Francisco on May 17 & May 30th. Let me know if there are any Hip Hop related courses and classes in your area. I would like to list them in the next FNV Newsletter.
---
Saul Williams @ the Justice League
Sunday May 16th

What? Who would have thought a poetry reading could fill a night club to capacity well before 10:00pm that the doors had to be shut and folks sent away? But then we're talking about Saul Williams, the spoken word artist who shocked the celluloid world in the indie film SLAM.

The venue was hot and steamy not only from all the bodies and energy buzzing in the packed house but from the flurry of poets, musicians, singers, dancers who reminded us in the crowd that life is full of pain, happiness, madness, fulfillment, laughter, disappointment, invention, resurgence, babies, brothers, sisters, mamas, daddies, joy, love, and all else that is life. Visual artists painted vibrant canvasses as spoken word artists breathed life to their verses. All this was a prelude to Saul's emergence to the stage in dark, in shadow.

Once illuminated, Saul lit up the stage with his lyrcism and poetry. Small in stature, grand in presence, L-A-R-G-E in the universe. Check out his piece "Om" on the Lyricist Lounge joint. Damn, if you don't know, NOW YOU KNOW.

Big ups to the Justice League and its promoters for elevating the spoken word scene to an EVENT. Crazy props to the artistry, power and energy of Saul Williams and ALL the performers and artists involved in that gig.

By the way, Saul has a book accompanied by a CD coming out next month. He'll be back for a few book signings very soon. He'll likely be at Borders - but - get your copy at Marcus Books if you can.

- Moan
---
Send comments, questions and concerns to mailto:kingdave@sirius.com
The FNV Newsletter
written by Davey D
c1999
All Rights Reserved

Go Back To Hip Hop News Directory
---
[home]
[chat]
[conferencing]
[updates]
[what it is]
[politics]
[contests]
[opinion]
[links/photos]
[media]
this site is produced by Davey D in association with eLine Productions
---