Hip Hop News
March 6 1998

The Bay Area has been a wash with lots of hip hop activity over the past couple of weeks... This past week we were blessed with the presence of legendary dj Cash Money.. Folks may recall the Philadelphia born native was the one who pioneered a lot the intricate turntable trickery that we see being done by groups like the Invisible Scratch Pickles, The X-Men and other dj groups.. Back in the days Cash Money brought forth the transformer scratch... It was made popular by DJ Jazzy Jeff on the song 'The Magnificent Jazzy Jeff'.. Cash himself noted that he wasn't the one who invented the technique.. instead he credits another Philadelphia DJ named Spinbad.. Cash did note that he had mastered and perfected the technique..

While in town Cash was promoting his new compilation album.. which I unfortunately lost so at the time of this writing I can't honestly tell you who is on it and how it sounds.. He also did some dj exhibitions including one on KMEL Radio's morning show as well as at Rasputin Records in Berkeley and later at a nite club in San Francisco called The Justice League... I must say in spite not being prominently featured as he once was within the hip hop arena.. Cash Money has mad skillz and is still a turn table master from which we can all learn from..

Me and Cash got a chance to chop it up a bit..and we talked for a long time about the demise of the once thriving Philadelphia hip hop scene.. We compared notes because the Bay Area is currently in a slump of sorts.. Cash explained that what has hurt the Philadelphia scene are outsiders coming to town and over looking the native talent.. Cash explained that the radio stations have seemingly gone out of their way to hire non-Philadelphia talent who then disrespect the culture and ignore the legacy that Philly had built... In addition to all this he noted that it has been hard for Philly talent to find places to showcase their talent.. He bemoaned the fact that groups like The Roots have to leave town in order to perform at large venues.. Here in Philly they are relegated to a few shows at small nite clubs.. He also bemoaned the fact that it wasn't until the syndicated Wake Up Show started broadcasting on WUSL that he could finally hear Philadelphia acts freestyling on the radio.. How ironic that I have to watch a guy like Black Thoughtof The Roots fly 3000 miles to Los Angeles to do a radio interview where they let him flex his skillz just to hear him on the radio at home. Meantime New York based artists are always being featured on Philadelphia radio... It's unbalanced and not right.. Cash noted..

When asked how he himself has managed to stay a float over the years.. Cash stated that he had been smart.. He claims to be financially set.. And that he like other Philly groups have had to go outside of their town to get love and economic rewards.. He said he was completely puzzled when asked why no Philadelphia based radio station had ever offered him a spot on air...In any case it was good to see Cash Money back on the scene... Let's hope he finally gets his props...

Returning to the hip hop scene after a 3 year hiatus is Paris the Black Panther of Hip Hop.. He's been busy as of late doing a lot of production.. Most notably with Spice 1.. I almost fell out when I heard him premier his new material on Chuy Gomez's radio show the other night.. It was good to hear the strong forceful voice of 'P-Dog'.. His new song is entitled 'Blast First' with a nice jazzy b-side track called 'Root Of All Evil'.. Yes Paris still brings the righteous messages and funky baselines.. He's currently putting the finishing touches on his album... Look for him to blow up in '98...

I ran into Spice 1 the other day in his hometown of Hayward.. He was just returning from some place in Texas where he his getting ready to work on a film.. He explained that he's getting ready to get down with a movie called 'G-Mentality' which is a story about rap artist trying to leave the ghetto and make it in the music industry.. The film will also star Bone Thugs and Harmony, Treach from Naughty By Nature and Havoc from Mobb Deep.. Spice went on to add that his album is doing well.. but has in no way gotten the type of promotional support that it deserves.. This may be his first album where he doesn't go Gold [sell 500 thousand or more units]...He is however working on a new album called 'Urban Spice'

There's a new song out by Lauryn Hill entitled 'Can't Take My Eyes Off Of You' which is a cover to the original track which was done by Frankie Valley and The Four Seasons.. The song won't be out for a while... and it is currently blowing up here in the Bay Area.. It's supposed to be featured on her upcoming solo album... As have been the case in the past this is yet another hip hop remake for Lauryn of a classic cut that'll take her to the next level...I'm sitting here trying to think about classic songs I would like to hear remade with hip hop flava... Or better yet what song has not been remade.. Before people become overly critical.. keep in mind that from it's very beginning Hip Hop artists have remade songs... A trip down memory lane will show you all sorts of groups like Grand Master Flash redoing The Tom Tom Club's 'Genius Of Love' to Spoonie Gee redoing a couple of Elvis Presley tunes to Run DMC redoing Aerosmith's 'Walk This Way' to Eric B & Rakim redoing James Brown's 'I Know You Got Soul'..The list goes on and on.. Me personally I wanna see a dope hip hop remake of Issac Hayes' 'Shaft'.. Yes, all sorts of acts like Young MC have used the bassline.. But no one has really flipped the script and redone that song correctly... I'd like to see a hip hop remake of a couple of Beatle songs like 'Hey Jude' or 'Revolution'.. What do you think... email me back some suggestions of songs you'd like to see remade hip hop style... kingdave@sirius.com

Props go out to Mr Tailor and King Saan of the world famous Whoridas.. They are now hosting a rap show on radio station Z-90 in San Diego.. I heard its pretty funny and it's starting to catch on...Their new song 'Never Heard' is doing well especially in the South... However, my favorite cut off the album is 'Westbound Campaign'..

Also props to Queen Latifah.. She rolled through the Bay Area and got busy at the KMEL Universal Women's Expo in Oakland.. No she didn't perform.. But instead she sat on a panel that spoke about how women can make it in the music biz... That sista has a whole lot of game.. I took lots of notes.. She's also getting ready to drop a new album real soon..From what I've heard it looks to be a big one for her... Just a short Bay Area connection here.. I had no idea that The Queen was up here in Vallejo for two months filming the movie Sphere... That was her most recent movie endeavor.. Props gotta also go out to Vibe Magazine editor Danyel Smith who also threw down on that same panel with Queen Latifah.. She also got busy with her keynote address during the Women's Expo..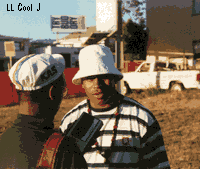 Finally we gotta give props to The Baker Boyz of Power 106 in Los Angeles.. Next Friday they will be celebrating their 5th year anniversary.. Their Friday Nite Flava Show has long been an intrical part within the LA hip hop scene.. They'll be having all sorts of acts performing during their anniversary show.. including freestyle master Cannibus.. The Baker Boyz went on air and publicly invited LL Cool J to come battle Cannibus during the event.. Thus far no response from LL.. However, Cannibus took the whole riff between him and LL to another level when he released the song '2cd Round Knockout'... Here Cannibus rips into LL with the help of former boxing champ Mike Tyson.. Mike is featured in the hook encouraging Cannibus to hit harder...

Now for those who don't know what this whole beef is about, let me explain.. LL invited new comer Cannibus to get down on a song featured on his album '4-3-2-1'.. Apparently Cannibus came off in a major way.. while LL didn't.. Within in his rhyme.. Cannibus made mention to the microphone on LL's arm.. It was meant as a compliment but LL took it as a dis.. So he had Cannibus come into the studio and rewrite his rap.. Cannibus tamed it down.. while LL went on to re-record his part.. but in this case he disses Cannibus.. Adding insult to injury.. LL didn't feature Cannibus in the video.. So now the two are a battle war... Personally I think in any real battle.. LL will eat Cannibus up... But that's just my humble opinion.. We'll see if LL shows up to the Baker Boyz anniversary party..

Speaking of anniversaries...congratulations to Delicious Vinyl Records as they celebrate their ten year anniversary.. This LA based label gave birth to artists like Tone Loc, Young MC, Def Jeff, Pharcyde, Brand New Heavies, Body and Soul and Born Jamericans.. They will be celebrating by releasing rare vinyl complete with instrumental tracks from numerous artists from their stable.. Each month an artist will be highlighted...

By the way guess what 'famous' dj has the dubious distinction of being the first to ever play Tone Loc on radio...? Yes, you guessed it's yours truly..me Davey D. One of the label owners Rick Ross went to Cal Berkeley while I was doing my Monday Nite hip hop show on KALX Radio.. He dropped through one nite looking more like a kid into surfing then he did a hip hop head.. The record he gave me was a track called 'On Fire'.. which borrowed a riff from the group Pleasure.. The song was one of the first west coast grooves I had ever heard that had a total b-boy/ east coast feel.. The flip side was a track called 'Cheeba Cheeba'.. Bear in mind.. Tone was one of the first artists to rap praises about weed... By the way good ole Tone is doing more acting then rapping.. Def Jeff is heavily into producing.. and Young MC is still trying to make a comeback... I wish him much luck because he's been through a lot.. Folks may recall about 4 years ago Young MC's father made headlines by killing his mother in a domestic dispute.. That was indeed tragic...

Also on the Delicious Vinyl tip is Fatlips formerly of the group Pharcyde... Apparently he was asked to leave by the other members, Imani, Booty Brown and Trey due to creative differences.. Now Fatlips is riding solo and is working on his new album....He recently did a track with DJ Honda of Japan..

Props to former Source Magazine writer Ronnin' Ro.. He just dropped a controversial book that'll be very hard to put down.. Entitled 'Have Gun Will Travel' This is the unauthorized, behind the scene's scoop of activities that led to the rise a fall of Death Row Records... Here Ro pulls up all sorts of tales of mayhem and madness where he talks about artists and kids getting beat down on the regular by Blood and Crip gangs who hung out at Death Row to the real stories behind Dr Dre's departure from the label to the unconventional way in which the label was started to the FBI and other law enforcement officials making a determined effort to cripple the label... In this book Ro brings to light many of the rumours most of us had heard about Suge Knight and the label.. Throughout the book Ro sights numerous Sources.. It makes for some compelling reading... On the flip side, their are a number of folks who are emphatically claiming that you can't believe everything you read...and that some of these accounts are exaggerations...and may have been taken out of context.. It's hard to say for sure... but the book makes for good reading... It'll definitely leave you wondering...

Finally some new material to look out for... The Heiroglyphics have a new album that is out entitled Third Eye.. It features all the members from Casual to Del Tha Funkee Homosapien to Souls Of Mischief.. Its' a nice lp... Too Short has teamed up with Keith Murray to do a song called 'Independence Day'... There's another bootleg 2Pac track circulating around.. This one features Grand Puba and Busta Rhymes as well as excerpts from 2Pac's last radio interview which was done on KMEL's Westside radio show... Also there's a new KRS-One tract floating around called 'Temple Tactics'.... Right now that's just a bootleg tape.. Tribe Called Quest is about to drop a new jam called 'Da Booty' within the next two weeks..And of course Public Enemy is putting on the finishing touches to their new lp 'Resurrection' That should drop sometime in April...It will feature all the original members.. WC swung through town and dropped off a dat of new single 'Cheddar' which features Ice Cube and Mack 10... This song is off the hizzie...

written by
Davey D
c1998

Go Back To Hip Hop News Directory
---
[home]
[chat]
[conferencing]
[updates]
[what it is]
[politics]
[contests]
[opinion]
[links/photos]
[media]
this site is produced by Davey D in association with eLine Productions
---