*
FNV In Today's Issue: July 7 2000
*De La Soul To Be Featured on HBO's 'Sex In The City'
*DJ Quik's Partner Mausberg Shot Dead In LA
*Jay-Z, Puffy and Russell Play Football For Votes
*The Wizard of Oz Hip Hop Style...
*Lil Kim Causes a Ruckus at Post Office
*Lil Zane Takes A Stand.
*Snoop on Board At The New KKBT The Beat in LA
*You Know Your from The Old School...
*Wu-Tang Clan Ain't Nothing To F%$# With
*Skratchcon 2000 Was off the Hinges!


Send comments, questions and concerns to
mailto:kingdave@sirius.com
The FNV Newsletter
written by Davey D
http://www.daveyd.com
http://www.rapstation.com
c 2000
All Rights Reserved
============================================




This Sunday when you tune into watch HBO's 'Sex In the City', you will get to hear some new songs from one of Hip Hop's most talented trio. We're talking about De La Soul. Two of their new songs, 'Thru Ya City' and 'All Good' which features Chaka Khan will be featured on this week's episode. For those who watch the show, this week's story will center around Samantha hooking up with a brotha who is no doubt part of the music biz. That in itself should set off some fireworks. As for De La Soul I don't think they themselves will be hooking up with the fabulous four vixens.. But at least we'll get to hear their songs.
-------------------------------------------------------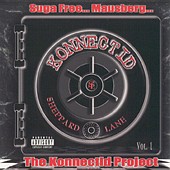 Sad news from the city of Los Angeles. Over the weekend, DJ Quik's partner Mausberg was shot and killed in the city of Compton. Folks may be familiar with Mausberg as he was featured on a song entitled 'Down Down Down' which was on Quik's last album, Rhythm-al-lism. He and fellow rap star Suga Free hooked up and recently released the 'Konnectid Project' which featured Quik, Xzibit and a number of other LA based artists. This project was making a lot of noise and set the stage for Mausberg to blow up. There is no word as to why and how this happened. Mausberg's death, unfortunately marks the second rap star killed in LA this year. Back in May Yusef Afloat of the rap group The Nonce was found dead in a freeway underpass. There was no word as to what was behind his untimely demise. Mausberg's passing is indeed troubling..
-------------------------------------------------------

Props to Sean Puffy Combs, Jay-Z, Andre Harrell, reggae artist Rohan Marley and numerous other celebrities and athletes who came out for a celebrity charity football game this past weekend. Hundreds of people descended upon East Hampton High School in New York where the game was played. The celebrities which also included Jennifer Lopez, not only entertained the crowd, but hammered home the theme of the day which was 'register to vote. The game was part of the on going 'Rap The Vote' campaign spearheaded by Russell Simmons. The outing had major impact and folks can expect to see more fun filled star studded activities in the upcoming months as Russell and company attempt to get the Hip Hop generation politicized. As for Puffy there was no word as to whether or not his new boy band Dream which he recently signed was in attendance. Oh y'all didn't know Puff has joined the fray and is trying to develop the next N-Synch? They even have a single out called 'He Loves You Not'. maybe its me.. but I think Puffy should put himself in a boy band and just totally flip the script.. They could have a colorful name like Puff Daddy and the Puffsters. Oh what do I know about boy bands? Is it me or did singers like Brandy and Monica fall off the face of the earth in the wake of Christine Aguilera and Britney Spears?
-------------------------------------------------------


Busta Rhymes has been making a lot of noise as of late. His new album Anarchy is being embraced and he's been receiving rave reviews for his recent performance in the movie Shaft. Now fans of Busta will soon get a chance to peep out his acting abilities in the upcoming Fox TV Hip Hop remake of the Wizard of Oz. I wonder where all those people are who years ago, arrogantly stated 'Hip Hop was just a fad'??? Anyway once filming starts, Busta will play the role of the Cowardly Lion. Queen Latifah will be Glenda the Good Witch while singer Patti Labelle will play the Wicked Witch. heart throb singer Ginuwine will star as the Scarecrow while Rock-n-Roll pioneer Little Richard will star as the Wizard. The role of Dorothy and the Tin man has not been cast. Nor have they casted the flying monkeys. Although no one asked me.. I think DMX would make an excellent Tin Man.. His presence would give the musical some edge. As for Dorothy, I'm thinking Lil Kim. She could push the envelop and make the Wizard of Oz raunchy, x-rated and spicy. Her performance will really leave kids with some fond child hood memories :-) Seriously who do you think they should cast in those roles mailto:kingdave@sirius.com
-------------------------------------------------------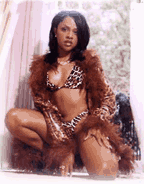 Speaking of Lil Kim.. She was the cause of some drama with the US Post Office. She's featured on this month's Genre Magazine sporting some enticing lingerie. For those who aren't familiar with Genre it's a popular gay lifestyle magazine. Anyway the Post Office ordered the magazine to be covered up in plain wrappers before they were delivered. That wouldn't have been so bad except there were more then 40 thousand of them. The excuse given was the US post Office wanted to protect children and people who may have been offended. Sounds great until you realize as publisher Richard Settles pointed out that the Post Office has no problems delivering everything from Sport Illustrated's swim wear issue to Victory Secret's lingerie catalogues unwrapped. On a personal tip, the Post Office has no problem delivering gun magazines unwrapped as well. Heck I'm offended when they deliver uncovered magazines featuring wack rappers on the cover.. But hey that's another story.. America is full of contradictions

Oh yeah.. There's some interesting stories floating around about macho man/ karate expert Steven Segal stepping to Lil Kim and trying to put his 'mack hand down'.. He apparently asked her out and invited her back to his pad.. The Queen Bee told him no dice. It must've been the pony tail.. I bet she wasn't feeling that pony tail homeboy always wears..
-------------------------------------------------------

Props to rap star Lil Zane for taking a bold stance. he understands the importance of long term vs instant gratification. Translation: Not all money is good money.. the up and coming rapper had an opportunity to appear in a $4 million dollar ad campaign for Tommy Hilfiger. However, the Screen Actors Guild is on strike against advertisers. Folks aren't getting paid their fair share. Instead of going taking the money and running, Lil Zane decided to honor the strike. Zane knows that one day he may want to get into making movies and doesn't want his breaking the picket line to be something that haunts him years down the road.
-------------------------------------------------------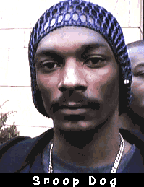 People in LA are buzzing about the big switch and changes made at 92.3 The Beat. To start, the station is no longer on 92.3. It was recently sold to Radio One which is headed by Katherine Hughes. Part of the deal was that Radio One would keep The Beat call letters [KKBT] and the personalities. However, they would obtain the weaker signal which is 100.3 FM as opposed to the monstrous 92.3 signal. the second change is that Snoop Dogg who was doing what he calls Dogghouse Radio on rival station Power 106 every Saturday afternoon, has been added to The Beat's line up and can now be heard on Friday nights. What will be interesting to see is whether or not Snoop draws protest from community groups..

Last month a number of people from local churches and drug prevention coalitions took issue with Snoop's frequent on air references to smoking chronic. They felt Snoop was sending out a bad message and as a result they intended to lead a protest against Power 106. I'm not sure of how things turned out...Power 106 at that time noted that they do not condone any illegal drug activity and that the station had donated more then half a million dollars in free air time to present anti-drug messages. In fact Snoop Dogg at that time had voiced one himself. It'll be interesting to see if Snoop tones it down a bit.. We'll keep you posted...
==========================================

You Know You're From The Old School....

If you can remember when kids used to sport African medallions and everyone wrote rhymes about how Black they were. Sista Souljah used to be a member of Public Enemy and when Professor X used to bless every song as being protected by 'The Red The Black and The Green'. You're extra old school if you can remember when Professor Griff used to be on Luke's record label and had a group called the Asiatic Disciples..

If you can recall when MTV's DJ Scribble used to roll with a group called the Young Black Teenagers.. and you danced to their song 'Tap The Bottle'. 64 thousand dollars if you can name the lead rapper of that group..

If you can remember when rappers used to sport gold and not platinum..and everyone had a big name plate belt buckle. Kids out west sported shags while kids back east sported Ceasars.. How many y'all know about Ceasers..?

If you can remember when the Egyptian Lover was the biggest rap act coming out of LA. Also long before Wu-Tang, Jay-Z, Cash Money, Master P and others had their own record labels and mini dynasties.. Egyptian Lover and Uncle Jamms Army had a whole Empire.. heck I recall Run DMC opening up for them back in '85-'86.

If you can name the Hip Hop drink of choice before Crystal and Moet became part of the Hip Hop landscape..

Your really old school if you can name all the records that LL Cool J and Kool Moe Dee put out during their historic beef.. Some of y'all are scratching your heads and asking who is Kool Moe Dee and what beef?

==========================================

*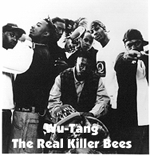 Got a chance to peep out a pre-show to the upcoming Wu-Tang concert last Thursday in Pomona, Cali's Club Yesteryear. Sway & King Tech of the Wake Up Show hosted this special event for the upcoming launch of their website and to commemorate their anniversary. Hence they got the Wu to roll through. Most of the group has been assembled in Southern Cali recording their new album which is scheduled to drop sometime in September.

Now as most of know, Wu-Tang has announced their upcoming Underground Summer Tour which will take them through 25 cities. They will later follow that up with a college tour. What went down in Pomona was a scaled back-warm up show for what is to come. based upon last week's the Wu's tour looks promising.Wu-Tang is the only group that I know that can perform with 50 people on stage without a backdrop or special set up and still have me enjoy them.Charisma, outstanding microphone skillz and dope songs are the key ingredients to keep you locked in.. Simply put their show although scaled back was incredible.



The evening kicked off with a stellar performance from opening act Supernatural who continues to impress headz with his ability to flip rhymes at the drop of a dime off the top of his head. He is without a doubt one of Hip Hop's most underrated emcees. Folks were definitely feeling him. Supernatural's performance was followed by DJ Revolution rocking the one and twos. Like Supernatural , he is one of Hip Hop's most underrated deejays. This kid just leaves you baffled as you try to figure out how he does some of the things he does on the wheels of steel. After that the Wu's west coast affiliates the Black Knights who hail from Long Beach hit the stage and got wrecked. As the group launched into their third song..Bobby Digital aka The Rza came out and started rocking with the group. The entire club which couldn't have been more then 400 people, went nuts..

Rza took over the set and set the tone for the night as he acted as the Wu's official master of ceremonies. Instead of bringing the entire group out at once, he introduced each member one by one and let them get their shine on. He built up the suspense by dropping clues and giving us some facts and other tidbits with each intro. Then on cue a Wu member would hit the stage a beat would drop and the featured member would perform a couple of his dopest songs. The Wu onslaught was relentless as Rza reminded the audience that the group has an arsenal of over 500 recorded songs. Gza, Ghostface Killah, Inspector Deck, Masta Killah, U-God and Method Man all came through and dropped lyrical bomb after bomb. Missing in action was Raekwon and ODB who has been sentenced to 180 days in drug rehab. At first that was disappointing, but the Wu more then made up for their absence. Rza dedicated the group's performance to ODB. The group held up shirts that read Free Ol Dirty and they performed several of his songs. They even announced a party in ODB's honor the following night. The group seemed in high spirits 'cause earlier that day ODB had been transferred out of LA county jail.

From 'Ice Cream' to 'Brooklyn Zoo' to 'Chez Chez La Ghost', the Wu hit all their classic jams as well as their more recent material. Method Man even came out and performed 'Da Rockwilder' sans his partner in rhyme Redman. The crowd ate it up. It was nice to see the Wu perform especially in such a small uncrowded session. More then a few acts could learn from this allstar group as each member showed and proved how to keep the crowd engaged. Although the stage was packed, you didn't have group members tripping over each other when they rhymed. They didn't spend precious time yelling at the soundman to turn up the volume. At one point the group only had one working mic and still managed to rip it by simply passing the mic back and forth to one another. When one Wu member rapped the others stepped back and to allow the audience to focus on the one with the mic. As I mentioned earlier this was a scaled back warm up performance, but make no mistke the Wu has put everyone on notice.. 'Protect your neck.. cause Wu-tang Clan ain't nothing to f-- with!'
----------------------------------------------------
Props go out to The Invisibl Skratch Piklz for the work they and their crew put in for organizing and putting together Skratchcon 2000. This past Saturday more then a 1000 people converged upon San Francisco's Yerba Buena Gardens for this day long historic event dedicated to the art of turntablism. From beat juggling to scratching to team competition, everything was covered and everyone who was anyone was there. From Mixmaster Mike to DJ Alladin to DJ Cash Money to The X-Men aka X-cutioners to the Beat Junkies. The list is too long to mention everyone who was on hand.

DJ Q-Bert who hosted much of the event, explained that for years many of the people in attendance have battled each other in competitions or have been touring the world doing exhibitions. Skratchcon 2000 served as a reunion of sorts by bringing everyone together to network and build upon many of the deejaying aspects of Hip Hop. This event was one of the few occasions where a Hip Hop group has come together and put together a conference around their craft. Rocksteady crew and the good folks behind the B-Boy Summit in LA are the only other conferences that immediately come to mind where this has happened. he promised to have a Skratchcon Festival in the upcoming years.

Now I didn't get a chance to stay for the entire event, but from what I did experience was off the hook. I walked into the Battle seminar session featuring Mix Master Mike and current DMC champ DJ Craze of Miami. Mike's performance was off the hook as was Craze. In fact Craze astonished the crowd by battling himself. There were two different DJ set ups. Craze spent a couple of minutes on each set under the names Craze One and Craze Two. The crowd voted for the routine they liked best. Craze two was the winner. Afterwards both deejays both spoke to the crowd about how they mentally prepare. They also enlighten people as to how they recover from mistakes.



I later caught up with Mixmaster Mike and asked him about his upcoming project and what's the next level for him? he explained that he's getting ready to release his new album entitled 'Eye of the Cyclops' and it will feature what he calls 'beam ship' music. He also noted that the next level for turntablism is to make actual songs from the scratches and turntable manipulation as opposed to just showcasing skillz. "Perhaps one day you will walk into Tower Records where you see a jazz section, and rock section and hopefully soon a turntablism section', he said. When asked about his current status with the Beastie Boys, he explained that he is still their maestro and you can expect more Hip Hop sets and him showcasing his skillz during their upcoming tour.

One of Skratchcon 2000's highlights was the Beat Juggling seminar. Here the audience was treated to a walk down its evolution time line as their demonstrations from each of the key architects of this genre. It was amazing watching and comparing the styles of guys like DJ Shortkut, Rob Swift, Mista Sinista, Total Eclipse, Babu of the Beat Junkies, P-Trix and Swift Rock. The session began with an interview from the Godfather of Beat Juggling Steve D of Harlem New York. He explained that he never referred to his creation as beat juggling. Instead he simply called it funk. he described at as a technique in which you change tempos and create a head nodding rhythm that people could bounce to.. He cited Doug E Fresh's DJ Barry B and Hip Hop pioneer the late Master Don as his influences.

Afterwards attendees were treated to the Skratch seminar. DJ Q-Bert explained that technique of scratching is almost 25 years old. Hip Hop pioneer Grand Wizard Theodore is cited as its inventor. For this session, a guy named DJ Flare who is cited for inventing what we call the flare scratch was brought out on stage as Q-Bert ran down the entire year by year history of scratching. DJ Flare would demonstrate the various styles. It was absolutely amazing to see and compare all the different scratching techniques. Flare showcased the pre-Sugar Hill Gang style of scratching and worked his way up to the scratch styles developed by guys like Grandmixer DST. Mixmaster Ice of UTFO was cited as a key contributor. During the session he called in and spoke to the audience via cell phone. In the late 80s scratching evolved to what is known as transforming. This was a robotic jerky style that emerged from the city of Philadelphia and was popularized by Will Smith's DJ Jazzy Jeff who demonstrated this style on a record called 'The Magnificent Jazzy Jeff'. DJ Cash Money was on hand to address the audience about the role Philadelphia played in the evolution of scratching. He named off unsung heroes who influenced him and many others.

Q-Bert's scratching time line journey took us to the west coast where the styles of popular deejays like Joe Cooley and DJ King Tech of the Wake Up Show were noted landmarks. The time line concluded with some new styles coming out of the UK which were later demonstrated by the Scratch Perverts. Here these these guys showcased a new style of scratching that doesn't involve the turntable. It is actually a manipulation of ground feedback. They also did a routine in which they highlighted the emerging Euro scratch which has the deejay using the line switch as well as the cross fader at the same time. To see this entire presentation was indeed a treat and definitely left you a much more informed person. The kid sitting next to me was so hyped that he kept calling friends on his cell phone and holding it up so they could hear what was going on..

There was an nice demonstration from former new Music Seminar champ DJ 8 Ball who has excelled in the area of tone manipulation. Here the DJ takes a tone from a record and by manipulating the pitch control creates a recognizable song. DJ 8 Ball has become the standard bearer for this over the past few years. Very few can even hang in the same league. During his routine, 8 Ball demonstrated to the audience how to create a song using keys. He showed how certain pitches would equal a particular key and how to maneuver the turn table to create a song. He brought the crowd to their feet when he took a simple tone and played out the melody to Dr Dre's current smash 'The Next Episode'. later on a kid out of Germany demonstrated to the audience a way to write down scratches much the same way you would musical notes for an instrument. That proved to be very interesting and quite practical when entering into recording section or thinking up a scratch routine, but not having access to a turntable.

There were some surprise performances from well known DJs who helped elevate turntablism. Among them was DJ Cash Money and DJ Alladin who offered to battle anyone in the audience. The LA based DJ obviously had a couple of drinks in his system and hence when he saw no takers he offered to battle Q-Bert for ten thousand dollars. When the shocked audience grew silent , Alladin amended his offer and challenged Q-Bert for one thousand dollars. Alladin thought about his challenge and must've realized he would be making a substantial withdrawal from his bank account. He got up, smiled and hugged Q-Bert and left the audience laughing.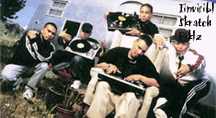 During the seminar DJ Q-Bert's animated film 'Wave Twisters' was featured. I didn't get a chance to peep it, but from what I was told is 'it was sick [good]. Later that evening at San Francisco's historic Filmore Theater the Invisibl Skratch Piklz gave their farewell performance. Each member will be taking a break to pursue solo projects. In a couple of years they will hopefully regroup and re-manifest under a different name. From the Shadow DJs to the Rocksteady DJs to the Invisibl Skratch Piklz, these guys have definitely etched a few crucial chapters in Hip Hop's on going evolution.
========END OF NEWSLETTER================

Send comments, questions and concerns to
mailto:kingdave@sirius.com
The FNV Newsletter
written by Davey D
http://www.daveyd.com
http://www.rapstation.com
c 2000
All Rights Reserved
Go Back To Hip Hop News Directory