Hip Hop News
February 8 1998

Hey folks.... Lots of doings have been going on since we've last spoke....The Bay Area has been battling some major storms brought to ya by a phenomenon called El Nino.. We've had some severe flooding, highways have been closed..People have been evacuated... A house I almost brought two years ago made headlines when it slid down a hill in a mudslide.. Topping things off, we had a tornado here yesterday.. Yes a damn tornando here in the Bay Area... Things have been mad hectic... On the hip hop scene things have been just as crazy..

First a bit of sad news... We must send our heartfelt condolences to the families of two of of the Bay Area's own... Record promoter Michael Futagaki and Too Short's former DJ/ producer Crazy Rak passed away in untimely manners... Bay Area folks were familiar with Michael, as he was an out going friendly guy who always took time out to lend a helping hand to those around him... In a business that's so notorious for being cutthroat.. Michael Futagaki was a breath of fresh air.. Not only did he excel as an effecient record promoter... He was also an editor for the DJ mixshow section of Hitmakers Magazine a few years back.. He had moved down to Los Angeles where he was just establishing his own promotion company... He was found dead in a LA street earlier this week.. He had apparantly dropped dead of a heart attack.. Michael was still in his early 30s... The funeral was this past Friday here in his native Oakland.. A testament to his popularity was the fact that his funeral was held on the same day that the Gavin Report was holding a lot of its gala parties 600 miles away in San Diego.. Many industry heads by passed the events to come attend Michael's funeral... He will surely be missed...

Crazy Rak was a well known dj who moved here to the West Coast from New York years ago.. He made quite a bit of noise by becoming a producer and dj for Bay Area legend Too Short.. [Yes Mr Short] always had some East Coast flava within him..]..After making his mark with Short.. Rak went on to put out his own solo album.. Mr & Mrs Abuser.. The title cut was a heartfelt song about spousal abuse...

I had run into Rak about two weeks ago and he was pretty excited about some of his upcoming projects.. Apparently he had been producing some new acts and he had asked to drop them by my Friday Nite Vibe Hip Hop show... Rak was one of those guys who early on learned the importance of conducting himself in a business like fashion within the music arena.. His reputation was that no matter what.. Rak always got paid... Not because he went around trying to be hard.. but because he knew how to conduct his affairs.. He was also one who was not afraid to reach out and help the next man.. He was found dead the other week in a hotel fire... 90% of his body had been burned... He too will surely be missed...

FYI...On the political tip... while the Bay Area lost tow of its more influential people.. We also lost two of our most ground breaking Mayors... Oakland saw the passing of its first African American Mayor and former Negro League baseball star.. when Mr Lionel Wilson passed away from a heart attack.. He was 83 years old.. Lionel got elected in the early 80s when all of Oakland's major Black organizations led by the Black Panther Party got behind him and paved the way for his ascension into the Mayoralship..

In San Francisco.. Joe Aliota who is often considered the City's dopest and most colorful Mayor passed away from cancer this past week.. His legacy speaks for itself...During the late 70s and early 80s this man was putting it down and letting folks know that he was the man... several thousand people showed up for his funeral..

I mention these deaths because I think its important that we take very seriously the importance of the people who are around us.. So often we take folks for granted and don't realize that no one is promised tomorrow.. The passing of these individuals especially Michael Futagaki and Crazy Rak hit home for a lot of people because they were so well known, young and quite visible.. No one saw their passing coming.. Please take time out and let the folks who are important in your life know that you care...

Within the hip hop arena the Bay Area was treated to two big concerts this past week...Folks came out in droves to check out Busta Rhymes when he rolled through San Francisco.. He caused quite a stir when he stopped in the middle of his show and let some knuckleheadz know that he wasn't gonna stand for them acting ill during his performance.... Surprisingly everyone stopped and respected him... That was good... right now the Bay Area hip hop scene has been suffering a rash of rowdiness during its hip hop shows... Well anyway Busta got busy and brought down the house...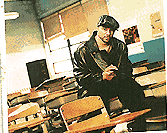 The Bay Area was also treated to a dope show from Common.. Davey D's Hip Hop Corner artist of the year came through and made a whole lot of headz happy as too put it down and got busy... I think '98 will be one of the year Common gets the recognition that he fully deserves.. It'll be interesting to watch how folks start to turn their back on him with his increased popularity.. Hip Hop has a bad habit of doing that.. It seems like so called headz get mad when artist start to get their much desrved props.. Mark my words.. the mainstream will be checking for Common..over the next year.. and all of a sudden he's gonna be seen as some weak sellout... To me, he will always be a dope rhymesayer..... Speaking of dope rhymers.. The Jurrasic 5 swung through the Bay Area this weekend and put it down at a club in SF called The Justice League...

In other news folks should be aware that Wyclef and Mack 10 are doing a track together... Who said there was an east/west coast war... ? Also Bones Thugs & Harmony are in the studio recording a song with rock group Match Box 20...On the local tip props to the group Midnight Voices.. You may recall them via their lead rapper Mohammed Bilal [Mystic] who was featured on MTV's 'The Real World'.... They just released a nice album entitled 'Howling At The Moon'... It's the bomb..For more info email them at monstermusic@monstercable.com I like their new sound.. It's hard beats and some very poetic/ spoken word type lyrics...

Mr Snoop Dogg has some major financial woes.. so much so that he just launched a lawsuit gainst his former accountants and some Death Row employees.. According to the lawsuit, Snoop didn't get his proper royalties, nor did he receive sound advice on his taxes... In short he got ripped off... From what it sounds like.. he was a prime candidate for Kashif's book 'Everything You Better Know About The Music Business'.. I hope he gets around to reading it...

Also dealing with some legal woes is rapper Warren G... A few months back he and country singer Garth Brooks got into a disagreement over the the use of the Letter G... Garth had been using the small case letter 'g' to promote his merchandise and market his name.. However, Warren G who brought us the 'G-Funk' era owns the copy right to this small letter g.. The two couldn't come to any sort of compromise.. So now Warren G and the man who has sold more albums then anyone in music history will be squaring off in court.. The trial is set for May 12 in Los Angeles.. To 'g' or not to 'g'?.. That's the question..

Puffy just did a slamming remix of the old Jackson 5 classic 'I Want You Back'...Here he skillfully combines the jazz beats from the Black Moon classic 'Who Got The Props?' and the booming beats from Biggie's 'Going Back To Cali'. The result is a song that had people throwing their hands way up in the air when I played it at the club the other night.. It's the bomb.. I'm not mad at Puffy for that one...Speaking of Puffy.. He got a lot of criticism from folks during his performance at the American Music Awards [AMA] for doing a routine that was similar to the one Michael Jackson did a few years back... People accused Puff of 'biting' again... However, I ran into some of the members of Richmond, Cali's hip hop dance troup.. Housing Authority.. who actually do a lot of work with the 'King Of Pop'.. They explained that Michael's main choreographers were working with Puffy.. hence the similarities...As '98 continues to unfold it'll be interesting to see whether or not Puffy and his Bad Boy entourage can maintain their dominance in the marketplace...

Props to Lauryn Hill and her new single 'Can't Take My Eyes Off You'.. Like many of the Fugee's songs it's a remake of a classic song from the late 60s/70s.. The song is the absoulute bomb.. . It's on par with the remake the Fugee's did of the song 'Killing Me Softly'.. My question of the week.. is why people haven't heated up on the Fugees the way they do Puffy.. Almost all their songs from 'Fu-Lalala' to 'No Woman No Cry' to Wyclef's Carnival album are remakes.? Does it have to do with Puffy not sounding as good on the mic as Lauryn or Wyclef or does it have to do with his visibility or is it because thats the in thing to do..bash Puffy? I'm just asking....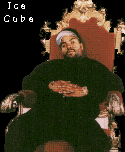 Look out for the sound track to Ice Cube's new movie 'Player's Club'... Here in the Bay Area his new single 'We Be Clubbing' is the number one jam.. If you put that one on the turntables your stock as a dj will rise 10 points.. On the sound track he has a brand new cut from NWA.. That's right the group has reunited minus Eazy E of course.. But as the reformed members.. Dr Dre, DJ Yella, Ice Cube and MC Ren strive to return to the forefront there will be tracks that feature Eazy's voice.. So mark that down in two weeks you will have the return of NWA... From what I hear their first single is the bomb... Speaking of Eazy E he's scheduled to have a new album coming out soon as well.. Yes that's seems to be the thing..releasing albums which are based upon studio out takes from artist who have passed away... Sometime in March.. Puffy will be releasing a new Biggie album which will feature his mom and her commentaries...

2Pac who's post death releases have been blowing up... has a bootleg lp entitled Machavelli 2 which has been circulating around the Bay Area.. This bootleg was supposed to be 2Pac's protegees the Outlaw Immortal's lp.. While Pac's mom supposedly owns the rights to her son's works.. this new lp Macheveli 2 were tracks still owned by Death Row..We'll see how this whole thing pans out..because Death Row did not officially release the lp...

While we're on the new album release tip... Be on the look out for the return of Public Enemy.. They are currently in the studio recording a new lp with all the original members... Flava Flav, Professor Griff, Terminator X and Chuck D... The new lp is entitled Resurrection and some of the songs will be featured in Spike Lee's upcoming film 'He's Got Game' which is starring Denzel Washington.. The film is due out in March...

Before I close out.. I have an interesting observation which let me know just how much times have changed. The other night while spinning at Geoffrey's Inner Circle which is a pretty big hot spot here in Oakland.. I played a classic jam which completely cleared the dance floor... That cut was mixed perfectly.. but the 500 people on the dance floor weren't having it.. The track was Big Daddy Kane's 'Ain't No Half Steppin'... People were standing around telling me the song was wack.. I imediately mixed in Master P's 'How Ya Do That There?' and the house went completely nuts.. It was by far the song of the night.. I never thought I'd see the day that a Big Daddy Kane classic like that would get completely dissed..And I'd never thought I'd see the day that Master P would get so large...

For folks who are in the Los Angeles area be on the look out for the screening of a new hip hop documentary which will be airing at Magic Johnson's movie theaters in Baldwin Hills this Sunday February 15th 1998... Entitled Straight From The Streets... this is a top notch documentary that's really been years in the making...It features all sorts of headz ranging from Snoop Dogg on down.. For more info on this film check out their website at http://www.upfrontproductions.com or email them at FilmNU@aol.com.. They plan to follow the footsteps of Master P by distributing theior film independently..

Finally I have to ask a big favor from everyone... A couple of months ago I asked that anyone who was directly involved in the music business either they were a dj, program or music director at a radio station... or they worked for a record label that they email me back at kingdave@sirius.com.. many of you did but unfortunately a computer malfunction resulted in me losing that list.. Hence I'm asking you again for your cooperation.. If you're a music industry head.. please email me back... I have some info that maybe relevant to you...

Last word: Don't forget to enter the contest in which you can win the brand new CD from KMEL DJ Chuy Gomez.. Entitled 'Best Of The Bay: Chapter I ' It features classic songs from Bay Area artist like Paris, Mac Mall, 2Pac, RBL Posse, Total Devastation and Digital Underground to name a few.. If you'd like to win this album.. simply email me back... at kingdave@sirius.com All you have to do is name off 4 Bay Area rap artists... Good Luck.. and Thanks...

written by
Davey D
c1998

Go Back To Hip Hop News Directory
---
[home]
[chat]
[conferencing]
[updates]
[what it is]
[politics]
[contests]
[opinion]
[links/photos]
[media]
this site is produced by Davey D in association with eLine Productions
---