Davey D's Top 40 Chart
KPFA 94.1 FM/Friday Nite Vibe/Hardknock Radio
KMEL 106.1 Local Flava Hour
http://www.daveyd.com
http://www.rapstation.com

September 29 2000

1- STICKY FINGAZ 'Get Up'-96 bpm [Universal]
2- LARGE PROFESSOR 'Bout That Time' [Matador]
3- HEATHER B 'Guilty' [D&D]
4- SHYNE w/ Barrington Levy 'Bad Boyz' [Bad Boy]
5- KOOL KEITH 'Test Press'-86 bpm [Funky Ass]
6- dead prez 'Cop Shot' [Raptivism]
7- MOS DEF w/ Ghostface 'Ms Fat Booty 2'-89 [Rawkus]
8- DICE RAW 'A Thin Line Between Raw & Jiggy'-101 bpm [MCA]
9- BIG NOYD w/Prodigy 'The Grimy Way'-96 [Rawkus]
10- MILANO 'Deal With A Feeling'-91 bpm [Fat Beat]

11- TALIB KWELI & HI TEK 'Move Something'-92 bpm [Rawkus]
12- MYSTIKAL 'Shake Ya Ass'-96 bpm [Jive]
13- FAT LIP 'Worse Case Scenario' [Delicious Vinyl]
14- MEENO 'I'm That Nigga'-88 bpm [Priority]
15- BLACK EYED PEAS 'Bep Empire'-96 bpm [Interscope]
16- BORN ALLAH 'Someone To Hate' [Ill Boogie]
17- MYKILL MIERS 'Who Am I?' [Ill Boogie]
18- GURU w/ ANGIE STONE 'Keep Your Worries'-86 bpm [Virgin]
19- DJ REVOLUTION 'The Backbone'-87 bpm [Nu Gruv]
20- DJ HURRICANE w/ XZIBIT BIG GIPP PHAROAHE MONCH 'Connect'-102 bpm [TVT]

21- SCARFACE 'It Ain't ' [Rap-A-Lot]
22- SQUARE ONE 'State Of The Art'-93 bpm [Show Down]
23- RASCALZ w/BEATNUTS 'Can't Relate'-93 bpm [Fat beats]
24- AZ 'Love Me In A Special Way'-87 bpm [Save Our Streets]
25- JAYO FELONY 'Hotta Than Fish Grease'-95 bpm [def Jam]
26- B-LEGIT w. MAC SHAWN 'Keep It Pi'-88 bpm [white label]
27- 2PAC 'Thug Nature' [Death Row]
28- TRAGEDY KHADAFI w/CORMEGA 'They Forced My Hand'-86 bpm [white label]
29- APATHY 'Ain't Nuthin' Nice'-96 bpm [Bronx Science]
30- AFU-RA 'Equality' [Koch]

31- EQUIPTO 'Living Out My Dreams'-96 bpm [Vintage]
32- MAKEBA MOONCYCLE 'Judgement Day'-95 bpm [BUKA]
33- SOUND PROVIDERS 'The Difference'-88 bpm [ABB]
34- COCOA BROVAZ 'More Fire'-98 bpm [Duck Down]
35- DEFARI 'joyride' [ABB]
36- CASH MONEY w/E-40 'Baller Blockin''-94 bpm [Universal]
37- MACK 10 'From Tha Streetz'-93 bpm [priority]
38- AKBAR 'Hot Ya Hot'-92 bpm [Ill Boogie]
39- RASCALZ w/BARRINGTON LEVY 'Top Of The World'-89 bpm [white label]
40- PHIFE DAWG 'Flawless'-96 bpm [Landspeed]


Add-KRS-ONE Shadup Ya Face-63 [Antra]
Add-MAUS MAU 'Blak is Blak' [Motown]
Add-DILATED PEOPLES 'No Retreat' [ABB]
Add-JA RULE 'Thug Life' [Exclusive]
Add-EASTSIDAZ 'Big Bang Theory' [TVT]

=================================================


Music Notes...
'Blak is Blak' is the first single off the Bamboozle soundtrack and its definitely knocking. This head nodding joint features stellar performances from Mos Def, Canibus, Mums and MC Serch among others.. The movie itself looks to be interesting. It's directed by Spike Lee and deals with the stereotypical images we as African Americans have to endure when watching TV. The soundtrack itself is pretty nice.. But this song is head and shoulders above other material in the market..

LA's Mykill Miers drops a 3 song 12 inch which is guaranteed to take you to Hip Hop heaven. 'Who Am I?', 'World War I' and 'Do The Math' are all bumping. Who Am I is somewhat melodic while Do The Math is straight up head nodding material. Both songs were featured on his album. World War I is a bit more adventurous and definitely worth spinning..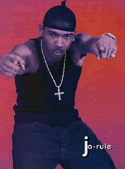 Ja Rule comes to the plate and freaks it with a Hip Hop remake of the Prince classic 'Poplife'. His rendition is a song appropriately called 'Thuglife'. At first glance I thought it was gonna be your typical Lets get down and grimy type song... But this joint actually works.. How he managed to convince Prince to let him use his music is probably a story onto itself.. But Thug Life is my favorite for this week..Oh yeah there's a b side to this song entitled 'Pain' in which he pays tribute to 2Pac.. Its cool..

Speaking of Pac, how did Death Row manage to get Michael Jackson to give up the rights to use an interpolation to his song Human Nature. Pac's newest posthumous joint is entitled 'Thug Nature' complete with a Jackson sound alike singing the hook.. Michael hasn't always been the most generous person when it comes to letting cats use his stuff.. The record sounds good.. Maybe he's about to make a comeback and he wants some street credibility..who knows?

The group to really pay close attention to is San Francisco's 'Foreign Legion'. For the past few years rappers Peter Parker and Prozack have been paying serious dues by releasing 12" singles and performing at just about every night club in the area that showcases Hip Hop. Their claim to fame has been their razor sharp lyrics, off the hook rhyme skillz and their unique costume changes. Foreign Legion comes to each show dressed in an off the wall costume. It could range from Batman and Robin to Abbott and Costello. After we get over the novelty of their attire the group lets their music do the talking. Their new album which is appropriately titled 'Kidnappervan Beats to Rock While Bike Stealing'.

The album has tons of head noddin' tracks which are straight 'rewind material.. My favorites include the b-boy inspired 'People Round The Town', the jazzy flavored 'Chain Reaction' and Bay Area underground classics like 'Full Time B-Boy' and the reggae flavore, horn driven 'Underground'. Their current single 'Nowhere To Hide' is like Wu-Tang meets the Bay.. Its definitely off the hook.. Foreign Legion better be careful about blowing up and getting too large.. because there's a nice little punk band in South Wales who have been sporting the same name Foreign Legion since '82...

Lastly here's some new up and coming underground joints worth peeping.. Its a new section we'll be doing called Straight From The Underground.. My boy S Bahir is constantly digging deep into the cyber space crates looking for new gems to highlight.. If you got some banging material that's hitting drop him a quick line at
mailto:sb@houseofboxing.com .. Also hit me off with the info as well mailto:kingdave@sirius.com

The Brooklyn Mob
http://artists.mp3s.com/artists/155/the_brooklyn_mob.html
Various artists with different styles of Hip Hop from
Brooklyn and the Mid-West.

On D Lo Records
http://artists.mp3s.com/artists/152/on_d_lo_productions.html
A selection of street flavas from Chicago.

Venom Records
http://artists.mp3s.com/artists/43/venom_records.html
An up coming label that carries several artists with
a southern Hip Hop orientation.

(Producers Only)

Sonny Cheeba
http://artists.mp3s.com/artists/89/sonny_cheeba.html
Accomplished and innovative production from N.Y.

Deeper Era Production
http://artists.mp3s.com/artists/107/deeper_era_productions.html
Quality commercial orientated production from Canada.
===============================