Hip Hop News
April 1998

What's up folks...

Last week we sent out a piece FNV April 21 1998 which spoke both about the current situation concerning Bay Area rap star Mac Dre and the historical connection with regards to hip hop and the concern for lyrical content. A number of people wrote back to complain that the article which was long didn't open up in their email... Rather then burden folks... simply email me back if you wish to read that piece.. It's been broken down into two parts.. Also it's now up on the website under the URL http://www.daveyd.com/whyrapispowerartbb.html

I think you'll find this piece very compelling. It also lends truth to the old adage: The more things change the more they remain the same.. Also if we don't learn the lessons from the past we are bound to repeat them...

On to other things.. I just got the new Public Enemy album this past week.. It's the first of two albums the group will be droppin' this year.. This is the album which they did for the sound track to Spike Lee's new movie 'He's Got Game'.. It's A 13 song lp which features all the group's original members including Professor Griff, Terminator X, Flava Flav, Chuck D and of course the original Bomb Squad... The album I think is slammin'.. It's hard to tell how it'll fair in a time when so many are into pimpin' and playerism... I do know that the new PE is a breath of fresh air...

Gone is the trademark..'wall of noise' type sound which is replaced my a more 'contemporary' type sound.. Now don't get me wrong.. PE still has much creativity.. They are definitely bringing new samples and no, they ain't remaking hit songs from the 80s.. That's evident on their first single.. 'He Got Game' in which they sample from the song 'For What's It Worth' by Stephen Stills. They got a real dope song on that lp called 'Unstoppable' which features KRS-One... The song is a slow tempo slammin' track and two of hip hop's most endearing legends Chuck and Kris hit the mark... There's another cut called 'Resurrection' which features Masta Killa of the Wu-Tang camp.. Another off the hook track called 'House Of The Rising Son' has that PE flava so many of us have been yearning for...Standout cuts like 'Politics Of The Sneaker Pimps', 'What You Need Is Jesus' which features Chuck D's R&B protege Kyle Jason and 'Game Face' which features Smooth Tha Hustler take this album over the top..If this is any indication, actual PE album 'Resurrection' is gonna be the bomb for sure...

For those who don't know PE will be partaking in Smoking Grooves Tour this summer along with Wyclef Jean, Busta Rhymes and the Goodie Mob. Also out of the PE camp is Professor Griff who is currently releasing his new lp.. The first single is called O-Bitch-Uary.. He'll be shooting the video for this track in New York sometime next week...

Since we're on the topic of albums... folks may wanna peep the new WC album.. 'The Shadiest One'.. He has everyone from E-40, Ice Cube, Too Short, CJ Mac, Daz Dillinger, Mack 10 and Ron Banks of the old school group The Dramatics is flippin' scripts with him..This without a doubt is the year that veteran rapper WC takes his place in the spotlight...It's been along time coming... Since the days of him rolling with Low Profile to Mad Circle and later with Westside Connection .

WC has been severely underrated. If I was the Smoking Groove's people I'd put him on the line up and let him take it over the top... Standout tracks on his lp include..the nostalgic 'Fuckin' With A House Party, the hard hittin' 'The Shadiest One'., the old school sounding 'Like That', and the smoothed out commercial sounding 'Better Days'. Like many West coast albums WC and his crew give ya lots and lots of hard hittin' funk that'll make your head bop...

Some new music folks may wanna check for include a slammin' raggamuffin flavored groove from the queen of Hip Hop. Queen Latifah.. called 'Bananas'.. She's definitely back and seems set on takin' headz out the box..That's right she returns to her old form.. The hook is dope.. It sounds like somebody from Wu-Tang singing it... My big question is when will she and Lauryn Hill hook up and bring us the ultimate rap/singin' collaboration.

Another joint that's bangin' is 'Knick Knack Patty Wack'. This piano ladden jam is a hip hop remake of the old EPMD classic.. This time 'round Tha Dogg Pound take a stab at things.. It was originally featured on the compilation album 'In Tha Beginning'.

Another track that's blowing up is 'Understandable Smooth' by Ras Kass. This smoothed out track which samples from 'Rapture' by Anita Baker fits perfectly with Ras's rhymes and his stingin' delivery.. It's without a doubt worth peepin' out..

On the local tip..albums coming down the pipe include 'Boss Ballin II'...by E-40's brother D-Shot.. It'll be out in a couple of weeks and it features folks like Redman, Snoop Dogg, Busta Rhymes, Too Short, Nate Dogg and Keith Murray. The album is off the hook to the highest degree. E-40 himself is about to drop his album Elements Of Surprise...He's plastered the entire Bay Area with bus and bench billboards advertising the project.. Let's just hope we're surprised because of how dope it is.. People are buzzing all over about it...Also on the local tip D-Shot may be following in the footsteps of Master P.. Last I heard him and Daz Dillinger are supposed to be working on a movie...We'll keep you posted on this as things develop..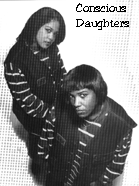 Speaking of movies.. The Conscious Daughters are about to be featured in a new flick entitled Ballers.. It's about the life and times of some females and how they try to avoid the pitfalls of street life.. Special One plays the role of the hardrock while partner CMJ represents the person with some common sense who tries to keep a level head throughout all the mayhem..The pair are currently working on songs for the sound track. Two other Bay Area artist who are getting ready to blow up on the silver screen is B-Legit of the Click and Saafir. Both were slated to appear in the movie 'The Twamps' which is a 90s remake of the old gang movie The Warriors.. Saafir was due to play the lead role as a gang leader.. The film was momentarily put on hold..But recently I ran into director Mario Babano who assured me that he got the neccesary funding and that they're gonna start reshooting real soon.

Finally we got to welcome Snoop Dog to the movie circle.. After landing supporting roles in flicks like 'Caught Up', 'Ride' and 'Half Baked', he is line to star in his first feature film.. Entitled 'Bones', this is a film about a ghost who seeks revenge against those who killed him.... Of course Snoop will be contributing to the soundtrack.. FYI.. Snoop is now with Master P and No Limit records.. His new album 'Da Game Is To Be Sold, Not To Be Told' will be released in August..But the deal is while Snoop is signed to No Limit, Death Row will be sharing in whatever profit gets made off this venture..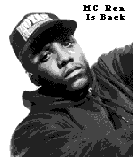 Props to MC Ren for representin' to the fullest last week while he was the Bay Area promoting his new album..'Ruthless For Life'. Ren talked about his album and let it be known that this time 'round he's coming with some tight rhymes skillz.. He wants to be known as a dope mc who can flow... Ruthless For Life features artists like Ice Cube, Snoop, RBX and MJG & Eight Ball. He noted that everyone from the Bay Area's Ant Banks to Houston's Suave House got down on the producing angle..He also reiterated what Ice Cube had said during his visit to the Bay as to why there would be no NWA reunion.. Dr Dre apparently doesn't want to do the project...He told people to call Dre and ask why.. The new NWA was gonna be Ice Cube, MC Ren, DJ Yella, Snoop Dogg and Dr Dre... But now he feels it's a lost cause that'll never happen..

While in the Bay, Ren got down on the political tip.. He called in on my talk show Street Knowledge and added much fuel to a heated discussion about Prop 227.. This is a new measure that would eliminate all bilingual education.. It's not really a cool thing to do when you consider Cali is filled with a lot Latinos who speak Spanish and a whole lot of Asians who speak a variety of languages.. Opponents see Prop 227 in the same light as Prop 209 which eliminated Affirmative Action and Prop 187 which went against immigrants..

MC Ren called in and put it down by reminding folks that when Blacks were brought over to this country they were told 'English first'.. 'We lost our language, our culture and everything else he said.. The first thing they do when they wanna oppress you is make you get rid of your native language..'.. He continued on and urged all his Latino Brothers and sistas to stay strong and keep the Spanish alive within their culture.. 'Look at us..[Blacks] We're all messed up.. I wish I could speak my native tongue.. I wish I knew what my native tongue was... Don't let them get you..keep speaking Spanish.. They ain't telling any other group 'English Only'.. Don't let them do that to you... '... I'm still getting positive feedback from MC Ren's remarks...

He also pointed out how he' seeing the whole Governor's race... He noted that he wasn't feeling one of the prime candidates Al Checchi because he had voted in support of Prop 187 which was a slap in the face to Latino immigrants.. He was still peepin' out the rest of the field.. He felt that more rap artists should look into politics a bit more closely..

Speaking of which...The California State legislature had a bill before them which they had defeated.. Entitled AB 2357. This bill had it passed would've required the State of California to divest pension funds from companies that produce music that glorify criminal activity.. In other words the state of California would've had to stop doing business with Sony music if there was an artist talking about shooting some one...

Occasionally I get an email from some disgruntled reader who questions why I've been talking about politics in the last few newsletters... I have to because stuff like this is going on... This bill was a direct attack and response to rap music..It was strongly supported by law enforcement agencies.., California Attorney General Dan Lungren.. who is running for Governor., The Doris Tate Crime Victim's Bureau, The NAACP and The National Political Congress Of Black Women... [That's C Delores Tucker's people].. The main concern with this bill that it was to positioned as a way to protect children.. Assemblymen Keith Olberg who authored this bill says the fight has only begun... His coalition of support is growing stronger and stronger.. In particular is his support among police officers... and other law enforcement agencies.. Folks may want to really take a good second look at the last newsletter where I spoke about Mac Dre.. [FNV April 21 1998--if you don't have it.. I'll email you a copy]...

What makes this whole thing interesting... is that this bill did not target tv or the movie industry... So it's ok for the state of Cali to invest funds in a movie studio that produces a great Oscars award winning movie like The Godfather but it's not ok.. to have funds invested in record label that produces rap artist who 'glorify' violence.. The other problem with this bill was that it didn't exactly define glorify... Hence a record like 'Fight The Power' by Public Enemy could've raised some eyebrows and been the cause of some concern..

Let me add one other tidbit for all you 'I hate politics types'.. Last year I sat on a panel which spoke about hip hop lyrics and was very surprised to see that the Oakland police department had a book that spoke in great detail about gangsta rap.. It's not a book that's out on the market.. It was written by another officer who has seriously studied this material.. From what I saw it wasn't a propaganda book.. It was a very informative very detailed piece of work.. There were things that I didn't know.. It was a book that was written for the Police.. While were sitting here debating about who's real hip hop and who's not... folks are quietly submitting laws and trying to pass bills.. This time 'round some activist within the recording industry looked out for our interests.. But where was the rest of the rap world.. Understand that people do not like what's being said by many rappers.. It won't be long before someone comes along and gets the right group of people and garners enough support and finally gets some piece of legislation passed that will have all of screaming.. Keep in mind that this bill I described was supported by the California State Attorney General... He maybe our next Governor.. All of us gotta wake up.. and be aware...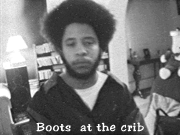 One person who is always awake is Boots of The Coup... He along with his political group the Young Comrads have gotten some members within the Oakland Police department riled up.. A few weeks ago they went before the Oakland City Council and lobbied to get the city to recognize April 25th as being Bobby Hutton Day.. They are pushing to get a park in West Oakland..known as Defermary Park renamed after the slain first member of the Black Panther Party.... Bobby Hutton was 15 years old when he joined the Panthers.. He led the Panthers on their historic march to the California State Assembly armed with rifles to protest the Mulford Act which would disallow the Panther members from carrying guns while patrolling the police.. Bobby Hutton Day in Oakland was a complete success with several hundred people showing up to listen to speeches and just vibe with one another... A scathing letter from an Oakland Police sergent appeared in yesterday's Oakland Tribune.. inquiring as to what Boots and The Young Comrads said to the City Council to get such a day declared.. He claimed it was a slap in the face to law enforcement.. The letter went on to describe Bobby Hutton and other Panther members as cowards..

In a recent conversation with Boots he explained that the Young Comrads are currently working on two projects.. The first, is a petition drive to rename Defermary Park to Bobby Hutton Park.. They may have quite a battle if certain members of OPD have their say so... They are also researching rent control laws in Berkeley to see what sort of rent control can be implemented in Oakland...In the past the Young Comrads have been responsible for doing book giveaways, clothing giveaways and holding 2 F-- Tha Police Days in Oakland... If anyone is interested in the Young Comrads they can be reached at 510-448-5014..

As far as music is concerned.. Boots explained that he and The Coup are completing an album called 'Steal This Album'.. It should drop in late May on Polemic/Dog Day Records.. Currently the hold up on the album is that they are negotiating with Erykah Badu to see about getting her to collaborate on a song...I can't wait to hear the album..I've already been playing the first single which is called 'Shipment'.. Trust me it's off the hizzie...

Another Bay Area based operation that's making noise is ICU better known as Ill Crew Universal. Dabri who founded this internet based organization envisioned a situation where folks who are into hip hop would have an opportunity to both learn about the music business and have their talent nurtured.. To date ICU boosts a membership of close to 25 thousand members including such luminaries like Brother J formerly of X-Clan, The Jungle Brothers, Boots of The Coup, The UMCs, Jurrasic 5 and some of the original Cold Crush Brothers..In the past ICU has released 3 compilation albums which consisted of tracks submitted from ICU members from all over the world..They have just released their 4th and perhaps best lp entitled 'ICU 4 The Revival'. The lp consists of up and coming artists from all over the world including Nigeria, Australia, England, New York and The Bay Area.. Some of the bomb ass cuts include 'No Coast' which was performed by Kansas City based Devious Minds... 'No Rhyme Skillz' is hittin' and was put out by Icon a group that hails from San Diego.. The Bay Area's No Concept which consists of DJ Fear, TJ and Black Swan have a nice joint on ICU 4 entitled 'Whole World Order'...My personal favorite tracks are 'Reignin' by Seattle based artist Jace and 'Master Bastard' by Canadian based Social Deviants..

Dabri and the ICU camp are to be congratulated for giving folks a shot by putting them on this compilation album.. The fact that most of the work and communication is done via the internet demonstrates just how powerful this tool has become.. For more info on ICU peep out their website at http://www.illcrew.com

to order the new album point your browser at http://www.icu4.com. In addition to all this, there are big plans in the works to have an ICU convention here in the Bay Area sometime in July.. For more info call Dabri at 510-465-8001.

Finally I wanna bring attention to a provocative column that was penned by former LA gang member Sanyika Shakur.. It's featured in the May '98 issue of 'Rap Pages' magazine..Here Sanyika pulls no punches by letting folks no that referring to women as bitches and hos is definitely a foul thing to do.. He suggests that a lot of guys have misdirected their frustrations at a gender that has long been a backbone within the community--meaning women..The part that really caught my attention was how Shakur described the fact that nowadays so many people talk about being pimps and players.. but very few people talk about how they themselves are being pimped and played by their record labels..

It's an interesting observation due to the fact that so many artist accept for a handful are getting nowhere near the amount of money their record companies make.. For example, if the average artist manges to get a dime..his record company made a dollar... That unfortunately is considered a good deal.. The one's who've managed to do well for themselves are those artist who've been smart enough to run their own labels.. The Bay Area with folks like E-40, Too Short and before he relocated to New Orleans.. Master P was and continues to be a hotbed for this trend... In any case Sanyika's article is well worth reading...

written by
Davey D
c1998

Go Back To Hip Hop News Directory
---
[home]
[chat]
[conferencing]
[updates]
[what it is]
[politics]
[contests]
[opinion]
[links/photos]
[media]
this site is produced by Davey D in association with eLine Productions
---