FNV In This Issue:April 4 2000
*Drama In Boston With The Lox & Made Men
*Ice Cube Heads To Mars
*Puff Doing It Internet Style
*The King Legacy & Documentary


Send comments, questions and concerns to
mailto:kingdave@sirius.com
The FNV Newsletter
written by Davey D
http://www.daveyd.com
http://www.rapstation.com
c 2000
All Rights Reserved

=================================================
First things first...I just wanna make sure that everyone enjoyed the April Fool's story we did about Rakim suing KRS-One for ghost writing his lyrics.. Having known the Blastmasta for years, you can rest assured he pens his own stuff.. That was obvious to most, but just to be sure.. I don't wanna leave no doubts in anyone's minds.. Thanks for being good sports and hope fully you had a nice laugh...
----------------------------------

Its sad to report that last night during the Cash Money/Ruff Ryder's concert in Boston there was some backstage drama involving crews of the performers and the so called VIPs.. Not all the details are clear accept that several people were stabbed-one of them being critical resulting in him going to the hospital. According to sources, some of the folks that roll with Boston's Made Men got into it with people who roll with The Lox. Over what?..is still unclear. All hell broke loose including the stabbings. Cash Money and their click were not involved. In fact they had did their show and bounced. The concert was halted and people were sent home although hardly anyone in attendance knew what took place.

This latest scenario is sad on several fronts. It will be yet another reason why concert venues from all over turn their backs and close the doors to Hip Hop. Secondly, it indicates that there has be some serious sit down discussions and trainings of some sorts with the groups and their people. There have been more rap on rap drama over the past year then anything else. Finally all this bruh-haha involving the most visible acts that Hip Hop has to offer is overshadowing the hard fought efforts by the majority of acts who are doing the right thing by being being active and staying positive. This particular incident wound up on the front page of today's Boston Globe. The ideal situation here would be for all the involved parties including the record labels as well as the groups to hold a press conference, issue a statement and publicly bury their differences..
--------------------------------------------

I just got word from DJ Apollo, DJ Vinroc and DJ Shortkut who are collectively known as the Triple Threat Three that they will be releasing a series of mixtapes this year. On it them, they will combining all aspects of DJing and aspects of turntablism. The tapes will embrace all genres of music including Underground Hip Hop, dancehall and reggae. For more info hit Vinroc at mailto:VPREC@aol.com
------------------------------------------------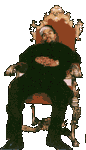 Last week we told you about Ice Cube getting set to do a new movie while his previously scheduled flick 'Stoops' was pushed back.Cube go into detail on the project. Well it looks like OG Lee Baily of the EUR Report got the scoop. Thanks Lee..

Ice Cube is set to star in a Sci-Fi thriller from John Carpenter called 'Ghost of Mars'. Production begins this June. The plot centers around Cube being 174 years into the future where there are human colonists on Mars who have to be rescued after being possessed from Martian Ghosts. Now maybe its me..but this sure sounds like another Anaconda movie to me.. Anyway we wish Mr Cube much success in this flick.
-----------------------------------



Puff Daddy is set to do his thang-Internet style. he and his bad Boy record label have just teamed up with MCY.com to do a pay per view webcast of Puff's current European Tour. They will be filming the Grand Finale to this tour on Saturday April 8th in London at Wembley stadium. The concert along with all the backstage festivities will be available for pay per view on May 25 2000. The costs will be for under 5 bucks..

In other Puff news..His former rap protege Shyne along with his body guard Anthony 'Wolf' Jones are ready to testify that Puff never touched a gun during last December's infamous night club shooting. Icf this goes down it will support Puffy's plea of innocence as well as counter all the speculation that Shyne and Puff's body guard were going to testify against him. Puff is due back in court on May 16th.
---------------------------------------------------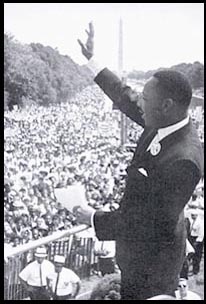 Today is April 4th 2000. This day we should remember and reflect upon due to the fact that 32 years ago we lost one of the world's dopest freedom fighters Martin Luther King Jr. At the time of King's assassination, he had moved in a direction where he was making the connections with the struggles we as African Americans were experiencing with the struggles of those in other communities both here and abroad. Personally, that's where I think King became most threatening to J Edgar Hoover's FBI and other forces that sought to keep people oppressed. King was in the process of organizing a poor people's march which undoubtedly would've painted an unflattering picture of America 'The Land of the Free and Home of the Brave'.

King was doing what Malcolm X was doing 3 years prior when he was assassinated, by showing this country's glaring contradictions. How ironic that 32 years after the fact we are still dealing with many of the same problems King was trying to eradicate. In many respects things have gotten worse. We still have crazy amounts of police brutality. Schools have all but fallen apart. The prison industrial complex is a top performer on the stock market. Hence we now have economic incentives to lock people up and make them work for private corporations for damn near free as opposed to trying to rehabilitate them. Programs that were once set up to help get us ahead like affirmative action are unceremoniously being dismantled with opponents gleefully pointing out that they don't work and therefore are no longer needed. If that's not enough, all sorts of folks from TV talk show hosts to record label executives have found they can make a handsome living off of Black ignorance, buffoonery and pathologies.

Perhaps the biggest set back 32 years after King's assassination is the lack of respect we as a community show toward his legacy. A lot of us are disenchanted and have adapted a 'I don't give a f%^k' mentality. Hence we don't engage in the politics of our community and we bask in the spotlight of being hustlers, playas and thugs. While all this is happening we have many of our own leaders who came up with King sadly and ironically disconnected from the realities of today's Hip Hop generation. The end result to this is 'no direct one on one communication' and very few willing to step to the plate and lend a hand in bringing the heat to those outside media forces that make huge profits by continuously feeding the community poisonous messages and images.

Despite all the madness, there have been some bright spots that indicate our resilience and brilliance. The activism within certain sectors of the Hip Hop community over the past year and a half has been unprecedented. Headz from coast to coast have been forming organizations and trying to dig in for the long haul. Even though their efforts and attempts go unrecognized and acknowledged by their disconnected older peers and parents, many of these new activists have remained fixed and committed with their eyes on the prize. They've learned a hard lesson-which is their sense of self worth is not contingent upon the validations of folks outside their circle, but it's based upon the type of progress they make as they seek to accomplish their goals.

32 years ago King was assassinated. Does anyone relate to him at this day and time? Do they feel a connection to the battles he fought back then with the challenges we face today? Does anyone even care? For folks who grew up during the King era, have you followed the age old traditions of our African Griot ancestors by sitting down with younger people and lacing them with game? Have you spoke to them about King and his legacy? Did you tell them how much of a threat he was and how the US Government did everything in their power to undermine him and his efforts? Did you engage in any sort of discussion with your own about King or are we expecting NBC, CBS and CNN to do the talking and explaining for us?

T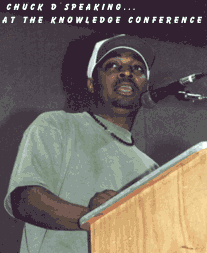 oday on Chuck D's Rapstation.com there is a one-hour program that takes a look at the legacy of King through the eyes and rhymes of the hip hop community. The documentary is hosted by Chuck D and features interviews with Ice Cube, Ice T, KRS-One and L.L. Cool J to name a few. The show will be up until midnight so head on over and peep the broadcast. Take some time out today and peep it and then call a friend to see how we can build upon the foundation freedom fighters like King laid down. At a time where we have Diallo being shot at 41 times and unarmed security guards like Patrick Dorismand being gunned down for saying 'No' to drugs, it should be quite obvious the struggle continues.

Davey D
c2000

---------------------------------------------------------------------------------------
Send comments, questions and concerns to
mailto:kingdave@sirius.com
The FNV Newsletter
written by Davey D
http://www.daveyd.com
http://www.rapstation.com
c 2000
All Rights Reserved
---
[Home Page] [chat] [Davey D Message Boards]
[Live Radio] [What it is Hip Hop?]
[politics] [contests] [opinion] [links/photos] [media]
this site is produced by Davey D in association with eLine Productions
---