DAVEY D
END OF THE YEAR
HIP HOP AWARDS
January 7 1998

1997 was a telling and quite an eventful year for hip hop.. There was so much to cover...This was reflected in our Davey D End of the Year Awards poll... We sent out ballots to everyone on the FNV Newsletter email list..In addition we posted ballots on the website www.daveyd.com as well as within various newsgroups like alt.rap.. We recieved close to 4000 thousand ballots which presented a monumental task in tallying.. But it was worth it.. We wanna thank everyone who participated... There were 16 categories to vote in.. Listed below are the Top 4 vote getters, honorable mentions and a brief commentary...The total results are posted upon the website www.daveyd.com.

BEST HIP HOP ARTIST FOR '97

Common [855 votes]
Notorious BIG [595 votes],
Rakim [520 votes]
Puff Daddy [409 votes]

Honorable Mentions: Master P, 2Pac, Busta Rhymes, Missy Elliot, Wyclef Jean and Kool Keith....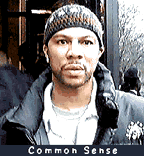 Common formerly known as Common Sense is by far one of hip hop's most talented yet underrated artists.. This year he came into his own.. His lp 'One Day It'll All Make Sense' is without a doubt straight rewind material... Common brings originality to the game both with his lyrics and music.. The best thing is that he is actually out there saying something...I think the one thing that really attracted so many people to Common was the fact that his sound and style was never commercialized.. His songs seemed geared for the true hip hop lover and not the radio which unfortunately was the case for far too many artists..btw Common Sense had to shorten his name to Common earlier this year when it was discovered that some rock group holding the rights to the name threatened to sue him..

Notorious BIG had he been alive definitely would've probably locked things down..because he would've been able to go around and physically connect with his fans.. His lp 'Life After Death' was full of songs that were guaranteed to keep your head noddin'..Biggie managed to cross that line of being a commercial artist with street appeal... His death was no doubt a tragic loss to hip hop....

Rakim's ability to garner votes was no surprise.. Lots of folks have been waiting..and fiending for his return...His album '18th Letter' did not disappoint...Rakim's continued success will no doubt will have a lot to do with his ability and willingness to step out and be seen.. He's a bit of a recluse...and unfortunately hip hop doesn't allow for that too much nowadays....

Puff Daddy like him or not impacted hip hop in a major way in '97... Despite all the disses.. I'm not at all surprised he did well in this category.. Puff has a whole lot of folks checking for him..Yes he's not the best emcee.. and he could come a bit more original with the beats.. But he does what a whole lot of folks don't do.. He puts together a good package... He sits back and figures out whats gonna appeal to his fans and he delivers.. Now some people have gone on record to say Puff is a sell out.. Not true.. Puff's fans are from the same neighborhood as those who are checking for Rakim, Wu-Tang, Master P or Too Short.. In other words the inner city... Puff figured out that there are different types of fans who listen to hip hop.. There are the die hard..headz who like lyrical finess and unused beats.. There's also the fan that wants to bob their head and likes a good song.. Puff makes good songs.. and apparently a whole lot of you checked for him in '97.

BEST HIP HOP GROUP FOR '97

Wu-Tang Clan [2116 votes]
Company Flow [551 votes],
EPMD [413 votes]
Bone Thugs & Harmony [183 votes]

Honorable Mentions: Organized Konfusion, Alkaholiks, Puff Daddy & Family, The Firm, Refugee Camp and Mobb Deep...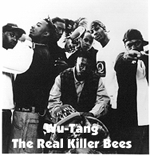 Despite all the drama surrounding this Wu-Tang Clan knocked everyone off in this category.. Wu-Tang Forever ..like'em or not... Personally I liked their sophomore lp although a lot of folks tried to dis it..Give it a second listen and you may change your mind... I also have to give them props for investing their earnings in a clothing and a cosmetic line.. Although their jackets are pretty expensive.. Here in the Bay Area they sell them at 500 dollars a pop...

One thing that makes Wu-Tang so appealing is that they seem to be one of the last big hip hop groups around.. Folks from the old school will recall that nearly every crew rolled with at least 6 or 7 members and everyone could rock the mic.. You don't have that nowadays.. Yes there are crews with lots of members.. But not all of them can get down.. Here with the Wu.. every one can get busy.. The fact that all 9 members can come together and still put it down is a major accomplishment... Props to these Shaolin brothas...

Company Flow was a surprise.. I met these kids earlier this year when they swung through the Bay Area and I thought they were nice... They definitely had an 'underground' type sound.. and I was impressed with their attempts to come original.. Apparently that whole approach has had some major appeal because whole lotta folks casted votes for them... This group apparently has lots of fans within the hip hop underground.. Their lp Funcrusher is actually kinda fly.. so be sure to check for it...

EPMD had a whole lot of folks amped when they announced that they were getting back together and returning to the hip hop scene...Their album hasn't lived up to all the hype..but hey they put out some nice cuts and then been touring and letting folks know what its like to hear and see a good show...

Bones Thugs & Harmony get dissed by a lot of folks.. But they obviously are doing something correct...I know I always get mad request for them on my show... Something about these brothas is appealing.. They definitely have a different sound and style..And unlike most emcees they do try to pass along some relevant messages within their songs...I don't think Art Of War.. which is their current lp was a good as their first joint.. But Bones & company are not a group to take lightly nor sleep on...

BEST SONG FOR '97

Busta Rhymes..'Put Your Hands Where I Can See' [349 votes]
Rakim 'Guess Who's Back' [294 votes]
Notorious BIG 'Hypnotize' [281 votes]
Common w/ Lauryn Hill 'Retrospect'[277 votes]

Honorable Mentions: Wu-Tang Clan 'Triumph', Puff Daddy 'The Bejamins', Notorious BIG 'Mo Money Mo' Problems', Puff Daddy 'I'll Be Missing You', Missy Elliot 'Supadupa Fly' and 2Pac 'I Wonder If Heaven Got A Ghetto'...

We received so many votes for this category it was ridiculous.. A good number of them had regional vs national or international appeal...A good example would be Master P's 'How Ya Do Dat There'.. It was a big song here in the Bay Area and down South.. But I doubt if it had any impact in New York City..Meanwhile tracks by artists like OC probably was widely accepted in NY while barely being noticed here out West.. It didn't mean that any of these artists or their songs were wack.. It simply meant that hip hop is immensely diverse... Folks have to keep in mind hip hop is a personal affirmation for many of us.. It ideally reflects our musical background, language, values etc.. That's the beauty of it.. Hence it's a major accomplishment when you get a song that appeals to people across the board the way the songs that were mentioned..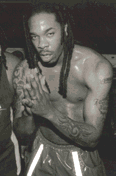 Busta Rhymes's 'Put Your Hands...' was a monster record in '97.. He as an artist definitely came into his own this past year.. His song brought all the right elements together..his engaging personality along with a funky, dope, mesmerizing beat garnered Busta.. song of the year...For the record Busta garnered a lot of votes for his current single 'Dangerous'..

Rakim brought the noise with his hit song 'Guess Who's Back'... It had been a long time since we've heard a rugged beat to match some rugged rhymes... It took a lot of us back to the golden age of hip hop ['89-93] when folks creatively sampled and took pride in the way they delivered the rhymes... Props to the R on this one..He also got a lot of votes for his first single 'It's Been A Long Time'..

Notorious BIG had several hits.. 'Hypnotize' was an anthem type song that was heard in clubs, on radio and inside everyone's ride..It was off the hook this song.. The only thing about it was we probably heard it too much.. But then again so what? Biggie also got lots of votes for songs like 'Mo Money Mo Problems' and 'Ten Crack Commandments'.

Common teamed up with Lauryn Hill to drop one of the dopest songs for '97... One in which I think a lot of people fronted on..'Retrospect' is without a doubt what hip hop should ultimately be about.. meaningful messages, nice collaborations, ingenuity and heartfelt sincerity...

BEST ALBUM FOR '97

Notorious BIG 'Life After Death'[607 votes]
Wu-Tang Clan 'Wu-Tang Forever' [568 votes]
Common 'Someday It'll All Make Sense' [509 votes]
Rakim '18th Letter' [255 votes]

Honorable mentions: Wyclef Jean 'Carnival', Company Flow 'Funcrusher', Puff Daddy 'No Way Out', 2Pac 'R U Still Down' Master P 'Ghetto D' and EPMD 'Back In Business'
It's quite fitting that Notorious BIG locked this one down.. Let's face it his album is full of hits we often heard on the radio like 'Mo Money Mo Problems', 'Notorious Thugs', 'Loving You Tonite', 'Going Back To Cali', 'Hypnotize' and 'Sky's The Limit' are just a few.. However, there were tons of underground hits like 'Ten Crack Commandments', 'Kick In The Doors' and 'You're Nobody Til Somebody Kills You'... This was a without a doubt a landmark album for not only Biggie but for hip hop....

Wu-Tang's second lp received a hail of criticism...that had a lot to do with the fact that so many folks expected it to surpass their debut lp 36 Chambers.. That was not an easy task.. The Wu recieved lots of votes because they have established a much larger fan base..many of whom like their new album... This was a solid lp..although I will admit it had its share of filler material... But you can't front on these kids..

Common's album 'One Day It'll All Make Sense' is a work of art that's definitely worth picking up...He came with some highly thoughtful, sincere, provocative cuts..Definitely for the true hip hop head. One really gets a chance to know Common the person with this album..The same could be said for Rakim's lp...After a 5 year absent.. he too came with it a solid lp full of nice tracks...It's nice hearing some rugged beats and some searing rhymes from The R.

BEST HIP HOP VIDEO FOR '97

Wu-Tang Clan 'Triumph'[724 votes]
Busta Rhymes 'Put Your Hands..' [491 votes]
Notorious BIG 'Mo Money Mo Problems' [353 votes]
Missy Eliott 'Supadupa Fly I Can't Stand The Rain' [313 votes]

Honorable Mentions: KRS-One 'Step Into My World', Busta Rhymes 'Dangerous', Def Squad 'Rapper's Delight', Missy Eliott 'Sock It To Me', Wyclef Jean 'Staying Alive', Rakim 'Guess Who's Back', Roots 'What They Do'....

Looks like those guys with the killer bees in their video lock this one down.. Of course Busta with his eccentric personality also was a big favorite... Props out to Puff and Mase for representin' Biggie in the video to his hit song... Mo Money Mo Problems... Finally I have to give a big ups to my personal favorite.. Missy's 'I Can't Stand The Rain'... Beep Beep Who got the keys to the jeep... Missy defintely let herself have some fun in her debut video...

BEST HIP HOP WEBSITE

Davey D's Hip Hop Corner 'www.daveyd.com' [1289 votes]
Hip Hop Site 'www.hiphopsite.com' [955 votes]
The Krib 'www.krib.com' [346 votes]
Wu-Tang Clan 'www.wutang.com [274 votes]

Honorable mentions: Peeps Republic 'www.peeps.com', 88 Hip Hop channel' www.88hiphop.com', Internet Ghetto Blaster 'www.igb.com, Original Hip Hop Lyrics Archive 'www.ohhla.com', Hieroglyphics 'www.heiroglyphics.com, Hip Hop.Com 'www.hip-hop.com

Well first let me say.. I can't seriously accept an award for something that was generated on my site... But it's nice to know I'm loved :).. Hence I have reliquinsh my crown and gracefully hand it over to fellow hip hop dj Warren Peace and his crew out of Las Vegas who put out the wonderful site called The Hip Hop Site... Those kids definitely go out of their way to keep hip hop culture intact with everything from new joints for your ear hole to product you can buy from their hip hop store.. Congratulations...fellas keep up the good work..

Another popular hip hop hangout spot is The Krib...Like The Hip Hop Site these kids bend over backwards to try and keep hip hop intact.. The same could be said for the Wu-Tang Clan website which has long been a favorite gathering spot.. Damn Wu-Tang has been winning everything... :) Special props to 88 Hip Hop Channel.. Lots of folks check for the live radio broadcasts of the Beatminers Show.. They also have a Gospel Hip Hop Show... Defintely a place to check for..

There are some veteran sites that have always kept it real.. and in fact paved the way for the rest of us.. First up is Flash's Original Hip Hop Lyrics Archives.. Everything you're looking for is there in terms of lyrics and songs... I don't know how he does it.. Obviously he puts a lot of work into his site and it shows... And of course The Internet Ghetto Blaster is a one desrving of props... That was the first hip hop site I ever peeped.. After 4 years I'm glad to see IGB and Flash are still going strong....They were definitely way ahead of their time..when they first dropped.. and all of us could learn a few things from these guys...

To all those who've taken time out to put together a site dedicated to hip hop.. major props are in order.. Most of us ain't making a dime off of what we do which means we gotta go out do our regular 9-5 and then put together our respective sites.. It's not easy designing, coding and then writing content for our websites.. And if you intend on doing some high end stuff like message boards and pearl scripts etc.. either you gotta pay some one out your own pocket, hustle for a sponsor or learn that stuff your self.. None of which is easy.. Bottom line we're all winners because we tried....

BEST HIP HOP MAGAZINE

The Source [1,123 votes]
XXL [765 votes]
Vibe [714 votes]
Rap Pages [349 votes]

Honorable Mentions: Stress, Hip Hop Connection, 4080, On The Go, URB and Rap Sheet...

It's no surprise that one of hip hop's first magazines The Source won this title hands down.. Like them or not.. The Source has been consistent...Those kids have worked hard for theirs... I remember when they were just a newsletter back in '87..Yes the magazine can have an east coast bias..Nevertheless they've always been informative...Some people get mad because they have all the clothing ads etc.. Trust me if you ever put out a magazine on the scale that they do you'll learn quickly.. this is a business..It's especially hard when you still have folks who hold negative stereotypes of hip hop. Along with that negative stereotype comes an unwillingness to buy ads even if it will benefit them...Hence the Source does what it does to get ads.. Just so you know..in order to get certain types of ads for your magazine.. You have to have certain types of features...ie Fashion spreads, car spread etc.. Otherwise potential clients will step and hold onto to their loot..Yes advertiser sinfluence content..It's even bigger and more complicated game to get your magazine distributed so that they appear on your local magazine racks... All that the Source has and is contnuing to learn how to master.. But hey if you don't like the Source... go out and do better...

Some former key people who started out at the Source including James Bernard, Reginald Dennis and several others jumped ship and helped launched XXL which after two issues looks to be a major factor in the game.. However, we'll see how things go since a lot of those old Source people have left XXL due to business differences..However, there is no denying the flava they kicked out.. They were definitely serving up hip hop culture to the fullest..

Vibe has without a doubt been putting it down with some of the most provocative stories concerning our hip hop biggest icons... Yes, sometimes they've been a bit to gossipy.. But all of us sit back and lap up every word.. Vibe is the Hip Hop/ urban version of Rolling Stone and Spin.. And if there's anything I like about them is that they've forced all these other publications to start covering hip hop.. Props to editor Danyel Smith because that sista is from the Bay Area. and she's puttin' it down.. I expect Big Thangs from Vibe in '98...

Another strong factor is Rap Pages.. This magazine is part of Larry Flint's media empire.. [Flint is the guy who puts out the pron magazine called Hustler] Rap Pages is often over looked, but let it be said these folks go out of their way to really put out some in depth quality pieces that accurately reflect hip hop culture...They do a damn good job.. One thing that stands out is that they give a lot of love to rap artists from other areas other then New York and LA.. They also dig in deep and often highlight artists who are off the mainstream path.. Look for an upcoming cover story that talks about the return of NWA...

BEST HIP HOP ACTOR

2Pac [551 votes]
Will Smith [497 votes]
Ice Cube [233 votes]
Ice T [123 votes]

Honorable Mentions: LL Cool J, Master P, Queen Latifah, Treach, Chris Rock and Method Man...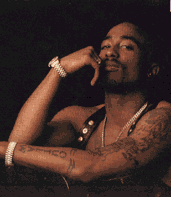 No doubt 2Pac had mad presence when on the silver screen... Big Will Smith has been doing it Willie Style as of late.. He's been coming into his own.. Cube is good but he definitely needs to hone his skillz.. Remember in the movieAnaconda where he walked around in the jungle dressed like he was still in Compton.. Drop the street persona Cube and let your acting ability shine.. Ice T.. gets his props.. he's such an animated character that you can't help but be drawn in... I like his series.. Playas.. but like Cube he's gonna have to stretch so he doesn't get seen in a one dimensional way...

BEST INTERNET FREESTYLE ARTIST

We got over 300 different names for this entry.. Nobody won.. People more then likely voted for themselves.. I'll have to have a Freestyle contest to detrmine this one.. There were lots of folks who had no idea what I was talking about.. Just so you know.. There are lots of kids who like to put their rhymes out on various hip hop message boards...Some of the material is pretty good and is worth checking out..

BEST FREESTYLE ARTIST FOR '97

Cannibus [665 votes]
Redman [235 votes]
Common [156 votes]
Method Man [117 votes]

Honorable Mentions: KRS-One, Kurupt, Mad Skillz, El-P, Saafir, Nas

Cannibus will undoubtly light that ass up if you toy with him... He's dope.. I was surprised that KRS-One didn't garner more votes...Also absent was the Heiroglyphic crew... I guess everyone was overwhelmed with Cannibus... Although I would love to see him and LL have a straight up battle..

written by
Davey D
c1997

Go To Davey D End Of Year Hip Hop Awards pt 2

Go Back To Hip Hop News Directory
---
[home]
[chat]
[conferencing]
[updates]
[what it is]
[politics]
[contests]
[opinion]
[links/photos]
[media]
this site is produced by Davey D in association with eLine Productions
---