MC EIHT
LAST MAN STANDING
EPIC

Cool Album.. He's Done Better
Needs To Stand Out More As An Artist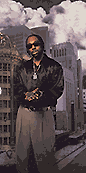 To be honest with you it's real hard for me to gage MC Eiht's 6th album.. 'Last Man Standing'. The reason being is that metaphorically speaking I'm comin' into the picture with a completely different set of standards of what's good and what isn't good... In other words I can't come and listen to MC Eiht and expect him to sound like Rakim and then say his album is wack because he's not flowing the same way.. After six lps it's quite obvious that this pioneer of 'gangsat rap' knows his established audience.. I also know that he does what he does to reach that audience.. He's defintely doing that on Last Man Standing..That's obvious because of the pervasiveness of that slow,laid back bluesy type sound that he's often associated with.. Personally, I'm not into that style.. So I'll be honest when I say I can't judge it and tell you whether or not he hits his mark...But I think it's important to understand that MC Eiht fan may not be going out to pick up the next Nas album.. He maybe checking for the next MJG & Eightball joint.. or he maybe fiending for the next Master P song.. I can't really say..
MC Eiht has some nice skillz.. He's a bit misleading because he raps slow.. so ya don't think he can flow.. but as you listen to him.. you can appreciate the way he continually fits words together to paint descriptive pictures of his Compton city... He's long been able to touch you and let you know his world.. Musically Eiht has always had a real slow bluesy type beat behind him...I can't see this brotha flowin' to some Miami bass.. You get the sense of this brotha kickin' back in the hot Southern Cali sun.. lettin' folks know that life on his side of town ain't easy...Now the bluesy sound which I speak of is best exemplified in songs like 'Who's The Man', 'Hubtouchablez', 'Tha Business' and 'Kind A Pimpish'... I don't think these beats do him justice in terms of bringin' out his skillz.. There are several melodic type cuts produced by DJ Muggs which I think match Eiht a lot more better.. Tracks like 'Can I Get Mine','Tha Way We Run It' featuring B-Real, and 'When All Hell Breaks Loose' all stand out and get your head bobbin'..
Many of the other cuts have been produced by his long time partner DJ Slip and Eiht himself...including 'Hangin'' which borrows from the R&B group Loose End's 'Hangin On A String', 'On Top Of All That' and 'Compton 4 Death' in which Eiht patterns his rhymes after the Run DMC classic where Run goes.. 'two years ago a friend of mine asked me to say some emcee rhymes....'
I think Eiht does a pretty decent job on this album...I understand that he's definitely trying to reach his audience and base of fans, but I wish he could've flipped some different messeges in his lyrics... He's grown in the sense that he's not talking about bangin' and gafflin' fools the way he did in years back..There have been some subtle changes.. Just take a look at the album cover and you see MC Eiht sporting some nice Big Willie type gear as opposed to khakis and all that.. That subtleness is reflected in his rhymes.. He's more of a hustler then a gang banger now.. In addition, he discontinued his dis war with rival DJ Quick... However, he doesn't give you a real clear sense of what a gangsta is gonna be like as he enters the year 2 grand.. Not that he has to.. but you wanna see an artist grow in all areas...and that might've been one way to do so.. Personally, I think MC Eiht sounds best when he has beats that you picture singer Barry White getting loose with..My favorite cut to this date is Barry White inspired 'Hood Gone Took Me Under'.. Noticeably absent from the album was Eiht's trademark 'gheeeah'.. I have gotten so accustomed to that word..I wonder why he didn't use it as much.. I certainly made him stand out... And that's what's needed something on this lp to make Eiht stand out.. Again it's a solid album.. but I'm ready for Eiht to have the spotlight to himself..
Reviewed By Davey D
11/20/97
GO BACK TO ALBUM REVIEW DIRECTORY