Hip Hop News
November 1997

Lots of stuff going on within hip hop and at Davey D's Hip Hop Corner..
First the updates...The results are finally in for the Top Ten Poll.. Foor those who don't recall..we had asked in our Top Ten Thangs section.. for folks to vote on the following.. 'Who Is Hip Hop's All time Best Male Emcee ?' and 'Who was Hip Hop's All Time Fakest Gangsta ?'

Overwhelmingly Rakim won..Best Male Emcee.. He clocked close to 500 votes.. Yes he beat out KRS-One by a large margin.. and kids like Nas surprisingly didn't really do well at all.. Check out the site for the complete break down.. www.daveyd.com..

As for the ultimate fake gangsta.. the dubious honors went to Ice Cube... I like the brotha.. but I'm not surprised... In other poll results MC Lyte took the honors for Best All time Female Emcee and MC Hammer took the honors for The Rapper Most Likely To Make A Comeback and Still Fall Off.. Again I gotta say for the record.. y'all will be surprised when his album drops... My big question is when is he gonna let the material be released.. I heard many of the tracks a couple of months ago.. and in fact a few djs are walking around with tracks.. But nothing has been seen in the stores.. My guess is Hammer is waiting to get everything in order.. I believe he's been marketing stuff on line at his web site at www.mchammer.com.. You might wanna peep that..
In other news surrounding this kid.. He's been doing a lot of dj work as of late.. He's frequently fills in for KMEL's afternoon jock Rick Chase.. and Hammer actually gets busy... The word around town his he's gonna be doing his own gospel show pretty soon..so be on the look out.. Keep in mind it was Hammer who came up the concept and originally hosted the now nationally syndicated Street Soldiers Show which deals with Gang Violence.. Essence Award winner Joe Marshall of the Omega Boys Club along with Margret Norris have been holding things down for a while..But it was Hammer who put it down and set things off...

Well not to digress.. but back to the web site updates..The Top Ten Thang Poll has a two new questions for this month.. and they're something you will have to give some serious thought... First,
'WHO OR WHAT INDIVIDUAL OR ORGANIZATION HAS DONE THE MOST TO HELP PROMOTE AND PRESERVE HIP HOP CULTURE?'

Thus far I've gotten answers ranging from Afrika Bambaataa and the Zulu Nation to Hot 97 radio in New York...to Public Enemy..to the Rocksteady Crew...

The second question is
'WHO OR WHAT HAS DONE THE MOST TO COMPROMISE, HARM OR DISTORT HIP HOP CULTURE?'

Thus far the answers received have ranged from 2Pac to Suge Knight to C Delores Tucker to Puff Daddy... I would definitely like to hear from anyone reading this newsletter.. So if you don't get a chance to peep out the web site...please email me the answers to these questions at kingdave@sirius.com... please include the words Top Ten Thangs in the subject heading... The results will be posted sometime after Christmas...

Also let me remind everyone that we are in the process of compiling votes for our End Of The Year Awards.. we're trying to find out what folks were major factors in the hip hop game over the past year... Please check out the site.. so you fill out the form for this one.. once again its at www.daveyd.com..

Chuck D of Public Enemy is now an official contributer to Davey D's Hip Hop Corner... This month you will find the first of many commentaries from Chuck.. As you know he drops knowledge on FOX Network News... We'll he will now be sending us the transcripts.. I can't wait to hear in analysis on the whole Latrel Spreewell situation in which this basketball player went and punched out his coach... There's a lot more to this story then meets the eye.. Folks around the town here in Oakland have been hearing a whole different scenario.. Whatever the case. Spreewell should've been on his 'game' and not let some crazy coach get him to act in such a way that he winds up losing 32 million dollars.. But that's a whole other scenario...Look for the forth coming editorial and comments... Keep in mind.. sports players and hip hoppers are closely intertwined.. Both participants are usually from the same place and around the same age...Here in the states... those who come from the hood find that hip hop and sports in particular basketball.. offer young disenfranchised kids an opportunity to be superstars and to standout.. Keep in mind a whole lot of ball players ranging from Shaquille O'Neal on down have started their own rap labels...

The other thing that is blowing up on the site is the Poetry Page.. We've been getting so many poems its hard to keep up.. A lot of Bay Area artists are now spitting spoken word as opposed to just rhymes.. The other week there was a big weekend in which all sorts of poets descended onto the Bay Area.. Most notable was Amiri Baraka.. He did a special show with former Black Panther activist Angela Davis.. All sorts of folks were in the house.. The following nite.. Folks ranging from rap group Midnight Voices to MCs Reign and Seed came through and got busy for a special function to help support the Nu Upper Room which is one of the Bay Area's prime spots for developing artists here in Oakland.. Right now J Crow of the hip hop group BLACK [Beats Lyrics and Conscious Knowledge] has just put out a dope ass book called 'Nigger Please.. Nigger Please.. Nigger Please' This kid has got some incredible poems.. and his delivery is off the hook.. Folks are checking for him every Tuesday nite at Dorsey's Locker here in North Oakland.. The following nite folks head on over to Club Du Solei at Jack London Square to check out even more hip hoppers turn poets.. If anyone has a poem just Email Poems To kingdave@sirius.com and we'll post them up on our poetry page.. If anyone is interested in getting a hold of JCrow and his book email him at Email JCrow@aol.com.. Tell him Davey D sent you..

On the hip hop tip... Rakim got majorily busy at the House Of Blues showcase in LA... He did close to 23 songs and the crowd was loving him.. The R was feeling so good he started to dance.. no kidding.. he started to bust out some steps.. This is quite a contrast from what I've been hearing about his show in New York at the Apollo... I heard folks were leaving in the middle of his set.. All I know is that he best personifies and represents the reasons I love hip hop..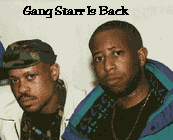 Gang Starr has had their album Moment Of Truth moved back from February to early April... I wish they would hurry up.. The latest delay has to do with them recording another song on the album.. This new one is being done with K-Ci and Jo Jo of the group Jodeci.. I'm not sure what direction they're going with this.. Perhaps they're making something for commercial radio.. Believe it or not once in their long careers have these guys ever sold gold or platinum... Yes Gang Starr get lots of props for being dope.. But when push comes to shove their fans ain't buying the music.. Folks are buying bootlegs.. and dubbing it off radio etc.. It's the bootleg thing that's killing them.. What's so ironic about all this is that you have all these 'Man I gotta keep it real type brothas who will give you a song and a dance as to how they're from the hood and can't afford to buy tapes.. They're saying all this nonsense while they're running around sporting 'authentic' gear from every designer from here to Alabama.. In fact some kids walk around with 150 dollar sneakers on and brag how their latest gear is not counterfeit.. Yet they have no problem buying counterfeit tapes... which oftentimes are leaked out by unscrupulous record companies who wanna avoid paying artist their royalties.. But hey let's keep it real.. by purchasing the authentic Tommy Hilfiger gear and the bootleg Gang Starr tape.... Oh yeah just so you know the new Gang Starr album will have guest appearances by Scarface, Freddy Fox and Inspector Deck of The Wu-Tang Clan...

Speaking of Wu-Tang.. folks may wanna check for one of their off shoot members.. Killer Priest.. He has a new joint out that's hitting which will be featured in the new movie featuring Snoop Dogg called 'Caught Up'... The movie is like a new version of the Spike Lee flick Clockers.. The sound track is soon to drop and it'll feature everyone from KRS-One to Mad Lion to The Roots, Gang Starr and The Lost Boyz... Check for the movie in February of '98 and the sound track in January..

For those who didn't know.. about a month ago the Luniz and Rappin' 4Tay had some major funk.. So much funk that 4Tay who lives in the San Francisco was making it very difficult for the Luniz who live across the Bay Bridge in Oakland to do anything in the city.. They came up from LA last month to do a promotional run and had to cancel a lot of their in store appearances and interviews in the City.. In fact they didn't even come up to the radio station.. Apparently 4Tay wasn't feeling the unsavory words the Luniz had for him in their song Killaz On The Payroll.. He had put the word out on the Luniz.. Rolling against $4Tay and his infamous Fillmore based click which numbers in the hundreds is really not the thing to do... In Oakland that's another story.. But to make along story short.. I caught up with Numbskull of the Luniz and asked him about the beef and he explained that the conflict stemmed from a bunch of rumours and innuendos.. They did the song when they first got wind of things.. But now everything is squashed and everyone is cool.. It's all about Bay Area unity.. As for Numbskull he had some problems the other day at Oakland High where he along with several other djs and Bay Area rappers went to speak.. Some kid tried to be funny and threw a rock at Numbskull's car... Numb went smooth off and made sure more then a few of these rowdy kids would not do that again.. By the time he was done his point was made clear... He checked them.. The Luniz next single will be Hypnotize which was done with Redman.. A lot of folks are feeling the song they did called Phillies which is really like a 'I Got Five On It pt2' Here the crew flips the script by spelling out Phillies the way that KRS-One spells out Jimmy in his song Jimmy.. It's a dope song.. However, according to Numbskull.. a lot of radio stations and MTV and other outlets are frowning upon the possible release of that track.. They might have to take it to the underground..

Finally what's up with Coolio.. My man goes over to Germany and while performing he tells the audience he doesn't have a problem stealing stuff.. He then tells the audience that if they can't afford his tape to go out and steal it.. Next thing you know Coolio is arrested for supposedly shoplifting at a German store.. To make matters worse he was charged with punching a female sales clerk who stepped to him in the stomach.. Now German officials are trying to get him forever banned from German soil.. I can't believe this went down.. I'm hoping and praying that it was some big mistake or it was some Coolio look a like.. But we'll see.. Folks don't go to foreign countries and start acting up.. Lucky for Coolio he didn't act ill in Singapore.. It would've been a whole different story there.. Can u say 20 lashes...?

Well that's it for now..Be sure to check out the site and all the new updates including our very extensive album review section.. we got through all sorts of lps ranging from The Alkaholiks to the Whoridas.. Save yourself some grief by checking out the reviews at www.daveyd.com.. Also check for our free giveaways.. This week were giving away MC Eiht's album 'Last Man Standing'... Don't forget to email back your answers to the Top Ten Poll and don't forget to vote for the End of The Year Awards...

written by
Davey D
c1997

Go Back To Hip Hop News Directory
---
[home]
[chat]
[conferencing]
[updates]
[what it is]
[politics]
[contests]
[opinion]
[links/photos]
[media]
this site is produced by Davey D in association with eLine Productions
---