Agents of the Rhyme Game: Cali Agents: The Pharcyde
by Dove
~Sheepish Lordess of Chaos~

Email Dove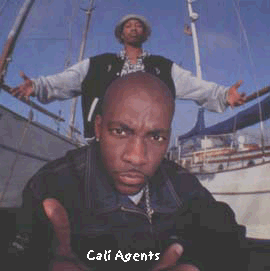 The Bay Area has established an undisputable niche in Hip-Hop geography, and the Cali Agents have been a key factor in putting Northern California on the map. The battle cry is set forth as Rasco and Planet Asia fire up their lyrical arsenal loaded with potent rhymes. With no fear in their hearts, they produce nothing but the most straight-forward libretto--aimed at wack emcees and keyboard critics.

The two first met in Fresno where Rasco was attending Fresno State University in the early 90's. Cali Agents was formed as an idea between the two friends around 1998, and the album How The West Was One (Ground Control/Nu Gruv) was released in May of 1999. The duo toured vigorously throughout the year, sharing the stage with the likes of Bahamadia and Slum Village. City by city, Planet Asia and Rasco captivated audiences--even amidst the antics of the stage-friendly Slum Village.

The January 2001 issue of The Source named the Cali Agents' LP as one of the top six independent records of the year for 2000. The album has sold over 50,000 copies without any major distribution.

These two men come from different angles with the same agenda – to succeed in a business that is notorious for forcing people to give up the real and go for the bling. Rasco and Planet Asia will continue to put out quality Hip Hop both individually and as a group, and have a vested interest in keeping their roots where they can see them.


Planet Asia is an emcee for the hungry Hip Hop heretic. Gripping the mic with rugged rhymes, street knowledge and a spiritual kinesthesia, Planet Asia has exploded onto a music scene that is tiring of pop-rap rhetoric and in search of a new lyrical savior. We very well may have found the new messiah of our musical matrix.

With piercing eyes and a stunningly youthful charisma that lights the room on fire, his presence alone is commanding. He is both charming and intense at the same time. Planet Asia remains affable when offstage while his almost tangible energy is consistently swirling and sizzling behind the serene stance.

His first release in 1998 was an independent work on the aptly named Heratik Records. Unfortunately independent labels weren't offering anything then to meet his requirements for a deal. Around that same time Planet Asia teamed up with his DJ, the multi-talented 427, and things started to move quickly for him. In 1998 he was featured on Rasco's first LP "Time Waits For No Man" then later in 1999 on Rasco's EP "The Birth" . The year of 1999 also afforded Asia the opportunity to perform two songs for Peanut Butter Wolf's release "My Vinyl Weighs a Ton", then a feature on Sway & King Tech's "This or That" compilation, and yet another on DJ Revolution's "R2K".

By winter of 1999 two more 12" singles were released for Asia and it had become apparent that his lyrical prowess was in high demand. He worked with M-Boogie, Zion I, Dilated Peoples, Mykill Miers, and Deep Concentration 3 before the 2000 release of Cali Agents "How The West Was One". The Cali Agent team of Rasco and Planet Asia proved to be a successful grounding for Asia's career.

In 2000 he signed a deal with Interscope Records and Planet Asia's second EP "The Last Stand" hit the shelves in the fall. This was immediately followed by a series of concert dates touring with Common. Source Magazine's January 2001 issue touts Planet Asia as one of the top six "First Round Draft Picks" of 2000, and he is by no means put off by the acclaim. "I LOVE the critics, although I'm totally different than what they think", he says jokingly. "This album should have been called 'The Misconception of Planet Asia'."

Planet Asia is quick to divulge that he is a Godbody - an entity of the Nation of Gods and Earths. An enigma to some, Planet Asia doesn't flinch at people's opinions or critique of him, whether or not they understand him. His spirituality will always find a place in his music - as he says "half and half - street knowledge with the influence of my beliefs".

Fans revere him as a sort of phoenix of Hip Hop phonetics, for he has unearthed a raw form of lyricism thought to have been buried and forgotten long ago. Although Planet Asia takes pride in his writing skills, he firmly states that he can drop a freestyle when it is called for. "It just depends on the circumstances," he says. Battle rhyming is an essence of Hip Hop that has been set by the wayside in recent years, but Asia will not succumb to so-called 'stellar' emcees wiping their mics on him. He politely refrained from comment when asked about Eminem's recent dis of his good friends, Iriscience and Evidence of Dilated Peoples, however he was quick to speak on his own behalf. Asia quietly drops the bomb that if any bold emcee attempts to dis him in any manner on wax "They'll have to meet me - I'm not havin it. I will beat his ass."

While Interscope is in no way pressuring him to rush into another recording session now that he's getting positive media attention, Asia has many plans for his future. He assures that there will be another Cali Agents album, and he will work together with his clique in Fresno to put out more new music. Planet Asia, The Original Trendsetters, Kubiq, Turban, Shake and Protest - collectively known as Skhoolyard Massive - are sure to be a fierce empire of emcees in the industry.

When asked which artists he'd like to work with that his fans may not necessarily be able to predict, he named Battlecat of Tha Dogg Pound, Nelly, and Stevie Wonder. "I like Nelly's energy" he states in a matter-of-fact tone. As for his personal life, Asia wistfully mentions that he can foresee a future filled with success – "records, children and 120 degrees of wisdom, knowledge and understanding".
If the crystal ball is as clear as the sparkle in his eye, his future is trump tight.

To many, Rasco is the epitome of today's dedicated business and family man. Tall, dark and handsome with a winning smile and a firm grip, he brings much more to the table than the average emcee, or what the eye can see. Early this year his record label, Pockets Linted Entertainment, released the compilation album "20,000 Leagues Under The Street" which features hard-hitting songs by Zion I, Phil Da Agony, Saafir, Grouch, Encore, Epitome, Flea, and Planet Asia, along with the blazing Rasco single "Gunz Still Hot". The project received rave reviews from fans and critics alike. Spin Magazine did a side-by-side critique of '20,000 Leagues' with "Lyricist Lounge 2" for their January 2001 issue. They awarded an honorable rating of 8 to Rasco's production, deeming it "refreshingly non-commercial". The Spin critic gave "Lyricist Lounge 2" a rating of 6, calling songs on the album "derivative" in comparison to the Bay Area project.

The past ten years have been an incredible journey for Rasco. In 1989 he was playing basketball for Fresno State University and was a dancer for the group Various Blends. The group released a single in 1995, but it wasn't until 1997 when Rasco met Peanut Butter Wolf with Stones Throw Records and released the solo single "The Unassisted" that he began to receive props on a large scale for his emceeing skills. The praise got him excited about future prospects. He says that back then "I knew how I wanted to come out with my first record, but I didn't know where my career would take me".

When his first full length album "Time Waits For No Man" was released in 1998 Rasco didn't have overwhelming expectations for it, so imagine his surprise when he found out that The Source named the album one of the top Independent Albums for 1998. "I was shocked actually – I didn't realize they were going to give me that award. I was at Wolf's house, he just happened to get the Source in the mail that day – I was flipping through it and I caught a glimpse of the yellow album cover – I was just hoping they hadn't put me down as the worst they ever heard…. you know how they do that…" he says with a laugh.

Two years later Rasco has his hands full with his record label, several projects in the works, and fatherhood. He fully shares the responsibilities for his baby daughter, but welcomes the day-to-day challenge. "It's harder to get things done sometimes, but it keeps me motivated and makes me work harder to take my career to the next level. I take her to the studio with me – you might be in the middle of a take and she'll blurt something out so you have to redo it. It's been tough but it's helped me a lot – to be more on point with what I'm doing. I can't relax. I have to keep going to help provide for her and make sure everything's in order. I'm still the same person, it just more or less keeps me in line with the business side of things. Before she was around I was like 'let me just rap' – this way I'm not rapping before I get my business handled."

Ironically, Rasco toured with Ed OG in February on the "Ground Control Allstars Tour" - the same man who performed the monumental Hip Hop song "Be A Father To Your Child". Rasco was introduced to Ed OG in the summer of 2000 and took a copy of Ed's second album with him the day they met. "It's just weird because I was listening to him back in the day, and now we're working together," Rasco says with a heartfelt respect in his words.

Rasco's second solo LP Hostile Environment will be released in August of 2001 and will feature cameos from El Da Sensai, 427, Protest, Ed OG, The Molemen and few surprise guests. He does not feel any abnormal pressure to outdo his previous work, stating, "I want it to be looked upon as a good sophomore record. I always push myself pretty hard. I'm my own worst critic, so no one could really talk about the record worse than I could. I just relax when I go into the studio. You can't go in thinking about it – I make it for me at first, and ask myself if I'm feelin' it. If I'm feelin' it then more than likely someone else will be liking it too." Rasco knows that he's grown and changed over the years, and his new album is certain to reflect his life in an insightful manner. He will also be working on a song with his label mate Zion I, whose previous album was honored along-side Cali Agents for Independent Album for 2000.

Rasco's future seems limitless. His determination and sincerity have brought him through the bowels of Hip Hop's ugly pop regurgitation unscathed, and he intends to pay homage to the classic style of the music he loves. One artist he'd like to work with in the future is Q-Tip, not because of glitzy new style, but because of Tip's solid Hip Hop history. "He's my favorite of all time based on his track record with Tribe – and the impact it had on me and Hip Hop in general."

Sometimes when one is completely focused on one's goals, the vision can fail to encompass the bigger picture. Perhaps Rasco's only flaw is that his humble spirit doesn't allow him to embrace the impact that his own career is making in the industry. He sets precedence for business protocol that many emcees never comprehend, and keeps a firm grasp on the foundation that he is building for himself, his family and his friends. He is truly an emcee's emcee.

Dove
~Sheepish Lordess of Chaos~

Go Back To Interview Directory