Tales of Anger: Black Anger
by Dove
~Sheepish Lordess of Chaos~

Email Dove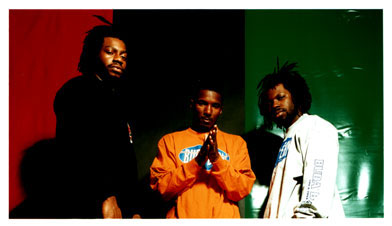 Their name alone alerts the masses – Black Anger. The immediate stigma of vernacular volatility fills one's imagination – could this be yet another rap group emasculated by the public's desire for drama? Five minutes of conversation with the family production team of Kindu and Sayeed aka Bedroom Produksionz will squelch that thought. Kindu describes their music as "a 50/50 fusion of Hip Hop culture and Black Liberation movement" and explains that they kick knowledge, but do not preach.

Kindu, a former b-boy, has been emceeing for nearly half his life. At first the spelling of his name was Ken-do – a play on the name given to him at birth, with the inflection that he 'can do' anything. He danced and gripped the mic with equal vitality, but eventually dedicated his time to rhyming. In 1987 he was introduced to Islam, and attributes his initial interest in cultural and spiritual awakening to hearing Chuck D passionately spout the words "Farrakhan's a prophet that I think you oughta listen to …". While he was in college in the late 80's, he spent many a long night in the 'lie-bury' seeking a greater understanding of himself, while his peers were out masking their sense of self with kegs of beer. Things didn't change for him overnight, but after many years of study and introspection Ken-do became Kindu – a name meaning soul/soul – or duality of the soul. His birthday is March 22nd – and he attests that everything about him comes in twos. He and Sayeed embrace the philosophies of the Nation of Gods & Earths and recognize themselves as Godbodies.

DJ Sayeed was raised in Hip Hop. Although he is young in chronological age, the methodology of his music is purely old school. Sayeed says he has no particular icon in Hip Hop and that music in general has guided his own artistic abilities. "I could have been a b-boy or a graph writer, but I do music" he states, "just hearing Hip Hop and being a part of the culture inspires me." From a production standpoint, Sayeed is adamant that he will always choose whom he works with carefully. "I won't work with artists talking about bitches & hoes, only substance -something that when people hear it, they feel it. That makes me work harder." Sayeed and Kindu enjoy working with conscious groups in the Seattle/Tacoma area such as Source of Labor, Silent Lambs Project, Tribal Productions, African Diasporo and the b-boy crew Massive Monkeys. Sayeed would also enjoy producing for KRS One and Rakim in the future.

Black Anger as a trio is actually an extension of Bedroom Produksionz. MC E-Real Asim adds a riveting rhyme style to the Black Anger movement. The group has performed onstage with the likes of Mos Def, Run DMC, Raekwon, and Mr. Complex. Nationwide they have headlined shows with groups from every corner, and find that the love they are shown in other areas is incredible. They intend to stay in the game as long as possible, and Kindu aspires to manage new groups and to continue teaching. He states, "Youth in Hip Hop need some guidance. It should be Jah rules everything around me & not the C.R.E.A.M. You get discouraged because of the commercialism and politics, but if we quit then that's one less of 'us'. If I step, that's one less conscious MC. You need a balance." Their projects thus far have been recorded under their own label Du4Self Recordings, and they have yet to affiliate with any other labels or distribution companies. Although they are searching, they refuse to partner up with companies that will not relate to their value system.

Bedroom Produksionz represents family. Black Anger represents brothers of the same mind. In any combination, the mathematics of these men adds up to a successful combination. Their history is already secured in the Experience Music Project museum in Seattle – with their E.P. Maxed Out Singles being a feature of the Hip Hop exhibit. Their future is in the eyes of the prophets, in the ears of an industry that sorely needs to remember it's roots, and in the hearts of the fans who know what Black Anger is really all about.

Dove
~Sheepish Lordess of Chaos~

Contact Black Anger at: Kendu4self@aol.com
Discography: http://www.kpunk.com/blackanger
For this interview and more, check out http://www.nativemagazine.com

*Black Anger photo by Michael Lavine
Go Back To Interview Directory