DM 1000X/ "Championship" Scratch Mixer
Features:
2 line, 2 phono and 1 mic inputs
Bass and treble controls on each input
Individual gain control on each channel
Transform buttons
User replaceable crossfader
Headphone volume control and headphone cue
Bass and treble control on DJ mic
Compact design
LED with peak hold
Mic talk over
The "1000X" is a compact, rugged mixer that sets the standard for today's sratch Disc Jockey. Thanks to separate gain and EQ controls on each channel, the DM 1000X allows the DJ to customize the audio signal. The 1000X board layout is DJ friendly for quick and decisive command of the audio signal. The "CHAMPIONSHIP" battle-board!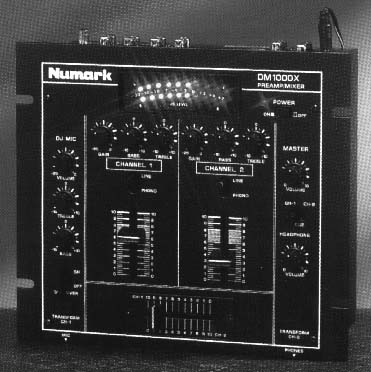 click for larger image (40K)