Chirping It Up with Jazzy Jeff
Courtesy of RIME Magazine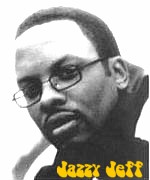 Company: A Touch Of Jazz, Philadelphia
First record you were really excited to buy: Peaches & Herb "Shake Your Groove Thing"
Most ever paid for a record: Probably about $75.00. I've been collecting so long, a lot of those three and four hundred dollar records I already had – thank God. It was the Red Clay record… I'm real good with what it looks like and what's on it… I wanna say it's Ralph McDonald… I got it at a spot in Philly.
Favorite digging spots/cities: There's a spot in Pittsburgh that me, Jay Dee, and Kenny Dope went to – that probably had about three million records, and no record was over $4.00. We ended up staying there for like nine hours, and we bought so many records we couldn't fit them in the trunk. Jay Dee took me to a spot in Detroit… I know I need names… but it was the spot in Pittsburgh and the spot in Detroit.
Equipment in use: Two 1200's, a Rane TTM 56 mixer, a Pioneer EFX-500 effects box, one Pioneer CDJ-1000, Shure M44-7 needles, and Sony 700's.
Favorite event you've spun at: It's a tie between Paradisio's in Amsterdam and the Smirnoff's Experience in South Africa.
DJ's vs. Turntablists - what is your perspective? A turntablist is an extension of a deejay – it's really the same thing. I just think turntablists focus on another aspect of deejaying. A standard deejay really focuses, first and foremost, on knowing how to mix and placement of records, and breaking in records – and just reading the floor. You can take two hours to get everybody on the floor and clear everybody in twenty seconds - and if you clear the floor, [it's] knowing not to panic and put on something to get everyone back on the floor. You just have to have that confidence. Turntablists are more so showcasing their skills. To a certain degree, a standard deejay is 100% for the people, and a turntablist is 50% for the people and 50% for himself.
Deejays or Producers – Who gets more women? Haha! Now it'd probably be producers, seeing as how the producer has taken over the role of the deejay, and supposedly the four cornerstones of Hip Hop - which was emceeing, deejaying, graffiti, and break dancing. Not right now – it's two – it's just emceeing and producing. So, at this point in time the producer is probably getting most of the women, because the deejay has taken so much of a back seat. But it used to be the deejay.
Favorite scratch or trick to perform: I freestyle so much. I've got a bunch of stuff that I can do, and depending on the time and place I just do – so that's kinda hard for me to say. I take a lotta pride in being extremely smooth – getting in and out of records – a really nice balance of deejaying and turntablism. Like, the whole time he's cuttin' and doin' all the rest of the stuff he does, he got the floor packed.
Most annoying deejay habit (aka stupid things that we will never catch you doing): Playing the same records that the radio plays just because everybody wants to hear 'em. A deejay's job is to take you on a journey, and if you're playing what the radio is playing then you're taking everybody on the same journey – and I don't think that's cool. I wanna take you on a trip that you weren't expecting – I wanna play stuff that you haven't heard in a while, maybe some stuff that you've never heard. If the radio plays the same 25 records over, I don't think it's cool that you go to the club and hear the same 25 records, because then you have no room to grow musically.
Current projects: I have my album [The Magnificent]. I'm finishing up Flo Brown's record. A guy, Vee, down here just finished up work for Dwele. I'm getting ready to work on some stuff with Masters At Work, and getting ready to start this new Jill Scott album.