MARY J. AND 50 CENT?
It was only a matter of time.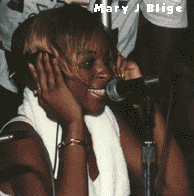 *The Queen of Hip-Hop Soul has reportedly hit the studio with the current rap "darling" 50 Cent. As we reported last week, Blige has also released a song over the Internet featuring her vocals over the beat from 50's "In Da Club." However, according to Blige's spokesperson, 'Hooked' is just a promotional cut and will not appear on the forthcoming album.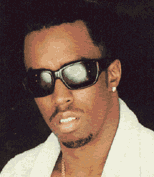 P. Diddy is producing Blige's sixth studio album. In an interview with MTV news, Diddy described the sound of the album.
"It's incredible hip-hop soul. She's the queen of it, I'm the king of it, (and) we made it up together - beautiful sultry vocals on hard hip-hop beats. I was the first to do that in '90. A lot of people have been able to do that and be successful, (and) all that's good, (but) now you have the originators getting back together and really putting it down."
---
JAY-Z HOLDS LYRICAL SEANCE
He talks to the brothers and sister who ain't here on new song.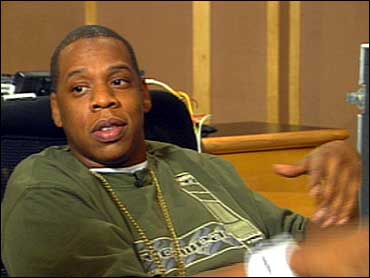 *It would seem artists are not through singing the praises of late pop singer Aaliyah. On what is being called the remix to the fallen star, "Miss You," Jay Z rhymes nostalgically about the singer.
Jay also addresses New York radio host Star, who poked mean-spirited fun at Aaliyah's death shortly after her plane crashed.
Jigga talks to Notorious B.I.G. and Tupac as well, expressing disdain for all the MCs who bit their rhyme style, and he tells them how rap hasn't been the same since they were murdered.
No word yet on where the song will appear or if it will be released commercially at all.
---
THE OUTKAST MAY OUT LAST EVERYONE
Duo reinvents itself more times than Madonna.

*The Outkast know they can make something that was previously considered "unfunky" into something highly funkdafied.
Currently in the studio working on a solo album, Andre 3000 has been on the extreme low. Big Boi has as well. Reports say he is working on his solo joint, too.
Both of their sets will be featured in the double CD "Outkast Present: Big Boi and Dre." Dre has reportedly called on Grammy winner Norah Jones to get down in the studio as well as newcomer Vivian Green.
Meanwhile, Big Boi, who has been done with his record for weeks, has guest appearances from Jay-Z, the Dungeon Family, Twista and Killer Mike.
---
NY CORRECTIONS OFFICER SUES OVER RECORD DEAL
State suspended him without pay for breaking policy.
*Edward J. Heelan, Jr., a 20 year veteran of Corrections, has filed a lawsuit against the NY Department of Correctional Services for suspending the budding entrepreneur when they learned that his independent label had contracted two former inmates for recording music and for promotional shows.
High Wire Productions and Records, Inc., is an independent record label which produces albums and shows in the Tri-City area using local rap and hip-hop artists. Heelan is the president of that corporation.
DOCS claims its policy prohibits Heelan from engaging in any conversation, communication, dealing, transaction, association or relationship with any former inmate or parolee; any friend, or relative of the former inmate even though the association is lawful as is the case with High Wire.
Furthermore DOCS claims that Heelan, as president of High Wire, can not negotiate a contract for recording services if the person is a former inmate/parolee because of his officer status. As a result, DOCS now plans to fire the independent record producer, Heelan.
---
LIGHTS CAMERA ACTION AGAIN
Mr. Cheeks prepares second set.
*Mr. Cheeks has returned with his second solo album, "Back Again," slated for release today (March 18) on Universal Records.
"Back Again" is the follow-up to the 2001 album "John P. Kelly," which featured "Lights, Camera, Action," a No. 1 hit on Billboard's Hot R&B/Hip-Hop Singles & Tracks chart and a No. 14 entry on the Billboard Hot 100.
"Back Again" boasts cameo appearances by the likes of Glenn Lewis, Mario Winans, Pete Rock, and CL Smooth. The latter two team up with rapper Journalist and Mr. Cheeks on the cut "Reminisce," while Alexander O'Neal lends his vocals to the ballad "Brighter." Winans, P. Diddy, Bink, and Mr. Sexx contribute production work to the album.
The first single from the set, "Crush on You" featuring Winans, hit No. 68 on Hot R&B/Hip-Hop Singles & Tracks earlier this month. Mr. Cheeks is also currently perched at No. 8 on the same chart, courtesy of a guest appearance on Lil' Kim's "The Jump Off."
---
CAM SET TO GET DIPLOMATIC
Cam and his crew set to bow on March 25.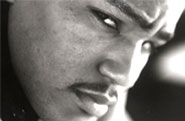 *Harlem's Cam'ron and the Diplomats -- a crew of all-star rappers that includes Cam'ron, Jimmy Jones, Juelz Santana and Freekey Zekey -- intend to launch a far more melodious war of words on March 25. That's when "Diplomatic Immunity," their premiere release on Roc-A-Fella/Def Jam, hits the streets.
Issued in a special two-CD package featuring an exclusive remix disc, the recording blends down-and-dirty rhymes with a smart-aleck style and street-wise sense. It's an incendiary and invigorating sound that's amply evident on the group's first single, "Dipset Anthem."
"Nobody wanted to give the Diplomats a deal, so when I got my deal I gave them a venue to perform, and now everybody can hear their talent," says Cam'ron, adding that his solo Roc-A-Fella album "Come Home with Me" featured contributions from all of the ensemble's key members. "Jimmy does our videos, and he's very creative in terms of helping me with ideas. Juelz is 18, though he has got the mind of a 40-year-old, and he's pretty. All the girls like him, but he still raps about that thug s--t. Zeke is like the chorus: he brings the comedy to the crew, and makes things funny."
"Diplomatic Immunity" also showcases the talents of guest artist DMX on the song "What's Really Good." Further information on the Diplomats, "Diplomatic Immunity" and Cam'ron is available at www.rocafella.com
---
THE BAY COMES TO HERALD SQUARE
Goapele maybe here to stay.

*Brand new Red/Sony recording artist Goapele is already getting major props in the Bay Area and now she will be coming to NYC to do her thing thanks to Lucky Magazine's Fashion Event.

The Bay Area native's upcoming effort, "Even Closer" is a 14-track album she co-wrote and co-produced on SkyBlaze/RED/Sony Music.

Collaborating with a bevy of musical craftsmen that includes

Zion I, Digital Underground's DJ Fuze, Casual, Pep Love

of the Hieroglyphics, Soulive, Eric Krasno, Mike Tiger, Jeff Bhasker (Lettuce, Kudu), Johnson and Sunmoon, Sista Factory presents a live performance by Goapele at 6pm on Thursday, March 20th at Macy's Herald Square in NYC (at 34th Street).

Come find out the latest Spring Fashion and Beauty Trends for 2003 with Lucky Magazine as the magazine's editors highlight the season's hottest trends in fashion, footwear and beauty. Plus receive complimentary refreshments, exclusive shopping offers and must-have gift bags while supplies last.
---