'It's About to Rain Down Murder'
Ja Rule Racially Dissed in New Zealand
by Mark Eastbase 3/10/03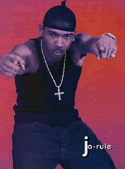 Love him or hate him, Ja Rule is one of the Rap's chart topping kings at the moment, but it's been a long and bumpy ride for the high-school drop out. Starting out in the rap group 'Cash Money Clik' with DMX, and other now mega-famous artists, battling on the streets ≠ Yes, '8 Mile' style ≠ against the likes of Jay Z before he was anyone, and coming out victorious. To getting his first solo record deal with Def Jam Records, and releasing arguably his best album to date ≠ 'Venni, Vinni Vecci'.
Thru all of his ups and downs, and proverbial 'silver linings' the last thing Ja Rule needed was to come to little ol' New Zealand and get called perhaps the most insulting and ignorant word in the English language.
From the minute Ja Rule and his entourage - that included Cadillac Tah and Black Child of The Murderers - arrived at the press conference at the Queens St, Soundz Megastore, that fateful Friday, he was accosted with perhaps the most uninformed and ridiculous questions one could imagine.
For the most part I sat silent, listening to questions ranging from 'Is it true such and such from TV3 had your love child?' and 'How is the show going to differ without Ashanti?' Come on, simply, THE SHOW WILL NOT HAVE ASHANTI AT IT, that's how it's going to differ. I was quite honestly, repulsed by the majority of the questions during the conference, and in hindsight I applaud Ja Rule for having the time and the patience to deal with the onslaught of ignorance.
However, that's not to discredit everyone in attendance, certain persons in the media at the event had the decency to ask appropriate questions to gain insight into Ja's mentality and his outlook on life. Charlotte Dawson from TV1 wanted to know if Ja had heard any NZ Hiphop (His response: 'I'm not really familiar with New Zealand rap, it's my first time out here....I've been other places overseas, you know, Germany, London...I was a little more familiar with those rappers over there, but I haven't heard anything from here. I'm looking forward to it though.'), and wanted to know how he felt about people coming out in the hundreds if not thousands to see him, which when Ja gave his answers was very insightful ≠ 'It's a great feeling' he said explaining his inspirations back home '[back home] I write my records to touch the world, not just my block or the guys that I hang with.....I make my records so that the whole world can feel my passion and my pain. And what I'm seeing even all the way out in New Zealand is that they understand passion and pain.'
Ja went on to catch questions about what he would say to kids to promote education, and he answered honestly ≠ as he did all the questions he was asked ≠ that he didn't finish High School, so it would be hypocritical for him to go out and promote it, when he's made it to where he's at now regardless.
The poison icing on the cake, however, was one particular reporter from Channel Z, who had the extreme ignorance and idiocy to ask the following question: 'Yo....Homie, how many niggers in your posse, yo?'
Now, for those of you ≠ dark skinned or not - who feel that using this word holds no direct meaning or emotional attachment are in for a surprise. The word has a deep rooted history of pain and scaring that someone who has struggled against it's stereotypes and it's definition like Ja should not have to endure in his own home city or country, let alone in a foreign country from someone who clearly A: didn't care about Hiphop culture, B: didn't have any respect for Ja Rule as a person or as an artist, or C: have and respect for the New Zealand public.
Unfortunately, what makes this incident even more shameful is that the majority of the media in the room LAUGHED at this comment, thinking the person asking it was being funny. Ja Rule and his entourage, and any other self respecting person in the room did not however. And big respect to the lady from TV3 and the lady from Mai FM who distanced themselves from the racist reporter from the radio station Channel Z after that comment.
The Racist reporter was asked to leave, both by the MC to the event ≠ which actually took him a while to decide to evict the reporter, unfortunately ≠ Ja's personal assistants and myself as well as the events security. At every junction the racist reporter refused to leave, opting to ignore us all. Eventually after many harmful hand gestures from Ja's pissed off entourage and the physical approach from several members of the security at the event, he was escorted out of the event where he was dealt with accordingly.
At this point, again, I must commend Ja Rule for having the patience and stiff chin to continue on with the conference, and I must commend the restraint of many people who were feeling the way I felt hearing this racist make those comments. I felt, and still feel embarrassed to be a New Zealander, and a member of the media in this country where it seems racism is far from Ćover' and in fact in the eyes of Channel Z is actually congratulated, and supported. And as a member of the Hiphop community, in New Zealand and globally as a whole, I'm insulted by the actions of Channel Z and their racist staff.
My only hope is that people out there are smart enough to know that as long as that radio station is around, these types of things will constantly continue to effect the tours that come to these shores, and the credibility of Hiphop culture in New Zealand. Perhaps this reporter's actions are a direct reflection of his superiors' attitudes toward the Hiphop public and non-white people as a whole.