Edwin Starr Passes Away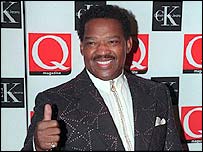 A bit of sad news, as we announce the sudden passing of legendary soul singer Edwin Starr. He suffered a fatal heart attack the other day at his home in Nottingham, England. For those who are unfamiliar Starr was best known for the hit songs '25 Miles From Home' and 'War'.
That particular song has taken on new meaning as thousands of people all over the world have been chanting the hook from the classic cut.. 'War-What Is It Good For? Absolutely Nothing'. Starr was scheduled to perform in some upcoming major music festivals.
Starr also had a special place amongst Hip Hop's pioneers. The percussion breakdown on his song 'I Just Wanna Do My Thing' was something every emcee worth his her weight lived for. The beat made even the wackest emcee sound good. Every deejay worth his weight couldn't wait to cut the break down as well as the beginning. In fact, because the percussion break down was so long a lot of deejays honed their quick mix skills using this record. Starr gave Hip Hop a premium break beat that we will forever be thankful for...He will be missed and we extend our heartfelt condolences to his family
---
New Radio Show For Ed Lover and Dr Dre


Props go out to Power 105's NY Morning team Ed Lover & Dr Dre. They will be teaming up with mixers Mr Choc of LA's Power 106 and Power 105's DJ Kut to do a new syndicated 3 hour weekly radio show called Jump Off.

The show will be three hours weekly produced in a cutting edge, fast moving mix format complete with personality, superstar guests, humor, and just hit-intensive mixing. The first weeks guests include Chris Rock and 50 Cent. It'll be interesting to see how rival companies Clear Channel and Emmis Broadcasting work out what stations if any they air the show.. Mr Choc works for Emmis while Dre, Lover and Kut work for Clear Channel. For more info, contact gary@superadio.com
---
Juvenile Buries Hatchet & Returns to Cash Money Records

The Hip Hop world is celebrating as Juvenile and his former label mates at Cash Money Records set aside their differences, buried the hatchet and reunited. Many will recall that Juvenile left the label in 2001 in a bitter dispute over money. He claims the label cheated him of millions and violated his trust.
Label heads Baby & Slim denied any wrong doings and saw Juveniles leaving as an insult to them. They had less than kind words to say about him.
Apparently the two have concluded that its best for them to work together and hence they are back together. We wish them much luck in their future projects.
---
Chuck D To record In New Zealand
Chuck D is keeping busy on the international tip. He is currently lecturing overseas and will soon record a song with local artists from New Zealand called 'Smoke & Mirrors'. The song focuses all the behind scenes drama that goes on in the music industry
---
More Drama for Ja Rule
Speaking of drama it looks like Ja Rule has another battle to deal with. He recently caused a stir when he took some verbal shots on a mixtape at Eminem and the entire Shady/Aftermath crew... Apparently he didn't take too kindly to Eminem lighting him up on the song 'Go To Sleep' which is featured on the 'The Cradle to the Grave Soundtrack'

There's word that Em is already set to respond. We'll keep you posted when it drops. One thing to keep in mind is that this beef pits several camps against one another... Ja taking shots at the entire Shady/Aftermath camp will undoubtly receive the blessings from one of his longtime buddies-Suge Knight of Death Row... [please note Suge said he has gone back to calling his label Death Row as opposed to Tha Row]. As we know there is no love loss between him and Dr Dre and his Aftermath record label. He has never taken too kindly to Eminem.

In other Ja Rule news, you may recall a few weeks ago we reported how members of Ja's camp got into a scuffle with a white New Zealand newsreporter who asked him 'how many 'niggers' does he have in his crew. Ja's crew didn't take too kindly to the use of that word...

Well after the dust settled, the TV reporter did not even get reprimanded. His bosses pointed out the obvious fact that Ja Rule uses the 'N word' all the time to describe not only himself, but other people.. Hence he has no reason to be pissed. Oh well I guess what goes around comes around..
---
Russell Simmons & Wyclef to Serve As Principals for a Day

If you happen to be attending the NYC Public schools today be on the look out for Hip Hop mogul Russell Simmons and Hip Hop artist Wyclef Jean. They along with a host of other famous folks including Rosie Perez and actor Ozzie Davis will be serving as Principal for a Day. It's the 9th year that the non profit organization has put on the event. There's no telling as to what Russell or Wyclef will be saying or doing... The program is designed to help out the 1 million plus students who attend NY's public schools. Let's see if conservative tv blowhard Bill O'Reilly makes a big stink about this the way he did back in November when Jay-Z served as Principal for a Day.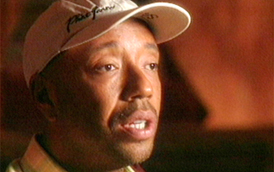 Speaking of Russell Simmons, be on the look out for his new Visa debit card. That's right you read that correctly. You will soon be able to own a Russell Simmons debit card. It will come through the newly established UniRush Financial Services which is a joint venture between Simmons' Rush Communications and the Unifund Corp., a Cincinnati-based firm that buys unpaid consumer debts.
Simmons says he plans to focus on the 48 million Americans who cannot open a bank account because they don't have good credit or they don't make enough money. The card will be offered to four million Unifund customers. Outside of that, Simmons will attempt to market the card by word of mouth.
There will be no minimum-income requirements for the card, Simmons said. and to keep users from bouncing checks, UniRush will require them to call a toll-free number to request that the company send a check to them. The card will have a $19.95 activation fee, with a $1 fee for most transactions.
---
Queen Latifah Living Large & Coming Under Fire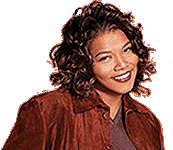 Looks like Queen Latifah continues to blow up the spot as she is making big money from her plus size shape. For those who don't know, she is the spokesmodel for new plus-size lingerie line Curvation.
The 'Bringing Down the House' and 'Chicago' star is thrilled with her new role because she grew up being ridiculed for her shape and her ample bust.
She says, "When I was in high school I was shy about the size of my breasts and people would pick on me. Now, people pay for these."
Latifah, real name Dana Owens, is hoping the new line will force other clothing companies to be more honest about their sizes: "Most women in America are size 10 or better so I don't understand why when you go into a store and you pick up a size 10 it's really a size eight. I mean, come on."
While Latifah is doing well with her plus size figure, she has some folks who are coming after her to get some plus size money. She was recently named in a 15 million dollar lawsuit from an attorney named Marie Flaherty, who claims she wrote a screenplay called 'Amoral Dilemma', whose plot is very similar to that of 'Bringing Down the House'.
The only difference is that in Flaherty's screenplay about a lawyer who unknowingly picks up on a prisoner is that her approach was meant to be a drama while the current box office hit is a comedy.
Latifah was named in the suit along with many others including Disney which distributes the film. We'll keep you posted on the outcome of this suit.
Lastly Latifah is catching major heat from Boondock's comic strip writer Aaron McGruder. He's come out and slammed her in two days worth of strips because he feels she resurrected some nasty stereotypes about black women in the movie Bringing Down the House. In the strips Aaron has the character Huey write a letter to Queen Latifah claiming that she has revoked her crown and can no longer be called Queen. It'll be interesting to see what is said when the two cross paths.
---
[daveyd.com]
[hard knock radio]
[articles]
[davey d boards]
[what is hip hop? ]
[politics]
[record reviews]
[photos]
[links]
[media]
this site is produced by Davey D in association with eLine Productions
Please note.. This site looks and operates best in
Internet Explorer..
i.e. You will not see scrolling text and other features in Netscape!
---