Reflections On The Winter Music Conference
In Miami And Up Close And Personal
With Sadat X of Brand Nubian
By William Hernandez from Urban America Newspaper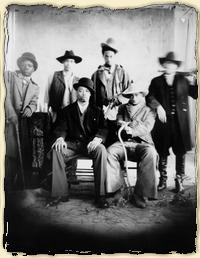 After months of waiting, finally the day came for me to attend for the first time the Winter Music Conference in Miami. I was very excited about it all considering that I was going to have the opportunity to network with other people in the music industry. That week was hectic; so many parties and events and so little time. I tried my best to attend as much as I could but it was too overwhelming at times. In the end it was all worth it. I got to meet artists such as house music singer Kenny Bovian and Hip-hop artists like Questlove of Roots fame, getting into an exclusive party by luck and some help where I got the chance to meet Dres of Black Sheep, seeing DJ Spinna do his thing at the Diesel party, enjoying myself at the Stones Throw party, and also sneaking into a Masters at Work party, so I could try and interview Jazzy Jeff (which I was unsuccessful, but I did get a picture with Kenny ďDopeĒ Gonzalez of MAW). If that were not all enough I had a very good experience at the annual ďanti conference" show called Infiltrate organized by local hip hop labels Counterflow, Beta Bodega, and Metatronix.
This year's head liner in at the show was Sadat X of Brand Nubian. I asked a couple of friends that were organizing the event to help get an interview with him. They said they would try and told me to get there early. I did so, when I got there, Sadat was doing a sound check and I ask one of my friends to talk to Sadat so I could do the interview. Nervously, he told me to ask somebody else that knew Sadat because he hadn't talked to him yet about being interviewed. So I waited until after the sound check and saw Sadat reading a magazine. Thatís when I approached him and introduced myself. I gave him an envelope with the most recent issues of UAN and asked him if we could do the interview. He didn't think about it for a minute and accepted. He truly showed us love. This experience above all at the conference made me realize that I was lucky and truly blessed. Maybe next year Iíll get to interview some other great names in the industry Ė but, Iíll make sure that I wear comfortable shoes so my feet wonít get blistered like the way they did from attending so many things. Anyway, here is the Sadat X interview. It really letís you know what heís been up to, up close and personal on a real to real basis. I hope you enjoy it as much as I did.
UAN: What have you been up to lately?
Sadat X: Iíve been working on some new stuff. Some solo stuff, some Sadat X stuff. Iíve been working on some Brand Nubian stuff; itís time to get it going. Plus Iím a teacher, so that takes allot of my time. I teach 6th grade. I teach special education. That takes allot of the time up.
UAN: Whatís up with the rest of the Brand Nubian crew?
Sadat X: Well you know, we just came back from Europe two weeks ago. We went to England, Denmark, Finland, and Norway. So we came back from that. Puba is working on some new stuff. We are working on him. Lord Jamar, he just finished doing a couple of more episodes of Law And Order. And weíve been working on some stuff all together.
UAN: You came out in 1990. When you first started off, you were part of the whole conscious vibe with groups like Public Enemy, X-Clan, and Poor Righteous Teachers. But towards the mid 90ís, hip hop turned gangsta. And Then Wu Tang came, and then it turned bling bling. How do you feel about conscious hip hop in 2003? Is it still viable or did it die out?
Sadat X: It didnít die out. You know everything runs in cycles. Everything has his different cycle. From the righteousness era, to the gangsta era, to the bling era. Thatís not to say anything is wrong with those things. That is just how music goes. Music is changing you know. But there are still groups that promote positivity and awareness. You got groups like Dead Prez and Talib Kweli. They still promote the positive side of the music. They just do it now in a way that it can get across in 2003.
UAN: Who are some of the producers youíll be working with on your next solo project?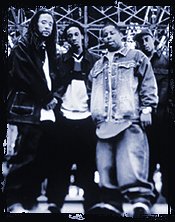 Sadat X: On this solo project. Iíll be working with this kid by the name of Jahson. Out of Cincinnati, out of Hi Tekís people. Iíll be working with Pete Rock. My man Diamond, bring Diamond back out again. Do some Plus you know I got a couple of young guys under me that are developing. That what Iím trying to work with.
UAN: Whatís up with the legendary Diamond? Heís one of the most underrated, unappreciated producers in Hip-Hop.
Sadat X: Diamond, thatís one of my main men. My original man. Diamond is really on the low. He donít go out too much. Heís at home allot. He got mad beats. Allot of times with producers, what happens is a producer will be hot for the moment. Then they move on. At one point you know Pete Rock was the hot one. And up to now, at one time everything coming out was Swizz Beats. But now itís changed up. Now itís the time for the Neptunes and Timbaland. Then theyíll get their run and itíll be somebody else. And itíll probably come back around again to them. So I feel itís coming back around to my man Diamond and couple of other dudes that started it off no doubt.
UAN: Do you feel that you should use the ďhotĒ producer at the moment to get some mass appeal, so that you can get the new kids out there that donít know who Sadat X is to get to know you?
Sadat X: Actually I did a song with the Neptunes and Jay Z. They didnít use it for The Blueprint 2. I donít know what theyíre going to do with the song, but I did do something with them. And I would like to do something with them again. Like I said, I donít care where it comes from. If itís hot and I can work with it, Iíll work with it. If something comes my way from them and itís on like that. Then itís on like that. I donít have a problem working with the producers of today. With allot of older artists that come back out again the main thing is that they canít be as stubborn, because the times change. You got to change with the times. You canít get mad and hate. If you want to hate on somebody, hate on your parents for having you too soon. Basically you got change with the times.
UAN: Do you miss that early 90ís vibe that you came up on and come to grip with the fact that the majority of the groups of that era have fallen off or have gone the underground route like yourself to resurface to the mainstream hip hop audience to see you again?
Sadat X: First of all, I donít really consider myself underground but then again Iím not commercial either. Iím right in the middle category, I would say. Allot of dudes do the underground circuit. I donít really be doing that circuit too much, but I respect all them dudes. I like Madlib and J- Live and the rest of them groups like that. I like all them cats. They got allot to say. Whenever I go to the Bay area, thereís like a thousand of those cats out there. And when I come down here, thereís alot of underground cats and I love what they have to say, because they do it out of the grassroots and out of the hunger and the love for it. I do perform at some of these events like that. But then I can (have shows) like the one last week - we did something with the Roots at Roseland. I like to be able to go back and fourth.
With me, basically, I do it out of the love. It ainít about the money. Whatever money I get from this from time to time is good. I do projects here and there. I do alot of stuff overseas. Throughout the years I learned how to balance my money and make my money work for me. The money is not the overriding issue with me. Probably if I wasnít performing here tonight and I came here and I see all these dudes performing, Iíll probably get that urge and probably get that DJ to throw a beat on and just let me rhyme. And it wouldnít be for me - rhyming because Iím Sadat X. I would just be rhyming because I like to rhyme. I just like to rhyme like that so much, that I would just jump on and do my thing.
UAN: Speaking of underground, you were on DJ Spinnaís Beyond Real Volume 2. How did that come about?
Sadat X: Spinnaís my man! My man Krim! Those is my people, those is good people. It just so happened they were doing something and they felt I could be a part of that. And I came and we went out to his crib. Spinnaís got a million records. He made up some joints and I just got down. I was thankful and I was happy to get the opportunity to be on their project, because this was their project and I took it as an honor for me being able to get on their joint.
UAN: Do you plan to do anymore work with them in the near future or was it a one time thing, you know spur of the moment type deal with DJ Spinna and Krimimal?
Sadat X: I would love to do something in the future with DJ Spinna and Krim. Because those is my people, like I said. I respect Spinnaís musical taste, because he can play anything from deep house to the rawest Hip-Hop. Heís got an ear for things and I respect that ear. If he calls me again, Iím there man. Also with my man Geology too, thatís one of my peoples. Heís underground, but he do his thing too. Anytime cats like that call on me Iím here. And I like to make some contacts with dudes. Like maybe if I can find somebody from Miami who make beats and they give me something hot then Iíll be down here doing something hot. It donít matter.
UAN: Any last words?
Sadat X: For all the fans of hip hop. Iím still in it. Iím still in it for the love. Iím still making music. Iím still striving. It ainít going to stop for me until I say when. And thatís what Iím doing. As long as youíre true to what youíre doing in Hip-Hop and you stay true to it, man, I ainít got nothing but love for you.