'The Re-Birth of Mec':
Choppin' it up with Ladybug Mecca,
formerly of Digable Planets

by JR of the SF Bayview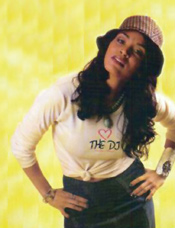 Digable Planets, in '91, was a group who gave me enough samples of jazz where it moved me to educate myself more on Black music throughout its continuum so that I could speak with more knowledge when talking to other people about the music that our people have been creating for centuries, which in its present form we allow the white man to market as Hip Hop. At the time I didn't realize it, but now I have grown to see that the music of Digable Planets made this clear for me.
Digable Planets was a creative crazy-talented rap group that trail blazed new levels of consciousness during so-called Hip Hop's First Black Power era, where revolutionary lyrics were coming from people like X Clan, Public Enemy, Poor Righteous Teachers, De La Soul, Tupac, A Tribe Called Quest, Queen Latifah and more who were rapping about Revolutionary Black Power and Black community empowerment from many different directions.
Ladybug Mecca and her two comrads in the digable planet days. "Dial 7" from the "Blowout Comb" album is one of my favorites, not just in Hip Hop but favorite songs period. Also inside the tape cover of "Blowout," Digable Planets featured some info on the case of former political prisoner Geronimo Ji Jaga, who served 27 years in prison and was unleashed in '97. Reading this moved me at the age of 16 to want to know more about the Black Panthers, and this Panther specifically, who was locked down under trumped up charges for his political beliefs. Both of the Digable albums definitely inspired a lot of thinking inside me and helped me become the man that I am today.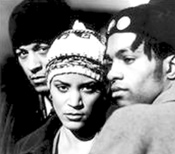 In my opinion, Ladybug, the sole female member of the group, was lyrically the sickest with her soft voice and feminine revolutionary lyricism. I would even go so far as to say that she is one of the sickest to touch a mic in the game in the last 25 years, lyrically and stylistically. When Ladybug and her comrades were in the game, they definitely raised the standard for a good album. Now that Ladybug is back with her soon to be released solo debut, "The Re-birth of Mec," the bullshit artists are going to again have to stand on the sidelines and bear witness to a lyrical queen in their midst spittin' the real. Check out how the warrior queen do …

JR: What's been up with you?

Ladybug: I live in Harlem, New York, with my husband and our four children, three boys and one girl. They're beautiful.

JR: Did you have a family in the Digable days, and how has your family affected you?

Ladybug: Not an extension from myself. It adds more responsibility since they're in my household. I have more control over what they are exposed to or not exposed to. It's very important, especially with three boys. All of the violence tries to impose on who they are. A lot of brothas are raised to not respect women through things like TV. Since that is what's raising them, they are going to emulate the males on TV more times than not, and those male figures aren't balanced inside the roles that they are portraying.

JR: What have you been up to since Digable's last album, musically?

Ladybug: Musically I have had a few opportunities to bring my solo effort forward, but it just wasn't meant to be. So now (that) those situations dissolved, I decided to run with the independent label Nu Paradigm Entertainment, and it's been a pure blessing.

Music is starting to come full circle, meaning the content of the music is more in tune with the ancestors and spirits and less with materialistic fantasies. I look at it like the universe is saying finally, "It's your time."

In that time, I had the birth of my children, I married an incredible man, and at the same time I lost both of my parents, which enabled me to really reflect on the experiences I have gone through, so it makes for great material, real material that we can all relate to.

JR: How important are your political and spiritual views to the content of your music?

Ladybug: Very important, I've always been very conscious of my surroundings, only now I pay more attention to my intuition, which is really your inner-god or inner-goddess, which has brought me to overstanding the need for a revolution within ourselves before it can take place on a massive level.

There's definitely a need for change in the physical. We need to stop looking outside of ourselves for answers and leadership, and we should start with our family, friends and neighbors. We need to know that there is a feminine and masculine principal or consciousness that is considered the God or the Creator. It's not a male, like religion will tell you. It's a mother/father principle, a masculine/feminine principle.

The feminine principle is what gives birth to the universe. It's what brings creation forth, so there has to be an acknowledgement and respect for her in order to bring back the balance. In religion, in Christianity and in Islam, in all religions … it's a perverted piece of the truth, when it doesn't hold the woman on a pedestal.

JR: Can you tell me about your new album, the sound and the features?

Ladybug: The tentative title is the "Rebirth of Mec," and it's scheduled to be released in the fall. Martin Luther from the Bay Area, he's on a song called "Last Train," and I also did a song with Hitman. He was on the Chronic 2000, but it's not any type of gangsta rap song. I worked with some producers, SaRa, Ko, Peven Everette. I produced some joints too. ("The Rebirth of Mec") is a mixture of Brazilian music, Hip Hop, rock, like the '80s synthesized pop sound, and jazz influences. I'm singing and I'm rhyming all over the album.

JR: When will you be coming to the Bay Area?

Ladybug: I'm not exactly sure. I'll be doing a promotional tour. I can't say when but sometime this year.

JR: Any last words?

Ladybug: I just wanna thank all of my fans for being so patient with me. I needed the time to grow so that I could share with you.

Email JR at fire@sfbayview.com