An interview with MC Lyte
by JR of the SF Bayview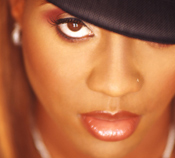 MC Lyte has long been one of the greatest, and one of the longest standing, at this art form that white Amerikkka markets as Hip Hop. I remember seeing "Paper Thin" on a video channel when I was even in middle school. Up there with Queen Latifah, Monie Love and Salt-n-Pepa, Lyte was a female MC that was competing with the best of MCs with songs like "Cha Cha Cha" and "Poor Georgie." I grew up off of Lyte, straight up, and it was an honor for me to be able to interview somebody like her who had so much to do with shaping my cultural taste at an early age. Ya'll check MC Lyte in her live interview with the Bay View newspaper …
JR: We were just talking, and I was telling you how I thought that you were in the first class of women MCs and you started to name a few that came before you. Can you up us on some of the MCs that you used to listen to before you got into the game?
MC Lyte: I listened to Rakim and Salt-n-Pepa. I listened to Doug E. Fresh and everything else I could get my hands on.
JR: Can you also talk about when, how and why you started to rap?
MC Lyte: I had something to say, I guess. It was the only way a young black girl could get her message to America.
JR: What were the some of the most inspiring and trying times in your career?
MC Lyte: The most inspiring times are always when I am around kids. They tell you the real deal and nothing really phases them. When I speak to students or visit centers and just sit and talk with them.
JR: How important is it for young people getting into the music business to know something about the business side of things?
MC Lyte: It's very important. They should always ask lots of questions. Never pretend as though you know everything, because then you probably won't learn anything.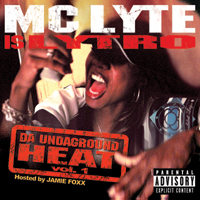 JR: What are your thoughts on the SFPD getting indicted and the war on Iraq?
MC Lyte: These are certainly the times where I feel absolutely helpless. What can we do, really? There's a man in office right now that none of us put there, so I feel like my hands are tied behind my back.
JR: How has the Cali sun been treating you? How long have you been living in Cali?
MC Lyte: It's great here for what I am trying to do. Acting and producing are my dreams, so I have to be in the middle of the action
JR: What has your experience been like being an internationally known female MC?
MC Lyte: I love it. I love to travel overseas and see other cultures.
JR: What would you say to some young people who look up to you and who hope to be where you are one day?
MC Lyte: I would certainly say aim higher. Ha-ha. I think it's great to set goals for yourself and stop at nothing until you've made it happen through good energy and positivity.
JR: What have you been currently working on?
MC Lyte: Promo for the new CD that comes in April. Also just finished a film called "Playa's Ball."
JR: What is the newest book that you read?
MC Lyte: "Stolen Lives."
JR: What are you listening to now?
MC Lyte: Sirius radio. It's commercial free.
JR: What are the most important elements in your life right now?
MC Lyte: Honesty and friendship.
JR: Any concluding thoughts?
MC Lyte: Thanks for the support, and I look forward to releasing many more projects independently.
Email JR at fire@sfbayview.com.