INTERVIEW W/ 50 CENT
transcribed by Cheri Cheng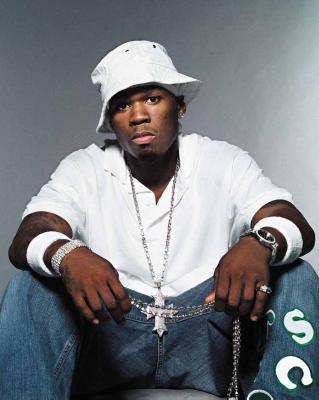 This interview took place the other week 1/8/03 in the offices of AOL Music when 50 Cent rolled through to perform and chat with AOL Members. The questions he answers were submitted by AOL music fans. Check the AOL Music Session Page for 50 cent and your other favorite artists.. In the meantime enjoy this indepth interview as 50 cent breaks down his thoughts on Ja Rule, Jam master Jay, Eminem and Life in the Hood.
1. WHAT IS THE SCIENCE BEHIND THE TITLE OF YOUR NEW RECORD "GET RICH OR DIE TRYIN" COMIN OUT ON FEB 11?
50 Cent: "Get Rich or Die Tryin"...that's the universal struggle… if a working class person says… when I say it it might seem a bit negative…but if a working class person says it you… it means they're determined…you know...I'm hustlin right now…some people may perceive me or look at me in a negative light…but I'm cool with that… it don't matter to me.
2. WHATS YOUR NEXT SINGLE AND WHEN U GOIN PUT IT OUT?"
50 Cent: My next single is "In Da Club" produced by Dr. Dre...it's out now…the video should be out in a week…I'm really excited…it's a good production.. I'm really excited that people get to hear it..
I make a lot of records for the street…this time I just wanted to make a record that was fun…you know so I said I'm gonna go in the club with this one and hit them with somethin...I've got so many other records on my album that I'm excited about and I just want it out...I kinda wouldn't even mind if the bootleggers got it....ha ha…(that's rare) get it now.. I want them to hear it cuz I know when they hear it it'll just increase like my.. in the street like everywhere.. I don't think it will affect my sales if it's bootlegged... at the end of the day I think they'll still get the album…plus there's a dvd on the package so they'll get to see me make the record
3. WHAT DO YOU THINK ABOUT THE INTERNET & ITS IMPACT ON MUSIC?
50 Cent: I don't even care... my deal itself… I'm in a good space financially… you know…as long as it's being heard.. those people are the people that are supporting me at the concerts…Right now I've been touring won the mixed tape circuit…I think the mixed tape circuit is the largest form of promotion… The bootlegger is just trying to feed his family... it's not going to stop. Don't ever think it's gonna stop... It's a hustle…they hustlin to get their money... you can't beat em…you might as well just capitalize off of them…and that's what I did in the beginning with the mixed tapes circuit. I think the mixed tape circuit is like black market distribution so I distribute my music through there to the point where they understand that buying a 50 cent record is a safe buy…you not gonna have to question whether there's going to be quality material on there or not cuz you heard him before.
4. WHAT CAN PEOPLE EXPECT WITH "GET RICH OR DIE TRYIN"?
50 Cent: It's the best music that I've recorded to date... I've got the best production... Dr. Dre, Eminem, Roc Wilder Twee Lo, Diggah...It's various production cuz I got a chance to work on there…I did 48 records in preparation for this…16 records on the album…I got a lot of extra music so I can use them on soundtracks and other placements.
5. WHAT WAS YOUR SELECTION PROCESS LIKE?
50 Cent: Dr. Dre and Eminem…they made the final executive decision. I told them what I wanted and we kinda shifted through them... (more) I recorded 12 w/ Dre and I only put 4 on the album so I got plenty of records.
6. WHO ARE SOME OF THE OTHER PEOPLE THAT YOU WORKED ON FOR THE ALBUM
50 Cent: Me and Em...we did a lot of records.. I don't even know how many we was just recording.. but I had four on the "8 Mile"Soundtrack that I participated on... one was "Wanksta", "Places To Go"… one with me and D12 and one with OB Trice –"I Just Want To Love You"… but it's cool.. publishing checks serious on that one so it's all good.
7. "YOU ARE OBVIOUSLY A TALENTED RAPPER.  HOWEVER, DO YOU FEEL THAT YOU GET THE PROPER RESPECT FROM OTHER RAPPERS IN SPITE OF PAST LYRICS THAT MAY HAVE SEEMED LIKE YOU WERE DISRESPECTING THEM?"
50 Cent: Where I'm at right now I don't even see anybody.. my competition is just to fit in with Eminem and Dre... I'm not even trying to keep up with anyone else in the music business outside of Em and Dre... I could be in there and be the guy under them or I can make myself almost the equivalent of them... that's what I'm working to do... you know the other rappers aren't exciting right now to me… I'm sayin everything is exactly the way it was… the same crews. Everything is the same…G Unit is new… it's hard to break an entire crew or entire situation… and it's starting to come along… we laid the groundwork so I'm happy to see the progress.
8. DESCRIBE G-UNIT
50 Cent: G-Unit is my record company... we in negotiations now... it should be distributed by Interscope…if they give me the right bag of money or it might be someone else...depending on how Jimmy [Iovine]... but Jimmy he likes me.., he knows something's wrong with me but he says its ok cuz Em and Dre says its ok .. you know...
8b- WHAT DO YOU THINK HE THINKS IS WRONG WITH YOU?
50 Cent: He thinks the hood is so in me so deep that it might not ever get out of me…
8c-WHAT DO YOU THINK
50 Cent: I don't know he might be right... I don't know... all I can be is what I am… the things you go thorough make you what you are… my experiences make me the way I am… make me say the things I say... and react to situations that way. .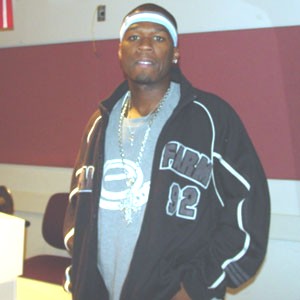 9. ANY REGRET FROM PAST THINGS YOU'VE SAID?
50 Cent: Nothing… "I Rob" was the best thing I ever could think of.. & I did it cuz...when you're on a major label.. there's a hundred artists on that label… you gotta separate yourself from that group and make yourself relevant... all I was doing with that record was makin everybody at one time say "WHO'S 50 CENT? Who is this guy?"…And it worked... it's effective to date… every interview that I speak on they mention that and ask me about it.. how do you feel… well I don't care…
10. WHERE DID YOU WRITE "I ROB"?
50 Cent: I wrote it in the car on the way to the studio...everything on it was kinda true… everybody knew what I was sayin… they just laughed at the fact that I would actually say it... the creative part was how I put it together… when you're starvin...When robbery is not out of the question it's easy to come up with that concept... you know what I'm sayin... at that point, I wasn't doing well financially so when you look at artists.. bigger artists have bigger diamonds certain things that come with success … you know the fact that they have money excessively allows them to buy jewelry excessively… buy cars and nice houses and everything else they want...
11. WHEN ARE YOU AND SHADY [EMINEM] DOING A COLLABORATION?
50 Cent: We got one on my album…but we already did one on the 8 Mile Soundtrack...but the one on my album is just with me and him. It's called "Patiently Waiting" I'm very excited for that record to come out…but I don't want to blow it and say it before you get a chance to hear the material the way I laid it…
12. DID YOU ENJOY WORKING WITH EM?
50 Cent: He's cool…right now I don't really want to talk about him to much because he told me he was gonna hook me up … He said that when he was finished with Mariah that... I could you know…..I thought... I was gonna hit that and then he didn't hook me up.. I ain't really happy with him right now… cuz you know I'm into that you know…(what did you want to do with Mariah that didn't happen?) I wanted to hit that… he said he was finished so… (it's situational I'm sure – no love lost right?)… we be alright you know.. I just thought he was gonna hook me up… I see her in the street… I try… she probably won't… HA HA….
13. WHAT HAS CHANGED SINCE YOU BEEN ON SHADY RECORD?
50 Cent: I ain't gotta worry about bills… Finances changed a lot and the ho's they treat me so much better.. I feel like I got a facelift...
13b-YOU SAID THAT "IN DA CLUB-"YOU SELL LIKE EMINEM" AND YOU GET PLENTY OF "GROUPIE LOVE"
50 Cent: Yeah they treat you a lot better…like I'm eligble for a whole lot of women that I'm not eligible for… they found that them checks get cut… things get different. Like I look better or something… they treat me better… this is cool though …(you just take it in stride)…yeah… it's fun… I mean as long as you know why the situation is happening...you be alright.
14. WHAT ALLOWS YOU TO STAY GROUNDED?
50 Cent: I work… I work alot so I ain't out to absorb all of that…plus my hood…they love me on the music tip but not everybody is happy with me…there's always gonna be somebody who doesn't like you and there's some people that would like to kill me…(and that will keep you down to earth?) it's got to .. cuz I can't move around like it's not there.. I gotta be aware of what's going on… I can't afford to be lost.
15. HOW DO YOU STAY FOCUSED? KNOWING ALL THE THINGS GOING ON
50 Cent: If I wasn't doing well I would still be in those situations.. it's just like when you be in the hood you fightin over a corner.. it's the same risk …when you doin well as an artist…someone may try you just to try you.. when you respond…it's still on .. so it's the same situation… doesn't bother me… but I"m happy to be in the situation I'm in now... I feel blessed
16.DID YOU REALLY GET SHOT 8 TIMES?
50 Cent: 9 times on May 24, 2000 I got shot… I was in the hospital for like 13 days...and it sounds crazy... it hurted more to not know what I was gonna do with myself AFTER being shot.. like when I called Columbia Records and they didn't know what to do..... like I was supposed to do a video with Beyonce and as soon as I got shot.. they just like moved it.. well Beyonce's doin a record with Amil(?) You see what I'm sayin..then the Amil record came out and I was in the hospital for 13 days I got out and called them up and they don't got no answers for me… there was no Plan B for me..
if I don't make music.. I'm going back to the hood ...I'll sell crack.. I'm gonna go back to sell crack if I can't make it in the music business…and that's because that's what I was doing before that.. I never had working papers.. I never had a job… I sold crack until I got in the music… so this is the best thing that happened to me and I do it excessively… I make music cuz it's almost like I can escape everything I was involved in… alls I gotta do is make music... I put out 4 mixed tape albums waiting to release my real album…I don't do nothin but make music... you know what I mean?
17. YOU GOT A SON?
50 Cent: My little boy Marquis… he's like 6 years old…he's in my Wanksta video in the intro and at the end of it… he thinks he's a star right now…
18. IN TERMS OF ALL THE THINGS THAT HAPPEN WITH YOU RIGHT NOW HOW DO YOU RELATE TO HIM WHAT'S GOING ON
50 Cent: He knows what's going on… I explained it to him exactly how they gonna have to explain it to their kids when they hear my music.. you see if your kid is listenin to my music.. you need to sit him down and explain to him that some peoples lives is like TV.. The shots do go off in the hood… people do get hit.. if that's not actually the life surrounding their kid… you can let that kid that that's what really goes on in certain places cuz that be goin on in my real life situations.
My son know… my son was in the house when I got shot 9 times.. it happened in front of my grandmother's house… but he heard the shots and then he see daddy in the hospital.. he understands what's going on even though he's only 6 years old… he knows exactly what's goin on … then when he see me put my vest on before I leave the house… he asks me do I have my vest sometimes…I set it around. My son asked "Daddy why you carry a gun… you ain't a cop? I said…I looked at him and said "Sometimes you gotta shot or be shot"
It is what it is… I don't try to sugar coat it or nothing… I try to explain it him that I'm blessed and in a situation that I can provide another situation for him him so he don't have to go through that… the only reason I took him to shoot the "Wanksta" video is I wanted to show him there was other things out there to do outside of what's goin on right there. To me that's it.. if you asked me what I was going to do while I was hustlin'… I'm gonna say "Hustle"…well cuz that's it…I started when I was hustling when I was 12…any 12 yr old kid that is not doing good in school and you tell him if you do good in school for 6 more years and you can get that car and then the kid's curiosity leads him through the hood to find someone who's got that car that didn't have to go to school that hustled… well then it doesn't seem like one of the options… it seems like the "only option".
I hustled… that's the only way I could get what I want… because the other way was too hard. I can't do it that way … I dropped out… I'm hustlin…man, I'm not doin good at this…everything is not for everybody… they could say whatever.. I ended up getting my GED in the joint in jail… but if I wasn't in jail I wouldn't have gotten it cuz I would've been out in the street…
19. YOU WROTE A JOINT WHILE YOU WERE IN JAIL WITH CUTMASTER C? TELL US ABOUT THAT
50 Cent: I just talked to him about what was going on when I was locked up… he took the conversation and put it on his tape…50's kinda big right now so he wanted to get some of that attention… it's all good.. I would've done the same thing if I was a mixed tape DJ. I'd have capitalized on it.. it was a good move on Cutmaster C's part.. plus I like my presence in the street to be big… so whatever… let's do it
20. SINCE THIS ISN'T YOUR FIRST WHY IS IT THAT YOU ARE JUST BECOMING POPULAR IS IT BECAUSE YOU WERE WITH A COMPANY THAT DID'NT PRODUCE YOU CORRECTLY?
50 Cent: This is really my first album that is being released… I think Shady/Aftermath is way better than Columbia.. Dre understands being from NWA…my lyrical content … and Eminem…picture him saying "Yo you can't say that" He's as edgy as you get on his level… so he understands exactly what it is and I think that's what drew him to me… you know when he heard the music.. he know what it is.. so it's cool…I'm real comfortable…the work process is I'll go do it and they'll listen and then they'll say "Yo You know what I think you should do something like this and I 'll take their advice and pass the world of respect… cuz I know that for sure they are really in my best interest. They are my corner for real...if they didn't come get me to do the deal… what would I be doin?….
50 Cent Interview continued on next page