When Clear Channel bought KMEL, it destroyed the so-called people's station. Now the people want it back.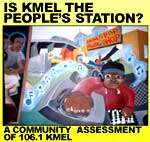 There aren't many visitors to Clear Channel Communications Inc.'s South of Market fortress these days, other than ad buyers, talent managers, and contest winners. The first floor looks like a tiny security bunker with silent music videos flickering on small wall-mounted TVs. So on Jan. 6, when a group of hip-hop activists showed up ­ a bunch of teens and twentysomethings, battle-hardened, some of them anyway, by campaigns against globalization and Proposition 21 ­ the gatekeeper alerted management before allowing them up to the fourth-floor waiting room.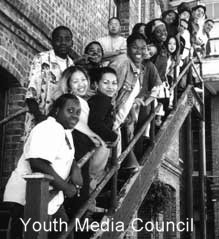 They were there for a meeting with representatives of KMEL, 106.1 FM. In the skylighted penthouse conference room, Malkia Cyril, executive director of Youth Media Council, part of the listeners' group calling itself the Community Coalition for Media Accountability (CCMA), pressed their case. Since Clear Channel took over KMEL in 1999, she said, there has been no access to the airwaves for social justice organizations, an imbalance in programming and content, and no avenues for community accountability.
KMEL representatives listened, sometimes confused, often baffled. Pop radio executives aren't used to going face-to-face with angry, politicized listeners. But then again, KMEL has never been an ordinary radio station. In recent years such meetings ­ in which community leaders air grievances and radio execs scratch their heads ­ seem to have become a regular thing. Once known as "the people's station," KMEL has become a target for the people's anger.
For more than 15 years, KMEL has been a national radio powerhouse. It is the number-two music station in the fourth-largest radio market in the country, commanding the largest radio audience among the highly coveted 18-to-34 demographic. But perhaps more important, KMEL holds an almost mythical place in Bay Area hip-hop. During the '90s, KMEL helped launch rappers like Tupac Shakur, Hammer, and E-40. It produced on-air personalities, including Trace Dog and Franzen Wong (of the Up All Night Crew) and Renel Lewis, who seemed as around-the-way as hip-hop itself. Through its innovative community-affairs programming, it engaged the social issues of the hip-hop generation. The arrival in 1992 of a fierce competitor, KYLD-FM, also known as "Wild," which billed itself as "the party station," only reinforced KMEL's populist image.
But an unprecedented wave of consolidation swept the radio industry after Congress passed the 1996 Telecommunications Act, which removed station-ownership caps. Before the ink was dry, KMEL's then-parent company, Evergreen Media, ended the ratings war with KYLD by purchasing it ­ and the changes didn't stop there. A series of ever larger mergers culminated in 1999 with a whopping $24 billion deal in which KMEL and KYLD passed from AMFM Inc. into the hands of Clear Channel. That, critics say, is when everything that was once so right began to go so wrong.
An outcry for media justice
If the changes that began in 1996 began to turn off some longtime KMEL listeners, the Oct. 1, 2001, firing of radio personality and hip-hop activist David "Davey D" Cook ­ shortly after his show Street Knowledge aired Rep. Barbara Lee's and the Coup's Boots Riley's objections to the war in Afghanistan ­ was the final straw. Cook's firing seemed to symbolize the end of an era in which community input, local music, and progressive politics had a place at KMEL, and it triggered thousands of e-mails, faxes, and letters; rowdy picket lines at the station; and the current round of accountability meetings. Gang-peace organizer Rudy Corpuz of United Playaz said the message to KMEL remains clear: "Check your priorities. Without the community, your station would never have been made."
The KMEL protests are a big part of a swelling national backlash in urban communities against the shock jocks, autopilot programming, and mind-numbing hype of their radio stations. On Jan. 14, Cook joined with Afrika Bambaataa and the Universal Zulu Nation, rapper Chuck D, Bob Law of the National Leadership Alliance, and black activist organizations the December 12th Movement and the Code Foundation to denounce what they say is the lack of positive black music and community voices on stations like Emmis Communications-owned Hot 97 and Clear Channel-owned Power 105.1. Many have begun calling it a movement for media justice.
Cook, who hosts the Hard Knock Radio and Friday Night Vibe shows on KPFA, 94.1 FM, has now quietly ­ and somewhat reluctantly ­ become one of the movement's most prominent spokespeople. Speaking to the Bay Guardian from New York, he sketched out the issues. "The main complaint I've heard for three days," he explained, "is the lack of positive music, lack of access, and just the feeling that there's something foul about what I am listening to. People are really pissed from coast to coast."
Radio Godzilla
Clear Channel's vast media empire caught the public's attention during the aftermath of the attacks of Sept. 11, 2001, when executives allegedly circulated a list of so-called sensitive songs to be banned from the airwaves. By then corporate media critics were already describing Clear Channel as the Godzilla of the radio industry. Indeed, no other firm has benefited more from the Telecommunications Act. It has gone from owning 40 stations in 1996 to owning 1,240 today, commanding over a quarter of all radio revenues and listeners. (In the Bay Area it holds a similar market share.) Its closest competitor, Cumulus Media, owns just 248 stations. "Clear Channel is the monster that destroyed radio," veteran Bay Area radio-industry watcher and columnist Bill Mann said.

Critics say Clear Channel's KMEL has been distinguished by bland on-air personalities, reactionary politics, and the same seven songs that seem to be playing on every urban station everywhere. Bay Area political rapper Paris notes that in 1990, KMEL helped artists like him and Digital Underground blow up nationally. During the Gulf War the station even aired a remix of a Sway and Tech track called "Time for Peace" that featured all of them. "There was a lot more willingness to support local talent. Now that willingness is not there," he said. "Especially in this political climate, even in what many would argue is the cradle of liberalism, there's no room for anything that's progressive. Everything is rampant negativity."
Wong thinks the station is a shell of its former self. "They don't care about the streets anymore," he said.
Radio for everyone
The calls for change at KMEL are coming from a powerful source: angry youths of color from the station's target audience. Last fall a group of listeners began subjecting KMEL to some hard listening. The result was a scathing critique of the station issued by the Youth Media Council and the CCMA (www .media-alliance.org/action/KMEL.pdf). The CCMA's broad front includes the Mindzeye Artist Collective, hip-hop activist organization Let's Get Free, and global justice group Just Act.
They argue that since Cook was fired, progressives have lost their voice. They charge that the last remaining community-affairs program, Street Soldiers, excludes their views. They note that local artists ­ who make up one of the most vibrant and diverse rap music scenes in the country ­ are rarely heard on the station. The title of their report pointedly asks the question "Is KMEL the People's Station?"
"They say that they're the people's station," said Just Act program coordinator and CCMA spokesperson Saron Anglon, a 25-year-old who has listened to KMEL for 15 years. "They're not talking about social change or peace. They're focusing on things like crime and war. Our communities are listening to this quote-unquote people's station, and the people are not necessarily being represented."
A recent study by the Future of Music Coalition (www.futureofmusic.org), an artists' rights-public interest organization, provides a context for urban radio rage. Radio deregulation, the report argues, has left the public airwaves dominated by companies that have laid off hundreds, decimated community programming, and all but standardized playlists across the country. The report also found that an overwhelming majority of listeners want playlists with more variety and more local artists. It cites research pointing out that the time an average listener spends with the radio has dropped to a 27-year low.
On Jan. 6 the newest FCC commissioner, Jonathan Adelstein, spoke to attendees at a Future of Music Coalition conference in Washington, D.C. He echoed the concerns of media justice activists across the country, said, "We must ask ourselves: At what point does consolidation come at the cost of the local expression that makes radio so unique and so special in this country? At what point does allowing consolidation undermine the public interest ­ and the quality of what we hear on the radio?"
For a growing number of alienated urban radio listeners, the answer is "Now."
Building the people's station
During the early '80s, Bay Area urban radio was stagnating, dominated by slick, disposable R&B. At the same time, college- and community-radio stations like KPOO-FM, KZSU-FM, KUSF-FM, and KALX-FM were championing hip-hop. Danyel Smith, the author of More like Wrestling and a former Vibe magazine editor in chief, was a columnist for the Bay Guardian during the years hip-hop broke.
"You had to know where Billy Jam was gonna be playing, where Davey D was gonna be playing," she said. "To the rest of the world, they were very little radio stations that came in staticky, and the show was on in the middle of the night, but you were in the know, and things were really exciting. And as much as I think we all liked being part of our little secret thing, we all thought, 'Wow this music needs to be heard by everyone. Someone needs to take it and blow it up, give it the respect that it deserves.' And for the Bay Area, that station was KMEL."
During the mid '80s, KMEL changed from a rock format to a "contemporary hits" format and became one of the first crossover pop stations in the nation to target young multiracial audiences with hip-hop, house, and reggae music. To make it work, KMEL desperately needed street credibility. College- and community-radio jocks, such as KALX's Cook, Sadiki Nia, and Tamu du Ewa, and local artists, including (now-MTV personality) Sway and King Tech, were recruited to the station. "They took what we were doing at community radio and brought it to the station," said KPOO personality KK Baby, who joined KMEL in 1991. "They would use us to attract the rest of the pop music audience."
Most of the jocks were never offered full-time positions, but they brought their audiences with them and became the central force in pushing KMEL to play cutting-edge music and offer community-oriented programming. Street Soldiers evolved from Hammer's idea to have a forum for young people to talk candidly about issues like gang violence. (The syndicated show is now hosted by Joe Marshall and Margaret Norris of the Omega Boys Club.) Davey D's hugely influential Street Knowledge program debuted in 1995 as a talk show for the hip-hop generation, dealing with topics spanning race, gender, and class. On his second show Davey D hosted a roundtable on the state of civil rights that featured Jesse Jackson, then-assembly speaker Willie Brown, Chuck D, Paris, and Belva Davis.
With a formula of underground-friendly playlists, activism-savvy programming, and street promotions, the station's ratings soared in the early '90s. KMEL's approach ­ progressive, edgy, multicultural, inclusive ­ fit the Bay Area well. Listeners embraced the people's station with open arms. KMEL's music shows and community-affairs programming, even its popular Summer Jam events, were soon imitated throughout the country.
The 1992 ratings war with KYLD brought out the best in most people. Michael Martin, who was then KYLD's program director and now serves as Clear Channel's regional vice president of programming, said, "We felt KMEL was a little lazy, so we came in with a vengeance." It was in this fierce competition that mainstays like Sway and Tech's Wake-Up Show, Street Soldiers, Street Knowledge, and KYLD's Doghouse stepped forward. At the same time, the dueling stations let the mix-show DJs experiment with local music, resulting in hits for artists like Tha Click, Conscious Daughters, Mac Mall, and the Luniz. The audience expanded to include listeners from San Jose to Pittsburg.
All around the world, the same song
Then the Telecommunications Act was passed. FCC chair Reed Hundt defended the legislation by arguing, "We are fostering innovation and competition in radio." But by all accounts, KMEL's innovative years were over. After a dustup between Too $hort and the Luniz at the 1995 Summer Jam, local artists were reportedly pushed off playlists. Mix-show DJs increasingly found their mixes subject to approval by higher-ups. Specialty shows were quietly eliminated. The battle for young urban ears ended with KMEL's purchase of KYLD. Three years later, Clear Channel swallowed them both.
To the listener, consolidation is probably most apparent in what the stations play. Just listen to KMEL's and KYLD's nightly countdowns of the seven "most requested" (their own words) songs. On any given night the stations may share as many as four of their seven "most requested" songs ­ the same 50 Cent, Ashanti and Ja Rule, LL Cool J, and P. Diddy tracks that are playing across the country. The exception, "Closer," by the Bay Area's Goapele, which was added to KMEL's rotation last month, stands out like a diamond for its rarity.
"Programming is more or less centralized," columnist Mann argued. "This is not guesswork. They've got too much money and too many shareholders at stake to leave much to chance." But Martin, who programs KMEL, KYLD, and K101-FM while overseeing the playlists of all of the other Clear Channel stations in northern California, denies this. "There is no centralization of programming at Clear Channel," he said. "There is no such thing as a national type of playlist."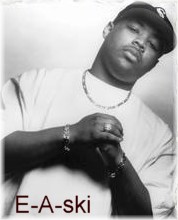 Still, this is small consolation for local artists like E-A-Ski, who, despite producing records for Master P and Ice Cube that have sold millions of copies and holding a national fan base for his own rap records, still finds himself knocking from the outside. After Clear Channel took over, he and other local artists went to KMEL to protest their exclusion. As a result, Davey D got the green light to begin broadcasting the short-lived Local Flavas show. These days E-A-Ski is one of a tiny number of local artists heard on KMEL, but only because he is on a remix of Atlanta rapper Lil' Jon's "Who U Wit." "If you look at the South, they got all their DJs and their radio to support their records. The same system they have, we had," he said. "Everybody else is supporting their music, but KMEL isn't doing it."

Martin dismissed such complaints, saying, "No matter what market you go into, you hear the same complaint from the same people: you don't support local artists, you don't play this. Bottom line is, if they would put out hit records that are equal in hit quality to the other stuff we're playing on the air, there wouldn't be an issue."

He does concede that playlists have tightened over the years. "I will tell you that, around the country, the stations that play less have bigger ratings. Power 106 in L.A., who has huge ratings, their most-spun record in a day can go up to 16 times in a day. My most-played will hit 11, maybe 12, that's it," he said. "Because, at the end of the day, the hits are the hits. And the audience comes to you for a reason ­ to hear the hits.

"The listeners don't care who owns us, or whether or not [stations] are owned by the same company, or the same person is programming them," he added.

Who stole the soul?

Martin's canny management took KYLD from "worst to first," as he puts it. But as KYLD caught up to KMEL in ratings and revenue during the late '90s, the people's station suffered a slow death. "There were four different mergers. People were cut all along. People were just getting frustrated, and then when Clear Channel came in, that was the worst [part] of it all," onetime KMEL DJ Nia said.

Shortly before she was laid off, Nia's cohost, du Ewa, who also engineered the overnight shows, was shown her own obsolescence when she was trained on the programming system created by Clear Channel subsidiary Prophet Systems Innovation. "The [software] has the music, commercials, and in-house station-promotions elements. I could look on there and find Wild's and [KISS-FM's] programming as well," she said. "Their idea was to cut late-night shifts, cut as many people as they can, and have more voice-overs. The late shift I used to do from 2 a.m. to 6 a.m. on the weekends is now digitally preprogrammed."

For the listener, this process, known as "voice tracking," crushes the notion that all radio is local. Jocks may prerecord vocal drops and listener calls to send out to other Clear Channel stations throughout the region. Labor unions argue that Clear Channel utilizes voice tracking to violate labor contracts, according to Peter Fuster, vice president of the American Federation of Radio and Television Artists' New York chapter. Consumer groups say it undercuts radio's public mission to provide news, information, and color for local communities. The practice is so controversial that it has already provoked a National Labor Relations Board charge against KMEL's New York counterpart, Power 105, which imported former KMEL DJ Theo Mizuhara's voice for overnight programming.

Mann said, "For years I've been calling them Cheap Channel, because they consolidate and they lay people off." Other industry insiders speculate that Clear Channel is in a bind because it overpaid for its radio properties.

Many former KMEL employees say it was Martin who presided over Clear Channel's gutting of KMEL. During the summer of 2000, he replaced the station's fired program director, Joey Arbagey, and was handed programming responsibilities for both stations. "All these years you're competing with him, now he's your boss," du Ewa said. "He was on this personal vendetta to prove that he could make that place totally successful with his people. And eventually that's who he had in there, a whole new staff of his people."

Despite being among the highest-rated radio personalities in the Bay Area, the Up All Night Crew's Wong was dismissed. He had started at KMEL as a 14-year-old intern and worked his way up to become one of the station's key assets. He was cohost of a popular video show on the California Music Channel, one of the most visible Asian American radio DJs in the country, a big supporter of local artists, and a bona fide Bay Area street hero. "My contract was up January 1, 2001. I had the meeting with [Martin] on January 2, 2001, and that's when I got let go," Wong, now a radio personality in Las Vegas, said. "I told him, 'Thank you,' and I walked out. The thing that burned me the most is that I didn't get to say good-bye to my listeners." (Martin says Wong was fired "due to insubordination" and will not comment further.)

On Oct. 1, Davey D was fired. He recalls his last few weeks at the station as being surreal: "I remember after 9/11, I got a call, and they wondered where the candlelight vigil was for the night. I said, 'The candlelight vigil?' And it was like, 'Yeah, we need to send the street team there.' That's typical of radio these days."

'Why support them?'

Execs at Clear Channel note that its stations' ratings are higher than ever. In the just-concluded books for fall 2001, KMEL rose to a 4.3 share, which they say represents an audience of nearly 692,000 listeners, up from 562,000 when Davey D was fired. "When you start to see ratings slip, you need to make changes, and the changes that we have made have made KMEL a higher-ranked, higher-rated radio station," Martin said.

But Davey D argues that the numbers don't measure whether people are satisfied or simply have nowhere else to go. "You may have more listeners than you ever had before, but you also have more complaints than they ever had before. You have people dissatisfied in a way they never were before. You have people meeting, doing demonstrations, writing letters, doing monitoring and hearings and all this stuff that never happened before."

Thembisa Mshaka, former rap editor for the Gavin Report trade magazine and now a Columbia Records executive and Emixshow magazine columnist, argues that companies like Clear Channel no longer care about "stationality" ­ an industry term for how well a station distinguishes itself by its personality, as reflected in the styles of the DJs and the presentation of local music and news. With the growth of alternative radio outlets, via satellite and Internet, addressing community complaints may represent Clear Channel's last, best chance to keep Bay Area listeners interested. "There are still as many listeners out there to keep these stations going, but they've gotta be concerned about their future. They're kidding themselves if they're not," Mshaka said.

KMEL has allowed the past half decade of successful local R&B and hip-hop acts to pass it by, including important artists like Meshell Ndegeocello and the Coup. "They're excluding themselves from the musical renaissance happening in the Bay Area," KPOO's KK Baby said. And since Street Knowledge ended with Davey D's firing, no current programming reflects the brilliant voices of the burgeoning local hip-hop-activist movement, which has been instrumental in setting the national agenda for post-boomer progressives.

Recently, Clear Channel execs have made some concessions. Since the release of the CCMA's report in November, they have added a battle-of-the-rappers segment and a Friday-night local artist mix show hosted by Big Von and have brought back the Wake-Up Show. They've also agreed to open an ongoing dialogue with the CCMA. In fact, execs and activists left the Jan. 6 meeting optimistic that they could work together.

But others are skeptical. "Now people in the streets are talking," rapper E-A-Ski said. "I've had cats that just really want to say, 'If they ain't gon' support us, then why are we supporting them? Don't let them come out to the streets and the clubs.' "

Yet he continues to work with the station. "Big Von said to me yesterday we got a lot more work to do. So I take that as we're moving towards trying to make a new era in Bay Area rap, and I'ma hold cats to that. But when I don't see it, I'll be the first one to make a record letting them know."

But will it get played? He paused to consider the irony. "What am I supposed to do? Sit around here and just keep begging motherfuckers? I'm not gon' keep begging."

-end-

Go to Hip Hop Radio Directory to see More Articles

[This article is in this week's San Francisco Bay Guardian, and on the web at:
http://www.sfbayguardian.com/37/18/cover_kmel.html