The Hardest Working Man in Hip Hop

Meet Hip Hop Journalist Davey D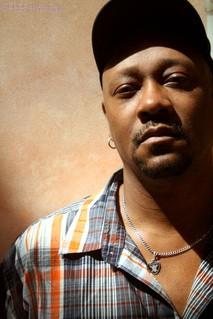 Davey D is a nationally recognized journalist, adjunct professor, Hip Hop historian, syndicated talk show host, radio programmer, producer, deejay, media and community activist. Originally from the Bronx, NY, Davey D's been down with Hip Hop since since 1977 where he started out as an emcee for two crews TDK [Total Def Krew] out of Co-op City and the Avengers out of the Marble Hill Section of the Bronx. He moved to California and graduated from UC Berkeley.
Davey D is the co-founder and host of several of the most cited Hip Hop radio and online news journalism projects of all time. Hard Knock Radio (HKR) is an award-winning daily syndicated prime time afternoon show focusing on Hip Hop culture and politics. One of the first of its kind, the show originated in 1999 on KPFA 94.1 FM in the San Francisco Bay Area, and now can be heard in Seattle, Atlanta, Portland, Fresno and is streamed live on KPFA.org, reaching close to a million listeners daily. In 2003, HKR was cited as best on air show by the East-Bay Express and Davey D voted Best On Air Personality. He was awarded The Profiles in Excellence Award by ABC 7 in the Bay Area (2005). He was recently awarded 'Thank You Award' in 2009 for Independent Artist Week.
He is the founder and webmaster of
Davey D's Hip Hop Corner
, which is widely considered to be one of the oldest and largest Hip Hop sites on the web,
www.daveyd.com
. The writings on his website are frequently referenced and quoted by journalists, scholars and professors and fans around the world. Davey D's most recent radio effort is
Breakdown FM
which can be heard through downloadable podcasts, live streaming, radio stations features, and now cell phone outlets. Davey D is the co-founder of the
Bay Area Hip Hop Coalition
which started out as one of the first Hip Hop radio deejay collectives in the country.
Davey D
serves as the managing editor of
The Southern Shift
which is a media project/website designed to change the political landscape in
Texas
by continuing to engage many of the first-time and infrequent voters who were inspired by the historic aspects of the 2008 election and voted in record numbers. As an independent expenditure campaign, Southern Shift, then known as
Texas Stand Up
, helped flip Harris County, the third largest county in the nation from Red to Blue. This was the first time in 44 years this happened. During the '08 campaign
Texas Stand Up
now
The Southern Shift
shot a series of commercials and vignettes involving local celebrities, politicians and community members on voting. Southern Shift also produced as a full-length documentary Called "T
urn Texas Blue
" which were distributed via DVD to 3000-5000 households of targeted voters in the Houston area.
Davey D is the co-author of 2 books 'How to Get Stupid White Men Out of Office' (Soft Skull, 2004) and 'BAF-Be A Father to Your Child' (Soft Skull, 2008). He also contributed to Project Censored's Media Democracy in Action-Censored 2004 (Seven Stories Press, 2004).
Below are
Speeches
and
Interviews
done by Davey D


Davey D is a columnist for the San Jose Mercury News in the area of Hip Hop music, culture and politics. He is also an adjunct professor at San Francisco State in the Afro Studies Department where he co-teaches a course on Hip Hop History, Culture and Politics semi-annually
Davey D has been featured in close to 30 documentaries including, Letters to The President, Beef, Thug Angel and the Award Winning PBS Rap City Rhapsody. He is an internationally acclaimed Hip Hop scholar who has presented at top academic institutions and political, policy and music industry convenings worldwide. He is based in Oakland, CA and Austin, TX.

He's been featured in numerous documentaries, magazines, newspapers, videos and TV news shows like; CNN, Fox News, ABC's Nightline, America's Black Forum, The Tavis Smiley Show, Democracy Now, C-Span, BET Television, American Gangster VH1 Television,Link TV, Laura Flanders Grit TV, Australia's Lateline, Distortion of Static, Built From Scratch, Hard Knock TV Rock TV Vlad TV, Internet Cafe, Computer Chronicles, Soul Beat TV, KRON TV, KTVU TV, KTOP , Bay TV, KPIX TV, KBHK TV, Air America Radio Front Page Radio, KGO Radio, KCBS Radio and BBC Radio.
Davey D's appeared in documentaries like; Rap City Rhapsody, Dead Prez Its Bigger than Hip Hop Starz TV Documentary, 2Pac's Thug Angel, Beef I, Beef II, Letter to the President, Soundz of Spirit, Rock the Bells, Turn Off Channel Zero, BET-Master P Special Radio Politricks, Beats by the Bay, Chuck D's Hall of Fame, E-40's Charlie Hustle the Blueprint of a Self-Made Millionaire, American Gangster-(Felix Mitchel), American Gangster-(Romper Room Gang) , Straight From The Streets, Reel Changes Jahi's Redefinition to name a few.
In addition to his San Jose Mercury News column, Davey D is frequently quoted in and has been invited to write for numerous publications including;
Jet
Ebony
,
Essence
,
The Source
,
XXL
,
Impact Magazine
,
Radio Facts Magazine
,
The SF Bayview
,
The Final Call
Radio Facts
Rollingstone Magazine
,
Washington Post
,
The NY Times
,
The NY Post
,
Oakland Tribune
,
USA Today
,
The San Francisco Chronicle
,
The Guardian Magazine
[London],
The Vallejo Times Herald
,
The SF Bay Guardian
,
Vibe Magazine
,
Stress Magazine
,
Redeye Magazine
and
The Ave Magazine
to name a few.
As mentioned earlier, Davey D moved from New York to California to go to school at UC Berkeley where he started deejaying throughout the Bay Area. His mobile DJ company the NY-LA Connection was a mainstay on the UC Berkeley campus and eventually that along with his community activism eventually lead him working at college and community radio stations KALX where he did several shows and served as the station's Third World Department head including its ground-breaking Sunday Morning show. This show helped net the station its first and only prestigious Gavin Award for best Hip Hop College station in the country.
Davey D's work at KALX spawned off several projects including his popular widely distributed newsletter 'The Davey D Beat Report'. It was one of the first of its kind west coast publications chronicling the Bay Area's then emerging Hip Hop scene. It also led to him penning one of the first Hip Hop columns in the country for major publication BAM Magazine where he launched his Beats and Breaks Column. That column eventually landed and ran in the SF Bay Guardian.
The other project that spawned from KALX was the Davey D along with radio counterparts KK Baby, Marcus Clemmons and DJ G from KPOO 89.5 FM, DJ Kevvy Kev from KZSU 90.1FM co-founding the Bay Area Hip Hop Coalition (BAHHC) which was one of the first Hip Hop radio DJ unions in the country. It brought all on air Hip Hop deejays together who then adapted Davey D's Beat Report newsletter and turned it into The Bay Area Beat Report which became a mouth piece to the industry and beyond by the collective.
From there Davey D went onto Free Speech Speech Radio KPFA 94.1 FM where he started out doing an afternoon show called 'Bring The Noise' which focused on Hip Hop and House music. He later moved to Friday nights where he launched a show called the Friday Night Vibe which grew and went on to be re-broadcasted in Auckland, New Zealand on commercial station The Beat 96 FM.

The Friday Night Vibe became the launching pad for a popular online newsletter called the FNV Newsletter which at its height had an email subscriber base of over 100 thousand people. He later launched an accompanying online publication called the HHPN [Hip Hop Political Newsletter]. As mentioned earlier he currently hosts the syndicated daily afternoon show Hard Knock Radio
Several years after arriving at
KPFA
, Davey D landed a gig with commercial giant
106.1 KMEL
where he stayed for 11 years. Initially he came on board and launched the station's newsletter
The KMEL Beat Report
which was based upon his previous projects. He later joined the station's number one rated morning show
The KMEL Morning ZOO
. He eventually was promoted and served as KMEL's community affairs director where he hosted a Hip Hop oriented talk show called
Street Knowledge
and a Hip Hop music show that focused on Bay Area music called the
Local Flava Hour
.
Davey D left KMEL in 2001 and went on to start programming online radio stations for AOL Radio. He was the Urban Music director where programmed and oversaw the day to day programming duties for 15 radio stations. During his stint at AOL Radio Davey D teamed up with legendary Hip Hop icon Chuck D of Public Enemy and launched a Top 20 Countdown Show. Davey D served as the music programmer for that show.
From there he went on to program 8 of the urban music radio stations featured on Sprint Radio. Included in that offering were his own online ventures Breakdown FM, Da Underground and Soul Purpose Radio.
In 2000 Davey D was nominated by the Bay Area's City Flight magazine as one of the Bay Area's Most Influential African Americans. In 2001, Davey D was voted by the East Bay Express Newspaper as the Best On Air Personality in the Bay Area. The daily radio show he co-hosts, Hard Knock Radio was voted Best Radio Show in the Bay Area
Most recently he was featured on the cover story of Urbanview Newspaper here in Oakland. He was also profiled in the January 2003 edition of The Source Magazine as being one of the Top 10 most Influential people in the country when it comes to dealing with Hip Hop and politics.
Davey D was also the guest curator for the Rock N-Roll Hall of Fame Hip Hop Nation Exhibit when it came to San Francisco's Yerba Buena Center in June of 2001. He helped put together a special addition to that exhibit that focused on bay Area and West Coast Hip Hop. Yerba Buena drew its highest number of visitors ever for that exhibit
Davey D recently served as creative director and consultant for 'Texas is In Play-Turn Texas Blue' campaign where he developed a Hip Hop and political get out and vote documentary for the historic 2008 election
Davey D is a proud member of The PROs Record Pool where he served as director for several years in the late 80s -early 90s. He is also a co-founder of the Bay Area Hip Hop Coalition [BAHHC] Davey D is also a member of the Bay Area Black Journalist Association [BABJA]
Davey D has been a featured speaker at high schools, universities and community centers throughout the country. He speaks on topics ranging from Hip Hop to Politics to bridging the Digital Divide. Here's a short list of places he's lectured..
Speaking Engagements and Appearances
Harvard University
Stanford University

San Francisco State University

San Francisco City Collge

San Jose State

UC Berkeley
UCLA
University of Wisconsin-Madison
University of Maryland
Northeastern University
Oberlin University
Solano State
St Mary's College
Evergreen College
College of San Mateo
UC Irvine
UC Santa Barbara
UC Santa Cruz
FCC Hearing on Media Consolidation (Monterey)
FCC Hearing on media Consolidation (Seattle)
FCC Hearing on media Consolidation (Los Angeles)
State of the Black World Conference (New Orleans)
National Hip Hop political Convention 2004 (Newark)
National Hip Hop Political Convention 2006 (Chicago)
National Hip Hop Political Convention 2006 (Las Vegas)
Rainbow Push Silicon Valley Digital Divide Conference (San Jose)
Rainbow Push Wall Street Conference (2003)
Rainbow Push Wall Street Conference (2007)
Hip Hop Archives (Harvard)
Hip Hop Archives (Stanford)
Democratic National Convention 2000 Panel
Shadow Convention 2000
Congressional Black Caucus Weekend
Tupac Amuru Shakur Center (Atlanta)
Critical Resistance Panel-New York City
City of San Jose Youth Conference-Keynote speaker
Smith Sonian Institute
Mobe Internet Conference
Oakland Digital Divide Conference-keynote speaker
Santa Rosa Junior College-keynote speaker
Allen Temple Baptist Church-Oakland
Bay Area Black Media Coalition
Filipinos For Affirmative Action