Kool Keith And Tim Dog
Return As Ultra
The other week when Ice T swung through the Bay to do a couple of shows..not a whole lot of people came to check him out... That's too bad because not only did Ice wreck shop but brought a special treat for all the true headz who were in attendence. Right in the middle of Ice T's set out jumps Kool Keith and Tim Dog of the Ultramagnetic MCs... Folks lost their minds when those two hit the stage rockin' to the Billy Joel piano riff of their classic jam 'Funky'. For folks unfamiliar with this track..it's the same beat used by Dr Dre in the song 'California Love'. After folks died down, the pair launched into their new song 'Big Tyme' which uses the same beat that KRS-One used in his classic jam, 'Why Is That?'.
Later that night my boy King Solomon of San Jose State's KSJS 90.5 FMinterviewed them and we got the full scoop on the Ultramagnetic MCs. Kool Keith explained that Ultramagnetic is no more... it now just consists of him and Tim Dog and they shortened their name to simply 'Ultra'. Kool Keith explained that producer Ced Gee had fallen onto some hard times [he's hooked on crack] and had done some very hurtful things to the group in an attempt to satisfy his habit.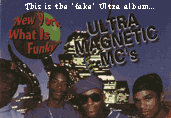 One of the things he did was sell the groups old studio out takes and practice songs to Tuff City Records. Tim Dog explained that the label owner Aaron Fuchs then put out a 'fake' Ultramagnetic MCs album. Not only was he issuing old studio out takes as songs, but he also scanned some pictures and with the aid of adobe photoshop had created an album cover which depicted the group alongside a guy they didn't even know. Kool Keith explained he had no idea when the photos were taken... and what's ironic the 'unknown' member of the group was just as shocked as Kool Keith to see himself on the cover. Entitled 'New York What Is Funky'.. Tim Dog explained as he shook his head that the lp with it's sub par recording made the group look bad and it's sad that folks will go so far to make a buck... He went on to continue explaining just how corrupt the music business can be...
Tim Dog also spoke on the whole East /West coast controversy during the interview... He acknowledged the role he had in it's development and the stir he caused when he released the song 'F&*k Compton' a few years ago. He explained that he never thought the song would blow up the way that it did.. He noted that the whole concept came about because at the time he and his crew were frustrated. He recalled going into label after label shopping for a deal and being turned down by A&R folks who were only out to make money and not elevate the art of hip hop.. He spoke on one A&R rep in particular who insisted that Tim Dog grow a jheri curl so he could develop the same type of appeal as NWA which was very popular at the time. When Tim Dog tried to explain that LA had a different culture then New York and that he wouldn't be true to himself or hip hop if he tried to be like NWA, the A&R turned a def ear... It was with that anger that Tim Dog penned and later released the song 'F&*k Compton'.. He gave the industry a gimmick that would sell.. Apparently it worked, 'cause there ain't too many people who now don't know Tim Dog.
What makes this whole thing so ironic is that Tim Dog and Kool Keith now live in LA... and they now do a lot of work with a west coast/ Bay Area producer named Kutmasta Kurt But as Tim explained it's a whole different world now.and he's moved onto to other arenas within hip hop. Kool Keith and Tim spoke very highly of Bay Area artists. Keith noted that he was extremely impressed with the independent record labels that acts like E-40 had established and that they had laid down some serious groundwork for folks to follow. Going the independent route and cutting out the middle man is one of the things Ultra is looking into. Tim Dog ran down the math and explained that Bay Area artists had figured it out that they could make as much selling 20 thousand units as opposed to someone who is signed to a major and sells 200 thousand units...
Finally, the other thing that was brought out was the growth that Ultra has gone through. Kool Keith spoke emphatically about how he as an artist had grown and hence moved onto different subject matter. He noted that at this stage in the game it is no longer appropriate for him just to rhyme about space as he had done in the past. He spoke about him exploring and moving on as an artist... All in all it was good to see these brothers.. Look for them to make some big moves in the upcoming months.
written by Davey D
August 13 1996
GO BACK TO HIP HOP NEWS DIRECTORY
Go Back To Davey D Corner Home Page