Conscious Daughters To Tour With MC Ren!
Hip Hop Slam News Update..March '96
...Hip Hop Slam Bay Area News Update....March 23 1996...The Conscious Daughters whose great new album is winning them rave reviews and features in nearly every publication, got invited to join MC Ren on tour...
East Palo Alto's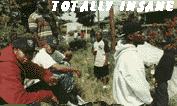 Totally Insane are about to unleash their own label, EPA Records, with planned releases from Backstreet Mentality, Ten Dolla, M&M Hoodz and others...
Look for Bay Area female singer/rapper Passion to drop a release on MCA Records in the near future..
Ammo Entertainment is the name of the ambitious new Bay Area rap label which plans to release five acts and six titles over the next six months.. These include Brotha M.O.E., Messy Marv, Hennesy, Daddy Marco, The Madd Felon and an AIDS awareness benefit compilation.. For more info contact..415-584-3707.
Relativity Records is about to release the dope new Mac Mall album called 'Untouchable'. Its due out on April 23rd and contains cuts like 'Serving Gang, 'Ghetto Stardom', 'Playa Tip' and 'Crest Side' The production comes from some of the Bay Area's best including Mike Mosely, Tone Capone and long time partner Khayree...Note the diversely prolific Khayree has recently been getting the sort of attention that he deserves including being a guest on a recent Teen Summit on BET. He will be featured on the cover of the upcoming BRE[Black Radio Exclusive]...
Finally, Hip Hop Slam administrative director, Kerry Huffman announces the release and promotion of Bay Area Rapline. 'We got flyers and we will be running ads in magazines to let people know about this community service. To reach the Bay Area Rapline call 510-658-4293.
Peace..Billy Jam
3/23/96
Back To Hip Hop News Directory
Back to Davey D's Main Home Page