HIP HOP SLAM
BAY AREA RAP NEWS
APRIL UPDATE
Dion Stewart (aka The True Lesson Giver) of Oakland's Black Dynasty was shot and killed on the morning of March 24th as he attempted to hold up an East Oakland truck rental business. "Just after his death his girlfriend discovered a poem he'd written 2 days previously entitled "Bye Bye Baby," said Andy Herrera of Another Hit Record (the artist's label) indicating that Stewart was perhaps on a self-destructive mission. He is survived by his partner Kareem Abdulah, with whom he was about to go into the studio to record a new album, his girlfriend and their two kids.......
Jail Watch....The Govenor is out of jail and anxious to get back to his career as a rapper. We wish him all the best...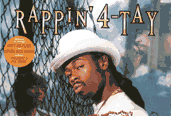 Meanwhile Rappin' 4-Tay's new album is out but he's still in the slammer (San Quentin) serving time for parole violations. Ironically his new album is entitled "Off Parole". "That's one of his main goals, to get off parole," explained manager/friend Franky J, adding that "4-Tay should be out in a month. He would have been out by now but he got an extra 30 days for a bullshit charge. He supposedly started a riot.....all by himself," related an exasperated Franky J......
NEW RELEASES: chart additions this week include the stellar East Oakland "Cell Block Compilation" which, with an incredible lineup inc Luniz, Too Short, Richie Rich, J Dubb and Askari X, blows all previous Bay Area compilations away.
Another cool new add this week is the Twisted Mind Kids demo tape from the lyrically innovative San Jose hip hop crew which will be coming out on No Exit Records: (408) 815-2164.......
Cougnut of IMP went to LA recently for the Soul Train Awards and confirmed that there was some definite friction between the 2Pac/Death Row and the Biggie Smalls/Bad Boy camps.
Speaking of 2Pac, major props to his label for putting out the four-piece vinyl set of "All Eyez On Me." In fact recently labels have been issuing more and more albums on vinyl for commercial consumption.
IN THE STUDIO: Total Devastation are back in the studio recording a new album with producer The Enhancer who also did a few tracks for Nate Banks' forthcoming album....
San Francisco's 11/5 have been hella busy recently putting the finishing touches to their new album "A 1 Yola" with production credits including T.C., Regi-Reg and his brother Race.....
Meanwhile their Dogday labelmates Closed Caption have been equally active across the Bay in East Oakland's Ice Chamber studios with their DJ/producer Stevie K recording their second album which will include songs such as "Greens", "Hit The Cock", "Stickup" ("about doing a robbery"), a collaboration with The Coup, and "Keep On Stackin'" which features soaring vocals from female powerhouse Izaya.....
RBL Posse (Black C and Hitman) who are in the studio with N.O.H., have reportedly closed that deal with Atlantic Records.
AWARDS: PART DEUX: Once again 4080 hip hop magazine and Hip Hop Slam have joined forces to bring you the second annual Bay Area Hip Hop Awards. The actual ballots for fans to fill in will be published in the next two issues of 4080 (#'s 32 & 33). Right now Bay Area rap industry insiders are determining those ballots by filling in questionnaires faxed to them by 4080's Eric Arnold - (510) 848-4080....
For info on Awards and other Bay Area rap things call the Bay Area Rapline 24/7 @ (510) 658-4293....

Peace, Billy Jam
Back To Hip Hop News Directory
Back to Davey D's Main Home Page